Social proof is an undeniably powerful thing. Tell a customer your product is great and they might shrug their shoulders. But show them feedback from fifty existing customers who say it's great in their own words and, well, you're golden.
Yet for many stores, the well of proof runs dry after just a few short dips of the proverbial bucket. What can you tap into if you only have a few reviews or testimonials? What if you don't have a social media following to fall back on?
Here's a little secret we'll share with you: social proof is everywhere on your store, and in more places than you might think. It's easy to go beyond the basics of reviews and Facebook likes to prove that your store is well worth a new shopper's time… if you just know where to look.
Today, we'll show you how to tap into some hidden social proof to convince more potential customers to buy your products. But first, let's review why this is all worth doing in the first place.
A quick review: what social proof is, and why it's worth having
If you're not familiar with social proof, here's a brief primer for you.
Wikipedia defines social proof as "a psychological phenomenon where people assume the actions of others in an attempt to reflect correct behavior for a given situation." This is all really just a fancy way of saying that social proof is what happens when an individual is influenced by the actions of a group.
In the world of eCommerce, we typically refer to social proof as a marketing method that's used specifically to increase conversions. Generally speaking, the more customers that you can show using, enjoying, or approving of your products, the more likely a new shopper can be convinced to buy from you. So, again — it's an individual (a potential customer) being influenced by the actions of a group (your existing customers).
The most common forms of social proof are reviews, testimonials, and social media followings — as you might imagine, things that show explicit approval of your products and brand in large numbers. But this presents a challenge for some stores, especially newer or more niche ones, since collecting reviews or even customer-submitted photos can take some time.
Social proof is absolutely worth having, though, especially because various studies have shown it can increase trust and make shoppers more likely to buy. So if you don't have the obvious forms of proof handy, it's time to get creative.
Let's dig into some unconventional ways you can make your store look more trustworthy and get those conversions up.
Show off your most popular products
A lack of reviews doesn't necessarily translate to a lack of sales, as you probably know. Your best-selling product might have zero reviews, while one of your slowest sellers might have ten. Isn't it funny how that happens?
A way to use this to your advantage: show off the products that are your best-sellers. Just because they don't have reviews doesn't mean they're not worth talking about! Create a category or special landing page for these popular items, make sure it's clear they're customer favorites, and you're all set.
If you're using WooCommerce, you can use a shortcode to create a dynamically populating (and updating!) section of your most purchased products. This will show what your customers are actually browsing and buying, and give visitors the knowledge that your store has sold enough items for favorites to emerge.
Alternately, if you have ratings enabled on your store, and you have products that have been rated — but not reviewed — you can use a different shortcode to display these in a "Top Rated Products" section. Or you can even do both!
Tell shoppers just how many happy customers you have
Showing off your most popular products is one way to prove you're satisfying your shoppers. But it's not the most ideal solution for every store — for example, if your shop only sells a few items, or if your customers only tend to buy one high-value product per order.
So here's another approach: rather than focus on the products, focus on the orders. Add some text to your store saying how many orders you've fulfilled, or even how many happy customers you've served. You might only have two or three popular products, but two or three hundred completed orders, and that says a lot more about what you're doing.
If you're comfortable automating this for your WooCommerce store, check out this free extension from SkyVerge, which adds a [wc_order_count] shortcode that can be added anywhere you please. Easy peasy!
Of course, adding this kind of your information to your storefront requires you to be comfortable with this level of transparency. It's completely up to you if you want to divulge this data — it's just something to think about.
Embed or showcase select social media posts where relevant
It's common for store owners to use their social media followings as a form of social proof. The logic stands — the more fans and followers you have, the more popular (and trustworthy) your brand must be.
Your company might still building your social media following, of course, so displaying a widget asking shoppers to join your thousands of fans on Facebook isn't possible. Or perhaps you've even decided that an active presence on social media isn't a great fit for you at this stage (no shame in that).
Still, it's likely that you're going to find someone tweeting, Instagramming, or posting about your products. And if you take a few minutes to set up automatic Google Alerts for your brand, product, or employee keywords, you can be notified of these uses right away… and tap into them.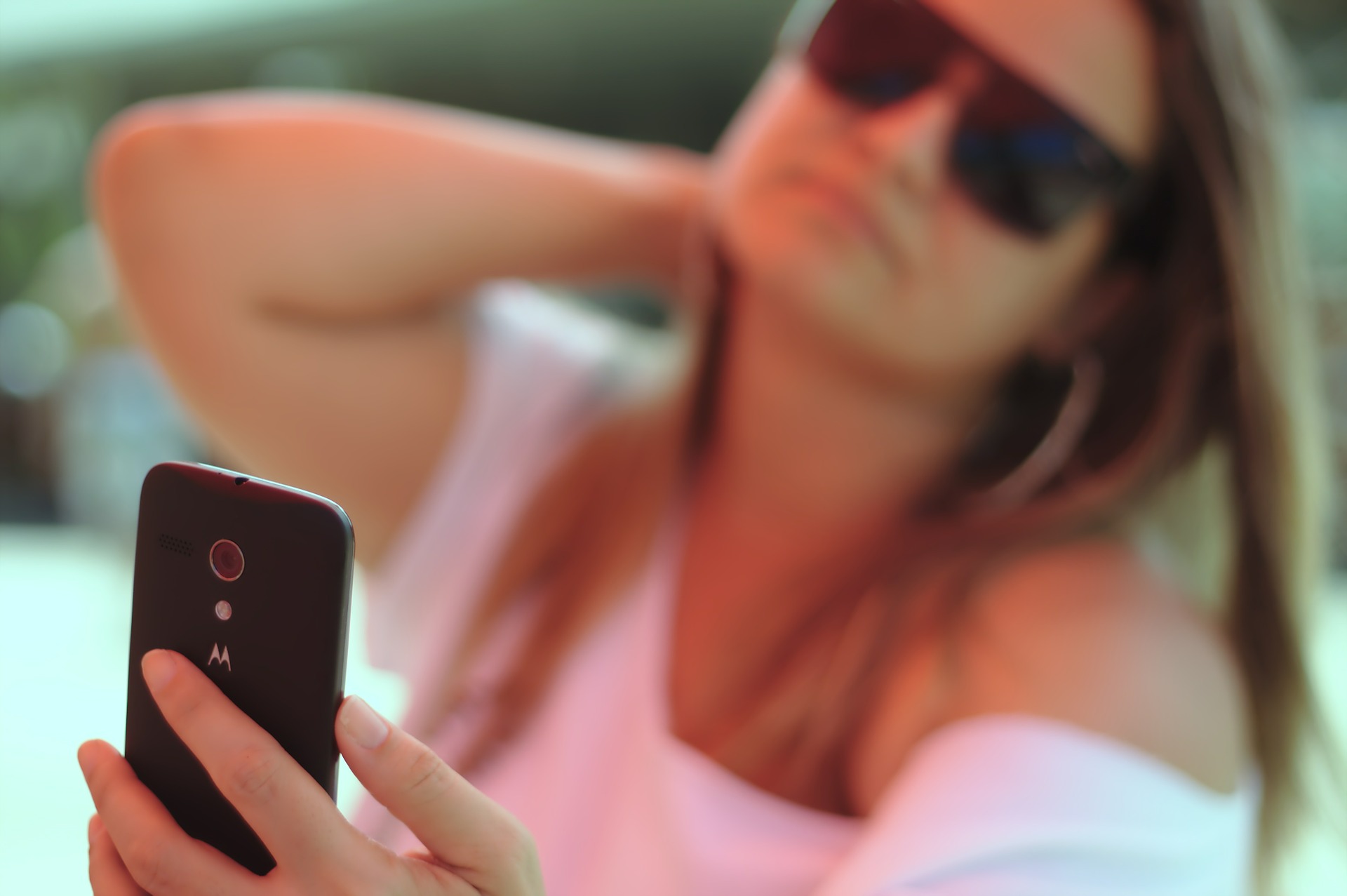 Here's what we're suggesting:
Monitor for positive mentions of your brand on Twitter and embed the tweets right on your blog or store — look for the "embed" option right on each tweet
If you don't have a Facebook Page, monitor or occasionally search for public mentions on Facebook, then contact the users and ask for permission to republish their comments on your site
Watch Instagram for mentions or photos of your products — this is easy to do if you create and promote a unique hashtag! — and ask for permission to add these photos to product pages (see below for more)
Keep an eye out for additional social or blog posts that might link to your store, and consider giving them a little something if they allow you to republish or link to their praise
With a mixture of automatic alerts and occasional monitoring of social media, you can find casual mentions that can be repurposed on your store as reviews, testimonials, blog posts… whatever seems best to you. Instant social proof, and without much time taken on your part to get it.
Add real life examples or photos right to your product pages
As we mentioned earlier, there's a stark difference between showing and telling. Telling shoppers you sell a super comfortable sweater isn't nearly as effective as showing them a video from a customer raving about your sweater being their favorite clothing item.
This is why photos are such a crucial part of social proof. If you can get snapshots from your customers — and add them somewhere highly visible — you'll be showing visitors that your products are loved instead of simply saying "people love us!"
This is something we spotted as being done well by Converse when we previously talked about social media for fashion brands. The sneaker giant adds customer photos from Instagram to the bottom of each product page:

Upon hovering over any given photo, you can see the Instagram user's photo at full size, their original comments, and a link to the specific product being shown (since it's not always the one you're already looking at).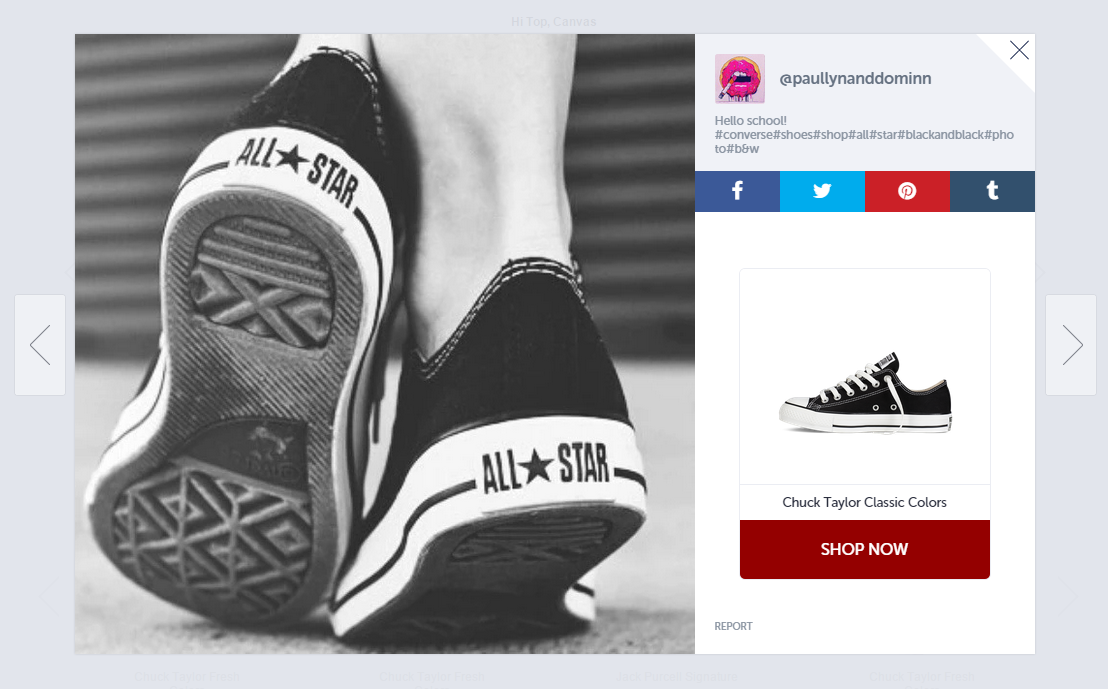 This is a fantastic way to not only utilize photos you might be collecting on Instagram (or even other networks, like Twitter), but also to point your shoppers in the direction of a product they might find visually attractive.
Need to get more customer snapshots? Instagram is the best place to start for most brands, but again, use the tips we mentioned above to monitor social media networks and blogs regardless of whether or not you're using them. And always remember to ask permission before you use an image — it's just polite.
Short on reviews or testimonials? Want more photos? Ask!
So far, we've offered you four ways you can dig into hidden or unexpected spots to find social proof that can help you sell more products. But sometimes nothing can beat reviews or testimonials, or the professional grade photos you might get with case studies.
Rather than sitting around, waiting, and wishing for this stellar proof to come in, however, you should be actively asking your customers to send it. How? Consider:
Setting up a "send us your photos" page — and explaining that selected photos will be shown on your website (with credit, of course)
Actively requesting reviews in post-purchase emails, on product pages, or even on your Facebook Page
Soliciting testimonials in exchange for a small reward, like a $10 gift card — you can ask for these via email, or even social media if you feel comfortable
Dropping little hints on your store about how much you appreciate — and are willing to reward — honest feedback and reviews, ex. on product pages, your contact page, your homepage… your customers will get the hint 🙂
You should never be afraid to ask your customers for their honest feedback. If it's constructive criticism, it's a great opportunity to improve your store. But if it's positive, you can use it for social proof. Everyone wins!
Just be very considerate of your customers' time and energy. If someone writes a thorough review or sends you several professional photos of your product, it's worth rewarding them in some way beyond simple recognition. If you're potentially going to make money because of their efforts, it's not exactly fair to just say "thanks" and move along.
You can find social proof in more places than you might expect
Adding social proof can be a challenge when you're new, growing, or don't have many reviews or followers to rely on. But with a little digging, you can find hidden opportunities that are ripe for the picking — and perfect for convincing shoppers to take a chance on you.
Looking for some more ideas based around using social proof in your store? Have a look at this article from Econsultancy, which can offer you a whopping 18 more. How's that for convincing?
If you have any comments or questions about this post, we'd love to hear them in the comments. Feel free to chime in with your own ideas about tapping into hidden social proof, too! Thanks for reading 🙂