Apz is a niche business theme for developers/designers wanting to showcase their application/product on a unique home page that highlights all of it's features/benefits, social media surrounding it, and multimedia created to advertise it.
On first glance it looks like it is designed for Apple iPhone apps exclusively, but given it's a hugely flexible nature one can easily disable the iPhone imagery and it can become completely flexible for your requirements.
What also excites us about this theme is that it is the first theme that our multi-talented forum ninja – Kirstin Pauk – has designed for us. What you might not know about Kirstin is that his skills are not limited to only great customer service in the woo forums with over 7500 forum threads posted. He is also a very talented pianist, apparently with a history in opera singing too, a Star Trek evangelist, AND a ninja with an obvious good eye for design. Watch this space because Kirstin is already working on another theme at the moment.
The home page can also showcase custom widgets like a "Customer Feedback" and "Twitter Stream" widgets, as well as a uniquely styled blog module. There is also a dedicated blog section to the Apz theme.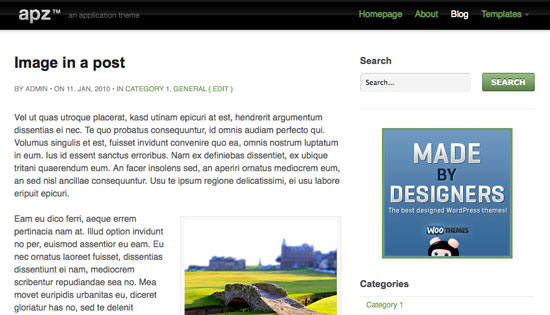 Feedback is most welcomed, feel free to browse the demo for a more detailed look at the theme. Then you might feel the urge to buy it here 🙂