The search algorithm update that Google began rolling out on April 21, 2015 was dubbed "Mobilegeddon" due to its focus on delivering better results to visitors using the service on smartphones and other mobile devices.
Sites that are deemed mobile friendly get favorable search engine rankings in comparison to those that are not. Given how abundant mobile traffic is these days, this is significant, especially if:
Your website offers services or products that people are likely to search for on their phones, and/or
You have a significant volume of mobile traffic already.
It's worth ensuring that your store is mobile-friendly, including your theme
How do I know if my site is mobile friendly?
Google has made this easy. They've developed a tool which checks a number of things and determines how your site looks for mobile visitors.
This gives you a very black and white result: you're either mobile friendly or you're not. Check your site now.
If the result you get isn't what you expected, you should check to make sure that Googlebot has access to all of your CSS, JavaScript, and image files. If your site's robots.txt file doesn't allow these assets to be crawled, the tool won't give you an accurate result. You can learn more about fixing this problem here.
Is my theme mobile-friendly?
One of the things you check when it comes to WordPress and WooCommerce, is if your theme is 'responsive'. This indicates it will respond by adapting layout across different devices. You can use Google's Mobile-Friendly Test tool to check your own site — if you're using Storefront, for example, your result will look something like this: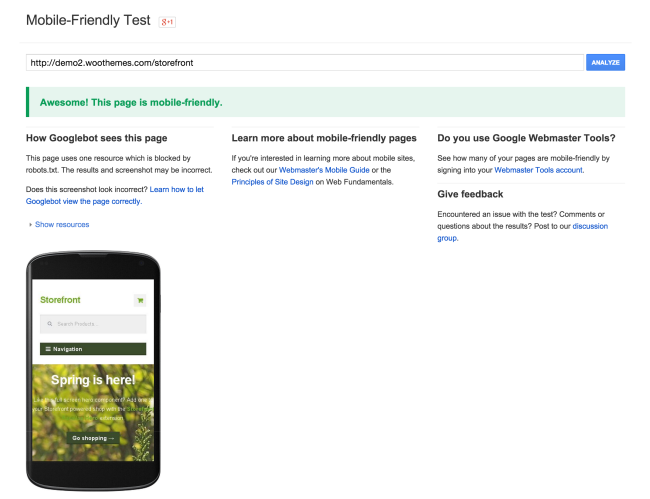 My site isn't mobile friendly. What do I do?!
If you see a message telling you that you're not mobile friendly, fear not. You have three options to address this that range in effort required from "not much'" to "a lot." As you'd expect, the more effort you put in, the better the result is likely to be.
Here are your options:
1. No effort: Leave it and hope for the best
I'm not going to say much about this option as I would not recommend it, but it's worth pointing out that being mobile friendly is by no means required. It simply means that your rankings in search aren't going to be as high as they could be.
You could just leave your website alone, see what happens, and react retroactively. But again, I don't recommend this, especially if search engines send you a majority of your store's traffic and customers.
2. Little effort: Install a mobile plugin
There are various plugins that will enable your site to detect mobile visitors and serve them an mobile-optimized layout. In layman's terms, this serves a separate theme to mobile visitors.
As with all one-size-fits-all solutions, the drawback here is that the mobile theme will unlikely be consistent with the design that your visitors are accustomed to on your desktop site. This might harm your brand identity or lead to confusion.
There's also the overheads to consider. Essentially, it's another theme to keep your eye on. Another theme to check after updates and another component on your site that could suffer from issues.
Finally, you could argue that this will result in detrimental performance as the plugin needs to take time to figure out what theme to serve the visitor. Ironically, site performance (specifically speed) is another factor that can have a negative impact on your appearance in search results.
This is definitely a stop-gap solution, but it might be sufficient for some sites, or as an interim solution. If you're using WordPress or running WooCommerce, you might want to try Jetpack's mobile friendly theme module or WP Touch.
3. More effort: Switch themes or redesign your store
I say this requires more effort, but that really depends on many things, such as the volume of your site's content and how your design is set up. Theoretically, if you use WordPress as your CMS, switching themes could be very simple. But if you have a larger site or a custom design, that's unlikely.
To really nail the issue in the best way, and to future-proof your site, a new design is the best course of action. If you're running WooCommerce, then we strongly recommend Storefront.
You can also browse the Responsive Layout tag on the wordpress.org theme repository for additional alternatives.
Obviously, switching themes is going to require quite some work. You'll need to make sure that all of your content displays appropriately on the new theme, and that the features you depend on remain intact. While we've moved away from bundling features in our themes, preferring to offer them in plugins (for precisely this kind of situation), a lot of themes do not do this which can make switching a real pain. One risk is that you'll lose features and will need to look for plugin alternatives that integrate with your newly chosen theme.
As I said, switching themes could involve a little work, but it could also mean a whole lot. It just depends on your current theme or design, how many features it bundles with it, and how much content there is at your site.
Switching themes could involve a little work, but it could also mean a whole lot.
Google also offers a detailed guide to making your website mobile-friendly, no matter what theme or eCommerce platform you currently use.
Choose wisely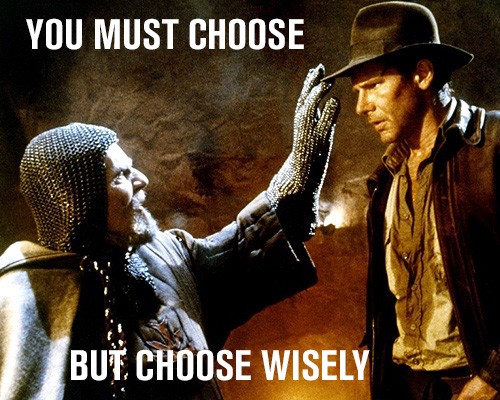 The choice is yours. You can expend no effort at all and put yourself at the mercy of our Google overlords. You can put a little bit of work in and install a stop-gap plugin. Or you can view this as an opportunity to improve your site by redesigning or installing a brand new theme.
Have you already made your website mobile-friendly? Or are you working on it now? Let us know in the comments.