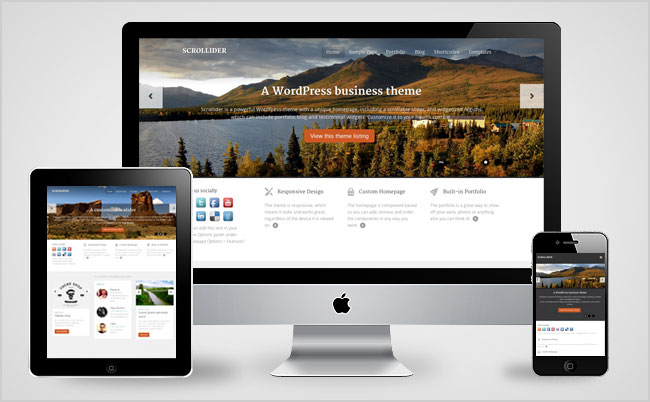 Every now and then, our designers at WooHQ take time out of their busy schedules to convert their bottled-up inspiration and talent into fresh new designs to add to our catalog. Scrollider is the exciting result of one of these efforts.
Designed by our very own co-founder, Mark Forrester, Scrollider is a clean business/portfolio/blogging theme with a unique featured slideshow. Scrollider includes our popular portfolio, testimonials and features modules as well, to showcase your business using a diverse range of tools.

Scrollider comes bundled with a unique featured slideshow, powered by our own FlexSlider. The content of your homepage scrolls over the slideshow when scrolling, as well as causing the slideshow's content to fade out, relative to your scrolling. Included along with this is a unique 1-3 column widgetized homepage content area (choose dynamically between 1, 2 or 3 columns, depending on how many of the widgetized areas you use), as well as several slideshow-driven widgets, developed specifically for (and bundled with) Scrollider.
As with our recent PixelPress and FlipFlop theme releases, Scrollider has custom styling for WooDojo and it's bundled features, to enhance your website with a tabs widget, Twitter stream, Instagram photo stream widget and more.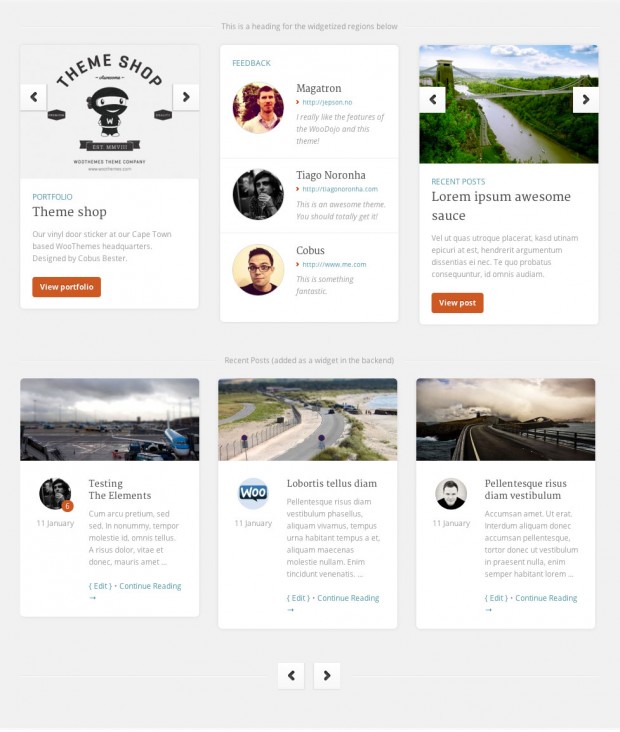 Scrollider will add support for WooCommerce in forthcoming updates. Here's a sneak peak at what a Scrollider store will look like, powered by WooCommerce: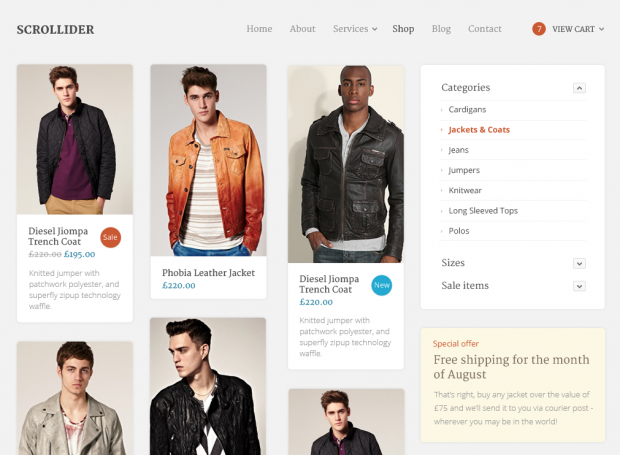 As with all WooThemes themes, Scrollider isn't just for business or commerce. With a few minor tweaks to the comprehensive theme options, Scrollider can transform into a blog theme, a personal portfolio for your photography or crafts, or a personal nameplate homepage. The possibilities are limited only by your imagination.
Discount Coupon
Grab this theme with a 12% discount coupon, valid until 28th August, 2012. Just use SCROLLIDER12 as your coupon code on checkout.