You're spending a lot of time and money to drive quality traffic to your website. Your product pages look great, and customers love your products. WooCommerce's stability and performance provide a frictionless shopping experience as visitors navigate your website, adding products to their shopping cart.
And then more than 70% of those shoppers exit your website, leaving those products in their cart.
This is not a new phenomenon. eCommerce merchants have been battling abandoned carts since the first online store opened.
One of the best and most popular ways to encourage people to recover their abandoned shopping carts is with a well-crafted email re-marketing sequence. There's a problem, though: most other merchants are using the same tried-and-tested re-marketing methods and tools to try and bring down their cart abandonment rates. And there hasn't been much innovation in this space recently, creating two major stumbling blocks:
When your competition uses similar strategies and tactics, it's much harder for you to stand out and clinch that sale.
Consumers have become conditioned to expect a post-abandonment email that includes a discount.
Can you stick to what you're already doing? Sure. But by not tweaking and improving the way you are recover abandoned carts, you're leaving money on the table — to giving it away to your competitors.
At Conversio, we're focused on helping eCommerce merchants with email marketing and having worked with more than 20,000 customers, we've noticed a few emerging ideas that have helped them improve their abandoned cart recovery rate. Here are five of our favorites.
1. Social proof in cart abandonment emails
Social proof from other people who've bought your products breeds trust, and often nudges customers across the finish line to make that purchase. One of the best ways for eCommerce merchants to build social proof is through product reviews or ratings, which 88% of consumers say influence their buying decisions.
WooCommerce makes it super-easy for you to use product reviews and display these on your website, which is great for conversion. But what happens once website visitors leave your website? Most of your prospects (and often, customers) will never see your reviews again. Your cart abandonment emails are an opportunity for re-marketing — a second chance for you to persuade someone to make a purchase. Why not want use all your sales and marketing assets?
Smart merchants use product ratings reviews in two ways:
Tell your prospects that they left highly-rated products in their shopping cart. Using the star rating of the highest rated product in their cart in your subject line (e.g., "You left some ★★★★★ products in your cart!") will boost your open rates greatly.
Most abandoned cart emails contain a list of the products left behind in the cart with basics like image an of the product, the product name, and the price. Including the number of reviews and average rating here makes that product much more compelling. When you see something like "Rating: 4.71/5 (67 Reviews)" you get an instant shot of FOMO that makes you think twice about not completing this purchase.
Does this work? I implemented this on my wife's store and within the first month, we saw a 36% increase in her recovery rate.
2. Re-sell with sales fundamentals
Along with re-marketing, abandoned cart emails are another opportunity to sell your customers on your products.
The biggest challenge with automated email re-marketing is that it can seem a little generic. Consider that many online shoppers practice a digital version of window shopping where they will browse a website and add multiple products that seem interesting to their cart. They're only adding them for further consideration, and may not have the same purchasing intent for all products. Most cart abandonment emails will re-sell all of those products equally, overwhelming your prospect and diluting your re-marketing and reselling efforts.
Instead, try using some sales fundamentals to persuade that customer to hand over some cash
Instead of trying to sell every product in the abandoned cart, highlight the single product that you believe the prospect is most likely to purchase. The easiest way to do this is to focus on the most popular/best-selling/highest rated product in their cart. If you want to get really smart, you can use a recommendation algorithm that also considers the customer's past browsing and/or purchasing behavior.
When you're highlighting that product, make it shine. Include and re-emphasize the product's primary benefits (or unique selling propositions) and some recent customer reviews
3. Segment re-marketing campaigns based on customer loyalty
The current state of abandoned cart re-marketing campaigns likely means that your customers have come to expect that emails will include a discount coupon. This will be especially true of loyal customers who make frequent purchases, which is not ideal.
Your most loyal customers generally don't require as much persuasion as a first-time buyer; you don't need to sacrifice part of your gross profit by issuing a discount to your loyal customers. Instead, use a loyalty/rewards program, then remind your best customers of their points balance and that they can use those points towards their purchase. The effect for the customer is the same (i.e., a discount), but you only pay in the form of the accumulated points that they can redeem instead of issuing a new discount.
I recently worked with a customer to implement this strategy using an integration between Conversio and Smile.io  (you could also use the Points and Rewards extension, if it integrates if with your email marketing solution). Here're the basic steps:
Segment your cart abandonment emails so that your most loyal customers gets a different re-marketing sequence. The easiest way is to create a segment with criteria for "Points. Balance that exceeds X" (where X number of points would represent at least a 5% to 10% discount if redeemed).
In emails themselves, highlight their points balance and remind them that they can redeem it for the order that they abandoned.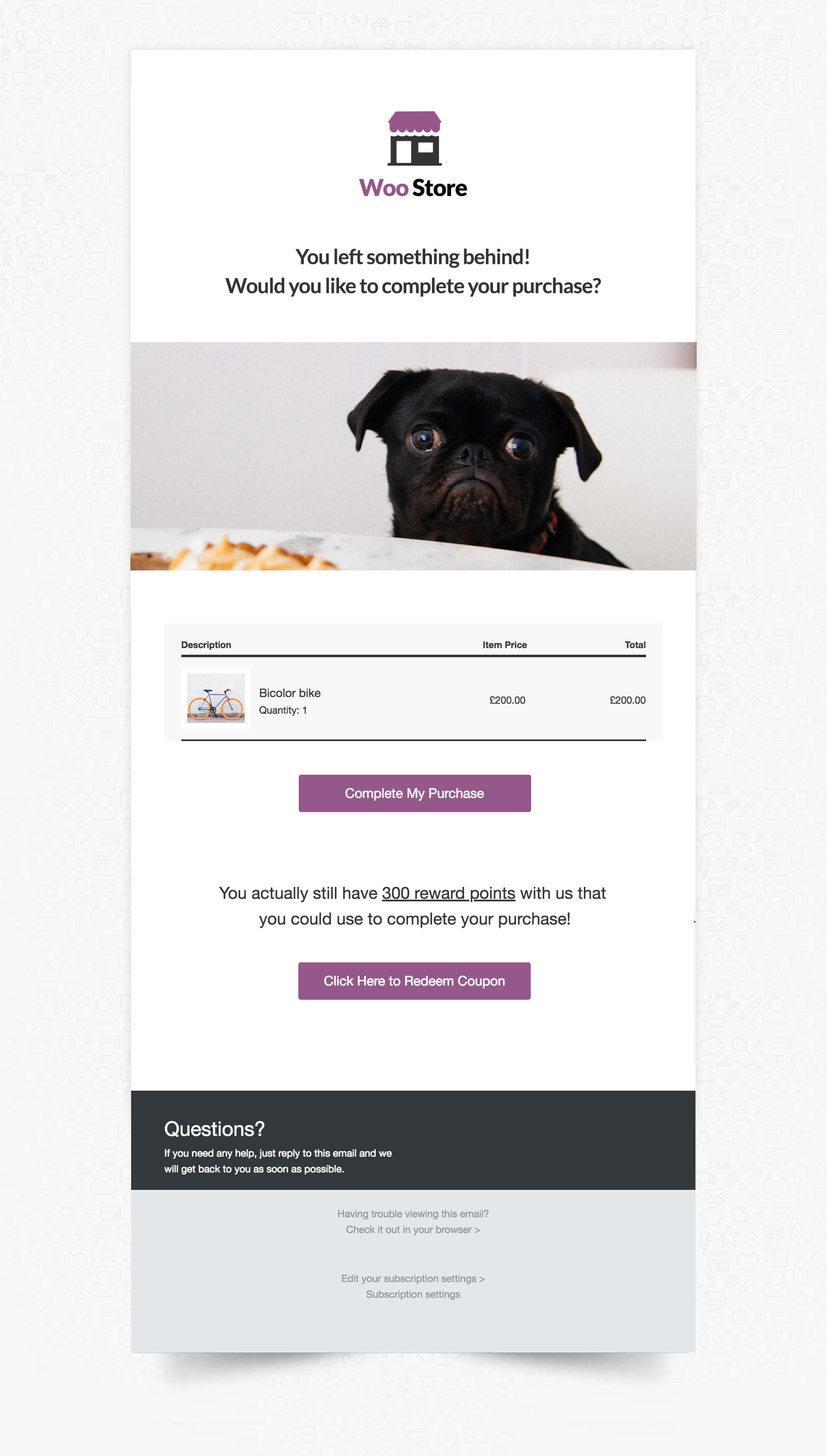 I expected this to work well, but the results have exceeded all expectations. Recovered revenue per email increased six-fold compared to the merchant's previous sequence for repeat customers (it also has 12x better recovered revenue per email when compared to first-time buyers).
You can also remind customers how many points they need to reach the next tier of your rewards program. Fo example, if they complete this purchase for $100, they'll earn 500 points and unlock the next tier's benefits.
4. Try a longer-term, nurturing campaign
The introduction of the GDPR has highlighted the need for consent, which confirms something that email marketers have also known for a while: the customers that want to hear from you and give their consent to receive your (marketing) emails will always be the most engaged.
Most abandoned cart sequences includes three or four emails at most, sent over the span of a couple of days. When that sequence ends, the opportunity to build a relationship with a prospect also ends because you only had consent to email the customer about their abandoned cart.
The problem is that timing is often a critical factor in a customer making a purchase. Perhaps they were shopping for a gift that they only need next month. Or they don't have the money to spend right now and have to save up first. The customer may actually have had a really strong purchasing intent and it was only the timing that prevented them from making the purchase.
To increase your recovery rate indirectly, move these prospects to a longer-term nurturing campaign. Start with additional email at the end of your existing email sequence that asking whether they would like to subscribe to your newsletter.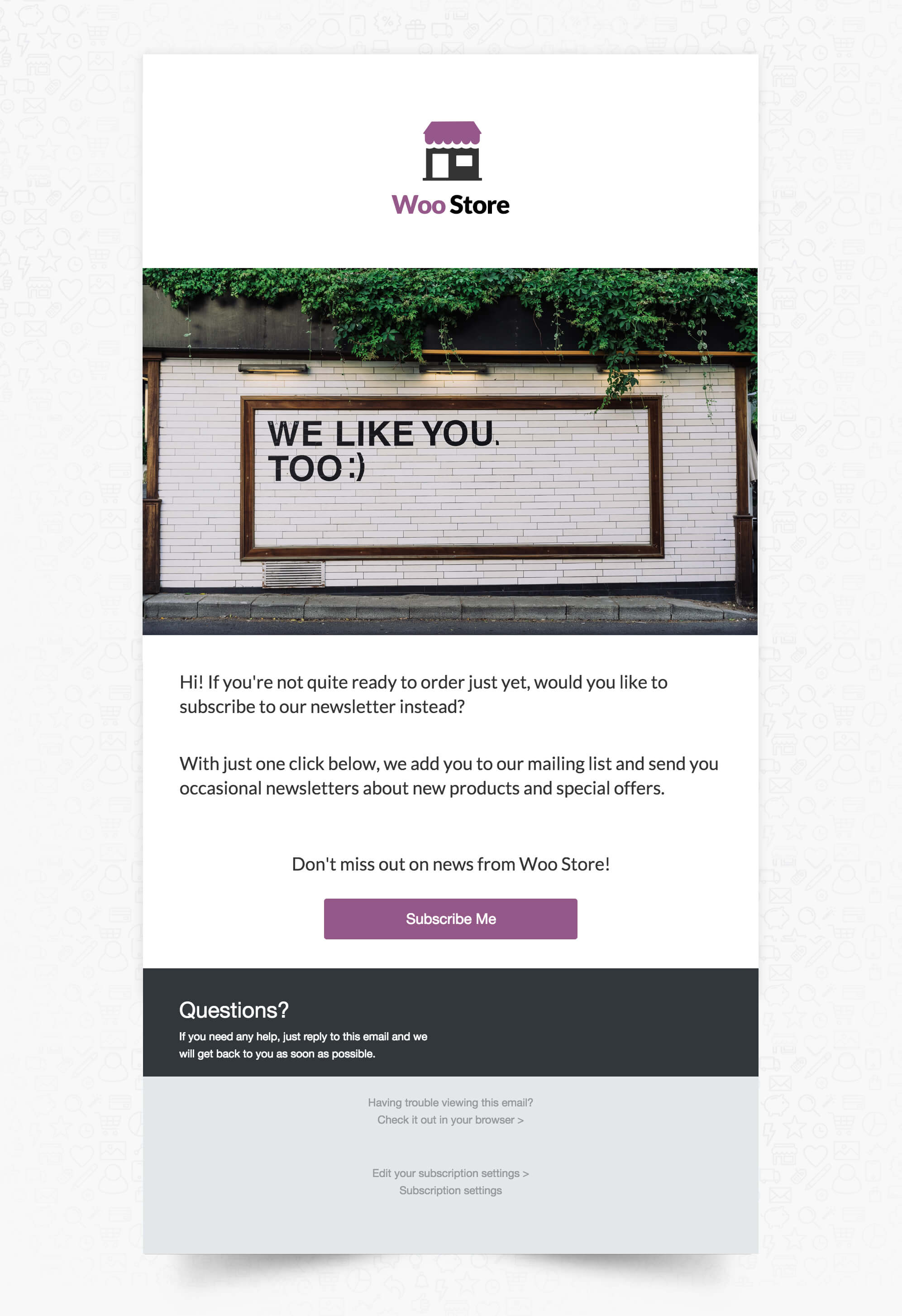 Once they give you that consent, you can either trigger an automated follow-up or drip campaign (this is how we would do it using Conversio) to tell them more about your brand, or send them periodic newsletters announcing new promotions or products. This keeps your brand top of mind for a purchase when the timing makes more sense for them.
5. Augment email with other channels
Email continues to be a very stable, reliable, and scalable medium. And while everyone expects email will eventually die, it remains an integral part of digital communications.
But merchants are missing a huge opportunity if they continue to rely only on email for customer communication and marketing. There are a few emerging mediums that can augment your abandoned cart re-marketing and boost your recovery rate:
Go old school: the telephone. While this is not a scalable tactic, it's a high-value one. If you can get customers over the phone, you are able to respond to their objections and persuade them in a way that no automated tool can.
Tools like Shoelace helps you create smart, retargeting ads on Facebook and Instagram that work alongside your email campaigns, so you're using similar messaging and discounts in both your email and ad campaigns.
Facebook Messenger's usage adoption continues to grow and many consumers prefer Messenger over email for communication. If that is the case for some of your customers, a tool like Recart can help you leverage Messenger to recover more of your carts.
What now? Some quick tips to get started…
Marketing advice can feel overwhelming, especially when you're already struggling to find the time to implement all the guidance that's out there. As a bootstrapper, I want to help you focus on the more important ideas, then implement the low-hanging fruit. Let's do this:
First, think about how you can differentiate your cart abandonment emails just a little. Where are you exclusively using tried-and-tested methods? Where can you introduce something a little bit different and newer that will help you stand out from the crowd?
Next, consider your email marketing solution… Is it connected to your other marketing apps too? Can you use your product reviews in your emails? Is it connected to your loyalty / rewards program? If not, is there a way to connect these, either with native integrations or with a tool like Zapier?
Finally, is there another medium that you can experiment with? If you like talking to your customers, try phoning your customers. Or if you're already doing well on Facebook ads, try a better ad retargeting solution.
Good luck! And let us know in the comments how you fare.