As a store owner, you might want to limit certain products, pages, or pieces of content to specific groups of visitors or customers. You might want to restrict certain physical or digital items to customers who sign up or subscribe, or only give rewards in the form of content or products to those who belong to a special group. Yes? Now you can with ease.
WooCommerce Memberships allows you to create and maintain multiple membership tiers on your WooCommerce site, and offer exclusive content or products to your members.
Intrigued? Let's take a closer look at how WooCommerce Memberships works, and explore a few of the ways you can use it in your store.
What WooCommerce Memberships can do
WooCommerce Memberships is a very powerful, multi-faceted extension indeed. Here's a brief overview of what you can do once it's been added to your WooCommerce site:
Create and offer multiple tiers of paid or unpaid memberships to customers
Allow customers to sign up, pay for, and extend their memberships — or choose to only allow access to tiers yourself
Offer perks like trial periods, complimentary memberships, and members-only discounts
Hide products, pages, or portions of content from non-members or specific membership tiers
Fully integrate with WooCommerce Subscriptions to allow automatic membership payments and renewals
Let's take a closer look at each of these features in turn, shall we?
Extend and manage multiple membership options

After purchasing the extension, you can immediately create one or more membership levels in your WooCommerce store. You can name your memberships anything you like, and as you'll see, each level of membership can have its own unique set of rules.
If you want to allow memberships to be purchased by any of your customers, you will need to create a product designated specifically for this purpose. You can then link the new product to the membership tier you have created. Alternately, if you already use WooCommerce Subscriptions, you can simply link an existing subscription to a membership tier instead. (We'll circle back to this again shortly.)
As another option, you can automatically extend membership benefits to customers who purchase a specific product — for example, you can bundle membership with a specific product as a special bonus.
After a membership has been purchased, customers can fully manage their membership status much in the same way they would manage a subscription. From their Account page, members can view their status, review any changes that have been made to their tier, and see when they will next be billed (if applicable).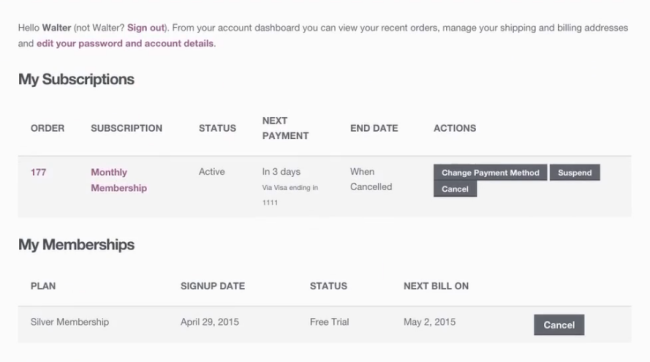 If you do not want to give your customers access to purchase their own memberships, would like to limit access to certain tiers, or just need to make a change for a customer, you can always view and edit your users' membership details manually.
Offer perks like trial periods, complimentary memberships, and discounts
If you are also using WooCommerce Subscriptions, you can create memberships that do not bill until a trial period has ended. This allows customers to experience some or all of the benefits of memberships, but without immediately paying.
You can specify products or pages to remain unavailable for trial members if you prefer, but immediately available when the trial period has ended (and the membership has been extended):

Trial periods can be incorporated into any or all of your membership tiers, and can be made as long or as short as you desire.
Built into WooCommerce Memberships as a standalone option is the ability to extend complimentary (unpaid) memberships to as many users as you desire. You can create a complementary membership for any tier you prefer, and set an expiration date or allow it to run forever.
Along with these perks, you can also offer member-only discounts. Discounts can apply across your entire store, or you can extend them only to specific products or product categories.
If you choose, you can inform non-members that a discount is available for those who belong to a specific membership group. This message will be displayed on products that qualify for a member discount, and when you have made the option available, like so: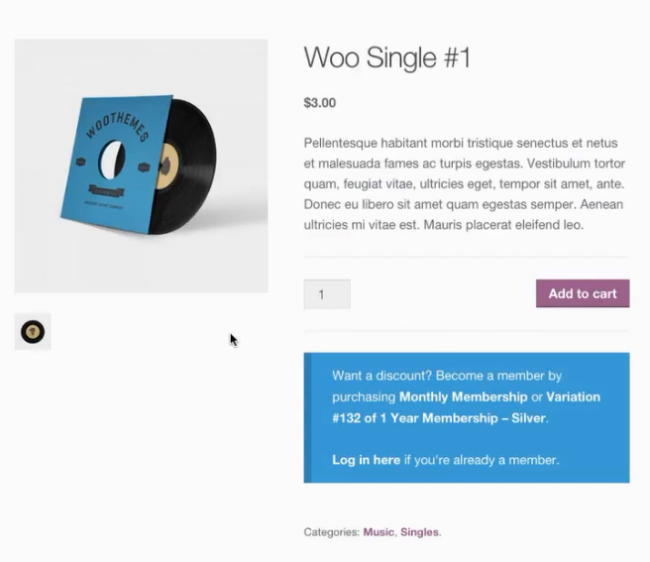 When qualifying members are logged in, they will be shown their discounted rate, and the new product amount will be offered to them at the time of purchase.
Limit products and content to members only
WooCommerce Memberships allows you to restrict access to parts of your store in a wide variety of ways. You can limit access by product or by a broader product category, and you can block off pages or portions of published content as you see fit. Users can be prompted to log in or purchase a membership to receive access, or you can simply hide inaccessible content completely.
While editing a membership tier, you can define which products, pages, or categories are exclusive to members:

You can completely customize the messages — if any — that are displayed for non-members, or members of tiers that have limited access. For example, you can display portions of pages and indicate which memberships must be purchased to access the rest of the content:
… or only display a default message indicating that the content is inaccessible: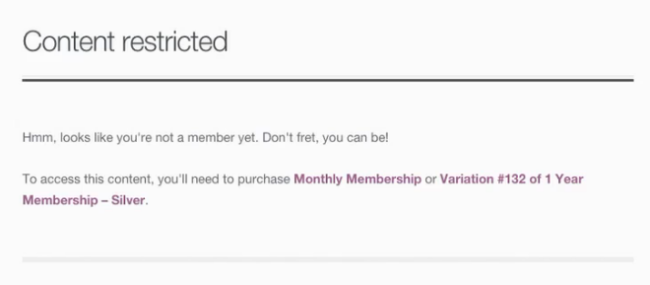 For products, you can display the item's page as usual, but indicate that a specific membership tier must be activated to allow said item to be purchased.
Finally, if you are also using WooCommerce Subscriptions, access can be delayed at your behest. You can give members immediate access to restricted content, or you can force them to wait a set number of days or weeks before the content is made available to them.
What is displayed, how much is shown to non-members, and the messages used are all editable. Instructions are given in the event that you would like to utilize shortcodes — for example, which products (that is, the membership SKUs) must be purchased to allow access, or if you would like to provide a "log in" link for existing members to quickly gain access.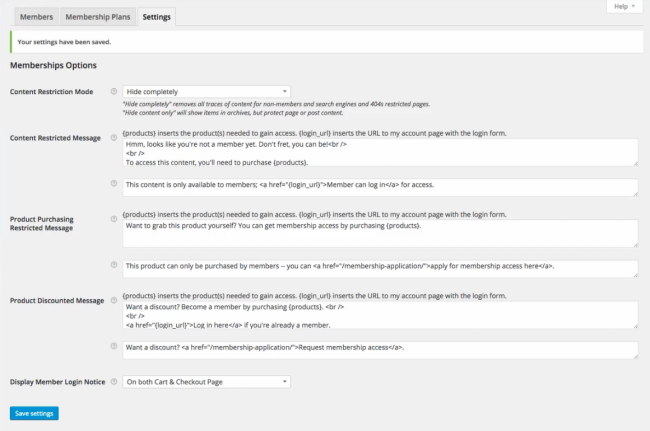 As a bonus, you can selectively limit the display of portions of pages to non-members. This is accomplished with the [wcm_restrict] shortcode. Any content wrapped with the shortcode and the name of your preferred tier(s) will display only to these members, while non-members will see the rest of the page as usual.

Integration with WooCommerce Subscriptions
As a final note, WooCommerce Memberships has been designed to fully integrate with WooCommerce Subscriptions. This means that you are able to create a paid subscription for any or all of your membership tiers, and automatically bill and collect membership fees on the schedule you define.

To integrate WooCommerce Memberships with WooCommerce Subscriptions, select the appropriate Subscriptions product in your store when creating a new membership plan instead of creating a new product. You will see the above note appear after this has been done, which states that the membership will remain active as long as the subscription is active.
As in the example above, each customer who purchases the "Monthly Membership" subscription will automatically receive the membership benefits offered in the "Silver" membership plan, and their membership will remain active as long as they pay their subscription through WooCommerce Subscriptions.
Completely automate syncing member lists with MailChimp
MailChimp for WooCommerce Memberships helps you communicate more effectively with the members on your site. Previously, to get member data set up in MailChimp, you had to perform CSV exports for members, upload these exports to MailChimp, and manually change merge tags to be able to create effective member segments.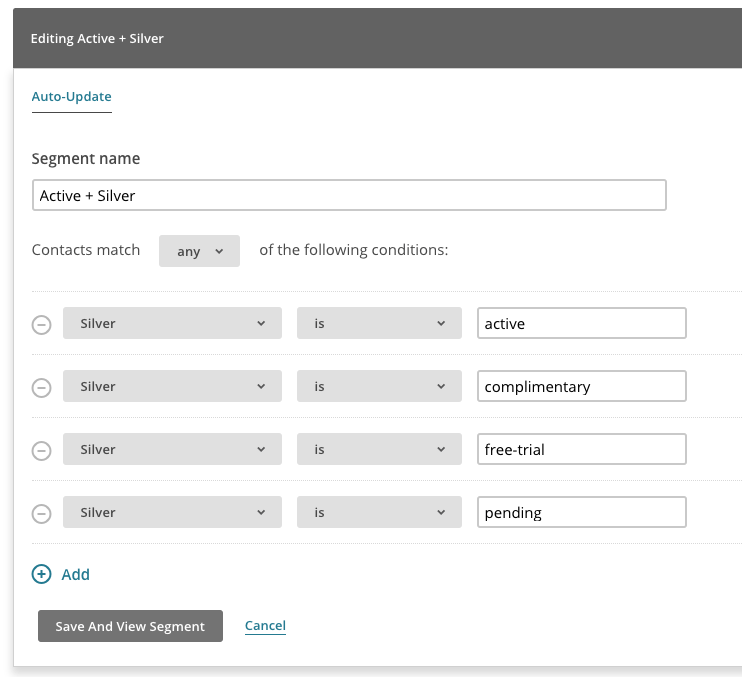 Try WooCommerce Memberships today
We hope you've enjoyed reading about WooCommerce Memberships. Give it a try for yourself, or get more tips on how to build a memberships site.
Do you have any questions about WooCommerce Memberships? Want to know if your idea will work with this brand new extension? Let us know what you're curious about in the comments below.