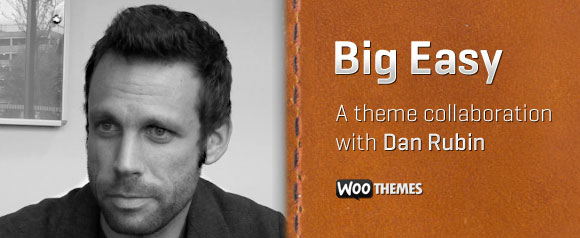 We've had the pleasure to collaborate with another hugely popular half-English web designer – this time the graphic designer, web developer, musician and Apple enthusiast Dan Rubin. This collaboration has brewed and matured over months and months, in fact we got our first preview of this theme in November last year! Hopefully this demonstrates to a lot of users that we don't rush our themes in order to release two a month – quality and quantity go hand in hand here at WooThemes.
Dan is a genius when it comes to web design, he gives a lot of careful thought to his designs and with Big Easy his personal style shines through. For his alternate styles to Big Easy he scanned and tweaked an old (circa 1970s) leather case with some lovely stitching, and a book cover from 1934 to form large repeating patterns. For the neat typography Dan introduced us to Cufon and implemented it meticulously with some "graceful degradation of text-shadow" <– You know you are working with a hot shot designer when he throws in words like that!
By April we had the final html/css files from Dan… with a note:
This one really tossed me some strange problems along the way, sorry it took longer to code up than I expected. It's also been almost a year since I did any serious XHTML/CSS production, and some of the stuff in this template is completely new territory for me (there are a few combinations that I doubt anyone has been stupid enough to try 😉
Looking at the theme now, sitting pretty on our demo server we are so chuffed by Dan's hard work, and we are sure you are going to love working with it too. Writing the theme documentation this morning I got to really test drive this wonderful theme that Dan neatly coded and Fox managed to work his WordPress magic into. With a completely widgetized home page that can be shuffled around to your pleasing with 3 custom widgets, and 6 custom widgets for the sidebar widgetized space the potential to make this theme your own is really quite limitless.
Enough talk though, have a look at some of those beautiful alternate textures below and then head on over to the theme listing page for more information.