As bloggers we focus a lot on the here and now – we want to keep our readers up to date on the latest developments in our niche and stay ahead of the curve. But some of the best blog posts offer value over longer periods of time.
The nature of blogging favors today, today, today – not yesterday. But days bygone can still provide useful content to your readers, and the best way to make such posts available is through an archives page. In this post I'll explain why you should embrace archives and how you can do it.
The Why: What You Get From an Archives Page
Some of the most obvious benefits to creating an archives page accrue to your users. Many readers want to browse old posts, find posts that they read but lost the link for, and learn about specific topics.
But what can a fantastic archives page do for you? It can garner you a number of benefits.
By providing a service to enthusiastic readers interested in reading past posts, you're further cultivating their loyalty. This increases engagement, which is critical to maintaining a positive community around your blog.
Beyond audience engagement, an archives page boosts the amount of time that people spend on your site, which is always a plus for you. You can increase the number of page views on each article – as people dig through the archives, you get a chance to put more of your content in front of them. That brings me to a crucial point: an archives page gives you more chances to convert visitors into subscribers and/or customers.
The longer someone is on your site, the better chance you have of engaging with them. Whether you want visitors to buy a product, sign up to an email list, or respond to a particular call to action, an archives page keeps them on the site longer, giving you a greater chance of capturing their interest.
The Specifics: What You Need in Your Archives
It's pretty clear that having an archives page is beneficial. The great part about this is that it shouldn't take you much time at all to set up your archives. You get substantial benefit for minimal time investment – a great trade-off.
What Not to Do
The best place to begin when determining the necessities of a good archive is to look at an archives page that doesn't work and see why. One site that I think has room to improve is Nerd Fitness. Take a look at its archives page: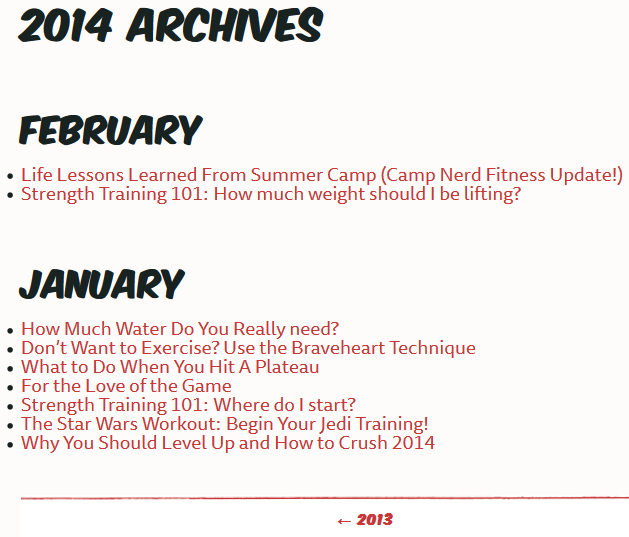 The problem is that there's not much going on here. You can see a list of post titles for each month and that's it. That's great, but you can bet that there are people searching for older posts who would benefit from other ways to access the archives.
Don't get me wrong – Nerd Fitness is an awesome blog with amazing content. I love the site. But that just makes it all the more disappointing that this page isn't quite up to speed. It's missing out on a lot of key elements that would help readers discover more great content to help them out.
Categories and Tags
What are those key elements? Categories and tags are essential elements on almost any page. You can take a look at the category section of WPBeginner's archives page.

In my opinion, this is excellently done because there are a manageable number of categories. This is beneficial for two reasons:
A huge, endless list of categories really cripples the archives page, sapping it of the value it can provide to visitors.
At the same time, you want to avoid a number of categories so low that it misses the whole point of categorization.
The biggest benefit that categories bring is that they enable users to explore your past posts based on broad topic area — they can go to a subject that they're interested and skim the posts contained therein until they find what they need.
Another example is the archives page of my blog, Leaving Work Behind:
You will notice that my approach to categories is almost exactly the same as what WPBeginner's. It's a neat, concrete way to organize posts via broad topics.
Another key archival element you'll notice on my site is tags. Tags provide good contextual relevance, grouping posts into smaller sections based on narrower topics. This allows visitors to delve into more specific subjects.
Date-Based Archives
One area where Nerd Fitness is heading in the right direction is its provision of posts by date. I find it incredibly valuable to offer your readers the option to view posts in chronological order. This is another place where WPBeginner gets it right: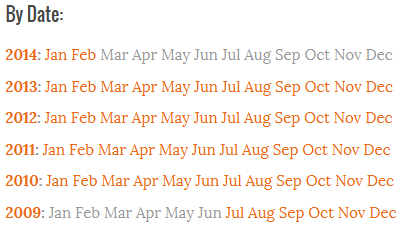 It looks nice, and the years and months are laid out in a compact manner to enhance usability. I use the same sort of organization on my blog, because it allows users to easily access posts by date. Some people are skeptical of how useful this is, but I think that there are two big benefits to it:
Devoted blog readers will have the option to read every post on your blog. Sure, it might be rare, but it's a nice choice to offer.
When someone is looking for a post that they recall was published in a specific month/year, they will be able to access it easily.
Get Creative (Maybe)
Tags, categories, and date-based archives are the bread and butter of a usable archives page. For many blogs, those items will be sufficient as you try to offer your visitors the best experience possible.
But there are some cases where creativity is called for. You should never adhere so rigidly to the ideas that I've presented here that you lose sight of the opportunity to mix it up and try new things with your archives page – so long as those experiments are necessary.
Your number one concern should always be to structure your archives page so that people can find what they need in past posts. This will ultimately depend on the nature of your blog.
Sticking with the WPBeginner example, they offer something that I don't have on Leaving Work Behind: a handpicked guide.

This is a unique feature – clicking on the link brings you to a page with a list of WPBeginner posts that take users through the entire process of creating and hosting their own WordPress website. For a resource like WPBeginner, which aims to help people start from scratch with WordPress, this is an excellent archival feature.
Some blogs will have space for creativity like this, while others will get by just fine with the three basic building blocks that I mentioned.
The Plugins: What WordPress Can Do to Help
While there are only a few fundamental necessities for a good archives page, actually implementing these strategies can be a tad difficult. You can click here to see a guide explaining the steps that I went through to create my archives page on Leaving Work Behind.
Guides aren't the only thing that can turn your hopes of archival success into a reality – WordPress plugins can come to the rescue. Let's look at a few of them.
This plugin was designed with simplicity in mind. The always-awesome Justin Tadlock was irked by what he believed to be overly-complicated archival plugins – so he made a simple shortcode that you can place on any page to show posts by month and year. If you liked how Nerd Fitness displayed posts, you'll be right at home with Clean My Archives.
Justin offers professional support for the plugin at his site, Theme Hybrid.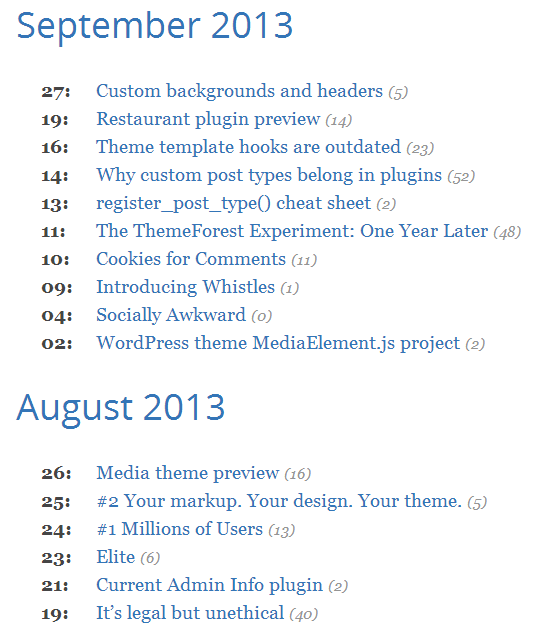 Link: Clean My Archives
Rating: 4.9 out of 5 stars
This plugin scans your old posts for media like images and YouTube videos. Then it displays those items alongside the post title and number of comments.
While this functionality is no doubt cool, I will be honest and say that Snazzy Archives has a bit too much going on for my tastes. I'm skeptical about the ease-of-use you can provide to your users with a plugin based on making things more complicated and involved.
That said, it's still a neat plugin. I mention it because every blog is different – as I mentioned above, there is room to be creative when designing your archives page. You shouldn't go out of your way to make things "snazzy," but this is a good plugin to consider when deciding what you need your archives page to accomplish.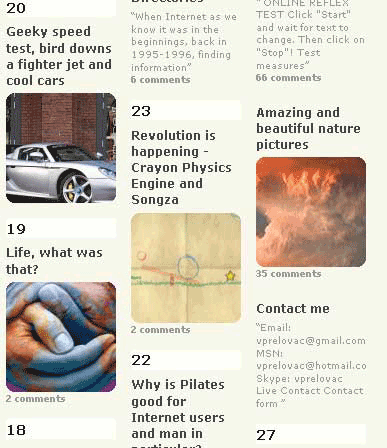 Link: Snazzy Archives
Rating: 3.9 out of 5 stars
This plugin is updated and used by the people at WPBeginner. It offers the same slick functionality you can see on WPBeginner's archives page. All of your blog posts will be available in chronological order within a compact structure that you can fit onto any web page or sidebar.
There are several different layouts to choose from.
Link: Compact Archives
Rating: 5 out of 5 stars
Conclusion
If you don't have an archives page, you're really missing out on a neat trick. Even if you do boast archives on your blog, you will want to reevaluate the page to see if you can do better on any aspect of it. Archives pages provide nice benefits, and it doesn't take a long time to make an effective page.
Once you've embraced the importance of archives, you'll need the basic elements of a successful archives page – categories, tags, and date-based organization. WordPress plugins are here to help. What are you waiting for?