Broth is the ultimate comfort food. What do many of us remember most about being sick as a child? Staying home from school, curled up on the couch watching the Price is Right, sipping on — you guessed it! — broth. It still brings that warm, fuzzy feeling to adults, whether they're sick, hunkering down in bad weather, or just looking for a boost to start their day.
Broth, specifically bone broth, is also super nutritious, chock full of ingredients that improve the health of your gut, skin, bones, and more.
Brodo makes this powerful superfood available at their four New York City locations and, with the help of WooCommerce, to customers around the country.
Simmering their way to success
It all started with Marco Canora, a James Beard award-winning chef, who started selling bone broth in to-go cups from the window of his New York City restaurant. The year was 2014: he had recently started drinking bone broth himself as part of a new, healthier diet, and was excited to offer it to people in the community as an alternative to coffee.
That single window grew into four physical locations, all in the New York City area. From there, Brodo began to sell their delicious bone broth online through their WooCommerce store, then landed their broth in the freezer section of major retailers like Whole Foods. Now they distribute their products nationally and continue to introduce new products, like their soup kits.
What's the secret to their success?
A big contributor is their commitment to quality ingredients and processes, which they refer to as, "The old way made new again." They use real bones from real animals, along with whole, organic vegetables, which they simmer over long periods of time without any preservatives or concentrates. They don't take shortcuts, and it shows in the flavor and nutrition of their products.
And when it came to the ecommerce experience, success was found in choosing the right tools and partners for their business and customers.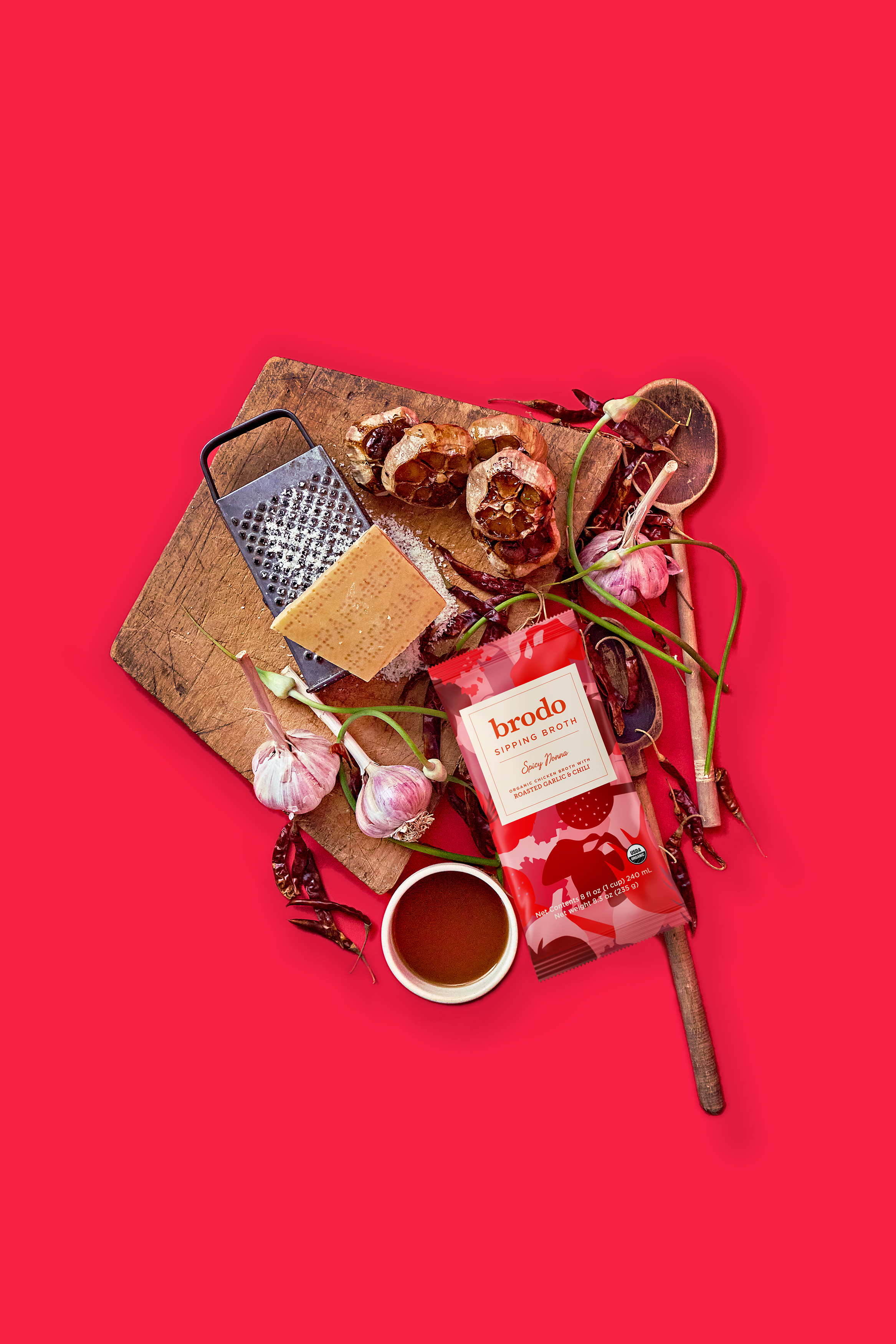 Brodo and WooCommerce
Brodo's initial experience with WordPress and WooCommerce wasn't perfect. Their first website didn't fully meet their needs, and they even considered moving to a different platform.
However, the team at Automattic stepped in and worked with them to identify their specific requirements and build a website to meet their needs. Now, they have a responsive online store that the Brodo team can maintain, provides a great customer experience, and fully represents the Brodo brand.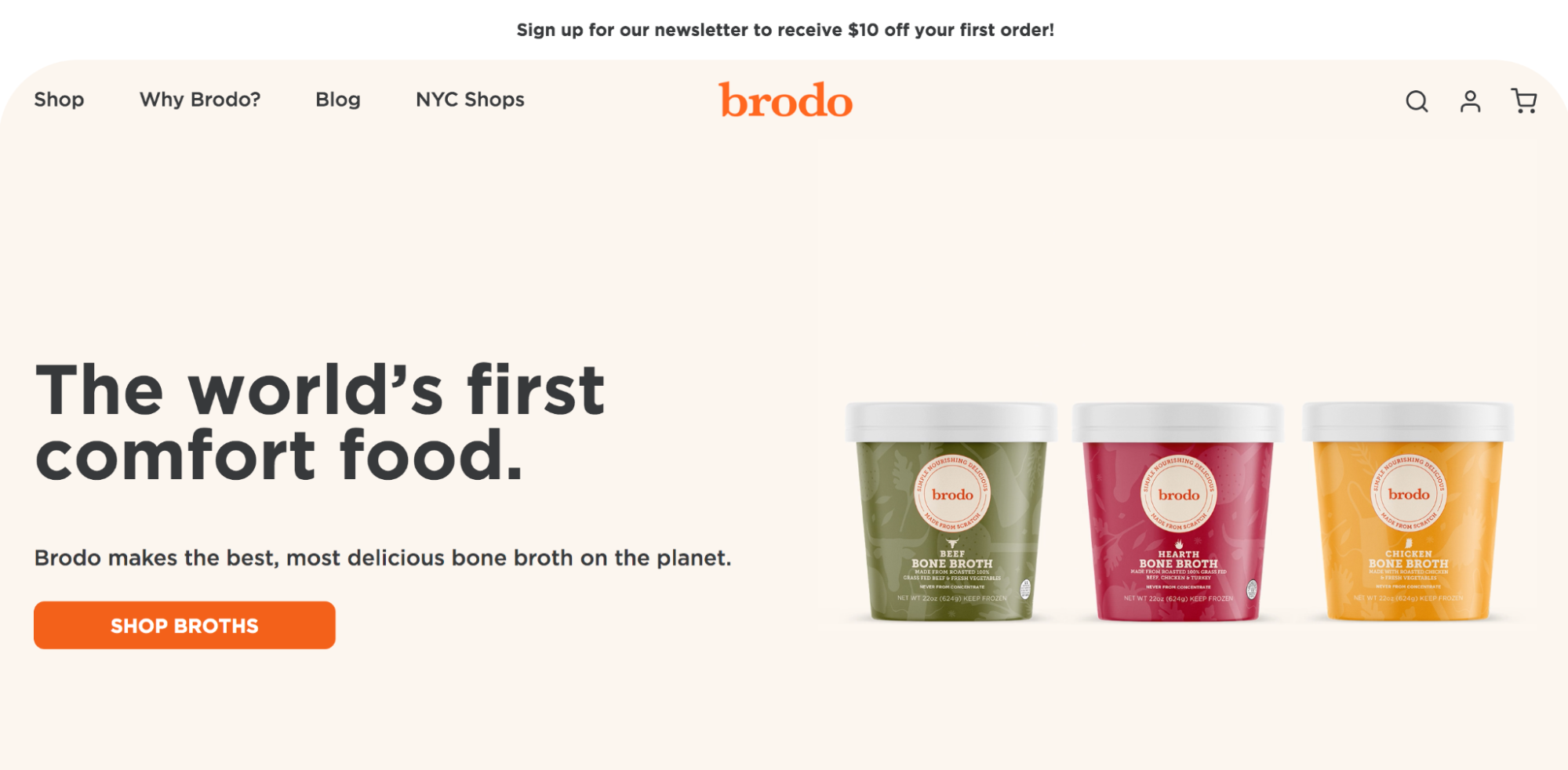 The new Brodo: Mobile-first, great UX, strong accessibility
The redesign process started with a mobile-first approach, given that more than half of online shoppers use a mobile device. Improving the website's user experience (UX) and customer experience (CX) were primary goals.
Brodo's new online store offers self-service subscription editing to their customers — previously a manual process for Brodo customer support. They can also manage all aspects of their online store directly in the WordPress dashboard thanks to WooCommerce and its seamless integrations with third-party solutions like ShipStation for shipping and Metorik for reporting.
To improve the user experience on the front end, Automattic built an intuitive, image-focused design that highlights the benefits of bone broth. Simple animations catch visitors' eyes as soon as they arrive on the site, and a mega menu makes navigation easy.

They also put a lot of work into improving the accessibility of the website, ensuring that every single site visitor can use it easily. They made minor tweaks to the brand's colors to meet contrast requirements, made sure that it was readable by screen readers, and increased the sizes of fonts, buttons, and more.
Their previous website was largely hard-gd, so it was tough for them to make even simple changes, like switching out text or images. Their new site was built using the WordPress Block Editor, so they can update everything from products and product bundles to pages and posts. This makes a big difference for a busy, growing company.
Setting up broth subscriptions
For loyal broth drinkers, subscriptions are a simple way to get their favorite food delivered automatically to their door on a regular basis. Brodo had been using bespoke code to manage subscription functionality, but Automattic helped them transition to Woo Subscriptions so that everything is managed and housed within the same dashboard.
Shoppers can choose between several different products, including the Chicken Lover's pack, the Variety 10-Pack, and the Brodo At Home Gift Pack, then select between a one-time order, or a delivery every two or four weeks. There are discounts associated with more frequent subscriptions.
Active subscribers can log into their account on the site to turn their subscription on and off, pause delivery, skip a shipment, select specific shipping dates, or even edit the flavors in their box. They can also check when their next delivery is scheduled to arrive. Customers win because they no longer have to call a service line to manage their subscription, and Brodo wins because they can allocate support staff to other issues and reduce customer confusion.
Choosing the right tools
Working with the right tools has enabled Brodo to create a beautiful, highly-functional website. We've touched on a few, but here are some of the other tools that they use to achieve exactly the right site for their business and customers:
The Brodo team is also working on a switch to Woo Payments for their payment gateway. This will enable them to manage their payments and refunds from the WordPress dashboard, as well as save them money. 
Building a cohesive experience for everyone
One of the biggest accomplishments with Brodo's new website was the improved user experience for both Brodo's team members and their customers. Everything works together intuitively, and automations free up time and resources to focus on other tasks.
You can certainly achieve the same thing for your business. WooCommerce is passionate about helping real store owners grow their brand and increase their sales with tools that work seamlessly together.
Ready to do the same for your store? Get started with WooCommerce or explore the extension library.
And if you're looking for delicious, healthy comfort food, get Brodo's broth shipped directly to your door.