Backups — it's a daunting word, isn't it? Just hearing it probably makes you think of your valuable time wasted on a bunch of complicated, manual processes involving databases and FTP directories.
But all of this is a myth we're happy to bust. The truth is this: thanks to modern plugins, it's now fast and incredibly easy to make backups for WooCommerce — and restore them if the need arises.
You already know you need to be making backups of your store and its data. But what you might not know is how to create and manage those backups without giving yourself a headache.
Today we're going to show you how. Read on to find out how you can get your store backed up for any situation with Jetpack, and how to properly use those backups in the event of an emergency.
Why backups matter, and when you might need them
If you recently updated WooCommerce, you might have spotted a notice like this on your Plugins page:

Major updates like these are why it's best have backups of your WooCommerce site. Although we expect the update process to go smoothly, we can't always predict the outcome — especially if you're using a lot of custom code, plugins from third parties, or haven't updated your theme or WooCommerce extensions in a while.
Having a fresh backup of your site on hand means that if you update and spy a problem, you can quickly roll back to a working version. You can then review the update on a staging site or during some downtime.
Backups are also crucial in the event of a catastrophe, like server failure — which is highly unlikely, but not impossible — or the accidental deletion of some of your files (admit it, we've all done this one). Having a backup ready means you can restore your site and get back to work.
In short, backups save you from headaches, data loss, and — most importantly — lost sales due to downtime.
How to back up your site (without any hassle)
There are quite a few tools out there that offer to back up your WordPress database, and some or all of your files. They vary in price, benefits, and user-friendliness. There's definitely a lot to choose from!
Our favorite tool for backing up WooCommerce is Jetpack, which offers:
Daily and realtime backups of your entire site.
Off-site storage for your backups (so there's no worries if something happens to your server).
Automatic, one-click restores of your backups.
Jetpack also performs security scans daily and can alert you via email if any suspicious plugins or other threats are found, keeping your site fully in the clear.
What we really like about this option is that you can seriously set it and forget it. Once Jetpack's backups are activated, your data will be saved daily, and you never have to think about it or touch the settings again. But if you're ever in a pinch, all you have to do is open Jetpack from your dashboard to start the restore process.
Learn more about how the Jetpack plugin handles backups here and choose a plan so you can start backing up your site here.
While Jetpack definitely isn't the only option out there for creating backups with WooCommerce and WordPress, it has the deepest integration and lowest learning curve. So we highly recommend it, especially if you're just starting out or don't want to think too much about backing up your data.
Restoring your backups like a pro
If you're using Jetpack, there's not much to be done as far as creating or managing backups. But if you need to find and restore a specific backup, here's how to do it like a pro.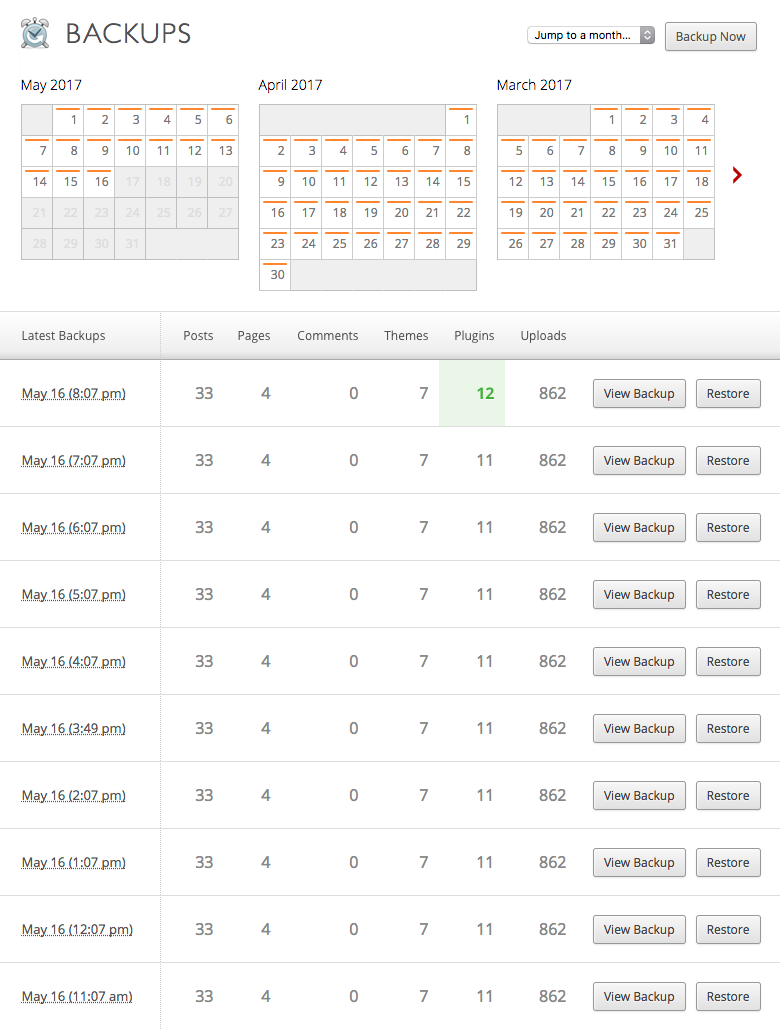 When you view your backups, you can find the one you need (or narrow down your options to one without a problematic plugin or update) by checking the time and date, plus the number of posts, plugins, uploads, and other data associated with each. If an entire day's backups won't work, you can click on the calendar to travel back in time as far as you need to.
Once you find a backup that will work for you, all you need to do is click "Restore" on the right side. Assuming you've already connected to your site via Jetpack (or added an alternate restore location, which we'll explain in a bit), the backup will be available for you to restore immediately.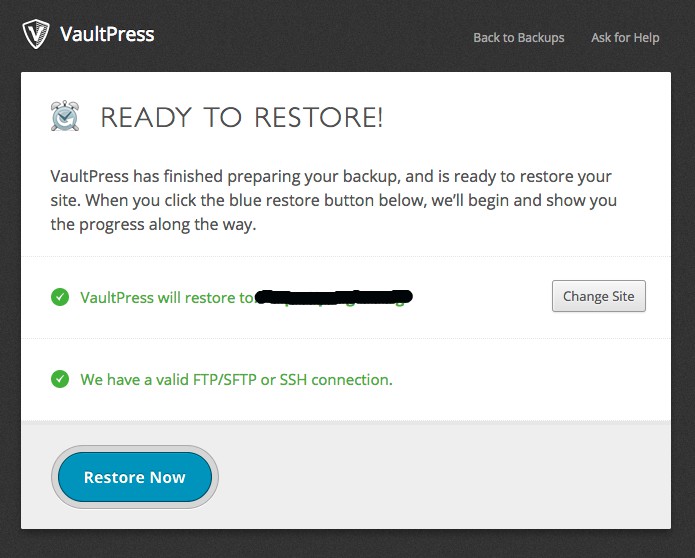 Once you give the thumbs up, your data will begin restoring. This process can take anywhere from a few minutes to several hours depending on the size of your site, but you can leave the page — you'll get an email when everything is finished.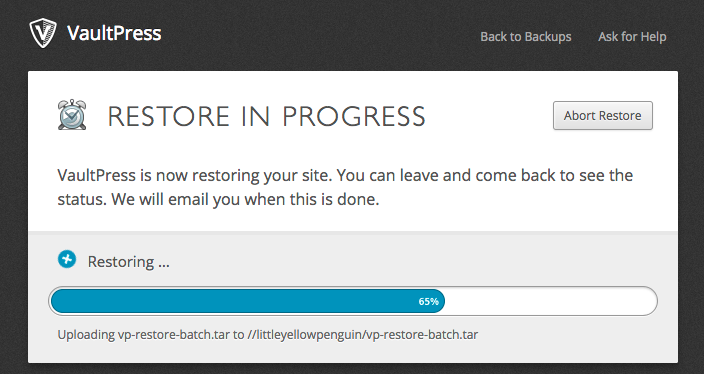 Here's some more info on how the one-click restore process works and how to use it.
How to avoid losing data when you restore a backup (or might have to)
One of the most common questions we hear is "how am I supposed to restore a backup without losing the orders that just came in?"
This is another reason we recommend having a staging site — basically, a duplicate version of your store you use solely for testing.
Some hosts offer this for you as part of a hosting package. Or if you're using Jetpack, you can create one on the fly by restoring one of your recent backups to a different location.
But if you aren't working with a staging site and want to update WooCommerce or another major plugin/extension (and think you might have to restore a backup if something looks odd), follow this process to avoid losing data:
Temporarily halt all new orders, edits to products, etc. on your site — a plugin like Maintenance Mode can help you handle this gracefully.
Make an on-demand backup; with Jetpack's backup system, this is done by clicking the "Backup Now" button in the top-right corner of your dashboard. Make sure the backup completes before moving on.
Proceed with your plugin/extension/other major site update(s).
If something is broken, restore your backup. If not (or if you only spot minor bugs), proceed.
Take your site out of maintenance mode or otherwise bring it back live again. Optionally, make another on-demand backup before you start making any other changes, just in case. 🙂
Following this process will help you avoid restoring a backup that doesn't contain your most recent orders (and accidentally losing the business of some of your customers).
While a staging site may be the best option long-term or for major updates, this is also a great solution for small updates or even things like theme changes, where you probably won't have to restore… but still don't want to take a risk.
Some final tips for managing your store's backups
Here are a few more things to keep in mind when it comes to backing up (and restoring) data with WooCommerce:
Store your backups off-site. If something happens to your site and it's inaccessible, your backups can't help unless you can get to them! Jetpack stores backups off-site by default, and you can also download copies to store locally.
The frequency of your backups is up to you, but if you feel like you're overdoing it a little bit you're probably on the right path. Hourly or at least daily backups are best — even small stores typically see lots of critical changes weekly or monthly.
Avoid restoring to a live site whenever possible, or (if it's unavoidable) try to limit backup/restore activity to quiet periods. You can find your site traffic on your WordPress dashboard or in Google Analytics.
Some tools will allow you to make and/or restore partial backups, which can save lots of time, but be careful with this option — forgetting to backup or restore core WordPress files could break your store!
Backups can save you time, headaches, and even money
Backing up your site isn't just something you should do just in case of a natural disaster or freak accident. It's also a best practice that can save you a ton of headaches when you're updating your store or making changes to its design or functionality.
By making backups regularly, restoring them properly, and managing them using the tips above, you'll save time… and probably also some money on top of that. And anything we can do to help you boost your revenue is a win in our book!
Have any questions about making backups, using Jetpack to manage them, or restoring a backup to your WooCommerce site? Let us know in the comments, we're happy to help.