This is a guest post by Nathan Oulman of MaxCDN with some valuable insights into maximizing the speed of your website using CDN services.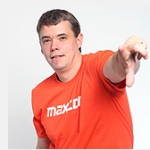 You know you need more speed. Visitors coming to your website are bailing out before completing their transactions – or sailing away before finishing the video you've worked so hard to create for them. What's up with that?
It's the curse of latency, my friend. If you've done everything you can do to optimize your website so that it's as lean and mean as you can make it, the problem lies not necessarily with you – it's the physical distance separating your server (or host) and your customers.
Think about it: there's only one of you – your website, that is – but visitors to your online destination are increasing every day. Whether it's just across the country or from around the world, the distance that separates you adds time to getting your web content to those customers.

You Have About Two Seconds
The highly respected website performance measurement firm, Gomez, says that the average online viewer expects their browser to render a page is just two seconds or less. And when that doesn't happen within the next second? Up to 40 percent will simply abandon the website.
So, what are you supposed to do – spend a bazillion dollars to install server clones all over the world to hook up all your customers with closer physical proximity?
Actually, yes. Something like that.
Only minus the cost of a bazillion dollars and the cloning part – which may have been successful for a sheep named Dolly (who sadly passed away from progressive lung disease and severe arthritis on Valentine's Day of 2003) but probably is still beyond practical science at the moment.
Right now, minus any science fiction, you can accomplish the cloning feat by utilising the services of a Content Delivery Network (CDN).
The Scientific Magic of a CDN
The true and unfortunate fact is that the Worldwide Web is slow – relatively speaking. Here's a theoretical scenario:
Your website is hosted in California, and a visitor to your site is looking at it on her laptop in, say Boston. The webpage she's requested has 100 objects on it (although the average well-designed webpage today likely surpasses this number) Her web browser will make 100 individual requests to get all those items from California to to her laptop in Boston.
Internet transmission times happen in milliseconds – so it should take just about two or three seconds of load time. Except… that's not going to happen. She's separated from your server by about 2,600 miles. If she were instead in Madrid – stretch that to 5,833 miles. No passport needed, and the seconds to load will increase.
Heavy Lifting
Enter the CDN: which takes the images, JavaScript, and CSS (those "heavy" data-intensive elements of your webpage) and duplicates them across a network of servers around the world. That physical distance causing latency is resolved, as the static files gobbling up the most room get delivered from the server that's closest to each of your customers.
What you may not know is that much of today's web content is served up by CDNs. The likelihood of this being the case increases exponentially if it's a website that conducts e-commerce, social networking, or pushes out video.
We hope this article gave you some valuable insight into a service that can increase your website's  speed and reliability. Do you have any comments or questions about MaxCDN, CDN's or site speed in general?
Feel free to comment below. Thank you to Nathan at MaxCDN for the great post.