Staying in touch with your customers with timely, informative emails after they make a purchase is an important part of building your business. Businesses who do this well make shoppers feel valued and confident about their order, and their overall satisfaction will be high. This can lead to repeat sales from people who are happy to sing your praises online.
But no shop owner wants to be beholden to their inbox. Reassure your shoppers that their order has been received, is being processed, and is out for delivery with automatic transactional emails.
What is a transactional email?
A transactional email is an automatic notification sent to a customer based on events that happen around their order. For example, each shopper should receive an auto-generated confirmation as soon as they complete their purchase, listing the items they bought and the total cost. The main purpose of transactional emails is to keep shoppers informed of their order status.
WooCommerce includes several transactional emails configured by default. Automatic emails are sent as orders progress through your shop's delivery process; you can let your customers know when their order has been received, is being processed, and is out for delivery.
Pro tip: If you have additional steps in your process — such as moving an order into an "assembly" step for a custom-created item — you can create new order statuses that trigger automatic emails with the WooCommerce Order Status Manager extension.
Customizing your transactional emails
Default WooCommerce transactional emails send basic information to your customers, but you can increase engagement and trust by customizing your emails with your own logos, colors, and additional information. Customized emails serve several purposes:
They're instantly recognizable. Recipients will know that the email comes from your company and that it contains important information about their order.
They look more professional. While we personally love the default WooCommerce purple emails (it is our brand after all!) changing the colors to fit your own style will help customers recognize your brand.
They provide helpful information. Adding extra information reduces the need for customers to hunt down answers to questions or reach out to your support team.
You can change the header, footer, and colors of your transactional emails by navigating to WooCommerce → Settings → Emails. Want to work visually? Try MailPoet's email template customizer! Edit all of your email elements using a drag-and-drop builder without using any code.
Beyond the design, you can also change the text content in your email settings. Click Manage next to the one you want to edit, and change the subject line, heading, and body text as needed.
If you have information to send for specific products, such as a user guide or installation instructions, you can add custom notes and links to files for each item. This is called a Purchase Note and can be added in the Advanced section of the Product Data box for an individual product.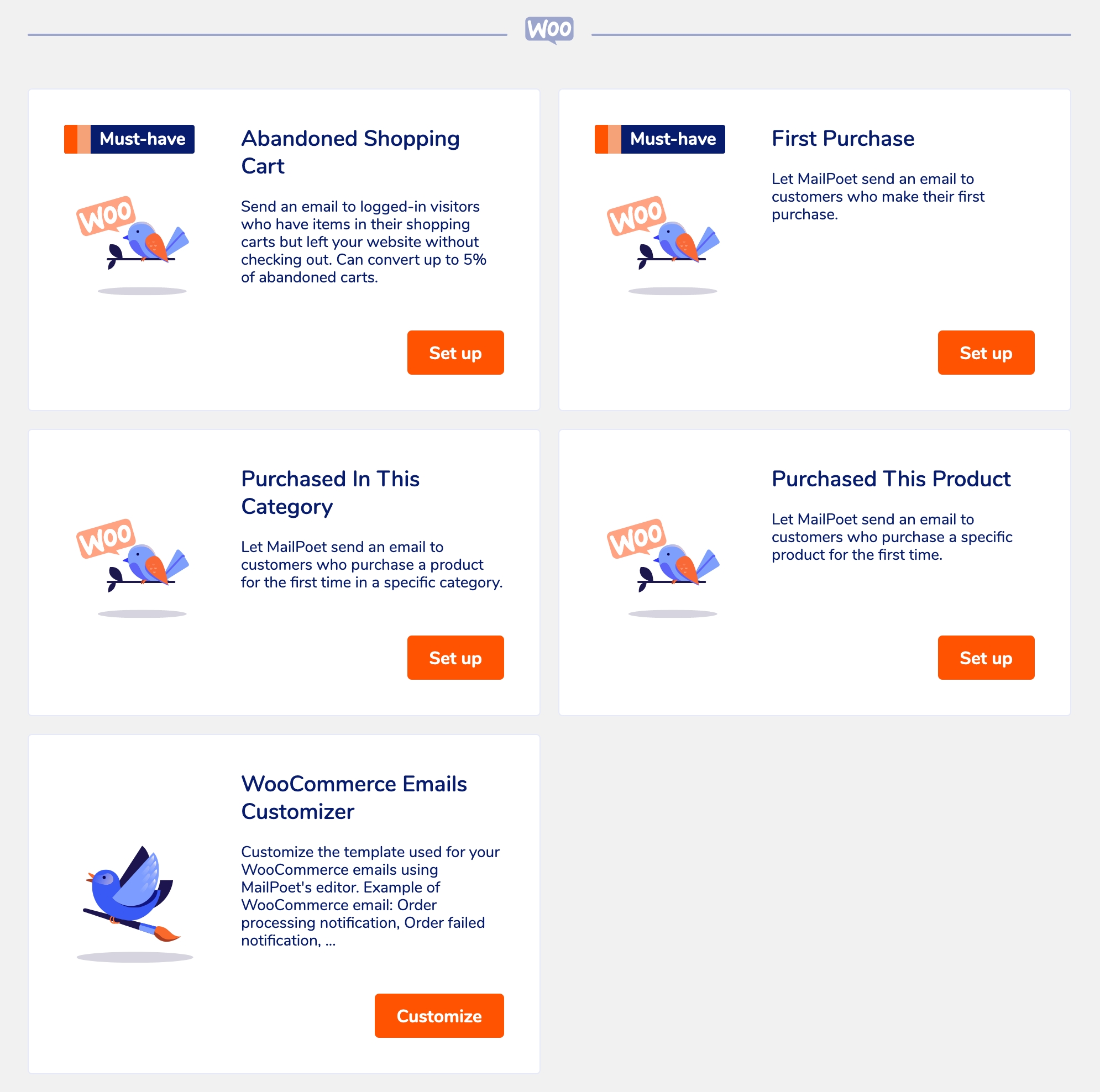 Turning transactional emails into conversions
Yes, a transactional email does typically mean that you've already made a sale. But with the email template customizer from MailPoet, you can turn those emails into additional orders! Let's look at a few ways you can do this:
Include a coupon code. Consider adding a discount or free shipping offer to your "order confirmation" email. This encourages shoppers to go ahead and buy that accessory they were considering or come back for a second purchase in a few weeks. Plus, it rewards them for shopping at your store in the first place.
Ask for a review or social share. Your customers are the most excited after they receive your product in the mail. There's something special about getting exactly what they're looking for on their doorstep! Make the most of that excitement by asking for a review or share on social media in your "product delivered" email. This is a great way to reach a new audience (your customers' friends and family) or boost the confidence of those considering your products.
Add a call to action button. A CTA (call to action) asks your customers to, well, take action. You might ask them to turn their one-time order into a subscription or you could combine images, text, and buttons to showcase additional items that are available on your store.
The best part? With MailPoet, you can just drag and drop any of these items into your transactional email templates and preview your updates. It's as easy as clicking a button.
Ensuring your transactional emails arrive safely
It's no use creating great emails that never arrive in a customer's inbox. Can you imagine the frustration of placing an order and never receiving a confirmation? That can compromise trust with your buyers. So how do you prevent this?
The first step is to make sure that your transactional emails are enabled in WooCommerce → Settings → Emails. Then, set your "From" email address to something at your domain name rather than an email service like Gmail or Yahoo, which can trigger spam filters.
To take deliverability a step further and make sure your emails arrive every single time, you may want to try an SMTP solution. This is an application specifically designed to send and receive emails and verify that your email address is legitimate. This ultimately helps you avoid spam filters.
MailPoet offers this feature with an advanced deliverability infrastructure that sends 30+ million emails each and every month. While many SMTP providers cap the number you can send per month, MailPoet offers unlimited emails. Plus, they'll arrive in your customers' inboxes in seconds, so shoppers don't have to wonder if their order went through.
Going beyond transactional emails
What happens after a purchase is made and an order is delivered? How do you keep your customers coming back weeks, months, or even years down the road?
That's where email marketing comes in. Once you've sent effective transactional emails, continue to reach out to the customers that give you permission with information, educational materials, updates, and coupons. This keeps your company and your products top of mind.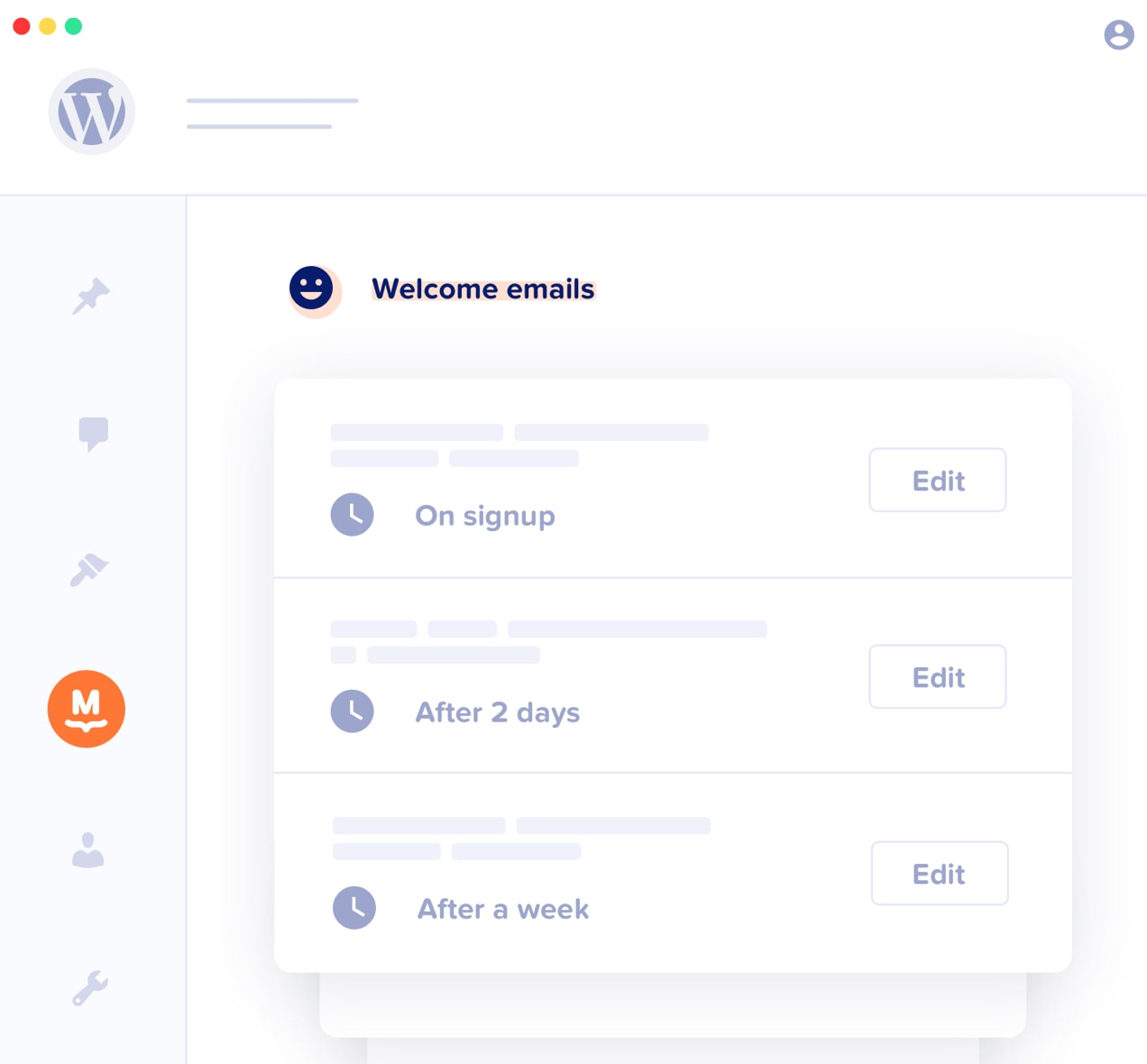 The great news is that you can use MailPoet to set up both transactional emails and marketing emails. Here are just a few of the features available to you:
GDPR-friendly signup forms directly on the checkout page.
Automatic syncing of new and previous customers.
Email marketing messages tailored to the specific product that each customer purchased.
Complete customization with a visual, drag-and-drop editor.
Automated email series that welcome, educate, and inform your customers.
Advanced email statistics so you always know how much revenue your emails generate.
Combining transactional emails with marketing emails is an incredibly powerful solution for increasing sales and keeping buyers happy. Already have an email list? Learn how to turn those subscribers into customers.
Communication is key
Remember, your goal is to keep your customers happy and engaged before, during, and after their purchase. With customized, branded transactional emails, you can ensure that they're being taken care of, manage their expectations, provide all the information they need, and bring them back for additional purchases all at the same time!
Ready to set up beautiful transactional and marketing emails? Get started with MailPoet.