Potential customers consider a lot of factors before making a purchase, from the visual appeal of a product to its cost to your store's shipping speed and fees. And if they've never purchased from you before, they probably also read reviews — both about you and the item they're considering.
According to a customer service survey sponsored by Zendesk, 88% of shoppers in the United States make their purchasing decision based, in part, on reviews: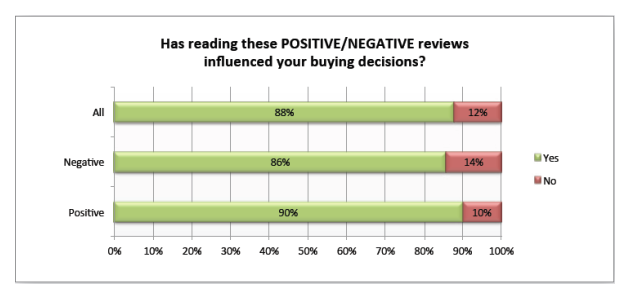 Both positive and negative reviews can help someone make a decision, with positive feedback making a slightly bigger dent (90% vs 86%).
What does this mean for you? Something big: reviews can make a serious impact on your sales. The more you have, the better a shopper can evaluate a product. And better evaluations mean more purchases and less returns.
Collecting feedback is crucial for your WooCommerce store, and there are some optimal ways to do it. And once you have reviews aplenty, there are some amazing ways to use them, some of which go well beyond the product page.
Let's take a look at some best practices for collecting and using your reviews with WooCommerce, whether you're new to selling online or an eCommerce expert.
First things first: make sure your theme and settings are correct
Reviews are enabled by default in WooCommerce, but you may occasionally run into an extension or theme that changes how they appear (or hides them entirely!) on your product pages.
If your reviews are being negatively altered by your theme, you may want to consider switching to a different theme. If this isn't an option, you'll need to dive into the code and change them to your liking.
Remember to create a child theme before making any changes to your store's design (learn why here). If you can't figure this out on your own, consider contacting a WooExpert for help.
On the other hand, sometimes your review settings just aren't the way you want them — for example, you may want to limit product reviews to logged-in customers who have the product they're reviewing in their order history.
Changing your settings for reviews can be done on the Products tab under WooCommerce > Settings, as shown below.
It's best to review these settings and the way your reviews are displayed on your product pages before you move forward with any of the other steps listed here — if a shopper can't get the right information when they're trying to make a decision, everything else you do won't have an impact.
Add product ratings to items on the homepage (and elsewhere)
One of the settings you can change in WooCommerce allows ratings to be toggled on and off. These are the stars or number ratings you sometimes see with products (ex. 4/5 stars, 3/5, 75%…).
As mentioned before, themes may occasionally change the way ratings are displayed. Luckily, if you're willing to roll up your sleeves and dig into the code a bit (or ask for help, as mentioned above), this won't take long to fix.
One of the most common things missing in some themes are ratings that appear with product thumbnails, like on your homepage, category pages, or within search results. If these aren't showing up for you, you can get them to appear by adding the code from this Stack Overflow thread to your child theme's functions.php file.
Why add these ratings in, anyway? Because:
They can tell shoppers what the overall opinion of a product is before they even view the page.
They allow shoppers to see what a reviewer's opinion is at a glance — especially helpful if there are a lot of individual reviews.
Stores with ratings are preferred over those without, according to a Bazaarvoice study
So give some serious thought to adding stars, numbers, percentages, or some other way for shoppers to visualize ratings — they can have a big impact!
Allow reviewers to add photos and extra details to their review
Now that we've covered some general best practices for accepting and displaying reviews, let's move on to how you can make those reviews even more powerful.
One idea is to allow customers to do more than simply add a rating or written review. We all learn differently — you've heard the phrase "seeing is believing, right?" — and some potential customers may trust a photo more than text.
The Product Reviews Pro extension for WooCommerce lets you add this functionality to your store quickly and without the hassle of custom development work. Simply install the extension, adjust the settings as you like, and you're on your way to convincing even more shoppers to click that "buy" button.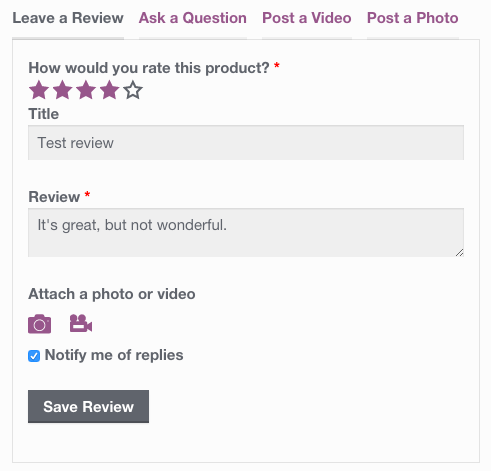 Product Reviews Pro comes packaged with features that go far beyond the ability to add photos, too. You can allow reviewers to add ratings, videos, and subscribe to replies to their feedback. Potential customers can even ask questions and get responses from you (or customers).
This extension allows you to collect more detailed reviews, increase interaction around your products, and potentially boost sales. It's definitely one of our favorites, especially for beauty and fashion stores.
Highlight your best or most recent reviews
Every now and then you might get a glowing review of one of your products that you want to go shouting from the rooftops. It's amazing feedback, the customer is delighted, and all you want is the world to see how awesome you are.
But how the heck do you do that? And is there a point?
To answer the latter: yes, absolutely. BrightLocal found that 72% of consumers will take action after reading just one positive review, whether that means visiting your store, looking at some of your products, or contacting you.
So if you get an incredible review, use it! To answer that first question, you can do this manually in a few different ways:
By adding it to your homepage — you could do this with HTML in a widgeted footer area, or in the form of a graphic.
Adding it to another widgeted area like a sidebar, again using HTML or as a graphic, so it shows up as shoppers browse the site.
Quote it on social media — there's no reason you can't tweet about it or make it the subject of a Facebook post! (As a bonus, link the product that was so well-reviewed.)
Creating a graphic of some kind with the customer's quote included — this might be shared on social media, part of a webinar, included in a slide deck, in an infographic… get creative!
Another option: if you're using our Storefront theme, the Storefront Reviews extension will create an area right on your homepage highlighting the reviews of your choice. (You can toggle between the most recent reviews, reviews on a specific product, or even display specific review IDs.)
You should be proud of positive reviews — after all, you've worked hard on your products and store to merit them. So if sharing them every now and then can attract a few more customers, we say go for it.
Ask your customers to leave reviews… automatically
One final bit of advice. This one's for those of you who might be reading all of this and saying "sounds great, but how do I get reviews in the first place?"
You're a lot less likely to hear from happy customers. Unhappy customers have good reason to contact you — they want you to make things right. But the happy ones will take the product they've received, use it, and go on living their lives.
Sometimes they have every intention to review you, but they don't. They don't mean to forget, but let's face it — people are forgetful. Unless something really blows their minds, they probably put "review this thing" in between "clean the baseboards" and "do my taxes" on their mental list of priorities.
Here's a solution to consider: Follow Ups can help you remind customers to leave a review if they've forgotten, and it can do it automatically. By setting up triggers based on the activity of your customers, you can have the extension email customers and ask them to leave a review (or take another action, if you prefer).

Follow Ups lets you decide not only how many emails you want to send, but when you want to send them. So if you want to ask customers to review their new purchase once after a 30 day period, you can do that. Or if you want to email them two days later, then after a week — because you sell digital goods — you can do just that.
If you can remind customers to leave a review (and maybe emphasize how much their opinion means to you, or even offer a coupon in exchange for their valuable feedback) you'll be more likely to see the ratings come rolling in from those happy customers who mean well, but just… forgot.
By following these tips, you'll earn more trust — and make more sales
Collecting reviews with WooCommerce doesn't have to take a lot of work. But considering how powerful those reviews can be, it's worth putting the time in to use them well, whether that means featuring them on your homepage or collecting amazing feedback in the form of photos.
We hope these tips will help you get started on filling your store with lots of reviews! Have any questions about the advice in this post, or any tips of your own to share? We'd love to hear from you in the comments.