There's more than one factor that determines whether or not a shopper makes a purchase from your store — product selection, pricing, shipping speed, and so much more.
But there's one major factor that determines whether or not shoppers even make it to your product pages in the first place, and that's site speed.
As we covered in the past, your WooCommerce store needs to be as fast as possible to gain potential customers and keep them on the site. There are a lot of ways you can optimize your site for peak performance, like choosing reliable hosting and updating your plugins. There are also tools you can use to speed things up, and Jetpack is one of them.
Today we're going to look at a handful of Jetpack's features that help increase site speed, and how they can specifically help WooCommerce stores retain more shoppers.
But first we'll give you a quick introduction to Jetpack, just in case you're not familiar with it.
Jetpack: a WordPress design, marketing, and security toolkit
Jetpack is probably best described as a multi-purpose WordPress toolkit. It includes various features that will help you customize the look of your site, promote it to a wider audience, and protect it from security threats.
Like WooCommerce, Jetpack is a free, open-source WordPress plugin provided by the team at Automattic. It's free to use, but has additional functionality with the purchase of a paid plan.
There are plenty of ways that Jetpack can help you run a better online store, from downtime monitoring to real-time backups, but some of its best features are those that help you speed up your content. This includes hosting your images and video offsite and offering a faster, more relevant search tool.
Here are some of the best ways that Jetpack can speed up your store and satisfy even the most impatient customers.
Reduce your image load times with the Jetpack CDN
Product pages are arguably the most important pages on your site. They're where shoppers make purchasing decisions, weighing their interest against factors like cost and quality. And they're also landing pages for new customers searching for something specific, either for themselves or a loved one.
You may think that having a lot of product photos on these pages will help shoppers make better decisions in less time. But if these images take a long time to load, they may actually drive impatient shoppers away.
That's where Jetpack's content delivery network (CDN) comes in. When enabled, Jetpack's CDN will rehost all images uploaded through the WordPress Media Gallery, including your product page photos.
If you're using multiple photos or videos to help shoppers feel more confident about their buying decisions, the Jetpack CDN can speed up all of your media files so that they do what they're supposed to, instead of driving impatient visitors to your competitors' sites.
Speed things up with Lazy Loading Images
Along with product pages, your store may have longer, media-heavy landing pages, blog posts, or photo galleries. These destinations are just as important for attracting and converting new customers… but they can be outright demanding on browsers.
Researchers at Google found that 53% of people will leave a website if it takes more than three seconds to load on a mobile device: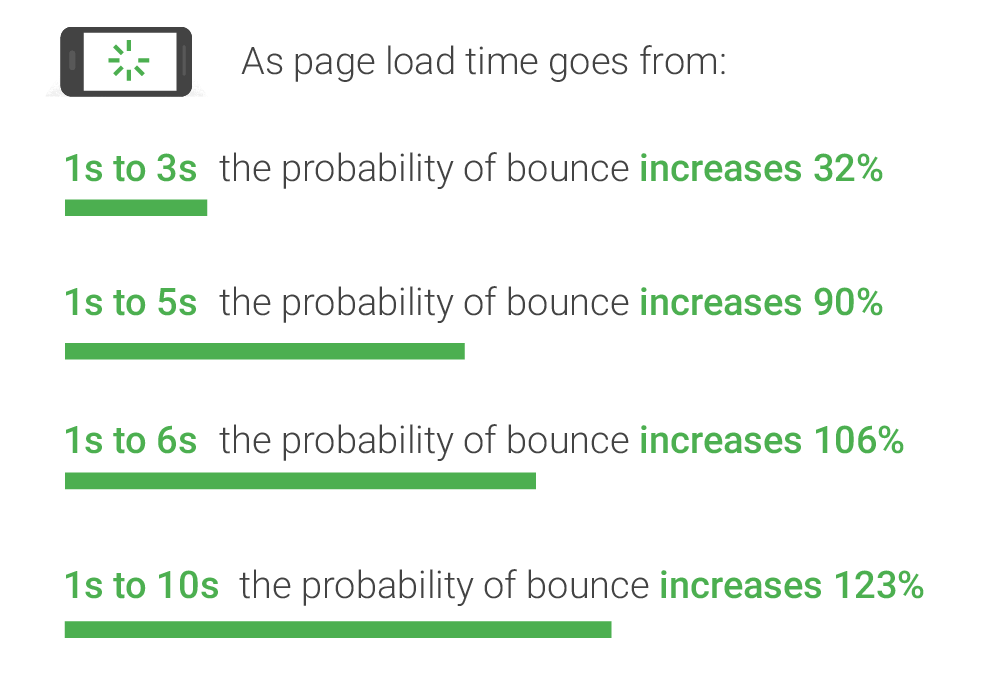 A CDN alone may not cut it for media-heavy pages, especially for your mobile shoppers. So you should consider trying another Jetpack feature, Lazy Loading Images, to speed up the load time of your longer pages.
Lazy Loading Images uses JavaScript to delay the loading of images on your pages until they come into view. When a page is loaded, all the code will load instantly, but images won't appear until the visitor scrolls down to the point in the page where they are embedded.
Here's a short demo of this feature in action:
With this feature activated, Jetpack will help even your longest, most media-heavy pages load quickly… and keep mobile visitors sticking around to see what you have to offer.
Replace your embedded videos with faster, ad-free media
Another tool you may use to show products to potential customers — and in even greater detail than photos — is video. Shoppers are more likely to purchase a product if they watch a video about it, which is what makes this such a powerful sales tool.
It's easy enough to upload any videos you produce to a third-party website like YouTube or Vimeo, but when these videos are hosted elsewhere, viewers typically experience a lot of waiting. They wait for the videos to load, wait for the ads beforehand to finish playing… altogether not a pleasant experience.
The good news: the same content delivery network Jetpack uses for its images works with video files, too. Jetpack Premium and Professional plan customers have unmetered video uploads, a feature that makes it easier for you to add video files to your site, embed them in any page, and show them to shoppers without any wait time.
Any video files you host with Jetpack are played back to visitors free of ads, watermarks, or any other branding. You simply upload them through the Media Library like you would any other file, choose the page you'd like to add your video to, and you're done.
If you use video to motivate purchases of products that are a little difficult to explain with a photo (or plan on doing so in the near future), the purchase of a Jetpack Premium or Professional plan is a small price to pay for faster product pages and the absence of those annoying, unskippable ads.
Keep shoppers smiling with a speedy store
The speed of your store and its content can have a dramatic effect on how many sales you make. Luckily, it's not difficult to speed things up — it just takes a few good tools.
Ready to speed up your store with Jetpack? Start for free today and let us know what features you find most valuable by leaving a comment below.