TL;DR:
Storefront version 1.5 has arrived
– upgrade via your WordPress dashboard or try it for the first time by
downloading a copy here
. Enjoy!
The last major release of Storefront saw us add many accessibility improvements and achieve the "accessibility ready" tag on wordpress.org.
That release went a long way towards making Storefront a more rounded solution for store owners looking to make their online shops accessible to the widest audience possible. Storefront 1.5 carries on that theme of enabling, and achieves another coveted tag on wordpress.org.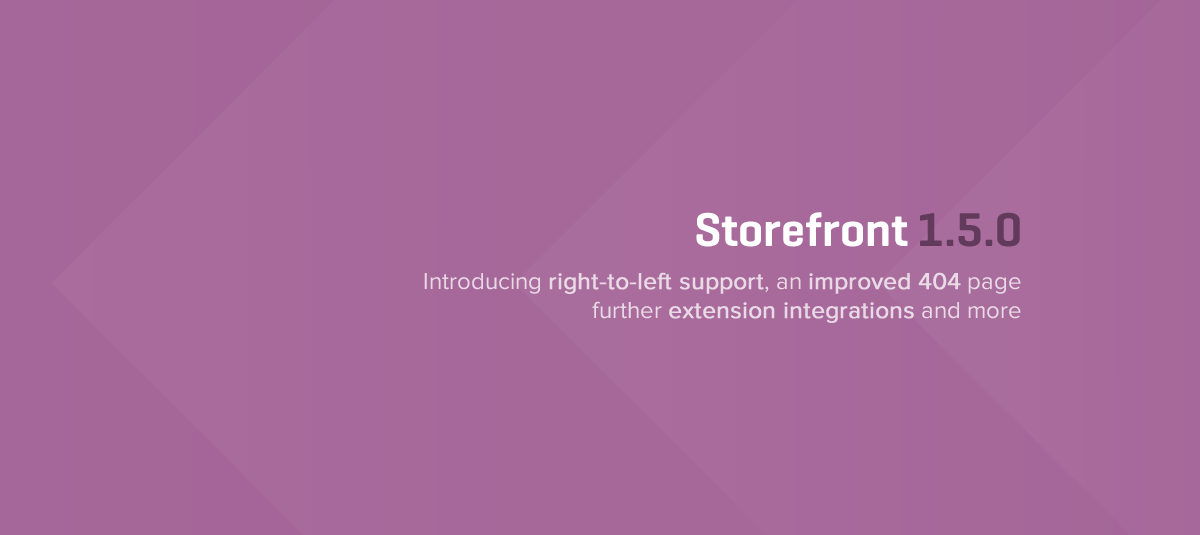 Here's a look at some of the biggest chances in Storefront 1.5.
Storefront speaks your language, even in RTL
The primary feature of this release is support for right-to-left languages in Storefront core.
Every aspect of Storefront has been adjusted and tested to support WordPress installs that have a right-to-left language configuration. The aesthetic will now be perfectly mirrored, even down to the smallest details like icons and default settings in the Customizer.
If you installed WordPress in a right-to-left language, Storefront will automatically recognize that and intelligently load an entirely different set of stylesheets that have been tailored to that language. This is an improvement on the traditional RTL support standard which simply overloads an additional stylesheet on top of the primary one (essentially loading two files, where only one is necessary).
WooCommerce is a global eCommerce solution, it's only right that Storefront is a global theme solution for WooCommerce. Storefront 1.5 provides this and more.
Integration with more extensions
The total number of customer facing extensions that Storefront integrates with out of the boxes is increased to 11 in 1.5 as we added support for WooCommerce Deposits and Product Bundles. There are also updates to the Composite Products integration ensuring compatibility with the latest version.
Revamped 404 page
We've revamped the 404 page template to better direct customers to what they're looking for.
Previously this page featured a post/page search and links to post archives, which was great for blogs. However, Storefront is meant for online stores, so we decided to make this page more useful to folks browsing a shop.
The new 404 page now includes a product search box, links to product categories, featured products and popular products. Hopefully your visitors won't end up on this page too often, but if they do they'll now see more contextual content.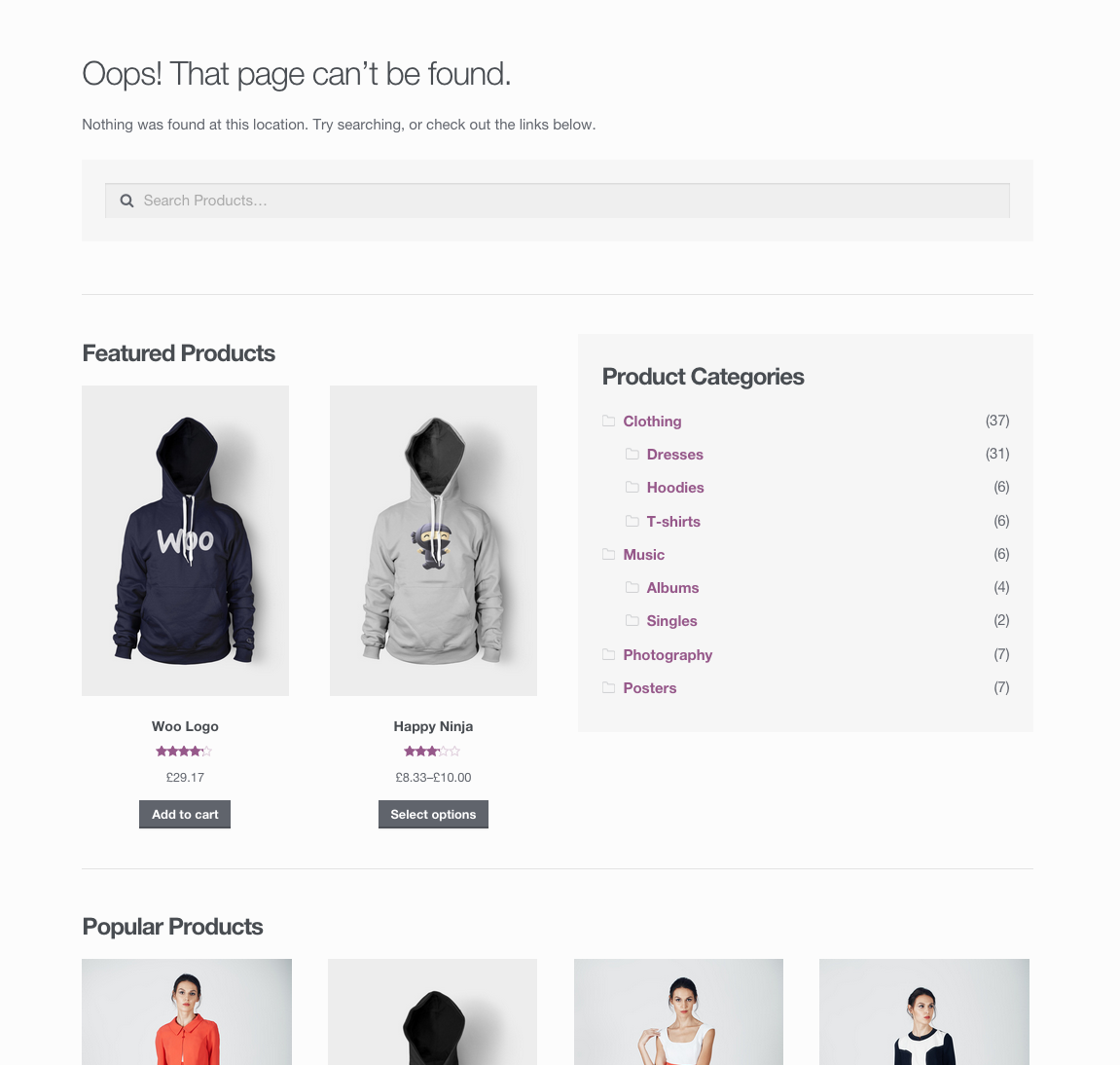 Scrolling header cart
The Storefront header cart is a really handy feature. It gives visitors permanent access to important information such as their cart total, and the number of items it contains. On hover it also reveals the carts contents.
This works great when there are only a few items in the cart, but as more items get added this dropdown becomes unwieldy.
Storefront 1.5 elegantly addresses this by giving the cart dropdown a set height which simply begins to scroll as more items are added.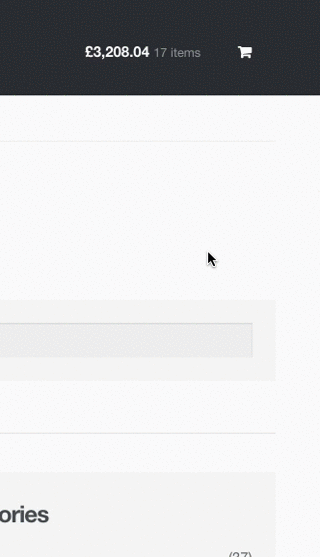 Featured images appear for pages
We're all familiar with adding featured images to posts, but pages can have featured images too. In previous versions of Storefront we didn't cater for this and they simply weren't displayed.
Not any more! As of Storefront 1.5 if you added a featured image to a page, it will appear on the frontend directly above the page title.
Many other minor fixes, improvements, and a video!
You can read about all the changes in Storefront 1.5 in the Changelog, and checkout our awesome video about Storefront.
Some more Storefront goodies!
In addition to Storefront 1.5, we recently released ProShop, a new child theme aimed at sports and gear stores, and a few other goodies.
Storefront Reviews
Storefront Reviews in action" width="1308″ height="558″> Storefront Reviews in action
Reading a positive review can be what tips the decision to purchase for many customers, but many sites hide reviews away on individual product pages.
The Storefront Reviews extensions enables you to display reviews on your homepage in a variety of styles, or anywhere on your site via the included shortcode.
Storefront Blog Customiser feature release
The 1.1 release of the Storefront Blog Customiser extension saw 2 new features added:
Homepage Component – You can now display recent blog posts in the homepage template.
Independent Layouts – It's now possible to set blog post layouts independently for archives / single posts.
Try Storefront 1.5 now, and stay tuned for even more
That's all for now. Ready to try 1.5? Update via your WordPress Dashboard, or download the theme here to give Storefront a try on your WooCommerce site.
We're hard at work designing and building a new Storefront child theme aimed at electronics stores. The much anticipated Storefront Mega Menus extension is also in development. Stay tuned for updates on these exciting new products.
Remember, if there's a particular feature or product you'd like to see, submit an idea on our ideas board. We'd love to hear from you!
Have any thoughts or questions about Storefront? Let us know in the comments.