After you build your store and open it up to customers, your focus will shift to from generating sales to generating loyalty — and with good reason. As we explained previously, if you can get a customer to come back for a second purchase, the chances of them sticking with your store will dramatically increase.
There are a ton of ways you can make shoppers loyal to one brand over another. Pricing is one angle you can take. An amazing customer support policy is another. But loyalty doesn't have to rely on cheap prices or friendly emails.
Occasional treats, payment flexibility, and friendly, open communication can turn your newest customers into lifetime ones. And with a few specific WooCommerce extensions, you can add these loyalty-boosters to your store in a flash — no custom code or development needed.

Let's take a look at seven extensions that you can start using today to boost the loyalty of your shoppers.
Discounts and rewards to motivate more purchases
By now, you probably know that coupons, discounts, and holiday sales have an enormous amount of power over shoppers. A good deal can bring in a new customer… and future opportunities to save might help them stick around.
Here are four extensions we suggest for stores looking to inspire loyalty through discounts, ongoing rewards, or even members-only perks.
Eliminate the hassle of hunting for savings with Smart Coupons
Smart Coupons is the Swiss Army knife of savings extensions for WooCommerce. It's able to do a ton of things for your store, from generating hundreds of unique coupon codes to enabling advanced gift certificate functionality. But one of the features we really love is the ability to show available coupons at checkout.
If you've bought anything online before, you've probably gone hunting for discounts on coupon sites. This is normal for stores you're new to, but when it comes to a store you visit regularly, you might get annoyed by it. By that point, you'd probably expect a reward, right?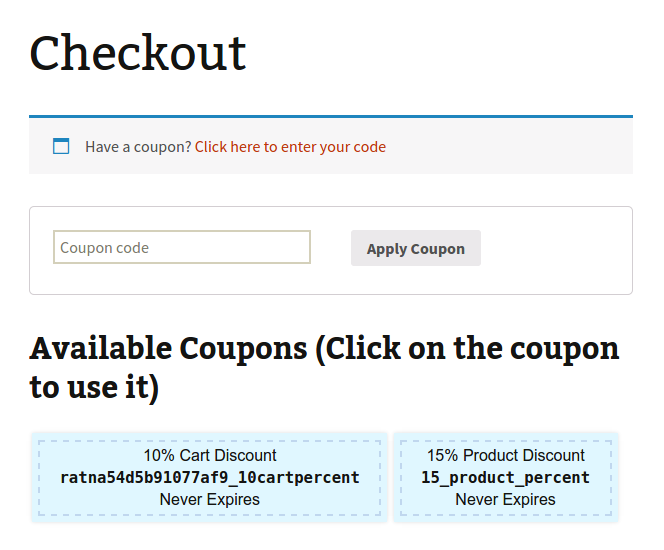 With Smart Coupons, you can show your customers the coupons applicable to their current shopping cart automatically. They don't need to go hunting, copying, and pasting for a deal — and you look awesome for giving them a treat. Who wouldn't want to come back to a shop that lets you snag a coupon in a single click?
To really make this extension shine, try pairing it with Cart Notices to tell customers when they've added something to their cart that has activated a coupon, or when they're a few dollars away from seeing one pop up.
Purchase the Smart Coupons Extension
Allow discounts to accumulate with Points and Rewards
Customers like being rewarded for shopping with you regularly. Like we mentioned in our post on pricing and loyalty, they want to feel like they matter:
If a shopper knows you're willing to reward them, they're more willing to be loyal to your store. Instant gratification is nice, but it isn't long-lasting, and customers know that.
Enter WooCommerce Points and Rewards. This extension allows your shoppers to accumulate points on each of their orders, which can then be used to receive rewards you create for them.

You can define what customers earn points on, how many points they earn, and what they can do with them. So if you want 500 points to be redeemable for a $5 discount, go for it! Customers can keep track of how many points they've earned over time, and will be motivated to order more so they earn more.
Once you get up and running with this extension, you can boost loyalty (and delight) even more by running limited-time double or triple point specials on specific items, or even store-wide. How's that for a conversion-booster?
Purchase the WooCommerce Points and Rewards Extension
Reward customers for speaking their minds with Review for Discount
As a change of pace, here's an extension that will allow you to benefit from rewarding your customers. Review for Discount lets you give customers a discount in exchange for leaving a product review on your store.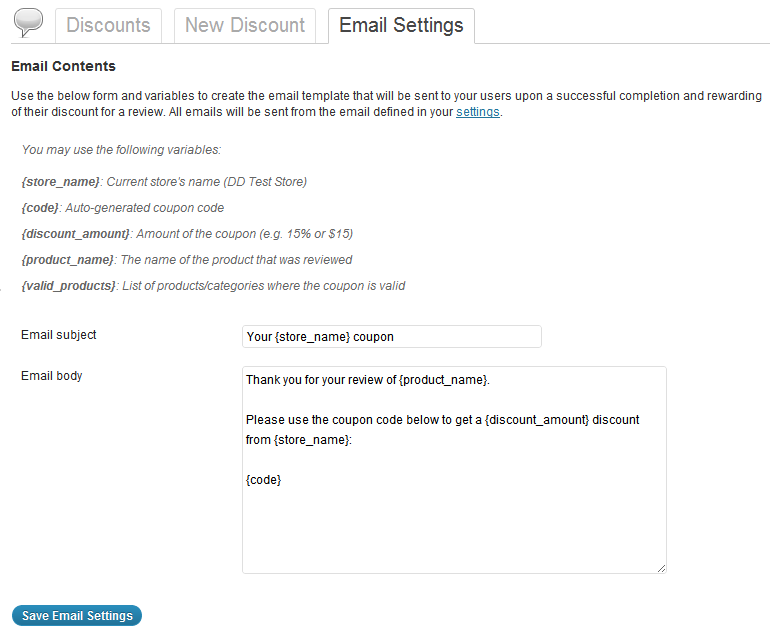 With this extension, you can automatically send coupon code to customers who review your products, thanking them for their contribution and offering them a discount of your choosing. The codes will be auto-generated by the extension, so there's no manual tinkering required on your end.
Customers who get this discount post-review will feel encouraged to use it. And once they use it on their next order, they'll be more likely to review those products for another discount. Before you know it, you've created hundreds of returning customers — and hundreds of beneficial product reviews.
Take this extension to the next level by combining it with Follow Ups, which we'll explore in just a bit. A follow-up email asking customers to review their latest purchase in exchange for a discount? Now that's a long-term loyalty-generator.
Purchase the Review for Discount Extension
Give members exclusive savings and perks using WooCommerce Memberships
Want to take your customer rewards to the next level? If that's the plan, you'll want to give WooCommerce Memberships a try.
While WooCommerce Memberships has capabilities ranging from hidden products to content that can be "unlocked" after members have been around for specific days, it's incredibly useful for boosting loyalty through members-only benefits.
For example, you can encourage shoppers to sign up for a membership that gives them discounts on specific items — say, 5% off all apparel, or $5 off new T-shirts. Or you could grant them access to members-only products — or even give them first access to newly released products before anyone else sees them.
Membership programs have a ton of benefits for online stores, but if there's one thing they're great at, it's boosting loyalty. Give this one a go and let us know how it works out for you!
Purchase the WooCommerce Memberships Extension
Give them flexibility in how they pay for their orders
Kindness goes a long way. There are plenty of ways to show kindness to your customers, but sometimes the best way is to be more flexible when taking payments.
Here's an extension that will help your customers breathe a little easier when it comes time to pay.
Try WooCommerce Deposits to let shoppers pay for large purchases over time
Depending on what you sell, it can be tough for customers to afford your products. Those brand new tech gadgets, top-of-the-line cooking supplies, or designer clothes are attractive, but they're also expensive. And not everyone has (or wants to use) a credit card, either.
With the WooCommerce Deposits extension, you can give your customers some flexibility in how they pay for specific products. If you enable it, you can allow customers to pay for a product in full, or put down a deposit and pay for the rest over a set period of time — like monthly for the next 6 or 10 months, as shown below.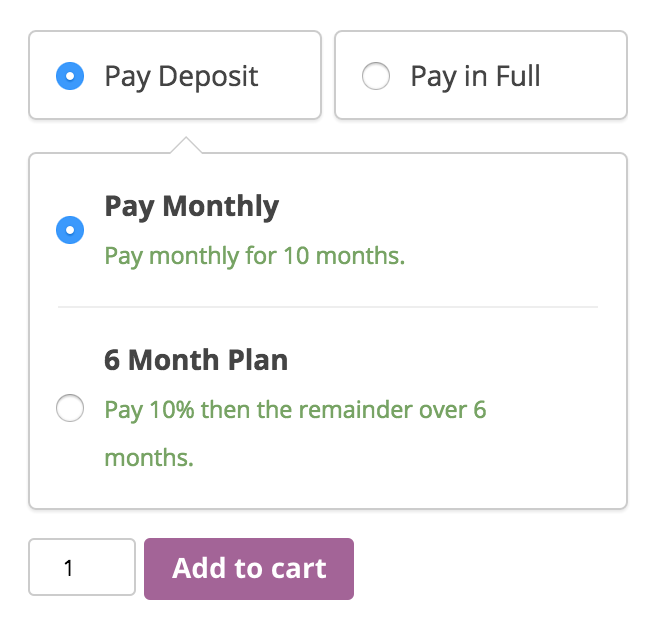 If customers know they can come to you to make a deposit and pay for a product flexibly, rather than have to pay for it all up front, they're much more likely to come back to you for future purchases. And if you have any customers who are avoiding the use of credit cards, they're probably going to be even more grateful for this option, because it keeps them out of debt.
Purchase the WooCommerce Deposits Extension
Ongoing communication to keep them coming back again and again
Finally, let's take a look at how you can use your store's communication methods to urge first-time customers to become repeat shoppers. Here are two extensions that focus on email as a way to create loyalty.
Use Conversio's email receipts to get customers coming back for more
You may not think about emails as a loyalty-booster, but Conversio is looking to change all that. With this extension, you can design and send beautiful, actionable order confirmation receipts, tracking emails, and other messages — all designed to match your store.
This extension really shines as a loyalty-booster because it allows you (actually, encourages you) to embed content that wouldn't normally appear in an order receipt email. This includes upsells for coordinating products, helpful content from your blog, or personalized product recommendations for future orders.
There are even modules you can use to give customers discounts for referring friends to your store, or to get them to give you feedback on their order.
Plus, Conversio has amazing tracking on the emails it sends, so you can always see what is sent, opened, clicked, and acted on.
It might seem a little strange to think of your order receipts or shipping emails as having the possibility to bring customers back for another purchase, but with product recommendations or upsells, they absolutely can!
Purchase the Conversio Extension
Invite your customers to take targeted actions with Follow Ups
Getting customers to become loyal customers can take a few nudges — a couple careful "hey, remember us?" messages. That, lucky for you, is where Follow Ups shines.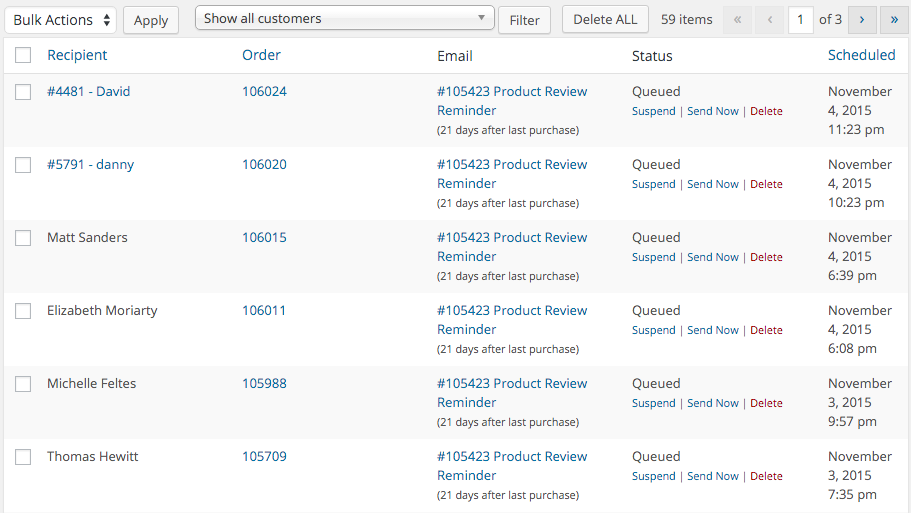 This extension gives you the power to create emails that are automatically sent to customers once they have bought something from your store. So if you want to send a reminder for customers to come back and leave a review two weeks later, you can do that. Or if you want to send an email two months later that simply says "hey, just checking in, how are you liking your T-shirt?" you can do that, too.
Follow Ups is packed full of functionality, and the possibilities are nearly endless. It makes communicating via email fast, simple, and — best of all — 100% automatic. So if you know from experience that an email sent around the 60 day post-purchase mark is likely to bring a customer back for a second purchase, you can use Follow Ups to send that message out without lifting a finger… and get more loyal customers in a snap.
Purchase the Follow Ups Extension
Use these extensions to make your customers loyal to you (and you alone)
Give any one of these seven extensions a spin and we think you'll see a huge boost in the loyalty of your returning customers. Whether you go about it by introducing memberships or simply by letting them pay for their orders over time, these are all great ways to keep that crowd dedicated to you — and only you.
See a favorite extension missing from the list? Have an idea of your own for generating more loyalty with WooCommerce? We're always happy to hear what you have to say — the comments are open, so chime in below.