WooCommerce and WordPress are both free, open source software. While this can represent considerable savings, when it comes to WooCommerce pricing, there are still some costs involved in launching a new store.
One of the reasons many people choose WooCommerce is because, like the software itself, costs are customizable — you have a lot more control over what you spend and when than with most other eCommerce platforms.
WooCommerce setup costs: Hosting and domain fees
WooCommerce is a plugin, so you'll need a WordPress site that can use plugins. The very first thing you'll need to do is choose is a host for your store and buy a plan.
This is actually quite easy. WooCommerce and WordPress both recommend hosts like SiteGround, BlueHost, and Pressable. These hosts are great to start with, although if you're migrating an eCommerce store, or will be running a large site, work with a host with specific WooCommerce expertise. WordPress.com also offers a Business plan, which allows sites to upload plugins.
Read more about WooCommerce hosting options and the performance measures you should expect.
With WooCommerce, you have a lot more control over what you spend, and when you invest it, than most other eCommerce platforms.
Hosting can be as little as $3.95 per month and as high as $5,000. Most hosts offer an initial free or low-cost period, and offer discounts when you buy hosting services for two or more years.
The next cost is registering a domain, or site name. Like hosting, domain registration often comes at an inexpensive introductory price that rises over time, with discounts when you buy multiple years of service. Expect to pay about $15 per year for each domain name you use.
Many hosts offer domain registry searching for free when you are in the process of choosing a hosting plan, so you can find out early on if the name you like is available, has been taken, or is for sale.
Hosting costs: $120 per year (average)
Domain registration: $15 to really costly if you go after something bespoke
eCommerce and WooCommerce themes: To pay or not to pay?
Now we're getting into optional costs. The first one you'll face will be your eCommerce website theme.
If you've used WordPress in the past, you know there are thousands of free themes out there, many of which have been optimized for WooCommerce.
Many new eCommerce businesses start out with WooCommerce's official Storefront theme. It's a well-developed, simple theme and if you run into trouble, there's lots of help available from WooCommerce or at local WordPress meetings and WordCamps.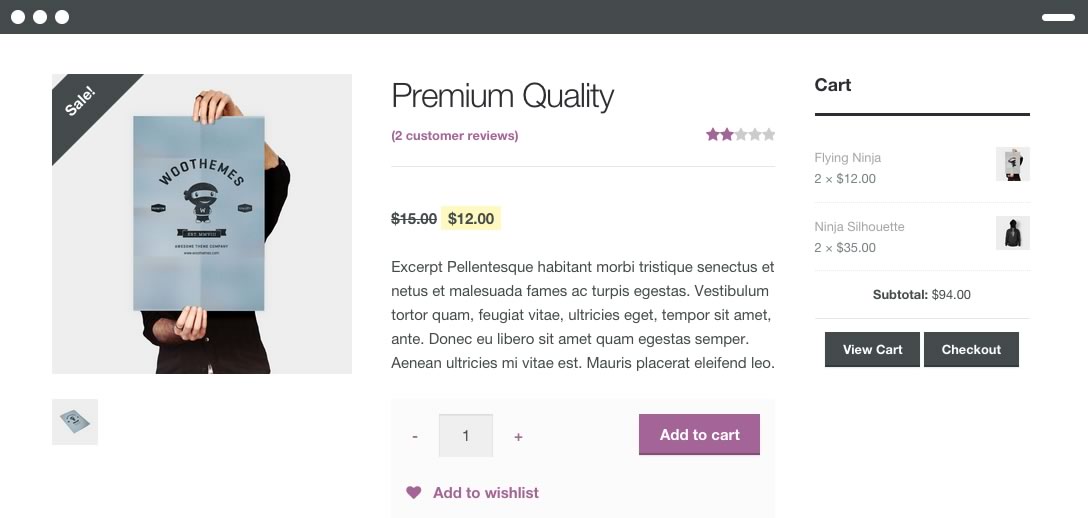 If you're leaning toward a free theme, be sure to choose one created by a developer with WooCommerce experience, and look for one that is well-maintained (e.g. has been updated recently and is compatible with the latest version of WooCommerce).
There are, of course, good reasons to buy a theme from a WooCommerce developer instead of using a free one:
Free themes tend to look similar, so your site won't stand out as much.

Free themes have limited functions.

Paid themes provide customer service; at best, free ones post a Q&A board.

Paid themes are regularly updated and will notify customers about updates.
Paid WordPress and WooCommerce themes cost anywhere from $20 to $100 per year.
Theme cost: $0 – 100 per year
WooCommerce running costs: Communications, SEO, security
WooCommerce itself offers a lot of free tools — many borrowed from WordPress and adapted for WooCommerce. Extensions act like plugins for WooCommerce, allowing you to add more functions for essential services like checkout functions, payment gateways, shipping, and more. Here's a list of ten free extensions from WooCommerce itself.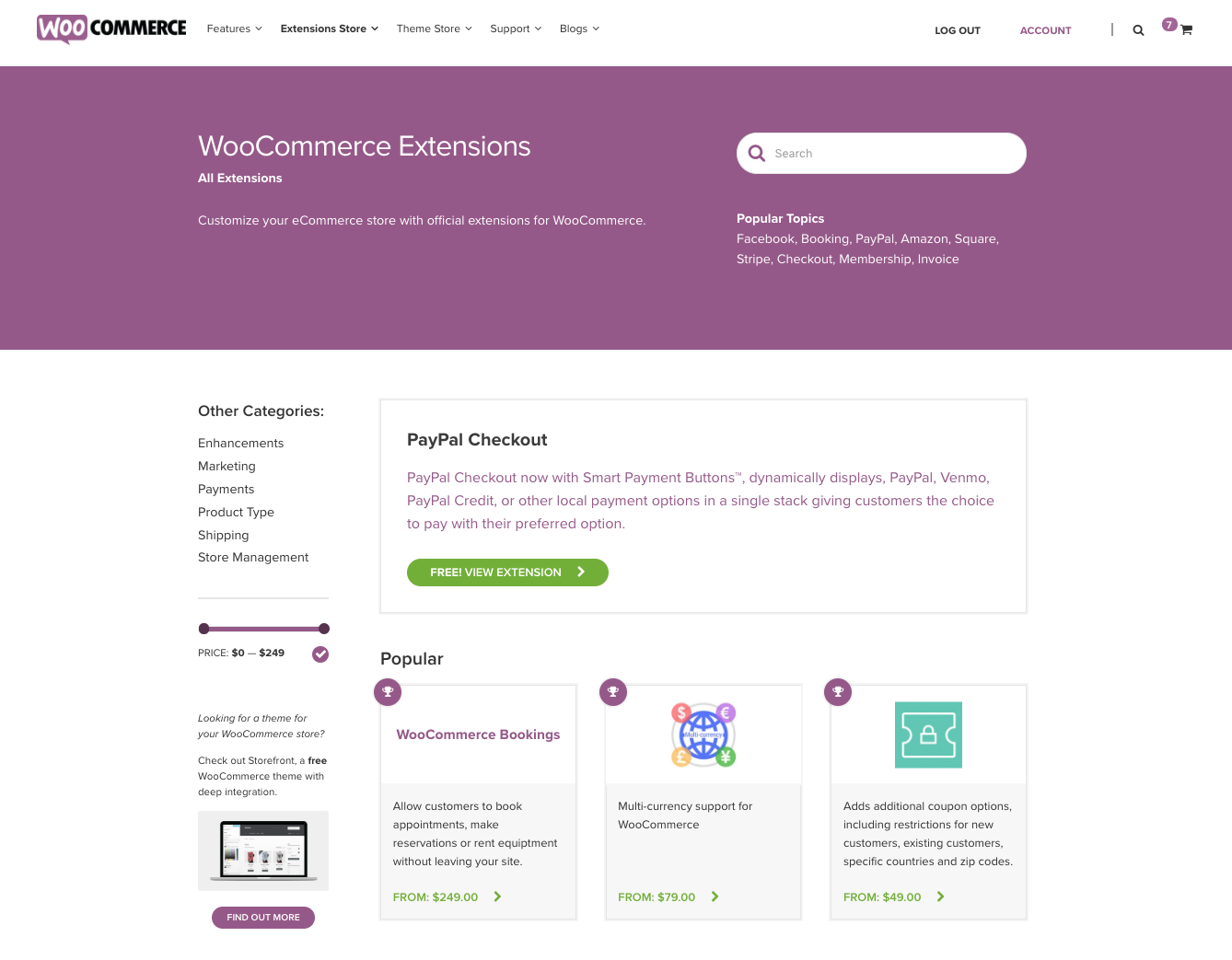 There are two services I can't imagine overlooking for an eCommerce store:(
Customer communications. You will want to communicate with your customers by email after they make a purchase and to send notices about promotions and coupons.

MailChimp

is a great tool for this. It offers a basic free package and a "growing business" one for just $10/month or $120/year. It integrates smoothly with WooCommerce and social media accounts and tracks everything from email opens to clicks to your website.

Search engine optimization (SEO)

tools like

Yoast

and

All In One SEO

provide guidance that help your writers get an edge on this key factor. Yoast costs $49/year while All in One is slightly higher at $58/year.
Site security is another issue. If you're running your site on a shared host, it's advisable to install a security extension just in case. The vast majority of hosts are very security-conscious, but there's no harm adding an extra layer. Services to check out include Sucuri and SiteLock. Sucuri costs $25/month (but bills annually, you'll be charged $300). SiteLock has different plans but doesn't publish them, so you'll have to contact them for details. They offer a free security tool to BlueHost customers, and will heavily discount upgrades to them as well.
BlueHost also recommends Jetpack, which has eCommerce-specific features including basic security functions, like protection from brute force attacks, and automatic updates. Its paid services includes additional security: automated malware scanning and security fixes, as well as daily or real-time Backups. Jetpack's Premium package for small businesses costs $100/year and includes many other website tools outside the security arena.
Communications: $120 per year
SEO: $49 per year
Security: $100 and up
WooCommerce officially endorses several free extensions. Most of them deal with payment processing, but others focus on shipping, dashboards/analytics, and integration with other tools.
Additional spending: Customer experience enhancement
If your budget allows you to do more with your website, the next area of focus should be enhancements that boost the customer experience and drive conversions.
You could try adding product page features or cart and checkout enhancements, or make changes to your merchandizing and search and navigation. Marketing and how to make your next sale are deep topics, but as start, read more about live chat and eCommerce automation.
Other popular customer-facing services include:
It's possible to 'overdo it' with WooCommerce by adding too many bells and whistles. Loading up your website with extensions might slow down your website, which is worth keeping an eye on; even the smallest of delays might cost you a sale.
Ultimately, the amount you spend on your WooCommerce site depends on how you balance your budget with tools to save you time with customer satisfaction. These aren't always easy choices to make!
Customize your store, customize your budget
Wrapping it up: the nutshell on WooCommerce costs is that it really is flexible, and up to you. If you're on a really tight budget, you can create a high-functioning WooCommerce site for as little as $662 or $55 per month. With a bit of customization, you're probably looking at about $1,000.
Or you can customize it and spend considerably more. We'd love to hear from you in the comments how you setup your store.
We're nearly at the end of this introductory series — tomorrow we cover how to setup a new WooCommerce store as the final piece.