For the past few months we have been watching from afar as an exciting new marketplace community has emerged from the founders of COLOURlovers. Creative Market is home to thousands of handcrafted mousemade design products such as graphics, invitations, fonts and of course website themes. This array of quality digital assets is growing daily and is quickly becoming a popular site to visit for all your creative project needs.
Today, we'd like to announce that WooThemes themes are now available on Creative Market.

The folks at Creative Market don't only sell cool products, they are also really cool people with a refreshing attitude towards business and community. We here at Woo are excited about what Creative Market is doing and the type of company they are. We are thrilled to showcase our themes to the growing community on Creative Market.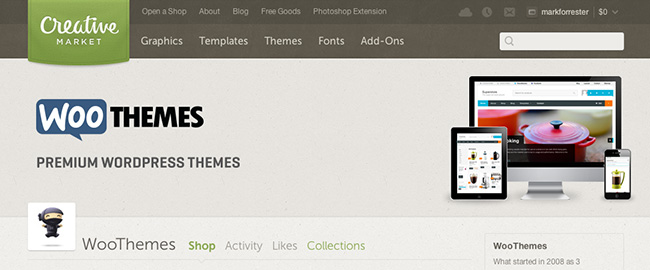 We are confident that our customers will enjoy the products found on Creative Market and will surely benefit from being part of their community. Creative Market has an extremely dynamic blog with interesting posts (ie: How to Get Things Done, Models for Decision Making, 2013 Web Design Trends). In addition to the blog Creative Market has an Photoshop Extension that allows everything you purchase to be opened and instantly downloaded in Photoshop (Find out more here). Lastly Creative Market offers three Free Premium items every week.
We are excited to showcase our themes to an emerging audience on Creative Market. We also believe for our existing customers would benefit from Creative Market's existing pool of design assets (for example, a theme, fonts, graphics and more).
Today, we're launching this offering with the following themes available for purchase (more products to follow):
What happens when I purchase from Creative Market?
Customers who purchase WooThemes themes via their Creative Market account are still WooThemes customers. You will be provided with the same love, care and attention we provide our direct-purchase customers with, as well as the support package we offer.
How do I redeem my purchase?
We've made this process as easy and painless as possible.
When purchasing a WooThemes theme from Creative Market, you'll receive a purchase code in your e-mail inbox. This will come directly from Creative Market.
Once received, you'd then either login to your existing WooThemes account (if you have one) or register for a new WooThemes account.
Once at your "My Account" screen on WooThemes.com, click the "Redeem Creative Market Purchase" button and enter your purchase code into the field provided.
That's all there is to it!
You should now see your Creative Market purchase on your "My Account" screen, as well as have access to support for the purchased products. We look forward to hearing good things about your experience at Creative Market and hopefully you have naturally come to expect amazing things from WooThemes. We hope this partnership adds value to your workflows and, to new customers who arrive with Creative Market purchases… we sincerely welcome you to the WooCommunity!