Starting your WooCommerce store is a thrilling experience. We know that heaps of hard work goes into each launch, whether you're selling a single subscription service or hundreds of unique items sourced globally.
With so much to consider during setup, from payment gateways to promotional opportunities, it's not unusual to worry about costs. You certainly don't want to break the bank before you've even sold a single product.
As you likely already know, part of the beauty of WooCommerce is that it gives you a free platform that can be added and expanded upon with nearly endless extensions. In the interest of getting you up and running quickly — and saving you money — we've collected ten solutions you should try when you first start your store.
From plugins to monitor your traffic to add-ons that will improve your emails, here are some of our favorite free WooCommerce extensions for new shop owners.
Keep a close eye on your store's growth
A new store needs your close attention so any possible problems — or potential opportunities — can be nipped right in the bud. Here are two tools you can use to track your growth in depth as you go from zero to hero.
1. Use Google Analytics to track pageviews, purchases, & more
Google Analytics is a universally trusted (and free!) resource for website owners who want to keep track of pageviews, clickthroughs, conversions, and more. But it can be a bit tricky to set it up for eCommerce.
Enter this free Google Analytics integration for WooCommerce, which allows you to nearly instantly hook your GA account into your Woo-powered store. Simply enter your Analytics ID, set up the tracking code, and boom — you're all set to see your store on the GA dashboard.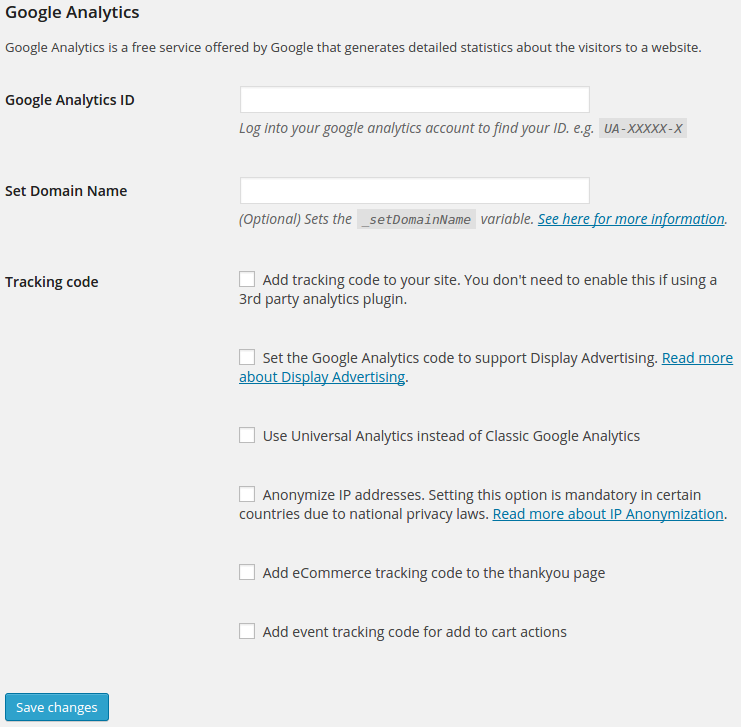 If you're not yet familiar with Google Analytics and don't know the benefits, it's infinitely useful for tracking not just the shoppers who do purchase, but also the ones who don't. You can learn quite a bit from the data available and use it to improve your store.
Since both GA and the extension are free, it's worth setting up simply to play around with. Stuck? Moz's Beginner's Guide to Google Analytics is a fantastic way to get educated on the potential sitting at your fingertips.
Download the Google Analytics Integration Extension
2. Try Jetpack's built-in stats to see traffic right on your dashboard
Jetpack is a resource-packed WordPress plugin that allows you to do everything from enhance your security to customize your theme's appearance. But where it has huge potential for new WooCommerce store owners is in its Site Stats feature.
While Google Analytics allows you to take a deep dive into every data segment possible, Jetpack keeps it simple, offering up traffic stats right from your WordPress dashboard. It's a good way to see your growth at a glimpse. (And, of course, Jetpack has plenty of other possibilities!)
Keep everyone in the loop as orders progress
Customers are crucial to your store's success, and return customers are necessary for long-term growth. Here are some extensions you can rely on to ensure pleasing, effective communication that will keep shoppers happy and coming back for more.
3. Create stylish, informative order receipts
An order receipt email is an often boring, yet necessary, part of a customer's experience with you. But what if you could turn that experience into a sales opportunity?
Enter Conversio. Conversio's free plan allows you to transform your WooCommerce email receipts into fully customized conversion machines. Not only can you customize the look and feel of your emails, but you can also add in links to sign up for your newsletter, follow your social networks, and more. Anything you want to ask your customer to do, you can do.
Interested in taking your strategy to the next level? With a paid plan, you can expand Conversio to do even more, including sending emails to shoppers who abandoned their carts.
4. Facebook for WooCommerce
This one really is a no-brainer.Marketing on Facebook helps your business build lasting relationships with people, find new customers and increase sales for your online store.
Adding Facebook for WooCommerce gets you two powerful ways to help grow your business:
The Facebook ad extension makes it easy to reach the people who matter to your business and track the results of your advertising across devices, and the Facebook shop section, enables you to showcase products and drive sales from your Facebook Business Page. If you don't have one yet, it's well worth setting up!
5. Allow customers to subscribe to your email list on checkout
Join the 16 million customers who use MailChimp, the world's largest marketing automation platform, to develop their eCommerce marketing strategy.
With the official MailChimp for WooCommerce integration, your customers and their purchase data are automatically synced with your MailChimp account, making it easy to send targeted campaigns, automatically follow up with customers post-purchase, recommend products, recover abandoned carts, and measure the ROI of your marketing efforts. And it's completely free.
Keen on MailChimp? Read their tips on post-purchase automation as you get started.
Nudge your shoppers to spread the word
A new store needs publicity, and without a PR specialist or marketing department to lean on, you'll need to ask your shoppers to spread the word for you. Here are a few ways you can nudge them into sharing your store… without being a pain.
6. Add sharing buttons to your site content
Of course, your products might not be the only thing your customers are interested in sharing. If you have blog posts, guides, or other forms of content, you'll want them to share those, too.
Subscribe & Connect, a plugin developed by us here at WooThemes, adds share buttons of your choice to posts and pages. You can quickly add as many social profile links as you need, and also style the buttons to match your store's theme.
Don't limit your sharing just to your products — sometimes it's your content that can most effectively spread the word of your store!
Download the Subscribe & Connect Plugin
7. Ask for reviews (that you can turn into ads!)
Customer reviews have a ton of benefits: they make you look trustworthy, they can be shared to show how great your products are, and they add content to your store. You might have known all this, but did you know that you can even turn them into opportunities to make more money?
Yotpo powers up your store's reviews and turns them into sharable bits of content that customers can share or you can use for ads, along with plenty of other amazing features that will beautify your boring product pages.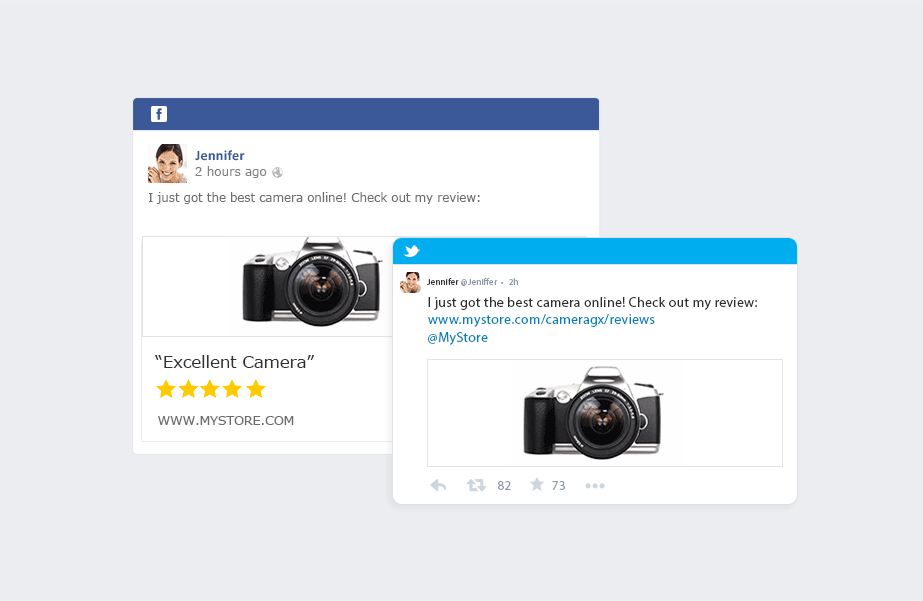 Yotpo's biggest draw is the review feature: once installed, the extension automatically contacts customers post-purchase to ask for their feedback on a product. But it has a ton of other benefits, including the ability to enable product Q&A, create a gallery of submitted photos, and incentivize reviews with coupons or special offers.
And Yotpo claims that ads created with reviews are the key to success: they've seen a clickthrough rate increase of 300% from putting customer feedback in an ad instead of marketing copy. Who said opinions weren't powerful?
Go omnichannel: take payments in person
8. Add Square to your store for in-person payments
Online and in-person payments are simple with Square. Get the WooCommerce extension for Square at no cost and instantly start accepting payments. You can easily track all your inventory and sales from online and offline in one place.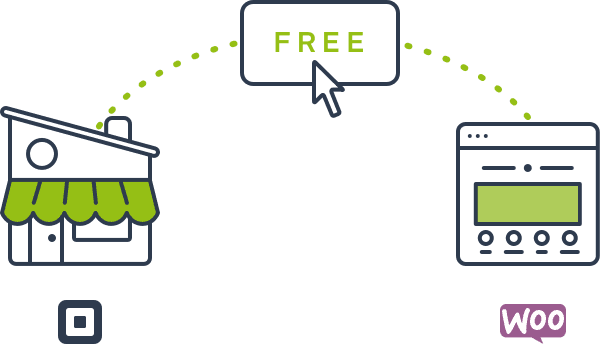 Make instant suggestions that improve the shopping experience
This final category is all about improving the shopping experience. While A/B testing and CRO might still be a little bit out of your league, these free extensions will help you instantly give your customers what they need… and all without you doing any extra legwork.
9. Steer searching shoppers in the right direction
The built-in search on your store is a powerful one indeed, but there's a way to make it even more powerful — for free. InstantSearch+ is an extension that uses the power of stored suggestions to instantly complete your customers' search queries.
This both saves shoppers time by finishing their queries and offers up fast, accurate previews of what is available in your store. And for store owners, you'll be able to use the extension's reporting to see what is being searched for, how often, and where you can improve your product pages to better serve customers.
Download the InstantSearch+ Extension
10. Trigger coupon messages with hidden shortcodes
Coupons and discounts can definitely nudge more customers into buying, but at such an early stage, you might not want to publicize codes on an external site. That's where Coupon Shortcodes can help.
With this extension, you can use criteria like the current value of items in a customer's cart to trigger messages about what coupons are available (or will become available with additional actions). The messages can be customized to your liking, and you can add shortcodes for as many coupons as you wish.
Here's some sample code:
[coupon_is_valid code="discount"]
You qualify for a discount!
Use the coupon code [coupon_code] to take advantage of this great discount : [coupon_discount]
[/coupon_is_valid]
If you're up for suggesting a coupon or two based on the actions of your shoppers, this extension is exactly what you need to get started.
Download the Coupon Shortcodes Extension
Building a successful store doesn't have to cost a fortune
Many new store owners are just as strapped for cash as they are for time, which means finding cost-effective ways to improve their shops, reach their customers, and spread the word about their offerings is crucial.
With any of the ten free WooCommerce extensions we've highlighted above, you won't just be able to save money — you'll be able to open your store with the knowledge that you've got a great sales solution on hand.
Which of these ten free WooCommerce extensions is your favorite? If you've got the time, we'd love to hear your thoughts or questions in the comments below.