There are a number of ways you can convert more of your store's visitors into paying customers. You can update your store's design, convince them with compelling copywriting, experiment with in-cart messages, try coupons… the sky's not even the limit.
But sometimes we overlook the simple things when we're thinking about ways to boost sales. And your store's navigation — the menus and links that visitors use to get from place to place — is a really simple element that has an enormous amount of potential.
Small updates to your online store's navigation can have a huge impact on your ability to convince visitors to make a purchase. Whether it's making the path to your shopping cart easier or using basic psychology to motivate conversions, even tiny tweaks or five minute fixes can sometimes deliver amazing results.
Keen for some ideas? Let's take a look at how you might be able to increase your own store's sales with some updates to your navigation.
Link to broader, top-level categories for shoppers just getting started
Sometimes new shoppers will come to your store without knowing what they want. They might want to browse for inspiration. Or they might just be visiting on the recommendation of a friend or family member.
For these less decisive customers, you should allow them to start their journey through your store with broad, top-level categories. For example, if you sell furniture, this might mean offering broad categories like "living room furniture," "bedroom furniture," and "dining room furniture" in your menu.
Some stores create labels for these categories in their navigational menus, but don't actually create the corresponding category landing pages. In fact, this was one of the biggest issues encountered during Smashing Magazine's eCommerce navigation and categories study:
Most subjects expected that these [top-level menu headings] would be clickable and often tried clicking them, despite the cursor indicating unclickability. The subjects wanted to keep a fairly broad scope of products, in the hope of landing on a page that displays a curated set of subcategories that would assist them in selecting a more defined scope (as opposed to a page listing products).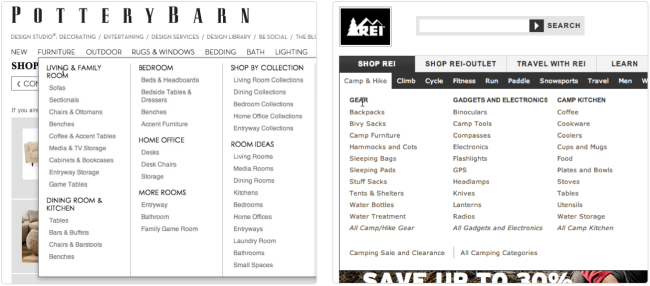 In more than a few instances, users in the study expressed frustration with not being able to navigate to what they hoped was a broader category. Some even explained exactly why they wanted these categories:
A subject tried to select the generic "Digital Cameras" category, instead of specific camera types. He didn't want to specify a camera type subcategory yet because he was still unsure about the exact differences and hadn't decided on his particular needs.
While subcategories are ideal for your more decisive shoppers, you should keep your brand new ones in mind, too. Consider adding broader categories where relevant, and ensure they're linked from your menus in the same way their child categories are.
If products are limited, offer navigation based on size, color, or other options
For some stores, of course, the above advice won't help much. Some stores only carry one category of goods — for example, your store might only sell decorative pillows.
The key to creating a killer store navigation with limited product selection is using filters to create your categories. In larger stores, color, size, embroidery type, or filling material might be a way to filter the types of pillows that appear on screen. For a pillow store, these should reflect your categories.
As an example, the JOCO Cups store only sells one thing — glass coffee cups. So the site's navigation to the store section offers easy access to the cup sizes on the left, the types of products in the middle (cups or accessories), and customer support on the right.
If you sell a limited number of products, or goods from a single category, think about how you can offer customers convenient paths to their exact preference right from your navigation. What product elements or aspects can you use to create categories around?
Add repeating links to subcategories as appropriate
If your store is large and carries a wide variety of products, your customers might take multiple paths to reach different subcategories. For example, a customer looking for a desk in a furniture store might look in "office furniture," or they might look in "living room furniture." It sort of depends on the type of desk they want.
Because of this, you might need to offer multiple links to the same subcategory in your navigation. This will ensure that your customers are able to find what they want no matter where they start looking.
The Smashing Magazine study points out a successful example of this on the Best Buy website. Printer ink appears in two locations: under the "Office" category, and again under "Computers," which are both sensible locations.

However, this doesn't mean you need to create two landing pages with different URLs for this subcategory. The best way to handle this multi-link scenario is to create the subcategory as a child of the "parent" category that seems best.
In this case, Best Buy might have printer ink living under "Computers." They then added a custom/manual link so that it also appears in the menu under "Office," even if that subcategory doesn't actually reside there.
Allow additional filtering after a shopper has chosen their category
The options that you present to a visitor after they select a category are almost as important as the category options you present in the first place. One big way that you can speed up the process of delivering shoppers the items they want to see — and increase the likelihood of their purchasing from you — is with filtering.
Filtering allows visitors to display only products that meet certain criteria, like pillows that are a specific color or size. This gives potential customers the ability to get to the products they want faster. And the faster they can find what they want, the faster they can get to the shopping cart.
Consider creating filters on your store by criteria like:
color
size (ex. for furniture or clothing)
price
age range (ideal for toy stores)
style (for clothing, home decor…)
manufacturer or brand
The combination of filters with your store's main navigation will give shoppers a clear, quick path from entrance into your shopping cart — something every eCommerce site should have.
Add links to sale, last chance, or other desirable categories
One idea you can try to increase conversions with your store's navigation is the creation of visible links to categories created around highly desirable goods.
The most obvious example of this is a link to a sale category, or a landing page where you stash your "last chance" products that are about to sell out for good. But you could also link to products that are brand new, exclusive to your store, or even limited editions.

Some shoppers only convert if they feel like they are getting a bargain. A "sale" or "discount" category visible from your store's navigation will attract these savvy shoppers.
Meanwhile, links to "limited edition" or "exclusive to our store" pages will attract the customers who will only convert if they feel they are getting something no one else has.
Who knew psychology could play such a big role in the success of your store?
A few more ideas — and what to avoid
Before we cut you loose to take a hard look at your store's navigation, here are a few final thoughts to keep in mind.
Above all else, aim to keep your navigation as simple and clear as possible. Large menus with lots of options can overwhelm customers, especially if it's the first thing they see. Try to rely on filtering instead of adding dozens of top-level or subcategories.
Place less important links in your footer, like your privacy policy, contact form, or maybe even your social media links.
Search should always be available. Some customers will always prefer searching to navigating, no matter how much work you put into your site.
Run an A/B test before making any really big changes. You might assume that something will help your store, but your customers could hate it. An A/B test will give you more definitive results than your gut, and if things look bad, you can always roll back the update.
Test your navigation periodically to make sure all your links are working and you haven't forgotten to add, remove, rename, or otherwise adjust something.
Navigation can play a big role in how many shoppers become paying customers
Your store's navigation isn't the only thing that motivates customers to convert. But it's a big piece of the puzzle, and it shouldn't be overlooked.
By pairing these tips with other best practices, you'll be able to motivate more of those curious shoppers to buy something — and see far fewer bounces from those who can't find what they want.
Have any questions about your store's navigation, or the ideas in this post? Or any suggestions of your own to share? Chime in below — we're always happy to hear from you in the comments.