Your customers expect a lot of things during the holiday season — giftable goods, fast shipping, maybe even the option to gift wrap their presents — but above all else, the one thing they're going to be looking for are those sweet, sweet deals.
Bringing shoppers to your store isn't as simple as making a coupon or slashing a price. It takes smart marketing to get the word out about what you're offering, first of all. And in many cases, you might find that creating attractive deals for your specific audience takes a little more than "here's a code for $5 off."
To help you prepare your store for bonafide holiday success, we've compiled a selection of six WooCommerce extensions that will help you create, distribute, and promote successful holiday offers.
From multi-purpose coupon extensions to add-ons that turn your store into a marketing machine, these solutions will give you everything you need. Read on to find out what they are and how you can use them.
Extensions for relevant, holiday-ready promotions
Anyone can create a coupon code and give it to their shoppers. But coupon codes aren't always what customers want, nor are they always the best way for stores to offer meaningful savings without going into the red.
The two extensions we've featured here will allow you to create more robust discounts, coupons, or other holiday-ready offers and send them to specific groups of customers — so with a little trial and error, you can figure out what type of deal works best for everyone.
Use Dynamic Pricing to quickly set up discounts on products or categories
Setting up product discounts isn't difficult if you have a handful of items in stock. But as your store grows and you get into the dozens, hundreds, or thousands range, you can say goodbye to the thought of manual price adjustments.
Dynamic Pricing is a robust extension that allows you to quickly set up pricing rules for specific products or entire categories. With it, you can do things like:
Apply a discount to every product in the same category
Change the price of a product if it's purchased in bulk
… or with one or more specific items
Offer a discount to members if they purchase specific products/from specific categories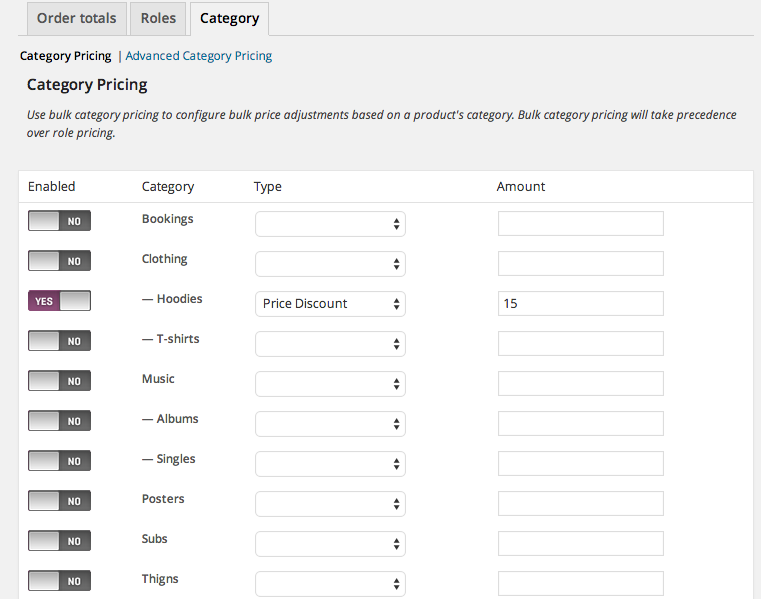 One big advantage of this extension is that it can potentially save you a lot of time. Just create a rule that applies to one or more categories, advertise the discount, and you're done — no individual price adjustments required.
Another perk that extends beyond the holiday season: you can create offers like "save 15% on sweaters when buying a pair of jeans," or "buy two books, get the third free." That's where the "dynamic" part of the extension's name comes in (and where its capabilities really shine).
Like we said — robust. Give it a shot!
Purchase the Dynamic Pricing Extension
Create any offer you please with Smart Coupons
We recommend Smart Coupons fairly often, and with good reason: when it comes to coupons, discounts, and special deals, this extension can do it all.
Some of the biggest benefits of Smart Coupons for your holiday shoppers:
You can automatically display applicable coupons in the shopping cart — and they can be applied to orders in just one click
Coupons can be linked to products, so you can create codes that apply to specific items (ex. ideal holiday gifts, best-sellers, new releases…)
Allow customers to buy and send gift certificates for your store, either in pre-set amounts or amounts of your choosing
Automatically generate 100% unique coupon codes to use in follow-up emails, customer interactions, giveaways, or anything else you choose
Smart Coupons also allows you to import coupon codes you've previously created, or export them for use elsewhere.
Between this and Dynamic Pricing, your store should be well-prepared for deal-seeking shoppers. So with those crucial details out of the way, let's move on to marketing.
Purchase the Smart Coupons Extension
Extensions for relevant offers sent via email
Once you have your holiday deals and discounts created, it's time to spread the word. And what better way to do that than through email?
These two extensions will give you all the tools you need to send engaging emails to potential holiday customers, spreading the word about what's on sale or how you're working to make their season a little brighter.
Send coupons or product links to customers with MailChimp
Looking for a way to communicate with new or established customers via email? Our integration with MailChimp is exactly what you need.
With the MailChimp extension, you'll be able to collect the email addresses of customers at checkout and send beautiful, targeted messages that promote your store and its holiday offers.
One of our favorite MailChimp features is its built-in options for creating and sending to customer segments. Want to only email customers who have purchased from you recently? Sure thing. Rather email only the customers who have bought a specific product, or spent a certain dollar amount? No problem.

This opens up a ton of possibilities for your store. If you simply want to email customers about your sales or send out a coupon code, MailChimp is perfect for that. But it's also ideal for targeted messages sent to smaller groups, or even fancy setups like post-purchase automation.
Purchase the MailChimp Extension
Use Follow Ups to reach out to established customers (with less work)
As we mentioned in our post on holiday social media tactics, returning customers tend to bring more revenue to your store than first-time shoppers — and especially during these busy few months. This makes remarketing a valuable tactic to explore… but it can also be a time-consuming one.
The Follow Ups extension lets you tap into the amazing power of remarketing while limiting the amount of time you have to spend actually doing it. How? With three steps:
Identify the customer behavior you want to trigger an email
Create the email, including any coupon codes you want to send
Set up the send schedule and save it
That's it. Once you've created a follow up email, it will automatically send to customers who meet the criteria you've specified, at the specific time you've specified, and you'll never have to touch it again.
What can you do with this? One idea: if you're using Follow Ups for the first time, create an email that sends to customers who purchased last year. Offer them a coupon code good for a purchase this year. Simple, right?
Another idea: for this year's customers, you can create a separate code or offer that rewards them for purchasing. Give them a code good for $10 off a purchase starting in January… or even sooner, in case they want to buy a little something for themselves. 🙂
Purchase the Follow Ups Extension
Promote your holiday deals effectively
This final set of extensions will give you the power you need to put your store's holiday deals in front of potential customers in the right way and at the right time. Timing is everything, especially when it comes to this busy season!
Let's look at two ways you can make your offers stand out on your store, including product labels and special URLs that will apply discounts without any hassle.
There are plenty of ways to make your products more attractive during the holidays. Not every store will use coupons or category discounts — for some, simple product sales are the way to go. If this sounds like you, consider using Advanced Product Labels to make those offers stand out.
This extension gives you the power to add customized labels to any products that are discounted, have special offers attached, are eligible for free shipping, or anything else you can think of.

If you label the individual products that are on sale, can be bundled to save money, or are eligible for free shipping, customers browsing your store are more likely to click on them. That means more interest in these products — and more sales.
Additionally, if your store is running multiple deals or different kinds of sales, the labels will help shoppers understand which products are eligible. As long as you label your items effectively, you'll eliminate confusion and cut back on customer emails.
Purchase the Advanced Product Labels Extension
Make your deals even easier to jump on with links from URL Coupons
If there's one thing that bothers holiday shoppers about the coupon redemption process, it's… well, the fact that it is a process. Redeeming an offer usually requires copying the code, wading through multiple screens until you find the right box to paste it into, and hoping it's going to work.
Coupon sites and browser add-ons like Honey (my personal fave) have helped just a bit, but for you WooCommerce store owners, there's an even better solution. With URL Coupons, you can create and share links that automatically apply a coupon to a shopper's cart.
URL Coupons is ideal for sharing deals on social sites like Facebook and Twitter, or anywhere else that new shoppers might be looking for savings on your products. Just share a link created through the extension, and when a shopper clicks through to your store, the coupon will automatically be applied.
Worried about coupon abuse? URL Coupons has an option to defer application of coupons until the proper products are added to the shopping cart. That way you can breathe easier (but still tell shoppers about all your great savings).
Purchase the URL Coupons Extension
Try these six extensions to find holiday success this year
That's our list, friends — six WooCommerce extensions we think you should be using to create amazing deals, land them in inboxes, and make them jump out at on-site shoppers.
Of course, these are only a small sample of the hundreds of free and premium extensions available to try. Have another favorite you think is a must-have for offering or promoting holiday deals? Name it in the comments and share it with the world. 🙂
Recommended reading: