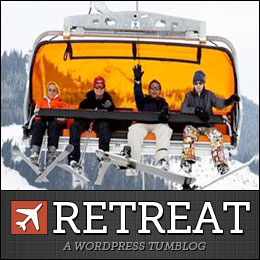 It's been a month since our company retreat to the Austrian Alps where we enjoyed a week of snow, ski, jagermeister and a little bit of work – how we all wish we could be tele-ported back there right now.
We've been absolutely astonished by the amount of media attention our company retreat attracted. It even featured on Mashable yesterday with Josh Catone, the features editor, writing an excellent case study on our social media success surrounding the trip.
Not only did the trip itself attract a lot of attention, but we got a lot of people admiring the WordPress tumblog theme we built to efficiently, and very easily, live blog the activities in the Alps. We therefore decided it was appropriate to add some polish to the theme, and add some more functionality, then release it for general purchase.