A lot of the time when lists like this are put together, the emphasis is usually placed on small business blogs that talk about how to run and manage a business. And while such lists are certainly useful, I thought it would be a good idea to put together a list of blogs actually created and managed by retail store owners. These blogs don't talk about how to blog; rather, they show how it's done and lead by example.
Here are 15 retail blogs I've come across that are run by small shop owners (for the most part) that can give you some real-life inspiration when putting together a blog for your e-commerce site.
1. Taylor Stitch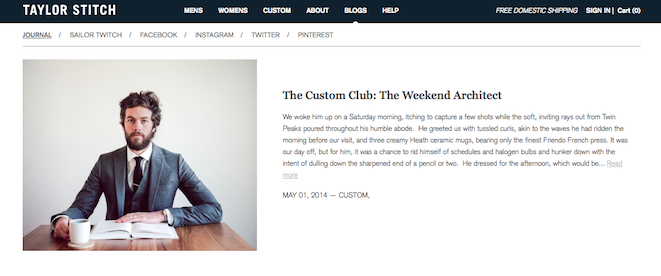 Taylor Stitch is an online and brick and mortar clothing shop for both men and women and they've really got a handle on this blogging business.
They have a dedicated Journal, which paints verbal and visual portraits of their products in action. It has a narrative style that's rather engaging, which breaks up the occasional product post.
The company also has Tumblr blog called Sailor Twitch. It features the tagline, "The adventures and discoveries of Taylor Stitch," and offers a bit of ambiance. In case the main blog doesn't provide a vivid enough picture as to the kinds of people who would enjoy their products, Sailor Twitch fills in the gaps by offering mood and context. It shows imagery that appeals to their target market. Pretty smart.
2. Good as Gold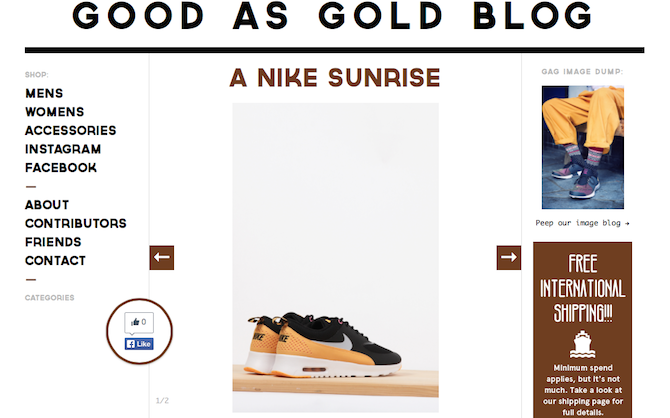 The Good as Gold Blog is attached to the Good as Gold online clothing store, which offers street wear fashion with a New Zealand edge. The blog is pretty straightforward as far as e-commerce blogs go. It offers posts that highlight specific products, lookbooks, sale announcements and coupons. But it does these things well, and that's why it made my list.
3. The Container Store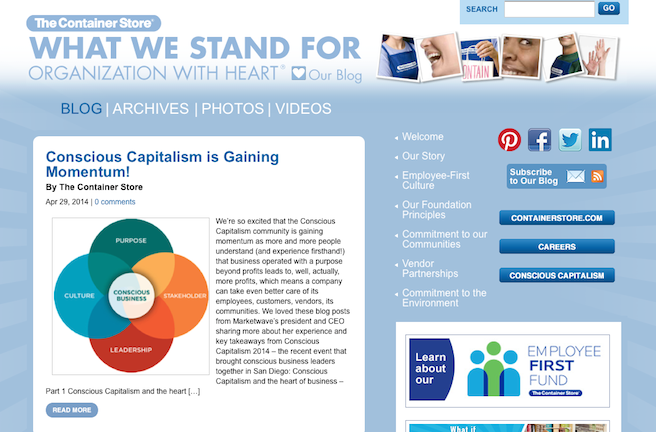 So, The Container Store isn't a small retail store by any means, but it does have a truly excellent blog that I just had to include on this list. It's called What We Stand For and offers a look at company culture and ethics in a to-the-point yet heartfelt way.
The blog offers an insider's look at what it's like to work for The Container Store, provides useful, actionable advice, and educates readers on a variety of community outreach and employee advocacy subjects. It's well worth a look, in my opinion.
4. J!NX Blog
J!NX is an online store dedicated to offering up all things nerdy, geeky, and gadgety. And their blog follows closely with that theme. The J!NX Blog features product posts, of course, but they take a fun spin on the idea. There's a level of irreverence that is greatly appreciated by the brand's target market.
Anytime a brand can inject a little bit of humor into their public persona, it stands to attract regular readers.
5. The Etsy Blog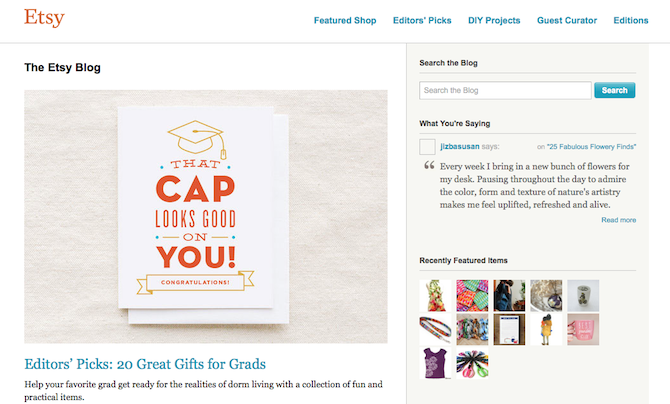 No, this one isn't a small retailer blog, either, but since Etsy allows tons of people to set up their own small retail stores, it seems like an appropriate inclusion. The Etsy Blog features products from stores hosted on their site, shop profiles, how-to articles, and tips and tricks for running a successful store.
6. Bulk Herb Store Blog

To help guide potential and current customers through the process of buying herbal products, the Bulk Herb Store created the Bulk Herb Store Blog. Informative articles, giveaways, product announcements, and DIY instructions are featured on the blog, all related to their herbs and natural living.
7. National Geographic Store Blog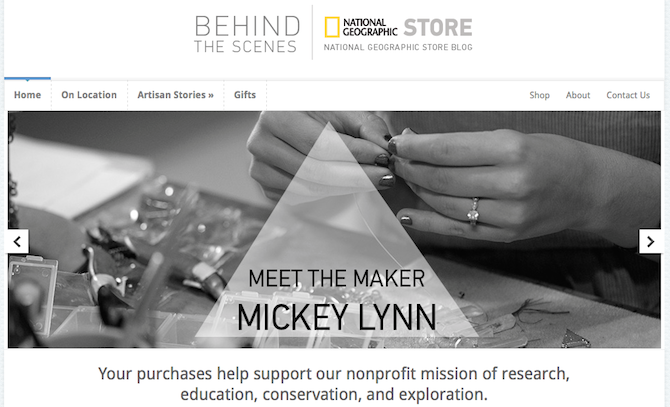 Again, this store isn't "small," but the National Geographic Store Blog offers an in-depth behind the scenes look at what it takes to make their documentaries and the various places the staff goes while on adventures abroad. The blog also highlights some of the artisans that craft items available in the store.
8. Urban Outfitters Blog 
Though Urban Outfitters is a large chain store, they brand themselves as indie and crafty, which comes through well on their blog. Not only does it have a serious hipster vibe, the blog features posts that provide entertaining tidbits for those who'd be interested in their products. For instance, they often post music suggestions and artist spotlights along with the occasional product promotion.
9. Brigham Young University MOA Store Blog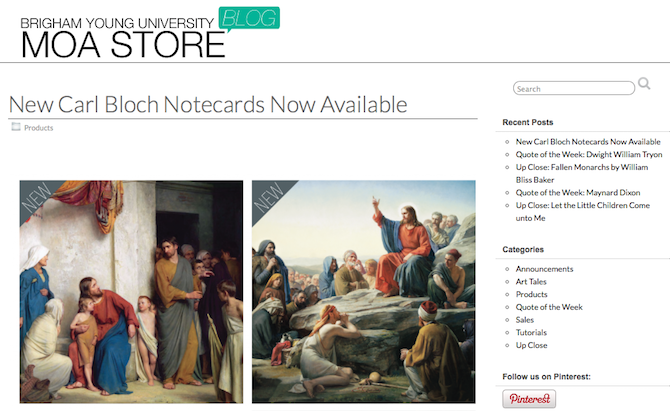 Brigham Young University has a Museum of Art. Along with that museum is a store. And along with that store is a blog. The BYU MOA Store Blog is simple, straightforward, and most of all effective. It features the latest products with bold and bright images. There are inspirational quotes posted to prompt thought. And the blog also features in-depth analysis of pieces currently being displayed at the museum.
10. Potter & Rest
You can think of Potter & Rest as your online garden center, and the store's accompanying blog is like a near constant informational handout. Read instructional articles about how to plant certain flowers. Read up on specific plants. Learn gardening tips and tricks. And you'll see some promotional posts, too, to give a better look at what the company is all about.
11. True Good's Good Blog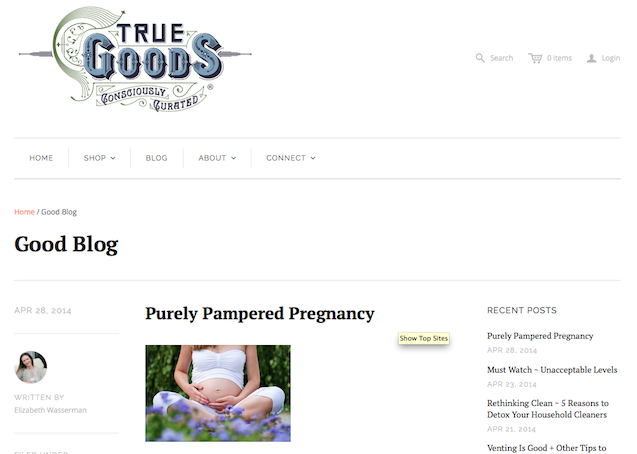 True Goods is an online store devoted to offering "consciously curated" goods for beauty, home care, clothing, and more. The Good Blog offers helpful hints on how to live a more natural lifestyle, like why you should detox your household cleaners, as well as brand spotlights and DIY tutorials.
12. Artzila
Artzila is an online art gallery where artists can present and sell their original pieces. The store's blog, called Artzila Musings, occasionally provides company news and product announcements but primarily serves as a space for the company to highlight new artists that are currently being featured in the store.
13. Trend Addictions 
Trend Addictions is a retail boutique located in New York and sells creative items for women, children, and the home. Their blog features staff product picks, freebies and giveaways, visual inspiration, DIY tutorials, and more. It has a really clean design, too, which certainly doesn't hurt engagement.
14. Lemon Stripes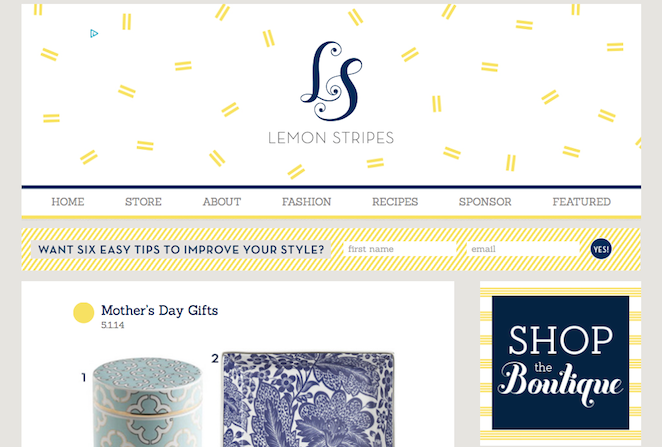 Lemon Stripes is a boutique that offers women's fashions, beauty and home goods. The site's home page is actually the blog, which features gift ideas, top product picks, recipes, and more. Again, this blog makes it apparent just what kind of person would enjoy their products.
15. Koromiko Blog
Though not updated quite as often as I'd like, the Koromiko Blog is an excellent example of how to give customers a peek behind the curtain on how you run your business and how you make your products. Artist spotlights, color inspiration boards, and product announcements all have a place on this blog, which is attached to a store that offers handmade design goods.
Conclusion
As an online retail store owner, it's important to draw inspiration from as many sources as possible. Now, this could mean hours spent browsing site and after site, looking for ones doing it all right. Hopefully this healthy list of retail blogs gives you a good place to start in your efforts to build a blog for your e-commerce business.
What's your favorite blog on this list? Or, did I miss your favorite altogether? Please feel free to share it in the comments. Maybe I can do a part two sometime!

Our
site attack
forensics investigation is underway. Please email us if you have any queries and keep comments on this post on topic.