Google recently announced a program called Enhanced eCommerce for Google Analytics, which utilizes further data for eCommerce site owners, not only helping you understand what types of customers are coming to your website, but how they respond while moving about the site.
It replaces and adds to the current reports you receive for Google Analytics, but it incorporates a funnel system to hone in on the areas that you weren't able to see before. Now you can view where people drop off in the checkout process and even find products that require more marketing efforts.
Let's take a look at how to set up Enhanced eCommerce for Google Analytics and walk through an overview of the most powerful reports.
Locating the Enhanced eCommerce settings
Go to the Google Analytics website and login to your account. If you don't already have one, you can create an account and link it to your WooCommerce site by using our Google Analytics or Google Analytics Pro extensions.
You also need to upgrade to Universal Analytics to the get the full benefits of Enhanced eCommerce.
Select the website you want to modify, and click on the Admin tab:

Scroll down a bit and click on the eCommerce Settings option:

Enable Enhanced eCommerce for your store
Turn the Enable eCommerce tab to "On" if you haven't done so already.
Click the Next Step button. This should reveal the Enhanced eCommerce reports if you go to the Conversions section on your Google Analytics page.
Activate Enhanced eCommerce reporting
Turn the Enhanced Ecommerce tab to "On."
That's it!
Create your checkout labeling
The next step is optional, but it's really the core for making Enhanced Ecommerce deliver valuable data for your use.
For this, you simply add labels for all the checkout-funnel tags that you have in your eCommerce tracking code. These tags must be included in the ecommerce.js plugin.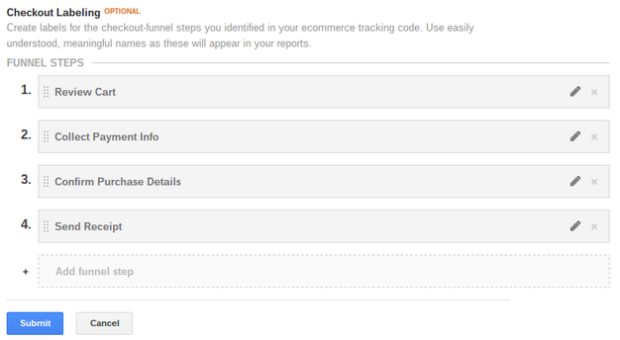 For example, you might add tags for Review Cart, Confirm Purchase Details, and Send Receipt to later see in the reports how people act during each of these steps.
Click on the Submit button when done. It may take a bit to register your data, but the reports eventually show up in the Checkout Behavior report in Google Analytics.
Understanding the report options
Now that you have your Enhanced eCommerce platform situated, we can take a look at the reports that come from the platform and how you can use them to improve your checkout process.
There are quite a few additional reports that come along with Enhanced eCommerce. Here are a few of the more powerful ones:
Overview
Shopping Behavior Analysis
Checkout Behavior Analysis
Product Lists Performance
Sales Performance
Reviewing reports and using funnels
One of the most exciting portions of Enhanced eCommerce for Google Analytics is the Shopping Behavior Analysis. In a nutshell, it lets you create various funnels to track how your customers respond as they move through your site, from landing on the site to checking out and receiving a receipt.
The key to funnels is that they combine a few elements such as behaviors, transactions, and events to deliver information that is more useful to you.
You can now see when your customers drop off in the purchase process. Maybe some customers from a particular country don't like registering before they checkout. Maybe there is a significant portion of your customers who hit the checkout process and click away from your site.
This powerful information doesn't leave you in the dark for making tweaks on your website. You can A/B test all you want, but this gives you hard data on what areas of the website are causing a kink in your sales funnels.
You can also identify the people who abandon your site at particular points and reach out to them for remarket efforts later down the line.
Keep in mind that all of this information is pulled from your previous tagging of the steps in your checkout funnel.
Additional reports to consider
Let's explore the numerous other reports that come along with the Enhanced eCommerce platform.
Shopping and Checkout Behavior reports
To start, the Shopping and Checkout Behavior reports are categorized together because they both use funnels to identify how customers respond to different steps in the process.
What's the difference between the two?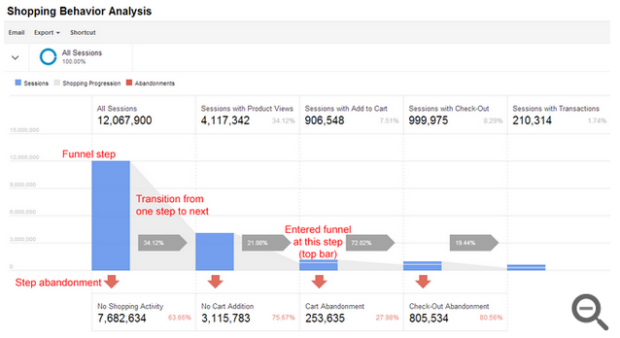 The Shopping Behavior Reports follow how people respond to just about every event throughout your entire website, from landing on the site to checking out with a product.
Meanwhile, the Checkout Behavior report is based primarily on the tags you create, and it provides a more in-depth look of the checkout process. So, this report is more concerned with detailed information on how customers react while they have a product in your shopping cart and are trying to purchase.
This seems like the best part of Enhanced eCommerce, since the checkout process is where you make money, and if people are leaving during this phase then you need to fix the problem.
If you look at the screenshot below you can see how the columns segment each tag that you create for your checkout process, detailing what areas need improvement:

The Product Performance report
The Product Performance report is something you might be familiar with, but you receive a few additional areas that help guide your marketing efforts and understand which products you should focus on more and which products you should think about less.
Do you ever wonder why some products sell more than others? Are you concerned that you might be putting too much marketing into one product as opposed to others? This area basically shows you if your external and internal marketing efforts are paying off.
Do you have big promotional graphics leading to top products on the homepage? See if you are spending too much money on some products, or maybe you have some hidden gem products that deserve further marketing.
The Sales Performance report
This report is quite similar to the old Transactions report, except you receive an area that incorporates data for refunds.
This is nice for identifying products that look like big sellers, but turn out to be duds because of refunds that occur later down the road.
The Product List Performance report
This is another new report that offers some quality value to your operation. It focuses on providing data based on your individual product pages and even information on how well your related and recommended product links work.
Google recommends that you use the product data import function if you are worried about the snippets and information weighing down your site, since you actually have to incorporate snippets for every single area that you want to view data on.
It's also not a bad idea to give your lists generic names so that you don't make it too messy when you try to go in and spot particular trends with your products. Think about using names such as Brand, Style, Category, or something similar to that.
You're all set up!
Let us know in the comments below if you have any questions about how to use and understand Enhanced eCommerce for Google Analytics.
If you have tested out the Enhanced eCommerce platform, share what reports you think are the most powerful for your store. Good luck, and have fun with these interesting new reports!