Lots of us have hobbies, and lots of our hobbies have the potential to provide a partial or even full-time income. Specialized bracelets, woodwork, hand-crafted clothing, homemade toys — the possibilities for original, one-of-a-kind products are endless, as is the potential demand.
Online marketplaces like Etsy may seem like the easiest way to start an online store, but then you're subject to their rules and regulations, which can change at any time. In fact, Etsy automatically enrolls businesses in an advertising program that takes 15% of income from eligible sales — a big chunk of sellers' hard-earned money!
With WordPress and WooCommerce, you have full control over your content, products, and where your money goes. You can create a store that's as large (or small!) as you'd like and customize everything to be as unique as your products.
Ready to start a business or expand your sales beyond local shops and farmers markets? Let's take a look at how to start an online business, generate revenue, and market your products with WordPress and WooCommerce.
1. Name your business and buy the URL
Choose your name carefully — it'll become a core part of your brand. As you narrow down your list of names, make sure that the URL is available (and isn't prohibitively expensive).
Pick something that's easy to remember and easy to spell. Avoid hyphens and numbers; these are easily mistyped or forgotten, and are harder to describe out loud.
If possible, buy a URL that ends in .com. If you choose something other than a .com, make sure there's no .com equivalent that's offensive or a direct competitor.
2. Choose a hosting provider
Websites are all made up of files. A hosting company stores those files and makes them viewable online. To choose the right host for you, think about:
Speed. Shared hosting plans, usually the least expensive option, store multiple websites on a single server. This can slow your site down, especially during times of high demand.
Customer service. Good customer service can save you lots of time and keep your business running smoothly. Look for companies with 24/7 support.
Safety. To protect your customers and your investment, choose a host that offers automatic backups, malware prevention, and email spam filters.
Uptime. Servers can sometimes "go down," which means visitors won't be able to access your site. Server "uptime" is the percentage of time that the servers are running. You want as high a percentage as possible — many hosts guarantee at least 99%.
Reviews. Read customer reviews to learn from others' experiences. This is the best way to learn about a provider's quality.
Scalability. Is it easy to switch plans or increase server resources? You don't want to worry about complicated migrations as your business grows.
Still not sure? Here are a few of the hosts that we recommend.
3. Install WordPress
WordPress is a website creation tool that will form the base of your online store. It's open source, flexible, powerful, and completely free, which is why it's the platform of choice for 43% of the web. And beyond that, you can create a beautiful, functional site without any development experience or coding knowledge whatsoever.
WordPress prides itself on easy setup and, under most circumstances, takes only five minutes to install. Most hosting companies offer one-click WordPress installation, straight from their dashboard. Check with your provider for the exact steps you should follow or read this complete guide to installing WordPress.
Looking for a helping hand in creating the WooCommerce store of your dreams? Get in touch with one of our trusted WooExperts! These full-service agencies come with our official seal of approval, so you can rest assured that your project is in safe hands. Find a WooExpert.
4. Select a WordPress theme
A theme determines the design of your website, along with some pieces of functionality. You can choose one with "plug and play" templates, allowing you to simply replace demo content with your own. Or you can pick a theme that lets you use it as a framework for absolutely any design that you can imagine.
Note that a theme that's built specifically for eCommerce makes the process of setting up your store much easier. And whether you select a free or paid theme, make sure it's mobile-friendly, loads quickly, and comes from a reputable source. For more tips, read our article about choosing a theme for your WooCommerce store.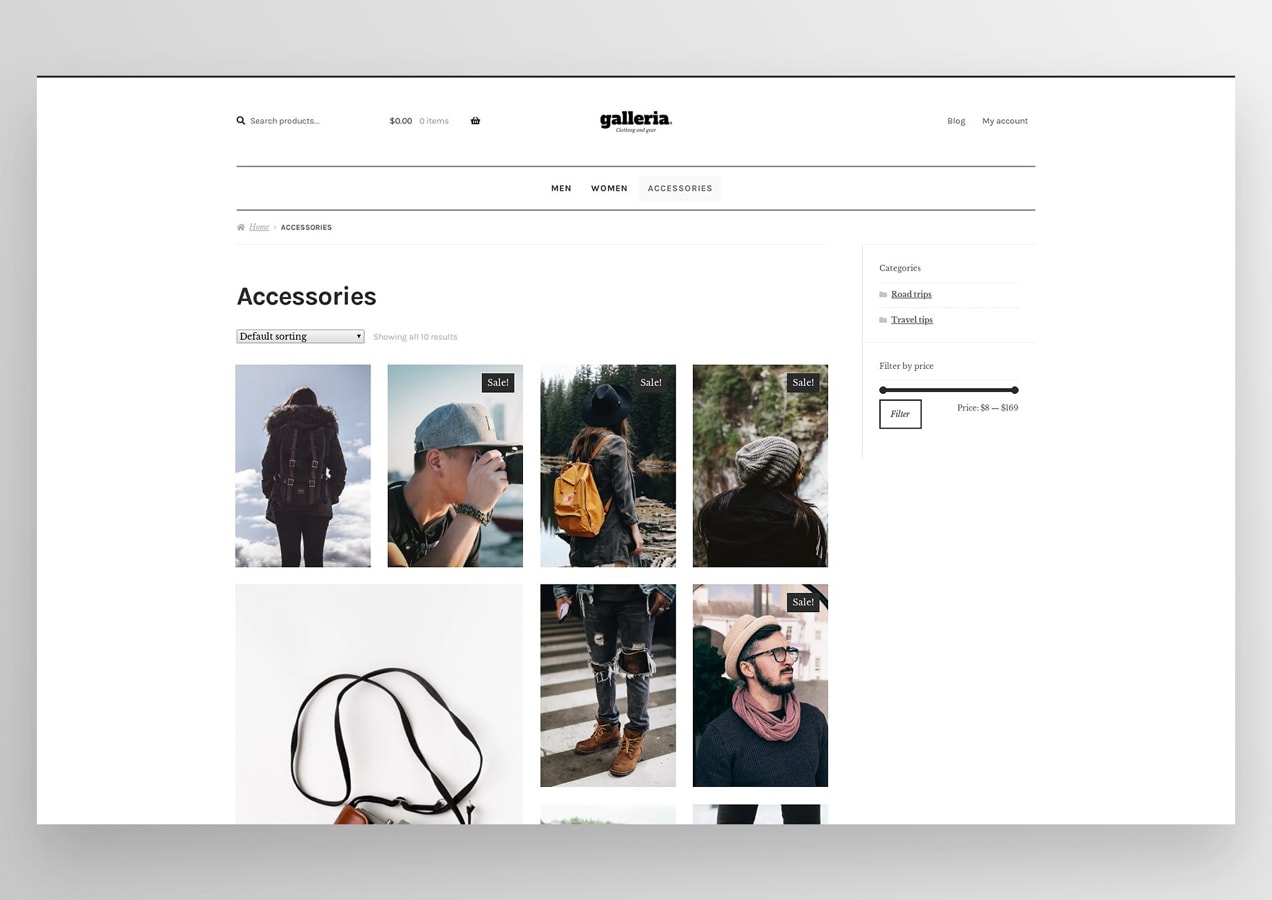 The free Storefront theme is a great place to start. It's clean and simple, but can be customized to meet your exact needs. It also offers several child themes (essentially theme add-ons that enhance the parent theme) made for specific niches. For example, the Galleria theme is perfect for clothing, while ToyShop is a great option for handmade toys.
Check out more themes directly from WooCommerce or see more eCommerce-ready themes from WordPress.org.
5. Install WooCommerce
WooCommerce is the eCommerce leg of WordPress, and is an intuitive, customizable platform for selling online. Use it to create product pages, accept payments, and implement a variety of selling strategies and extensions to serve customers and increase revenue. You can modify the design and functionality to meet the needs of your specific store and scale as much as you'd like. 
Best of all, WooCommerce is free to install and use! To get started:
In your WordPress dashboard, navigate to Plugins → Add New
Search for "WooCommerce"
Click Install now → Activate
The Setup Wizard will walk you through the basic configuration, including a few of the items we'll go into more detail about below. Congrats, you have a store!
6. Integrate your payment gateway
A payment gateway allows you to securely accept payments online. WooCommerce integrates with all major gateways like Stripe, PayPal, Authorize.net, and Square, along with niche gateways around the world. View all payment gateway integrations.
When selecting a gateway, look at the applicable fees, security, and ease of use, and think about whether you want to take payments in person as well. WooCommerce Payments was created to meet all of these needs, without any upfront or monthly fees. You can manage absolutely everything — from orders and refunds to recurring payments — directly in the WooCommerce dashboard. Plus, take advantage of additional features like multi-currency support, instant deposits, and integration with tools like Apple Pay and Google Pay.
And if you sell products at flea markets or pop-up shops, there are some great options to simplify the entire process. Pair WooCommerce Payments with a card reader to accept payments in person for products reserved online. Or use the new Simple Payments feature to create a quick order on the fly.
Learn more about choosing the right payment gateway.
7. Create product pages
Now that you have the basic structure of your store, it's time to add some products. You'll be able to choose from several product types, including:
Simple: A basic product without options to choose from (e.g. a decorative pillow available only in one size)
Variable: A product that has options customers can select from (e.g. a T-shirt with size choices)
Downloadable: A digital product that isn't shipped (e.g. a printable knitting pattern)
Subscription: A product that is delivered and charged for on a recurring basis (e.g. a monthly snack box). Note that this product type requires the WooCommerce Subscriptions extension.
Our documentation about Adding and Managing Products will walk you through creating each of these in WooCommerce. Don't worry — there's no code required!
If you're selling physical products, high-quality photos are key — online customers can't pick up and hold your items. Take photos in an area that is well-lit (or purchase a simple LED light kit to help you) and free of clutter. This could be as simple as placing your products on a white tablecloth on the floor.
Show several angles, and take close-up pictures of any important details. You might even consider taking a short video to demonstrate how a feature works or highlight details that are difficult to convey through text.
Then, write a good description. Focus on how the product benefits the buyer. How will it make them feel? What will it do for them? How will it make their lives better? Use language that speaks to the heart of your target audience.
Don't use jargon and industry buzzwords. You can add technical details farther down the page. Here's a guide on how to write outstanding product descriptions that draw traffic and increase sales.
8. Create your other website pages
An effective online store offers more than just products; it should give customers all the information they need to make a purchase and convince them to come back. At a minimum, you'll want a Home page, About page, and Contact page. You may also want an FAQ page to answer the most common questions you receive and make customers more confident in your business and products.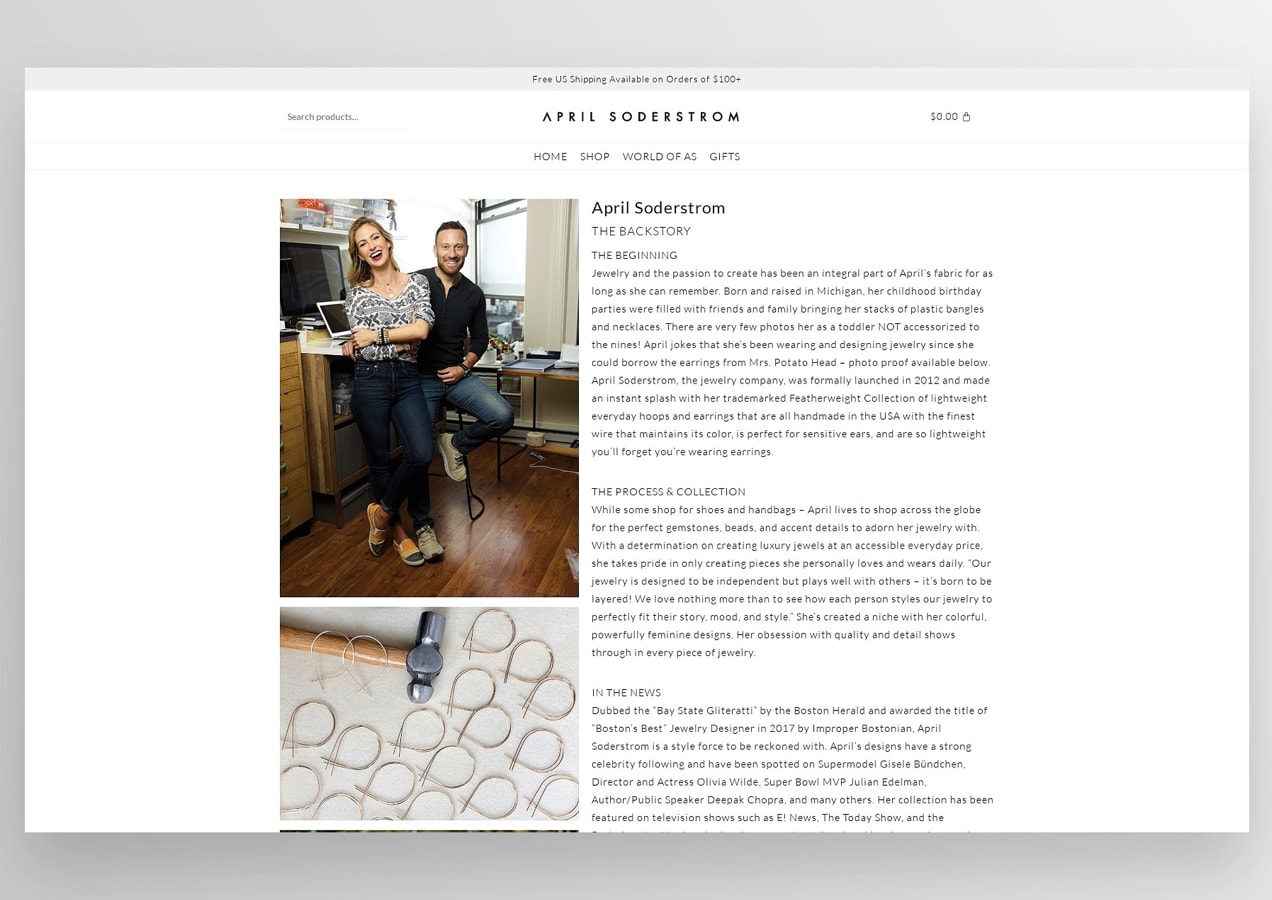 To create a page, navigate to Pages → Add New in your WordPress dashboard. Then, use the built-in block editor to create unique, beautiful designs without needing to edit a single line of code. Drag and drop text, products, images, buttons, videos, and more! Learn more about blocks built specifically for WooCommerce.
Product planning, inventory, and shipping
How long does it take to craft each item you hope to sell? This matters because you don't want to outsell your inventory. If you end up with far more demand than you can meet, you run the risk of driving people away who showed up on your site ready to buy.
WooCommerce offers a number of inventory management extensions that save you time and prevent embarrassing mistakes with customers. As your business grows, efficient operations will become even more important.
Finally, consider how you're going to ship products. What shipping providers would you like to use? Do you want to offer free shipping or charge based on cart size or weight? WooCommerce Shipping is a great place to start. It allows you to connect with USPS and DHL, then print shipping labels directly from your dashboard. The best part? You get a hefty discount off those labels, saving you and your customers money.
For more carriers and shipping options, view our extensions. And if you're looking for some more direction, our shipping guide can help.
Expand the functionality of your store
Once you've built the foundation of your store, you can explore the world of extensions — that is, add-ons that give your store more options and functionality. WooCommerce offers an entire marketplace of extensions that help you increase sales, attract more customers, and manage your business efficiently, including extensions to:
Mix and match extensions to realize any functionality or design vision you have. Or, get started with the WooCommerce Essentials collection — a grouping of extensions hand-picked by the WooCommerce team that are perfect for new stores. They cover, well, all the essentials, from marketing tools and product page enhancements to everything you need to regularly back up your store. And, if you purchase multiple options, you get a great discount.
Put on your marketing hat
Building a website is a great start, but now you need the right shoppers to find it. Start by identifying your target audience — a group of people with common traits who are most likely to purchase your product — then experiment with ways to reach them. You might post in groups, join clubs, or place ads on sites that are frequented by your audience.
One of the most common ways to find new customers is through search engines. Think about what shoppers might type into Google to find the kinds of things you make, and what phrases indicate an intention to purchase. Someone searching, "how to knit a scarf" is less likely to purchase than someone who types, "buy homemade scarf."
You can place ads on platforms like Google so that your site appears when someone searches for one of these terms. Learn more about Google Shopping Ads and explore the Google Listings & Ads extension.
You can also save on advertising costs by trying to show up naturally when someone searches for one of these terms. This can be accomplished through search engine optimization (SEO). Read our beginner's guide to SEO for all the details.
For successful online marketing, put in consistent effort, be willing to experiment, regularly measure results, and refine the process over time.
Do you want to sell products on online marketplaces?
In addition to your eCommerce store, you might want to reach other audiences on Amazon or eBay. You can integrate WooCommerce with online marketplaces for a seamless way to make money online. But remember — it's always best to use a website that you have full control and ownership over as your digital home base.
Learn how to integrate WooCommerce with Amazon or eBay.
Turn your hobby into a business
Hopefully this introduction to online selling has made you feel more confident about starting an eCommerce store. You can do this! Go through the steps. Take your time. Don't procrastinate. Set goals and commit to them.
If you do run into any problems or think of any questions, read through our extensive documentation, reach out to our unrivaled support team, or enlist the help of a certified WooExpert.