The holiday shopping season is a busy time for consumers, with a lot of eyeballs staring at computers and phones, researching gifts, and looking for the best deals online.
Even with increased competition and decreased organic reach, social media is still key for getting the attention of your potential customers. But, without a solid plan, success may pass your company by.
Here are eight steps for planning a holiday campaign across your social media channels, so that by the time the holidays arrive you can kick your feet back and enjoy a little more time with family.
Get ready to flex your creative genius!
Step 1: Start Planning Early
Success favors those who plan ahead.
Unfortunately, when it comes to creating social media content for the holidays, too many companies choose to wing it at the last minute.
This puts social media teams in the unenviable position of being creative on-the-spot, and the results are often less than inspiring.
Something that goes a long way, and is, therefore, our first recommended step, is simple to use a social media calendar. Map out:
When your holiday campaign will start and finish. Plan on running from early November through the end of December.
Which channels you'll utilize. This will most likely incorporate Facebook, Instagram, Pinterest, and/or Twitter.
How often you'll post on each one. Keep it to a reasonable amount of posts (more on this further down).
If you need a social media calendar, try this free Google Sheets template (just click File > Make a Copy to create your own editable copy). Apps such as CoSchedule are effective for building marketing calendars as well.
Caption: Here is an example of a basic social media calendar built using a spreadsheet.
If you need some guidelines on setting your schedule, take a look at this guide.
Keep it simple, keep it organized, and keep it focused on your goal: connecting with customers better than your competition all the way through the season.
Determine How Many Posts You'll Write
Quantity is no measure of quality.
But, you have a finite amount of time, and your audience has a finite amount of attention.
So, it makes sense to determine up front how many posts you'll need to write for each network. Plus, this will help your graphic designers estimate the amount of time it'll take to create any graphics you'll need for the campaign. If you will be comissioing posts, this also gives you time to rally your guest writers!
There's no magic number for any given network, but some benefit from posting sparingly, whereas others rely on high-volume (such as Twitter). Use this data as a starting point for setting your schedule.
Step 2: Scope Out Your Competition's Past Holiday Campaigns
Speaking of which, the best holiday campaigns stand out from the noise.
Let's face it, there will be tons of content getting churned out from countless brands. Even if they're not all competitors in your industry, you are competing against all of them for audience attention.
In order to cut through the static, do some research to generate original ideas.
Start by picking a few competitors to audit. Then, scroll back to this time last year on their social media profiles, and make note of the following:
What types of content did they create? Images? Videos? User-generated content?
Did their copy contain any specific messaging? What benefits do their posts highlight? Which emotional levers do they appear to pull?
How about hashtags? If they incorporated hashtags, did they create their own, or hop on existing ones?
Equipped with this knowledge, you'll learn a few things:
What worked for them that you can borrow? No need to reinvent the wheel.
What didn't work so well that you should avoid? If their posts appeared to underperform, ask why they may have failed. Then, don't do what they did.
What can you do differently that your audience perhaps hasn't seen before? Are there creative ideas you don't see out there? There's your opening for opportunity.
Those pieces of information should inform what you'll do next.
Step 3: Create a Clear Campaign Concept
Now, it's time to come up with the "Big Idea" behind your campaign. This is your angle and key message you want to convey that'll get your brand stuck in your customer's heads and compel them to buy from you.
Come Up with a Campaign Concept and Tagline (or Hashtag)
To really make your content sing, tie them all together around a common message or theme.
Now, you might think the theme is obvious. It's a holiday campaign, after all.
But, you can get a little more creative than that.
Let's look at some examples, starting with outdoor equipment store REI. Like many retailers, they do a Black Friday campaign in the United States. Love it or hate it, it's a massive shopping day, and there's no way to ignore it.
Creatively, though, instead of directly referencing Black Friday, or even directly selling products, REI promotes outdoor activity with their #OptOutside campaign.
It was a user-generated campaign that encouraged people to share videos and photos of their outdoor exploits, combined with interesting content about the locations where the images took place.
What makes this idea work so well? Consider the following points:
People don't want to listen to a hard sell. People are bombarded with pushes to spend money. When it comes to organic social media, that approach often fails.
Instead, it puts the audience and their interests first. Then, it hints at how REI complements those interests while allowing people to show off their adventures.
It's just extremely well-executed. Striking photography and crisp copy drive the campaign's point home: why sit around at home when you could do cool stuff and share it with the world?
Find Your Own Angle
If you want to create something that really stands out like this, the key is to find an angle that goes beyond a generic holiday hook.
Give it a name. This may be something you call your campaign internally or include in your posts.
Write a tagline. One short five or six word sentence that sums up the campaign.
Consider creating a hashtag. Hashtags are great for tying all the posts in a single campaign together.
REI had #OptInside, working the name of the campaign into the hashtag. It appealed to customers by giving them an opportunity to express themselves, and increased sales by driving engagement and showing off their products in use by real people.
What's something similar you could do that's more creative than simply discounting products and promoting them (an approach that countless competitors will probably use)?
Step 4: Choose Products to Promote
As an eCommerce company, you no doubt have products you'll want to highlight.
There are a few ways you can select which ones to prioritize:
Top-sellers. Why not double down on success for the holidays?
Seasonally-appropriate products. Think things people might buy and use in winter.
Best gift options. Stocking stuffers and the like fit this category.
If you're unsure which products might fit these buckets, find someone you can ask. That might include someone in customer support, sales, management, anyone who might have an idea.
And even though we want to create a campaign that goes beyond just simple product posts, you'll want to be sure your products are featured in your content.
The trick is to show, rather than tell, why people should buy from you this holiday season.
Step 5: Create Some Holiday-themed Content
Your customers need somewhere to go.
Ideally, they'll move from your social platforms, directly to product pages.
In fact, you might be good to go planning a social campaign around those product pages, without creating anything on your blog (or a campaign landing page).
If you're resource-strapped, this might even be the best way to go.
But, sometimes making a hard sell on social media to immediately buy a product can feel, well, slimy.
With some exceptions (like Pinterest), people usually aren't on social media to do their shopping; they're on their to be entertained and connect with friends and family.
So, how do you get their attention?
Raise your game by creating a piece of fantastic content, and direct people there instead. Think of it like this: your social media directs people to useful information on your site.
This makes it easier to make a sale by not putting all that pressure on social media alone.
Follow these steps:
Determine whether you'll create a landing page, blog post, or curated holiday sale product page. Any of these options may work well.
Write a blog post highlighting products. Stress benefits over features and show people how to use them, or otherwise clearly explain their value.
Create a social media post for every product in that post. Rather than directly promoting each one, consider writing something catchy, while including a mention of the product either in the post text, or on an image.
To take things a step further, use an email opt-in form on your site so you can reach customers even after the holiday season, maximizing the campaign's long-term value.
Step 6: Plan and Write Your Campaign Post Content
To separate your holiday campaign from any other campaign, spend time carefully crafting copy and infuse it all with a seasonally-appropriate hook.
This might mean simply working in a "happy holidays" sentiment into your content, or as is the case with an example we'll look at in this section, taking a somewhat less obvious approach.
Plan Every Post in Succession, in Advance
Be intentional with your copy.
Each post in your campaign should have a reason for existing. There needs to be a clear purpose it's intended to serve; otherwise, there's no point in spending time creating it.
Before writing, know both of the following points:
Which product or URL each post will promote.
Where it fits chronologically in the campaign.
Then, create a Word or Google Doc with the following fields:
Network: The channel the post will appear on.
Post Copy: Your post content goes here.
Image Direction: So your design team will know what to create.
URL: Which link the post will include.
Set this up for every post you'll create next.
Start Writing!
Remember the tag line and hook for your campaign you created earlier?
Work that into every post.
Here's an example from LuluLemon. Back in 2017, they ran a series of posts promoting relaxation (which makes sense for a company that sells comfortable workout clothes, since people exercise to feel better equipped to deal with stress).
Here's one post:
Now, here's another in the same campaign:
Note that this post links to a recipe. Why? Because it helps people accomplish their goal of relaxing during a stressful time of year. It also helps build positive sentiment between the audience and the brand, which makes it easier to sell when you create a post like this …
This post goes for the direct sale, but it connects back into the relaxation message, and puts the customer's problems first. Perfect.
What else can you take away from these examples? Consider the following:
There's a clear theme here. Finding an angle or hook for a campaign can be as simple as focusing on one single benefit for your audience. In this case, that means relaxation.
The campaign connects to a bigger goal. By putting relaxation first (and tying their products into that goal), LuluLemon successfully avoids feeling spammy.
You have options beyond generic holiday campaigns. This works well because it thinks about the customer's life around the holidays, making them more helpful than most companies pushing me-first holiday sales.
Hopefully, that has you inspired to think a little outside the box when you write your posts.
Optimize Each Post for Best Results
Great posts connect with audiences. They catch their attention, resonate with their wants and needs, and get them engaged with your company.
But, it's nice to have some objective data to refine your writing mechanics and post structure.
Start by following this simple guide on character counts, emoji usage, and hashtags.
Then, when you're ready to test your post copy, use a free Social Message Optimizer to score your social media posts and get insights into how they can be improved:
Step 8: Set Up Some Remarketing Campaigns
Say your campaign successfully gets people onto your website… but they don't purchase. All is not lost!
You can run remarketing – which means reaching out to win back customers that didn't convert – via the Google network (Adwords and Display) or Facebook ads, as well as by email if you capture them while someone is browsing or abandons checkout. For email remarketing and WooCommerce, try JILT, Conversio or via MailChimp for WooCommerce. That way, they won't forget you when it comes time to actually start buying those gifts.
According to WordStream (who have written a fantastic guide on this topic), there are three types of remarketing campaigns you can set up: customer list, website traffic, and app activity.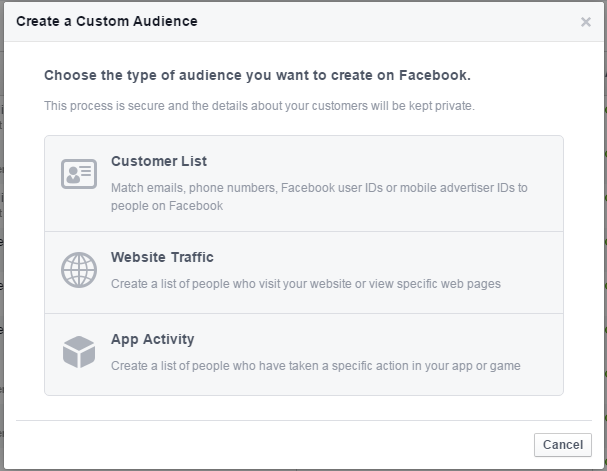 For an eCommerce site, Website Traffic will be your best bet.
That's a Wrap
You're now equipped with a simple process to elevate your social media efforts beyond stale product pushes and last-minute posts that fall flat. Let's recap what you've learned:
You've selected networks and outlined a basic holiday campaign posting schedule.
You've created a hook, tagline, and maybe even a hashtag for your campaign.
You've created all your content, given it some holiday cheer, and prepped for remarketing.
In short, you're prepared to make your holiday shopping season a good one. Now, go forth toward eCommerce success!
Ben Sailer is the Content Marketing Lead at CoSchedule, an industry-leading marketing calendar platform. His areas of expertise include content strategy, search engine optimization, copywriting, and more. He can be found on Twitter at @Ben_CoSchedule.