Everyone wants to feel like they belong. It's a powerful desire that can drive human behavior, the formation of friendships… and even how people make purchasing decisions.
Offering memberships on your online store or website triggers this same desire to belong — to be part of an exclusive club, to get insider perks and benefits. But offering (or selling) memberships isn't as easy as making them available — there are a few tricks to making them truly desireable.
If you're interested in adding memberships to your existing site or are considering building a new store with a membership model in mind, the tips in this post will help you convince more customers to sign up, whether you're a rookie or an eCommerce master.
From clear benefits to fair pricing to member rewards, here are all the ways you can ensure success with memberships.
Start by placing the focus on potential members — not you
The first question any potential member is going to ask when they see your call to action is "what's in it for me?"
Memberships can sometimes be a tricky sell. Even in brick and mortar stores, where you sign up for a "club card" and are rewarded with special deals, customers assume there's a catch. "You're going to sell my information, right?" they ask. Or "are you going to spam my email?"
Take the focus off how you might benefit from a new member joining, and put the emphasis on how members benefit. Visitors reading about your program should feel inspired, excited, and eager to sign up — not wondering "what do I get out of this?" or "what do they get out of this?"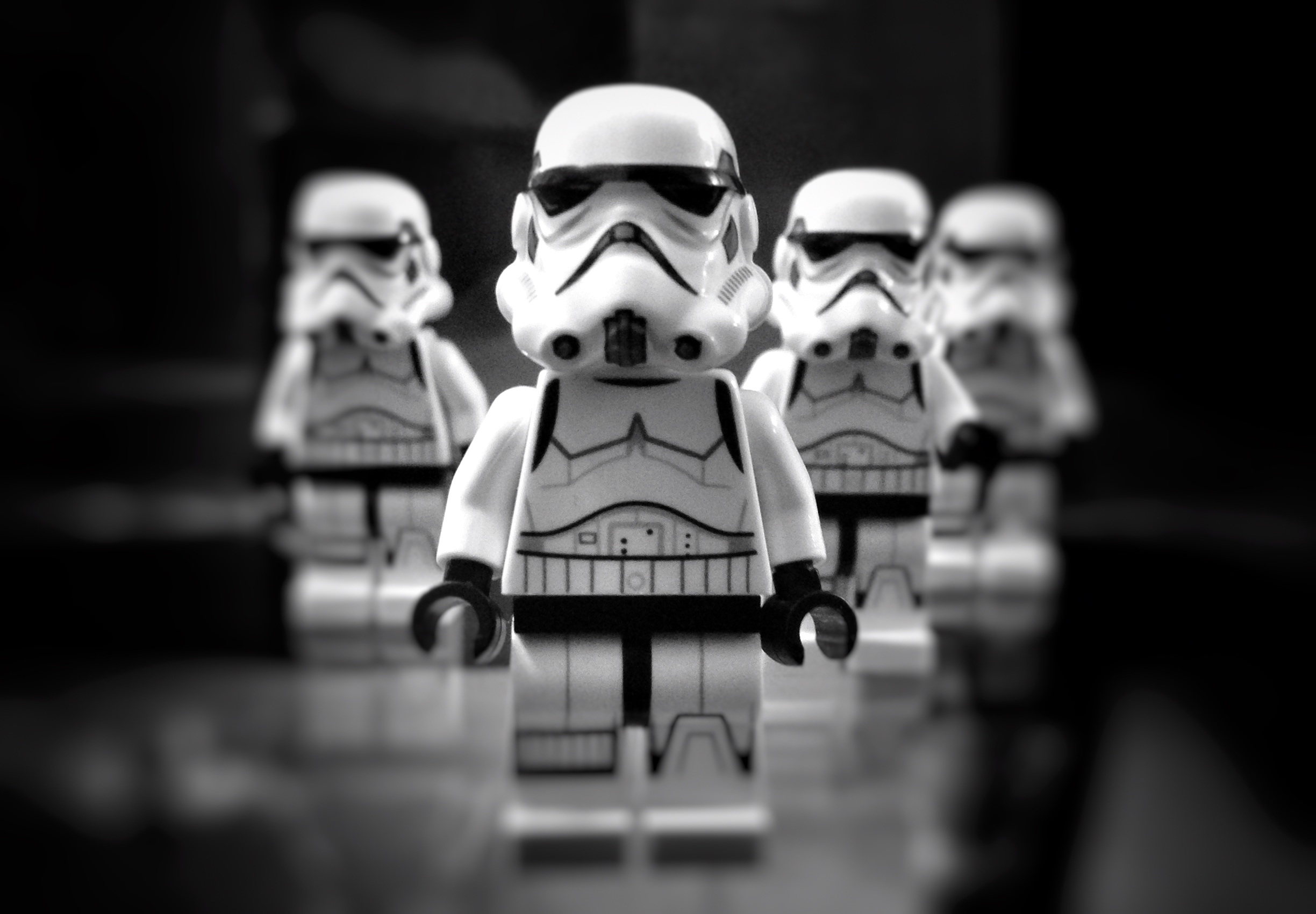 How does this play out in real life? Take a look at the page to buy a Costco Gold Star Membership online. You need a membership to shop in one of their stores, and that's what $55 a year gets you. But that's all it gets you.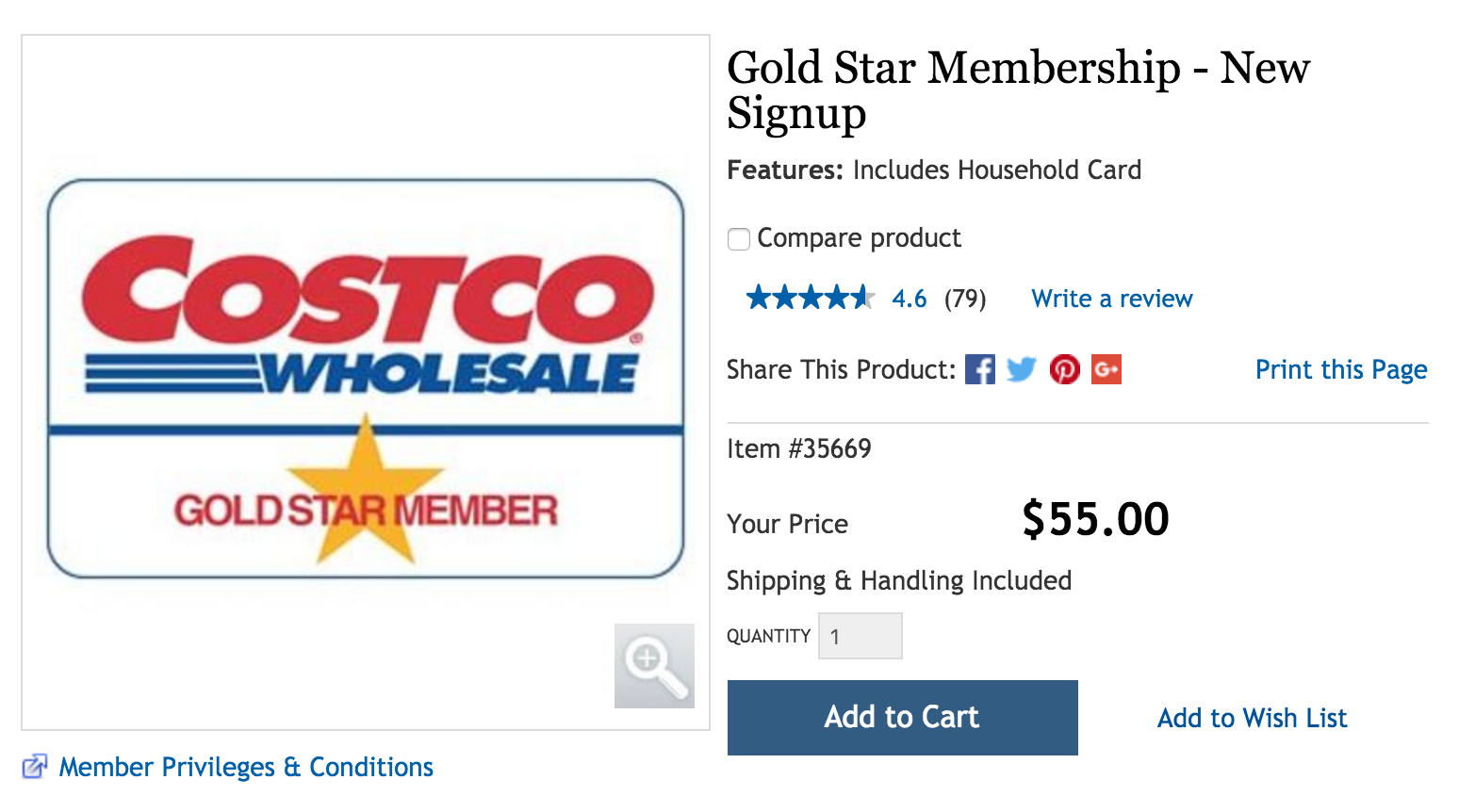 Compare that to a membership at Sam's Club, where you have three options at different prices, each with different benefits, but they all offer you more than, you know, membership.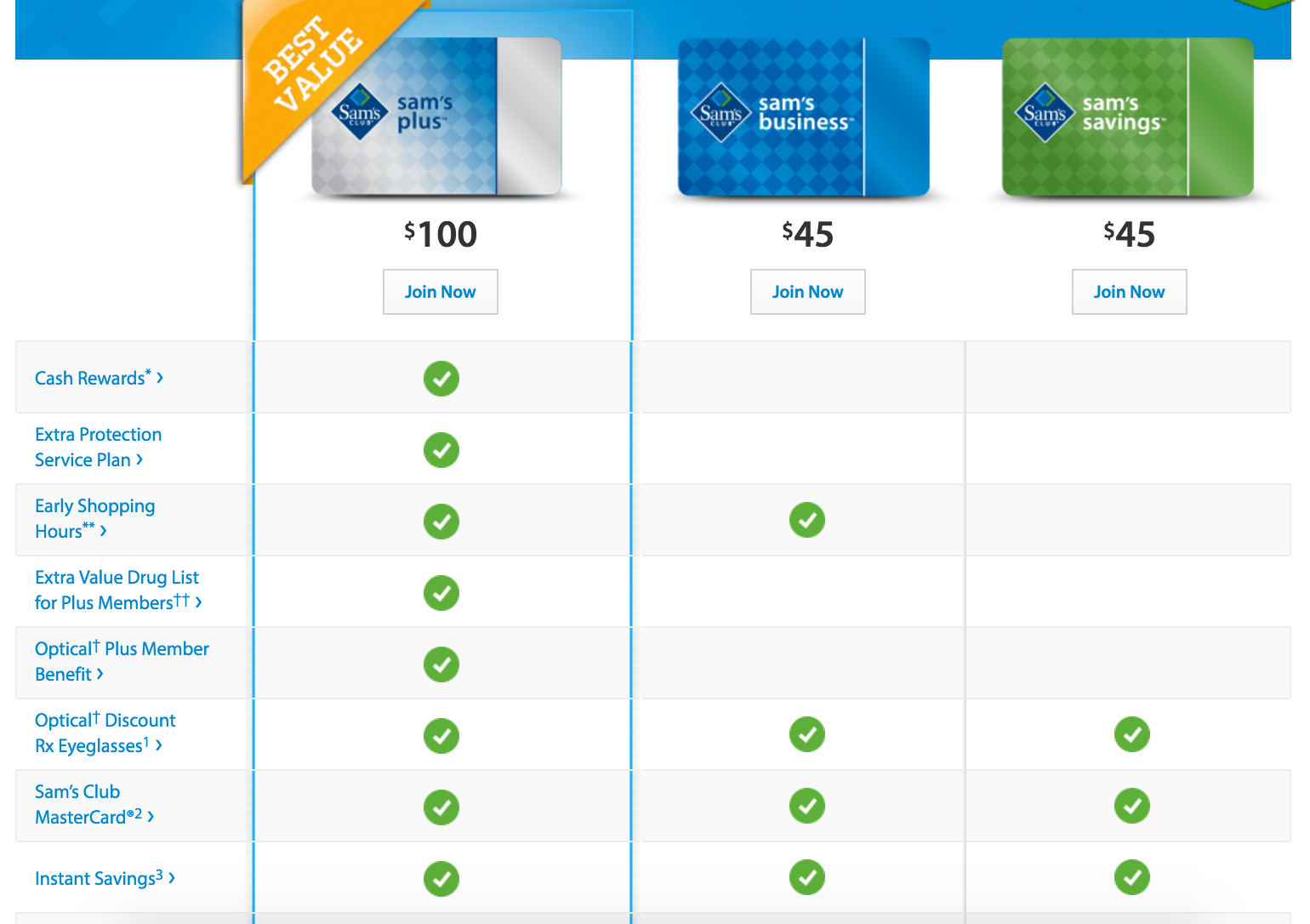 If you had to choose between becoming a member at one of these stores, assuming they had the same pricing and merchandise, which would you think cared more about you, as a member, and less about their own benefits (i.e. profit)?
Not to knock Costco, but your membership page should not be like theirs. It's not motivating, and it's not at all exciting for potential members, either. And, as you're about to learn, if you haven't heard of Costco, you probably have no idea what you're even going to get out of it!
Give potential members good reasons to join you
Most people who join a brick-and-mortar club like Costco have been referred by a friend or family member. So that probably explains why this copywriting is so dull:
With a membership option on your website or online store, there's obviously still a chance of a new customer being referred by a friend (via social media) or family member (via word-of-mouth)… but it's a lower one. So that means your website should give potential members a ton of fantastic reasons to join, rather than simply assume they'll be interested from the very start.
A potential member might be on the fence. They might be thinking "is this for me? Will it really help me?" Your job (more accurately, your website's job) is to convince them to take action.
You can do that by:
Having tangible benefits in the first place. "Being part of our club" isn't enough to motivate someone to pay, or potentially even sign up for email or get a "free" card.
Listing all the benefits of membership in one place. Look back to the Sam's Club example above — see how the perks are written out in plain text in one easy-to-read chart? That's the kind of clarity you need.
If more detail is needed, creating individual pages or places for perks to live. If your members get special discounts or rewards based on purchases or other activity, expand upon those on separate pages that are linked from your initial chart or "member benefits" page.
Adding convincing content like testimonials, quotes, or member photos, even if you have to do this further down the line. The more real you can make your membership(s), the better.
If there's a cost associated with signing up, making it easy for customers to ask you questions and get answers. Put a contact form on the page, or link to your Twitter account. You can even add FAQs if you like. Being accessible can help assuage fears and get potential members over the "but it costs money!" hump.
Put plenty of thought into your pricing and tiers
For some sites, it's enough to offer one simple membership — that is, either you're a member or you're not. You pay for the distinction of joining the club, or you don't.
For others, though, their products or services require a great deal more complexity. Maybe you need multiple tiers, because only certain subscribers should be able to access software at the higher tiers. Or maybe different payment plans unlock special members-only products, discounts, or services.
Whatever the reason behind your structure, give it plenty of thought before it's put into place. Similarly, before you introduce any new tiers or pricing options, ask yourself "is this really necessary?" before making the final changes.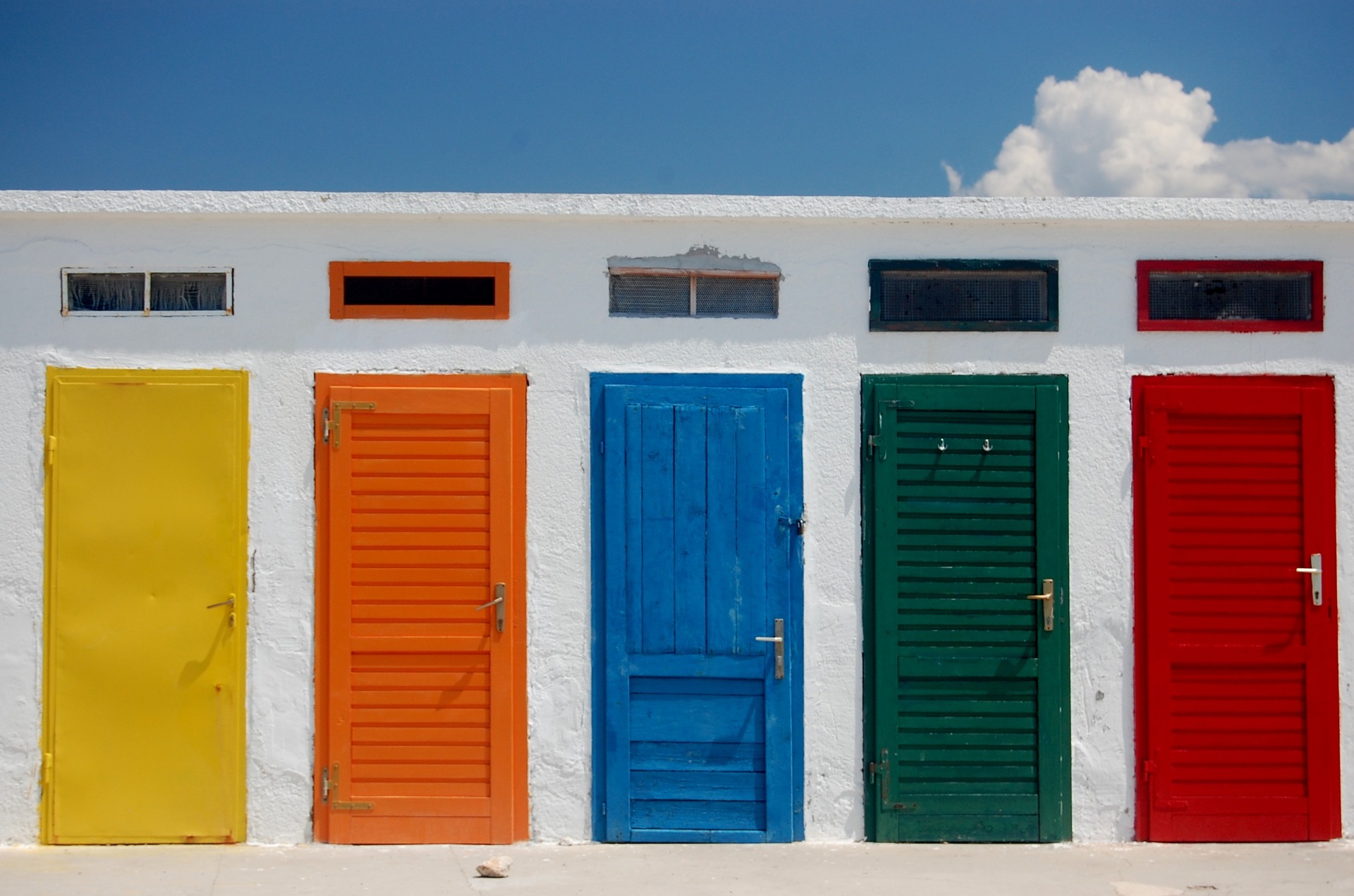 Decision paralysis is a real thing. Take a shopper into a store with a handful of couches to choose from, and they'll probably find a favorite. Take them into a store with hundreds of couches, and they're more than likely going to throw their hands up after two hours and say "I don't care anymore, let's just sit on the floor!" (I might be speaking from experience here.)
Customers who are presented with too many choices might struggle to make a choice at all. So if you can keep your options limited to the "must-haves" and not the plans that a single potential buyer asked for one time, you're more likely to win new members.
This means:
Wiping out or combining plans that are too similar (if the only difference is the price, or one or two features, they don't necessitate an entirely new option)
Not introducing new membership tiers or pricing options unless you have a really good reason — ex. the members on your new "gold" tier get an incredible discount, free products, or some other kind of honor not offered on your other tiers
Grandfathering subscribers up a level, if you wipe out a less expensive plan — don't be greedy just because you changed your mind 🙂
Reward members regularly — and email is not a reward
Ever been asked to become a member or join a club where the signup screen looked like this?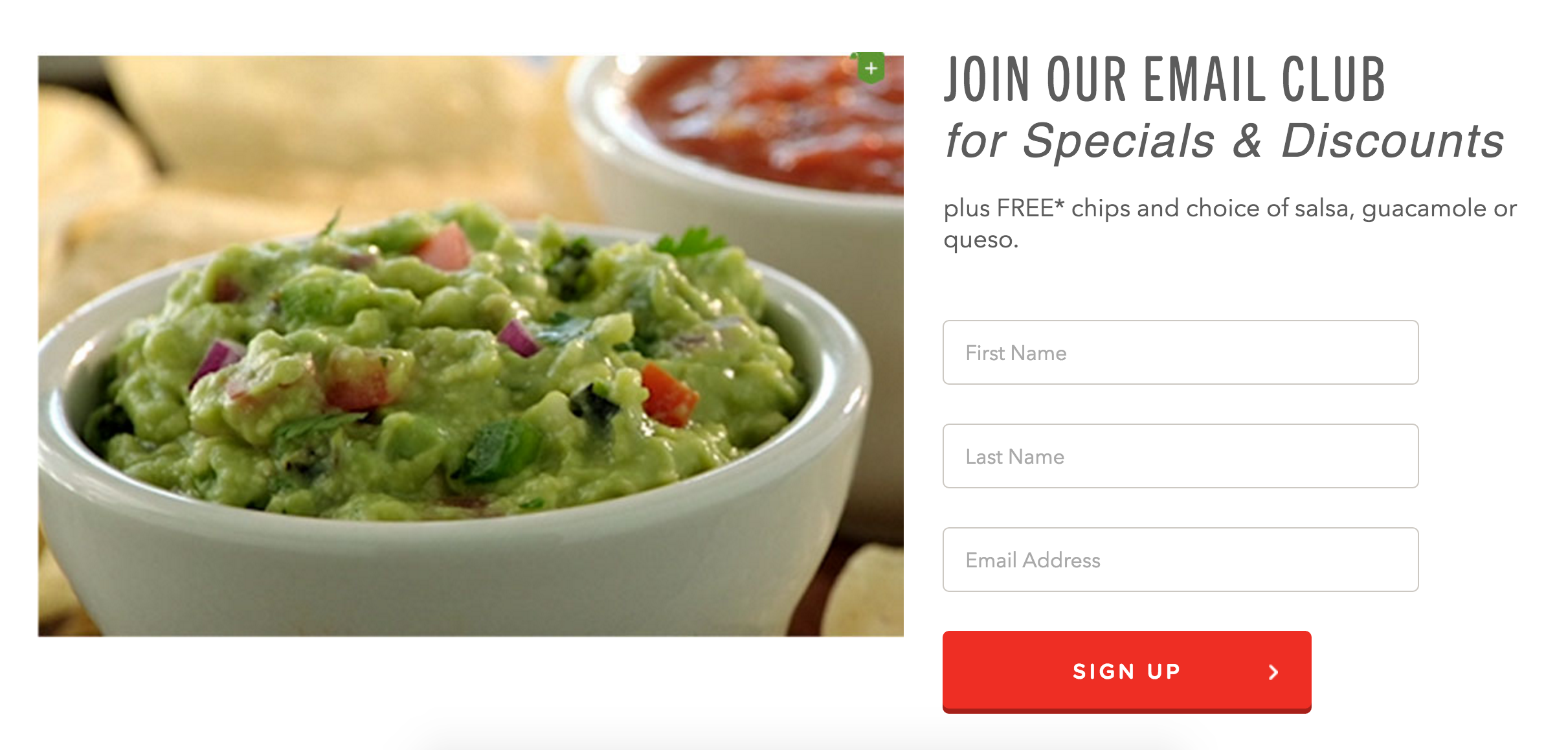 If you're starting a membership site or adding memberships to your store, you want the people signing up to feel great about belonging. You want them to spend money with you, get pumped about the merits of their membership, maybe even tell their friends!
But here's the thing: email is not a reward. It's beneficial for you, as the business, but even if you send out discounts and coupons occasionally, it's not really giving your members anything they couldn't get by (presumably) just signing up for your regular email list.
Again, as we mentioned above, your members should be given fantastic benefits in exchange for their time, attention, and money. Otherwise, why have a membership offering in the first place? So cut out the "emails and discounts!" and offer things people actually want.
Don't know what to offer? Ask: send an email or post a tweet/Facebook update before starting that asks "what kind of benefits would you want in exchange for a membership?" Boom, instant feedback.
Customize your content — and this goes for non-members, too
One final piece of advice for those of you starting up membership sites: don't overlook the possibility of using all aspects of your website to draw in members.
When we think of memberships, most of us think of physical products restricted to paying members only, or clubs that offer discounts or special deals. You can also build a store that restricts digital content — say, only makes eBooks available to paying members, or even limits software downloads per membership tier.
But with WooCommerce Memberships, you can take these restrictions one step further and restrict specific parts of your website or store based on membership status, and display custom content to both members and non-members on the exact same page.
One example of where this might come in handy: let's say you sell memberships online for your brick-and-mortar athletic club. You write informative guides on fitness and starting new exercises or sports for your members. With the extension, you can limit these guides so that only (signed in) members can see them.
But you'll want to entice non-members to sign up, right? So instead of simply making the links 404 for non-members, you can leave them valid, but display a custom "this content is only available for members of our athletic club" message with a link to your membership page where the content would appear.
Or you could even wrap a majority of your articles in shortcodes, allowing non-members to read part of them… but not the whole thing. And again, displaying a "only members can read these" message with a call to action at the cutoff point.
Or you can set up trial periods so non-members can try out your club and read your content, but access will automatically expire if they don't pay or sign up for the full plan. As you can see, there are a lot of options worth taking advantage of with your site's content!
Read more about restricting content for both members and non-members with WooCommerce Subscriptions right here.
Get more members now by using these tips
A successful memberships site can be a tricky thing. You need to tap into the desire to belong, but not offer too many choices. You need to offer incentives, but the right ones. Yikes.
Our last piece of advice: don't overthink it. If your product or offerings are sound, your membership program will be too. Just use the tips we've extended above to add a little finesse to your website and you'll be golden.
Have any questions about setting up a membership site or program? Or any tips of your own you'd like to share? We'd love to hear from you — chime in below, the comments are open for you.