In a survey of 1,164 U.S. business owners by Mercury Analytics last year, 42 percent stated that they take credit cards online, while 76 percent reported that they accepted credit card sales in person. In the blend of online and brick-and-mortar sales, what is the state and stance of your business? Perhaps you're thinking of making a leap from digital to physical (or the reverse) and are weighing your options.
Let's dive into how to build an omnichannel business and, in particular, how to do it with WooCommerce and Square.

How modern consumers shop
The shopping behavior of modern consumers has evolved and expectations have risen. In 2018, consumers want their shopping experience to be easy and convenient, no matter where they are. In a recent study, Deloitte Consulting reported that more than two-thirds of shoppers are categorized as omnichannel consumers. What exactly does this mean? Buyers are engaging in multiple channels throughout the purchase life cycle (browse, buy, return).
Knowing that more and more consumers are shopping across multiple channels, prioritizing omnichannel enhancements has been a key focus and an important investment for retailers. A JDA study found that CEOs ranked creating new customer experiences as their top spending initiative to improve business operations, and refiguring brick-and-mortar locations so they can expand their online business as their primary strategic growth enabler. As consumer behavior shifts, it's crucial that businesses adapt to fit their customers' needs.
How business owners operate
While businesses are working to adapt to consumers' shopping habits, there are still significant changes that need to be made. The 2017 Mercury Analytics study revealed that 56 percent of respondents have a physical store, 21 percent have a pop-up store or pop up at events, 34 percent sold online (using a website-building platform), 25 percent sold through Facebook (40 percent sold on social media as a whole), and 16 percent through Amazon. Digging deeper, the business owners were also asked about how they accept payments. The majority (76 percent) confirmed that they accept credit cards in person, but only 42 percent stated that they take credit cards online.
The benefits of selling across multiple channels
Entering new sales channels and taking a business online is likely to drive an increase in sales. Omnichannel shoppers have proven to be loyal, valuable customers. A study by the Harvard Business Review found that in comparison to single-channel customers, those who shop across multiple channels spend an average of four percent more every time they shop in person and ten percent more when they shop online. Additionally, these shoppers are more likely to be repeat buyers and recommend retailers to family and friends.
4 things to consider before taking your business online
Expanding a business into a new channel is no easy task. There are several key elements that should be assessed to ensure success.

1. What does your competitive landscape look like?

Before making the investment to take a business online, it's critical to have a thorough understanding of the industry and key competitors in the category. While there may be crossover between online and in person, there will also be significant differences that must be identified. Define how you will differentiate your business and stand out.
2. Who is your target market?

Establish the primary target market. Defining the audience up front is key as this plays a major role in where to promote and sell online.
3. What products will you sell online?

If you already sell in person, decide if you will sell the same set of inventory online or if there is a different category of products that would be a better fit for eCommerce.
4. What functionalities does your ecommerce platform need?

The front and back ends of an online store serve very different purposes, but both are equally important.
The front end is visible to the customer. This covers everything from product display and customer reviews to responsive layouts. Depending on what you're selling and who the audience is, be sure you have the necessary functionalities in place.
The back end provides insight into the data and analytics of the business. This includes sales and inventory reports. If you sell in person, having a platform that syncs across all channels is key to always being up to date on your entire business.
Online payments made easy
Once you are prepared to build your online store, the next step is to select your payment processor. When you sell with Square you can easily accept online and offline payments through a single solution and manage your entire business in one place. Plus, the extension to connect Square and WooCommerce is now free to install.
Powering your online payments with Square means:
Simple pricing – Pay one flat rate per online transaction.
Fast deposits – See your money in one to two business days.
Saving time – Keep your offline and online inventory accurate and up to date in one place. Save time by creating or updating your products once and see the changes automatically reflected in both platforms.
Staying secure – Square provides Chargeback Protection and fraud detection at no cost so you can keep your business secure and stay focused on making your next sale.
Square seller Michael Waldon of Maryland-based Candles Off Main shared that "Selling online is our bread and butter — but it requires a great deal of inventory management. We've been so happy with the inventory management tools provided by Square. Unlike with traditional desktop software, I can manage my inventory anywhere — at the office, on my phone, at home. Mobile inventory management is truly essential — and Square provides the tools I need."
Unlike traditional desktop software, I can manage my inventory anywhere — at the office, on my phone, at home
How to seamlessly integrate WooCommerce and Square
To start accepting payments, you need to integrate your WooCommerce store with Square by signing up for a Square account and installing and configuring the free extension.
1. Sign up for a Square account (fast and free)
When you're ready, go to squareup.com/signup and sign up for your free Square account (enter your business location when prompted). Then stay logged in to Square during the setup of your WooCommerce Square plugin. If you already have a Square account, sign in to your account and stay logged in while setting up the extension.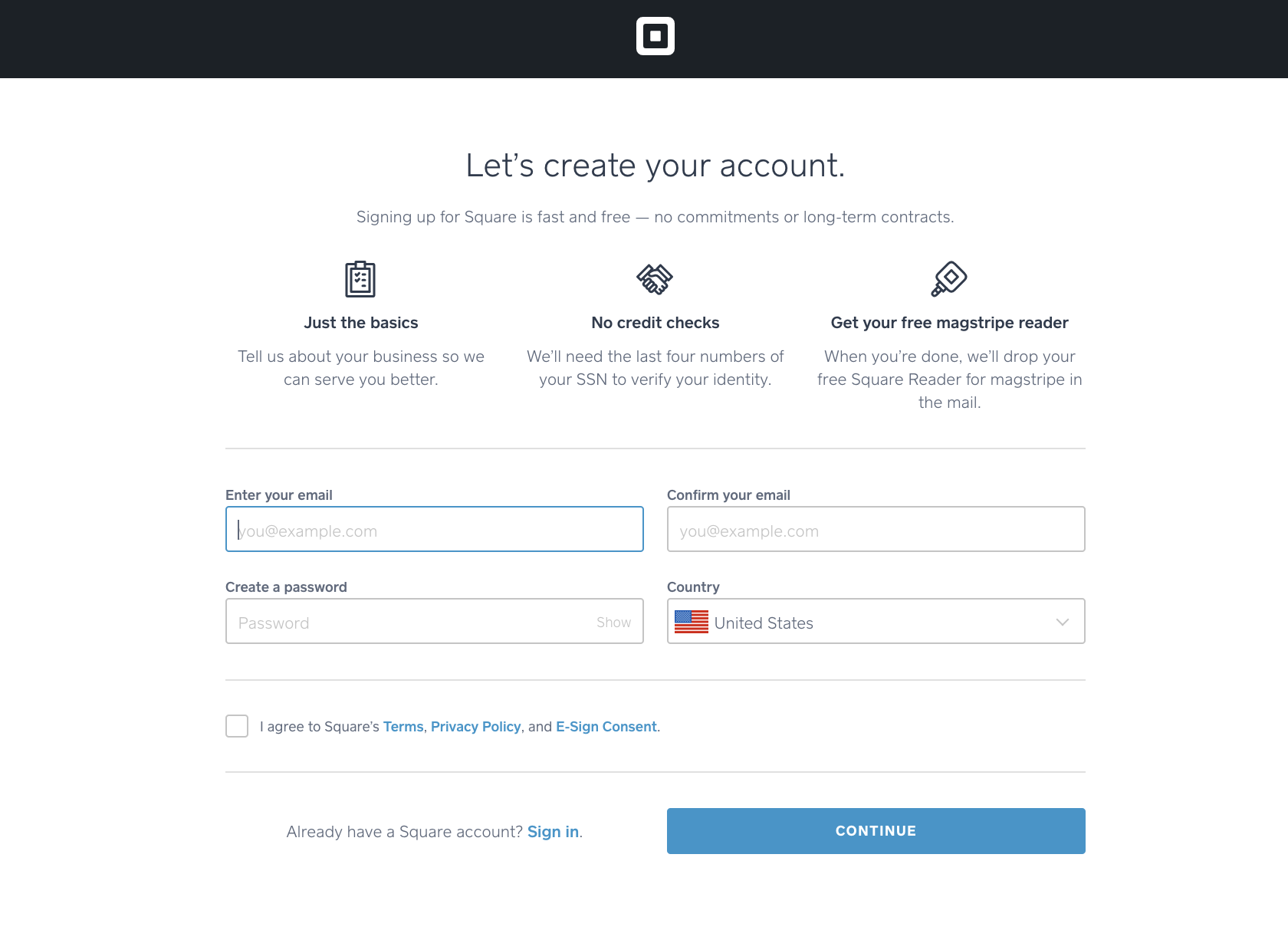 2. Install and configure the free extension
The official Square extension for WooCommerce is available free in the WooCommerce.com marketplace. There are detailed installation and configuration instructions in the documentation.
WooCommerce integrates Square's Transactions, Catalog, and Inventory APIs in easy-to-install extension to make selling online and in person simpler. Since everything is prebuilt, the implementation process is quick.
Adding the extension is an easy process and has been instrumental for businesses like Candles Off Main that sell both online and in person. "Using Square in-store and online has made running my business simpler: one provider, one set of reports, and automatic inventory syncing with my WooCommerce store," owner Michael Waldon shared.
If you need any more guidance setting up Square and WooCommerce, take a look at the step-by-step documentation.