You generate more data the longer you run a store, but when you're first opening shop and finding your feet, you have very little of it: no orders, no customers — just infinite potential. As your business grows and orders begin to come in, the amount of data you're handling daily increases exponentially.
Those first five, ten, perhaps even one hundred orders are easy to handle — you could probably remember each and every customer and order off the top of your head! But analyzing your store's data from memory doesn't really scale.
I have a saying that applies not just to the eCommerce world but also any problem you run into while running a business:
The first step to making anything better is understanding it.
I want to talk about understanding your WooCommerce data through the art of segmenting. Once you have a handle on data segmentation, you'll start to see your store and its customers in a completely different light. These revelations can be used for acting on your data, whether it's figuring out which products need to be restocked or proactively finding orders that need your attention.
We'll start with the basics of segmenting and why it's important, then move on to how to get started and whether Metorik might be a good addition to your store.
Understanding the Importance of Data Segmentation
What is segmenting, and why is it important to understand and segment your data?
Segmenting is when you take your data and use filters to get a subset of that data. For example, if we wanted to figure out which of our orders were for more than $100, we'd do that by filtering them by the total. That would then give us a subset, or segment of orders.
Why is segmenting so valuable and important?
It allows you to quickly answer complicated questions about your business. For example: "How many orders have I had for a certain product?" or "How many customers do I have in a given country or state?"
It can help you with marketing. For example, finding VIP customers who haven't ordered in a while so they can be contacted.
It can be used to detect and observe trends. An example of that might be figuring out that customers tend to spend more money when they use a certain payment method or shipping method.
It gives you the ability to efficiently target certain orders or customers when required. So hypothetically, if there were a packing error for a specific product one month, you could target all those orders to let customers know that they should return it.
It makes customer support a breeze. Segmenting lets you filter customers by details such as street addresses, phone numbers, and more.
Out of the box, segmenting isn't easy. It can't be. It involves looking through thousands, and often, millions of data points in seconds with precise detail. WooCommerce, Shopify, and all other eCommerce systems only offer basic segmenting in their dashboards because of how difficult it is to do well.
Why is this the case? Technically, it's a challenging thing to do. One of my favorite WooCommerce features is that you get to own and host all of your data. But one problem is that most servers being used by stores aren't able to handle complicated data queries. Even if it's possible to segment in your dashboard, you run the very real risk of impacting your shop's performance and taking down your store. I've both seen and experienced this multiple times.
And it's not just about the act of segmenting. Once you've got the data in your hands, you need to be able to quickly export the segmented data, create saved segments for later use, share segments with your team, and view segment counts and key performance indicators (KPIs), a measure used to evaluate the success of a business. Segmenting isn't a core feature of any platform because it demands dedicated attention and focus.
How to Start Segmenting Your Store's Data
Segmenting is a technique that's available to you right now, and perhaps something you've already been doing unknowingly for a while. There are a variety of different ways to segment data built into WooCommerce and through extensions.
First, when it comes to orders, you can segment them using WooCommerce's built-in filters by their order status, by the month they happened in, and by the customer who made the order.

When it comes to needing more control over dates, there are some free extensions available that may help, like the Woo Orders date range filter plugin available on WordPress.org. It lets you choose a specific date range to filter orders, or some common date range periods like "last 14 days."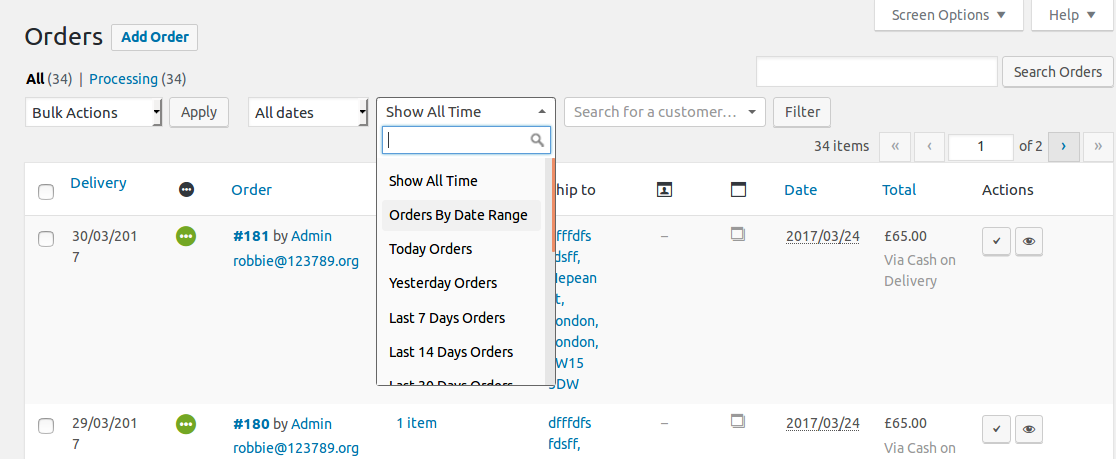 If you're technically capable, one option is to run raw SQL queries on your store's database. By joining the order table to the post meta table, you could run queries that enable you to see all orders from a certain city or over a certain amount. But this can be a time-consuming, manual process, and you run the risk of messing up your data if you don't know what you're doing. Here is a great blog post that can serve as a starting point for you, which includes an example of a SQL query that returns all completed orders in a certain date period for a certain product.
One of the most common methods to segment is by making a CSV export of your data and then using Excel or Google Sheets to filter the spreadsheet data. Using functions and custom formulas, you can do quite a lot with a CSV file.
All of these are great ways to get started, but you might run into some limitations:
There may not be enough fields available to filter on (it's quite hard to get a CSV export of a customer's purchased categories or an order's "referring site".
It may not allow you to work with real-time data if you're segmenting outdated CSVs.
You can't save segments or filters for easy reuse.
You need to run each segment one-by-one.
To tackle these limitations and take segmenting WooCommerce data to the next level, I decided to build a solution. It's called Metorik, and it makes WooCommerce segmenting accessible for any store or skill level.
Metorik: Take Segmenting WooCommerce Data to the Next Level
At its core, Metorik attempts to be your WooCommerce co-pilot. It does that through comprehensive reports, useful integrations, and, most of all, its powerful segmenting system.
The core idea behind Metorik's segmenting system is its infinite custom filter builder. You start by choosing a field you want to filter by.
1. Choose a Field You Want to Filter by

The available fields vary based on what you're segmenting. For orders, you could segment by attributes like the number of items in the order, the products it contains, the shipping method, or even custom meta keys.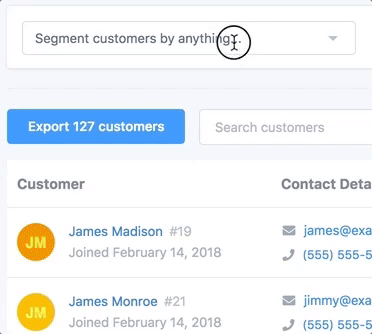 The fields you can segment customers by are very useful too, and includes a customer's lifetime value, the last time they ordered, and what category they've purchased from.
Keep in mind that in Metorik you have the ability to segment nearly all of your WooCommerce data, including:
orders
customers
subscriptions
products
variations
categories
coupons
refunds
2. Choose a Role and Value
Once you've chosen a field to filter, Metorik lets you choose a role and a value. The role varies by the type of field, but for a number field like a customer's total spend, the roles would like this:

After selecting, you simply enter the values you want to filter by.
But you'll usually want to segment your data by more than one filter and combine multiple filters when building out a segment. Metorik allows you to stack multiple filters on top of each other by hitting the + icon.

While creating a segment is a relatively quick and easy process, it can be tiresome to do it every time you want to segment. So here's one of the most important features: the ability to save custom segments for later.
3. Save and Re-Use Custom Segments

When saving a custom segment you can choose whether you want it to be available to only you or your entire team. If your whole team can access it, they'll be be able to select it from their list of saved segments. Even better, you can share the URL of the page you're on and the segment will be automatically applied for anyone who visits the link.

So you're creating segments, saving them for reuse, and maybe even sharing them with your team. But when it comes to reusing them, there's the infinitely useful segments page.
Customers, orders, subscriptions, etc. each have their own segments page. If we were to visit the customers one, it would look a little bit like this:
The top segment there — Family Friends — is a custom segment we created earlier. But the others: VIP, Repeat Customers, etc., are all suggested segments that Metorik will generate for you and vary based on your store's past performance. Let's look at the repeat customers segment:

This will show us all customers who have made more than one order from the store.
For each segment on the segments page, you'll find the number of resources (in this case, customers) that currently belong in the segment and some stats for it, which will vary based on the segment. For the subscriptions segment page, you can see some valuable subscription-specific KPIs like the monthly recurring revenue (MRR) of each segment.

Remember, segmenting is only one part of the process — it's also important to be able to act on segmented data once you have it.
There are a few ways Metorik lets you do that, but the main one that I see a lot of people do is export the segmented data and then email the customers in it.
4. Exporting Data Segments for Further Use
When it comes to exporting in Metorik, you have two options:
Export immediately
Export automatically in the future on a recurring basis
The option you choose varies on your situation. Once you have the export, I typically recommend using the bulk emailing service of your choice, like MailChimp or Campaign Monitor. Once the segmented list of emails is in there, you can instantly send out an email to everyone.
But this can be a bit cumbersome, especially if you want to automatically contact customers in the segment on a recurring basis.
To tackle that, I've been working on a new addition to Metorik called Engage. The idea behind this can be described in a few steps:
Create a segment.
Write the email that will be sent to customers who match that segment.
Whenever a customer, order, or subscription matches a segment, automatically send the email from step number two to them.
I've been trying it out with some stores that use Metorik and I'm beyond excited about the results. In some cases, I've seen single automations/email that have been sent around 2,000 times and generated over $100,000 in sales.
If you're interested in trying out Engage, reach out to me on Metorik's live chat after starting a trial and I'll enable the beta for you!
When you're communicating with customers who have already shown interest in your store by making an order, it's far easier to get them to make another order than it is to get an entirely new customer. But you can only make that interaction happen if you have the ability to segment your customers.
———–
Start Segmenting from Day One to Generate More Income
Segmenting is an essential technique for every store owner, but you don't need to panic about doing it from day one. Keep it in mind and prioritize it as you grow. The more data you have, the easier it will be to make segmenting work for you and generate income from your existing customer base.