Since the beginning of time, rituals have been a part of how we live and make sense of the world. They help us remember important happenings, we know where we are in the calendar by them, and like little compasses they guide us. There is comfort to be found in the familiar.
In older days, rituals were prompted by things like the seasons, local happenings, the rhythms of your neighborhood and your family. But the rituals that make up our modern lives are different: they're quicker, global, automated and often influenced by the products, services or apps we choose.
Brands have been part of our lives for decades, but never to the extent that the internet and smartphones have allowed. It is now near impossible to escape brand messaging. Some moments with brands we begrudge, some we love, some we barely notice.
What does all this mean for your online store? There are a string of moments that make up a customer's journey, and paying closer attention to these can do great things for your brand. And if you can create a ritual out of one or two? Bingo.
In this post we'll look at four ways you can both identify existing rituals in your customer journey and create new ones, and why it's all worth it. But first, a bit of background on how social media has changed brand-building, and a case study of a brand knocking the customization and ritualizing of their customer's journey out of the park.
The breaking open and sharing of all moments
In July this year Mark Zuckerberg shared that he felt the future of Facebook was telepathy:
One day, I believe we'll be able to send full rich thoughts to each other directly using technology. You'll just be able to think of something and your friends will immediately be able to experience it too, if you'd like. This would be the ultimate communication technology.
We're not far off this: as things stand, anyone, anywhere can share their thoughts with the world and get responses from their mum, a president, a troll, or a total stranger.
Before the Internet existed, life played out in real time and space, but things have changed. This freedom with which we can share information has started revolutions, got people fired, brought comfort to people in isolation, created celebrities overnight and brought our world wide web closer.
It has also made it possible for brands to take steps towards people, becoming a more integral part of their lives. From Coca-Cola to the farmer who makes your cheese in the middle of nowhere, brands can speak to customers, influence them, make them smile.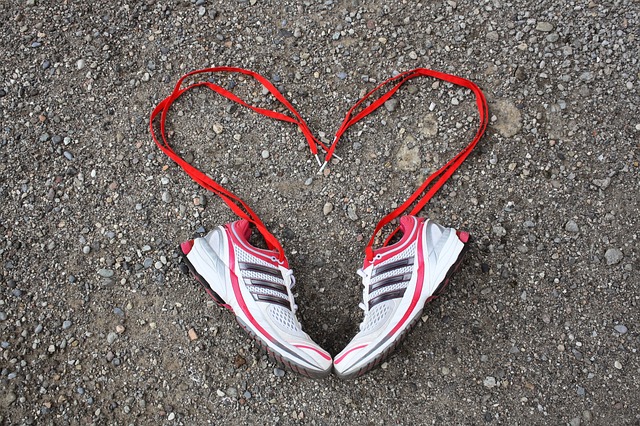 Whatever customers experience, think, and feel can instantly be packaged up and shared online. Consumer moments have themselves been commodified. A whole new breed of connectivity and community has arisen, and with it has come a new way for brands to engage and be part of people's lives and conversation.
Are all brands created equal in this regard? Can any brand afford to completely ignore it? Let's take a look at one brand doing very well in customizing their customer's journey, online and beyond.
Why oh why does the world love MailChimp? They inject delight into the full customer journey

MailChimp is one of my favorite brands. There are so many reasons why: they gave me a crocheted monkey hat in San Francisco; they display a sweating finger each time I get to the point of sending a mailer (which is perfect because I am always nervous); they give me a high five once I've hit send.
They make me feel seen, they make me smile, and they talk about alien butts on Twitter.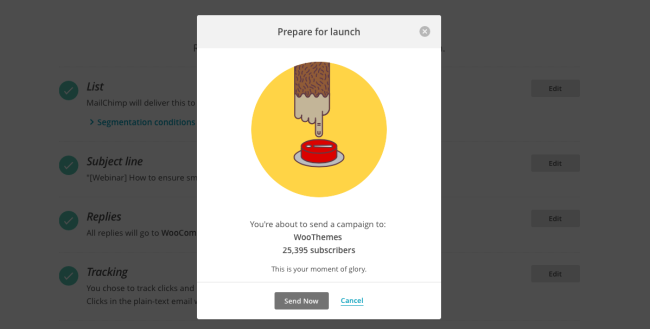 Why does this brand make me feel so good? They do many things well, but it is their ability to inject life into the little moments of their customer's journey that sets them apart. Random silliness? Rocket science? Somewhere between.
They tap into what I experience as I use their service and strategically inject content and experiences into various moments along the way. My MailChimp UX is punctuated by little traditions — the high five, the sweaty finger — and beyond my online experience they give me ways to quite literally wear my loyalty (a shirt, a hat, a sticker on my laptop).
I overlook shortcomings of their product, I tell my friends, I find excuses to tweet them, I cast aside other branded gear but hold onto theirs. Why? Because MailChimp got to me: through the maelstrom of marketing messages and gimmicky ways to get my attention, they won a little piece of my heart with their thoughtful UX.
Four ways to identify and encourage your customers' unique rituals
When it comes to your store and brand, perhaps you feel a million mile journey away from MailChimp. Perhaps your budget is tight and you don't have the resources to dedicate to branded swag and monkey hats.
It doesn't have to cost the kitchen sink. There is much you can do for little, and here are four ways to get started.
1. Anticipate what customers are thinking, then surprise or delight them
Postmodern writing was all about tapping into common experiences and emotions and reflecting them back to individual readers at opportune moments in order to make them feel "seen" and singled out. You know when someone anticipates and vocalizes exactly what you were just about to say, how you feel a kindredness? That thing — that's what we're after.
What does this look like for brands, products and services? Customers feel engaged, noticed, and cared for when their needs are anticipated and met in the moment. When it comes to your online store, if you can be one step ahead of what your customers might be feeling or needing at a point in their journey — and in some way let them know that you know — a little heart connection is forged.
A real life example of this that happened to me the other day. As I pulled the last block of a Cadbury's chocolate bar out of a wrapper, I saw it had printed on it: Last one! Such a small detail, but it made me smile.
On product pages, this same thing can be achieved through particularly thoughtful images and copy that anticipate what they need to know in order to make their choice. Feedback from customers who have already purchased a product can be helpful for this. Put yourself in your customer's shoes: what is it that they are needing?
2. Turn grudge moments into glorious ones
Injecting life into run-of-the-mill moments is not a new marketing technique, but it is one that can create great connections with customers. I've already listed how MailChimp do this, but another example is Slack.
Slack comes equipped with giphy, watercooler chat, and many useful and fun features (like groups and custom emoji). Slack also have custom loading messages when you open their application, taking a "meh" moment and using crowdsourcing to make it sing.
Teams can create and add messages which display with the user's name. I love reading these — it's become a morning ritual as I settle into my day. If Slack takes a little longer to load? Well I don't mind.
Perhaps there are some grudge moments in your customer journey you could pep up?

A caveat here is that you can take this too far. Getting too fussy and fancy — especially in transactional moments — can end up being annoying or come across as insincere. It's important to get the balance and tone right.
3. Create ways for customers to show and tell they're part of the tribe
Wherever there is a tribe, there are indicators of membership. Outsiders look longingly upon members. Before I had any Apple gear, I remember well the way I felt whenever I spotted a pair of white headphones. How I wanted them!
Creating clear ways for people who are using your product to tell the world, digitally or otherwise, is a good thing. Of course you can't force people to show they belong, but you can make it easy for them to opt in to what you're doing.
Including social follow buttons on your site, as well as feeds of any hashtagged content relating to your products, is one way to do this. If you have the luxury of shipping boxes to people, including little loyalty tokens is a no brainer. I always think it's best if they are useful in some way, and ideally not something that has been done to death.
For example, high quality stickers are popular in the WordPress world. Laptops are frequently covered in them: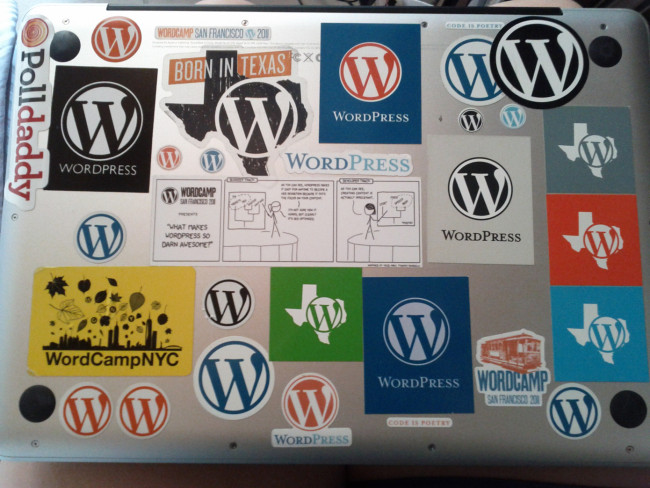 While it is easier in some ways for brands with physical interactions with customers to do this, it is also possible to achieve the same thing digitally.

An example: during the WooCommerce onboarding process, we have added a quick link for people who have set up a new store to tweet that they have just done so. Clicking the link opens a pre-written tweet which they can edit if they wish, that requests either a high five or a "woo-t!" from their followers: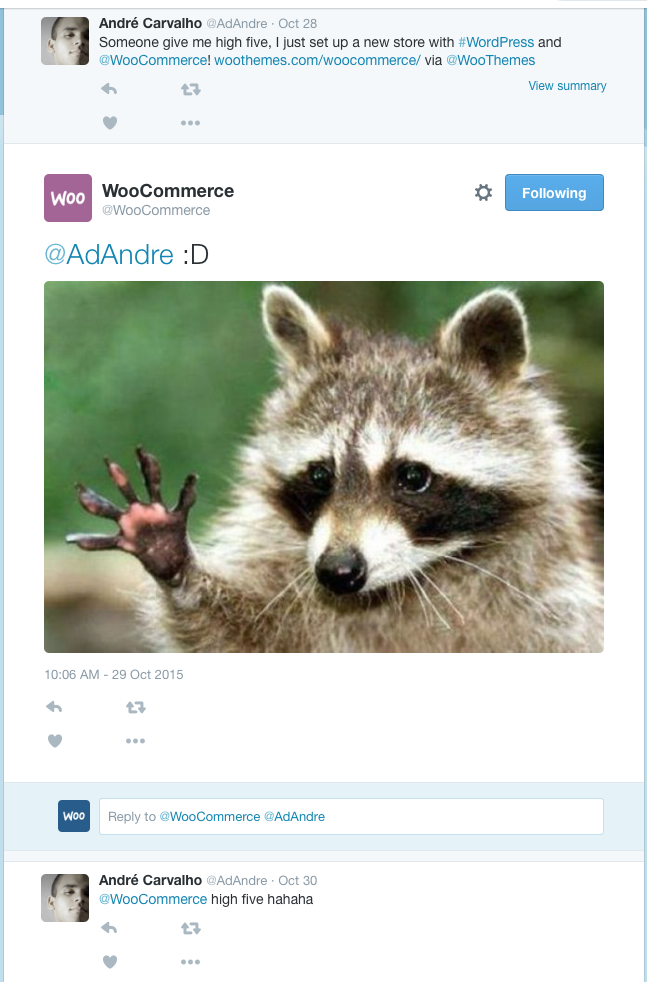 Because we are tagged in the tweet we pick up on these, and on top of us getting a shout out we get to reply and connect with them on Twitter. Also I have fun picking animal high five pictures, there is no end to them in Google images.
Amazon do this, in a less personal way, with the product link sharing options that display after one makes a purchased. I think it is nicer to make it a bit less automated and a bit more human.
The nutshell: look out for creative ways you can give proud customers to self-identify as users of your product or service.
4. Look for existing rituals and mirror them back
So far we have looked at three ways you can proactively encourage closer relationship with customers through customizing key moments in their journeys. To end this post we'll look at something a bit more subtle but potentially more potent: the rituals that exist among your community already.
They might not relate directly to your product — perhaps they are linked to a side interest — but there are behaviors that your users will have in common. Picking up on these common behaviors and making them into rituals that are associated with your brand can be really great.
Yuppiechef.com, the company I worked at previously, used to ship kitchen tools in branded cardboard boxes. One day, a customer shared a picture on our Facebook wall of her cat sitting in our box. I loved it, and shared it across all our social media channels.
Over time, this image of a pet in our branded boxes grew to be a hallmark of Yuppiechef customers. We dedicated a Pinterest board and page on the website to it. In fact, #petsinourpackaging became a well worn hashtag on Instagram, and a way that our customers could ping us from the other side of the Internet.
This wasn't something we created — it happened organically, and by picking up on it and mirroring it back at our community it became a ritual that they loved. I sometimes wonder if people bought things purely to be able to send a snap!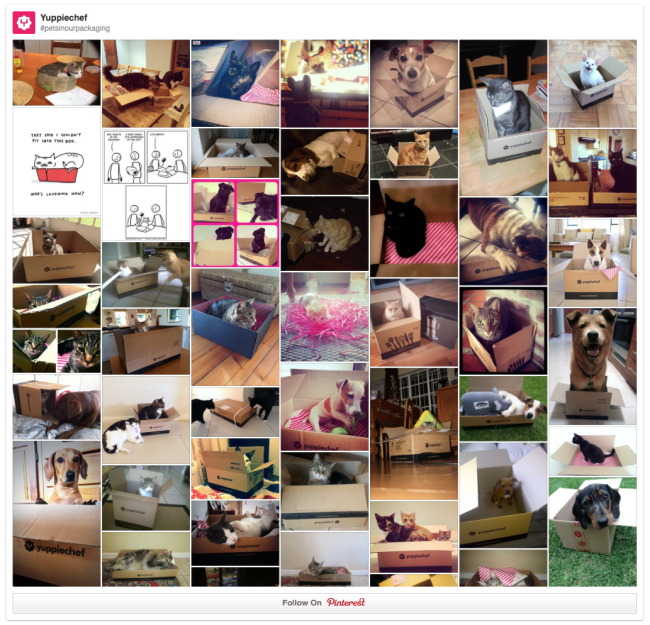 I have learned to keep a sharp eye out for these types of rituals. You can't force them, and it quickly becomes contrived if you try to create them out of nothing, but if you spot one occurring you can take it and make it a "thing" for your users. This works well on Instagram and Twitter, where users like to get a RT or regram and will share content if they think a brand will re-share or engage with them over it.
For WooCommerce, I have noticed that many of our users have late nights fueled by coffee or energy drinks. They often share a photo of their screens in the early hours for solidarity. I have started to regram these, and developers have now started to tag us in these moments when they're working on a WooCommerce store late into the night.
Encourage your own customer rituals
Keep a look out for these organic rituals that mark your community. You never know what breathing some life on them might do! You might find yourself behind the latest trending hashtag, or merely cultivating a tight-knit community bound by a ritual that is truly "yours" and yours alone.
As you revisit your own social media following and budding community, remember these four ways to identify and encourage rituals:
Anticipate what your customers are thinking, then surprise and delight them. MailChimp knows we're nervous about sending mail, and reflects that in the sweaty hand. How can you show your customers "we know how you're feeling" and turn even small brand experiences into smiles?
Turn grudge moments into glorious ones. No one likes to wait, but a clever message, joke, or animation can liven up the experience — and sometimes lead to social shares or shoutouts.
Create ways for customers to show they're part of your "tribe." WordPress stickers are a fine example, but any similar goodies or giveaways will do nicely. Make it easy for customers to feel as if they "belong."
Mirror back existing rituals that have cropped up already. Have customers tagging you in similar Instagram photos, or tweeting like-minded phrases? Amplify their efforts — make them a "thing." Encourage them, even curate them if need be.
What rituals have you spotted in your own communities? What ideas have you discovered to cultivate your community and draw your members closer in their journey from "visitor" to "fan"? Let us know in the comments below.