Building an epic fashion brand starts with, as you'd no doubt guess, epic products. There's no fashion-savvy shopper alive who would settle for "decent-looking" shirts or jewelry that "sort of" holds up and wears well.
Building the epic store to match this brand and its products, though — that's another thing altogether. No matter how incredible your clothing, jewelry, eyewear, or accessories are, a mediocre-looking and poorly constructed online store will drive more shoppers away than it will draw them in.
The components that go into your fashion store's website have a bigger impact on your success than you might expect. One of those components is the pages you create to hold and convey information to potential customers — for example, details on your shipping times, the history of your company, how to get in touch with you, and so on. And it's your duty as a store owner to be sure you're not missing any of these crucial pages.
Today we're going to take a look at some of the pages we think are must-haves for online fashion stores on their way to building an epic online presence. Whether you're building a new store or doing a checkup on your current one, keep reading to find out which pages are crucial for you.
An "about us" page
It's becoming difficult for fashion brands to stand out and make a case for their products. Shoppers are no longer satisfied with companies offering the lowest price, the best materials, or unique designs. They want to buy and wear fashion that means something to them — fashion with a story or a cause.
If you aren't telling a story or sharing the intimate details of your company with potential customers, you could be missing out on a chance to truly connect with them. This is why fashion businesses need a great "about us" page of some kind.
How long or short this page is, what information you include, or what you call it is completely up to you. Your aim should be to include the following:
Some history about your brand — who started it, when, and where — don't be afraid to tell a story!
Why the company exists — what compelled you to start this company? What gap are you filling?
Your mission — is your goal to create the best-looking necklaces in the world? Share that vision here so your customers know what you're all about
What sets you apart or makes you truly unique — what are you doing that no one else is doing? What will make your shoppers say "wow!" and get back to shopping ASAP?
Basically: tell a story. Share all those nitty-gritty details. Tell your potential customers everything they need to know about you so they can pass those details on to others after they've made a purchase.
There are some shining examples of personal pages and brand stories told by fashion stores in the WooCommerce Showcase. Vegan Scene, for example, has a can't-miss "our mission" section on one page where they profile their founder, explain the purpose of their retail location, and sum up the products that they sell both online and in-store. And that clear, concise mission statement in bold at the top? Solid gold.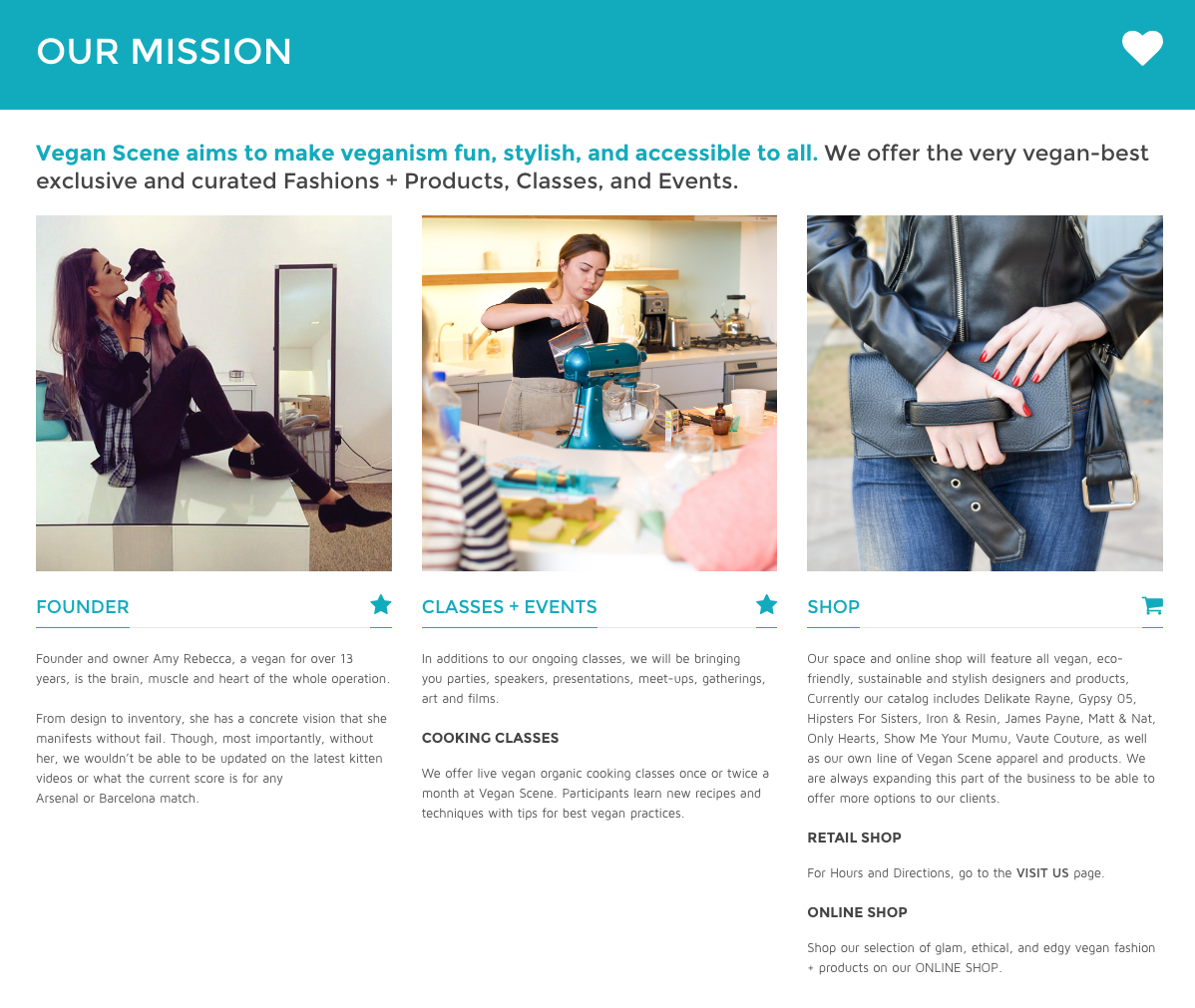 You can also see this on the Roberto Coin "Behind the Brand" page, where the jewelry brand's history and design story is told. Their unique practice of placing small rubies on the inside of each band is explained in detail, which both makes the page an interesting read and makes their rings look more attractive to first-time buyers.
If you want to stand out in the world of fashion, clothing, and accessories, you've got to find a way to make a genuine connection with your customers. Think about what you can share with them that they'll want to share with others, over and over again, each time they wear one of your pieces.
Sizing and fit specifications
The biggest disadvantage that online stores have compared to physical ones is that your customers can't try your products on. You might say you carry sizes 0-22, or that your glasses fit faces of all shapes, but your sizes and shapes may not always perfectly align to the ones your customers know.
In our post on handling product variations, we mentioned how a company selling t-shirts makes their fit and sizing information clear with a visual chart showing how each shirt size fits a model, plus the standard details on width, length, and so on:
Creating a page dedicated to making the sizing, fit, and specifications of your products is one of the best things a fashion store can do. This allows shoppers to set their expectations right away, know which size will fit them best, and order the product that's right for them. It also reduces the possibility of returns, which is another bonus.
Xero Shoes has a highly detailed page specifically for customers who are buying their barefoot-style running sandals for the first time, detailing step-by-step how shoppers should measure their feet, print a template, and match themselves to the corresponding size on their store:
With a page like this one, potential customers will have a resource right at their fingertips to use if they have questions or concerns. No more sending you emails or calling you on the phone about sizing or fit — they'll be able to get that information themselves, and feel confident about it as well.
Details on returns and exchanges
Of course, there's always the chance that a customer will purchase a product from you and want to return it, no matter how much information is offered up front. Perhaps the fit wasn't what they were expecting, the color wasn't right for them, or they simply changed their mind in between ordering and opening up that package.
Placing your return and exchange policy in a clear, easy-to-spot location is crucial for fashion stores, especially because — as already mentioned — your customers can't try on your products before they buy them (unless you also happen to have a physical store). They should know precisely what to do if they need to replace or exchange a product before they buy it — not after.
Allure Eyewear places their information on returns in an easily accessible modal popup window:
This popup, accessible from the site's footer, is easy to get to, and the information contained is also easy to read. It tells buyers of their glasses exactly what they need to do to get a replacement or refund, and when they might be charged a restocking fee.
OVER takes a somewhat different approach with their returns page, which is a separate destination in the clothing store's footer:
This page is a bit more thorough than Allure Eyewear's. How detailed a page of this nature needs to be is up to you, but the important part is that you tell potential customers what your policies are before they make a purchase so they know exactly how to get in touch with you and resolve any issues, no matter how big or small, if and when they arise.
Shipping and delivery information
It should come as no surprise that your customers, upon placing an order with you, will want to know exactly when it will arrive. But there are also customers who won't place an order at all unless they can be certain that it will arrive by a specific time.
Think about shoppers who might be looking for clothes for an event, accessories to match what they're wearing to a wedding, or a piece desperately needed to replace something that's been broken or stained. If they can't find out before ordering how soon they can get what they want from you, they'll move on to another store. (And they certainly won't waste their time contacting you to ask for a delivery estimate, if they're already in a hurry.)
All of this means it's crucial for you to have a page containing:
Your turnaround time (how fast you ship received orders)
Shipping methods used or available
How long said shipping takes
If possible, the approximate cost of those shipping methods
Australian fashion brand Ena Pelly has a page on deliveries that clearly states when orders will be shipped, how long they'll take to arrive depending on where you are located, and what else you need to know about getting your new clothes (signatures are required for those deliveries!).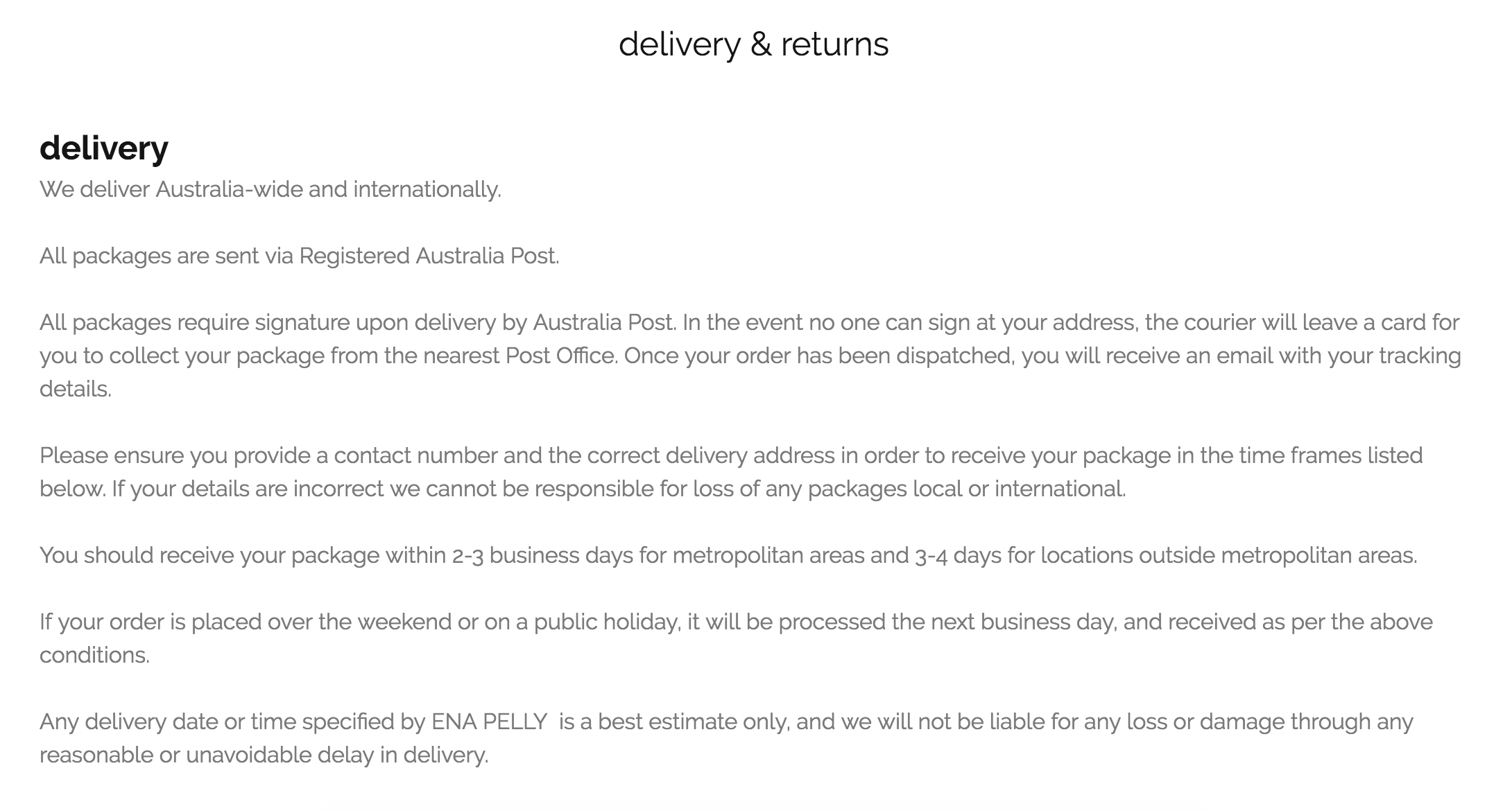 A page like this will take you no time at all to create, but for fashion stores, it will have large dividends for the shoppers who are in a hurry, have a last-minute clothing need, or simply don't want to be treated as if their time isn't important.
Last but not least, a blog
We've already written about why blogging is a great idea for clothing and jewelry stores, and how doing so can help your business grow. That's why we recommend a blog as the final must-have page for your store.
To repeat a gem from that previous post:
With [blogging] comes an affinity toward your business for making helpful recommendations or educating fellow fashion enthusiasts. As you gain the trust of your readers, they'll be more likely to feel comfortable buying the products you suggest or engaging with you online.
Blogging can take time and resources that you might not yet have, so don't feel pressured to start immediately. If you're new to this, consider doing some reading on the subject of content marketing, or enrolling in a course like Blogging U to improve your writing skills.
These are the crucial pages an online fashion store needs
The success of an online fashion store is largely dependent on its products. But the store itself has a bigger impact than you might expect, which means it's crucial to create an online presence that tells your story, answers questions, and makes potential customers feel great about buying from you.
We've listed the pages that we think are important for fashion retailers who want to accomplish those goals. Do you have any of your own to add to the list? Let us know in the comments!