If you run a clothing boutique or fashion store, and are now considering starting an online clothing store, getting started may seem a little overwhelming.
This guide will walk you through exactly how to start an online clothing store with WooCommerce, teach you to create successful product listings, and show you how to market to your ideal audience.
To begin, we recommend that you review the Getting Started with WordPress documentation. This will teach you how to install WordPress on your hosting account, how to get started, and how to interact with posts, pages, comments, and more.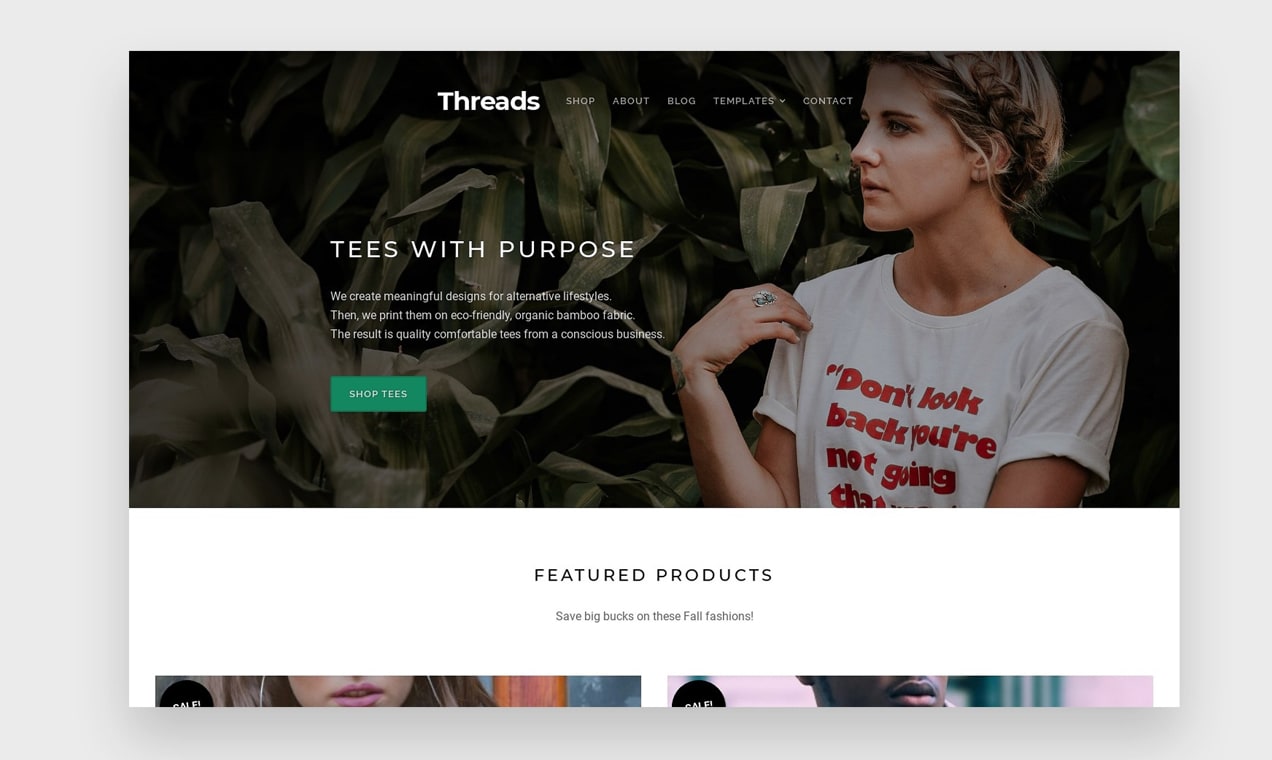 1. Selecting a theme and customizing your site design
After you've installed WordPress and logged in to your dashboard, you'll need to choose a WordPress theme, which will play a role in the design of your site. There are a lot of options available, from free themes to paid themes, and they can vary in quality.
Here are a few things to consider when choosing an effective WordPress theme:
Does it integrate seamlessly with WooCommerce? A theme that's built for WooCommerce makes the process of setting up your store and designing your site much easier. While there are some great premium options out there, WooCommerce does offer the free Storefront theme, which was built specifically for online stores. The Galleria child theme and the new Threads theme were both designed with clothing stores in mind.
Does it come from a reliable source? Make sure that you choose a theme from the WordPress repository or from an experienced, legitimate company. Doing a little research and checking theme reviews can save you a lot of time and frustration!
Does the theme load quickly? While there are a lot of ways to improve performance and load time yourself, choosing a theme that's already optimized for speed starts you off on the right track.
Is it mobile friendly? Check the theme demos on a mobile device and look at the documentation to ensure that it looks just as good on phones and tablets as on your desktop.
Is it SEO-friendly? Read through the documentation to see if the developers built the theme with SEO in mind.
What functionality and features do you want? Make a list of the features you're looking for in a website. Do you want a product slider on the home page? How about built-in FAQ support? While there are plugins you can add for additional functionality, it's often easier if the theme already provides what you're looking for.
Once you've chosen and installed your theme, it's time to think about your website's design. While your theme might have its own options and page builder, WordPress and WooCommerce offer easy ways to design your site however you'd like.
If you go to Appearance —> Customize, you'll find settings that will allow you to upload a logo, change the colors and fonts used throughout your site, change the layout for WooCommerce pages, add custom CSS, and more.
The new Gutenberg editor allows you to build any page that you'd like through flexible blocks. Drag and drop headings, text, images, columns, videos, buttons, galleries, and more.
A great way to find design inspiration is to look at what other clothing stores are doing. Of course, it's important to come up with your own design and not copy others', but this is a good way to get an idea of design and layout options.
2. Choosing the pages on your site
While the exact pages that you need will vary based on your business and audience, here are a few that work well for the clothing industry:
About. Use this opportunity to describe your mission and story.
FAQ. Answer the questions your customers ask all the time.
Collections. Separate clothes based on season, gender, style, and more.
Fit Guide. Describe how items fit, how customers can measure themselves, and the measurements for your clothes.
Stores. Do you also sell your products in retail locations? List those on this page.
Contact. Make sure your customers can reach you with questions or feedback.
Policies. Describe your return policies, exchange policies, etc. and describe how you use and protect customers' data.
Lookbook. Feature real life people wearing your clothing and show how to pair items together to make cohesive outfits.
If you have an existing business, you may want to consider reaching out to your customers to find out what they wish was on your site. What information was hard to find or missing? This is a great way to learn the kind of pages that will connect with your customers.
3. Extending your store
Think about additional functionality you might need or want on your online clothing store store. What business model will you use to sell your products? How will you accept payments? Do you want shoppers to customize your clothes?
WooCommerce offers a variety of useful extensions that will help you create any store that you can envision! Here are a few that are particularly useful for fashion boutiques:
When deciding which payment gateway is the best for your store, consider your specific needs. Here are a few things to think about:
Do you want to integrate with the POS that you user in-store?
Do you want to accept recurring payments? Here are a few payment gateways that provide this functionality.
What fees are involved?
Do you need to accept multiple currencies?
Can you accept mobile payments?
Explore the payment gateway extensions that WooCommerce offers.
4. Writing Effective Product Descriptions for Fashion
Since your online store doesn't provide shoppers with the ability to touch your products, try them on, or see the exact color in person, it's imperative that you write product descriptions that provide them with the same experience.
Start by considering your target audience. Are your clothes specifically for professionals? Address their pain points. Discuss your anti-wrinkling technology that's perfect for business travel and how your clothes can easily transition from the office to dinner.
Or do you sell kids' clothes? You may want to talk to their mothers. Mention how easy they are to wash, how quickly a mom can get their toddler in and out of them, or how they age up with the child.
By speaking to your customers' specific needs, they'll better understand why your clothes are the perfect fit for them.
You may also want to consider suggesting ways to style your clothes. If customers know that there are a variety of ways to use your product, they're more likely to spend the money on it.
In your short description, don't just list specs. Show the personality of your brand and share the benefits of your products. This is your opportunity to be unique and fun! Share what you love about your clothes, how it will make your customers feel, and how it will make them look.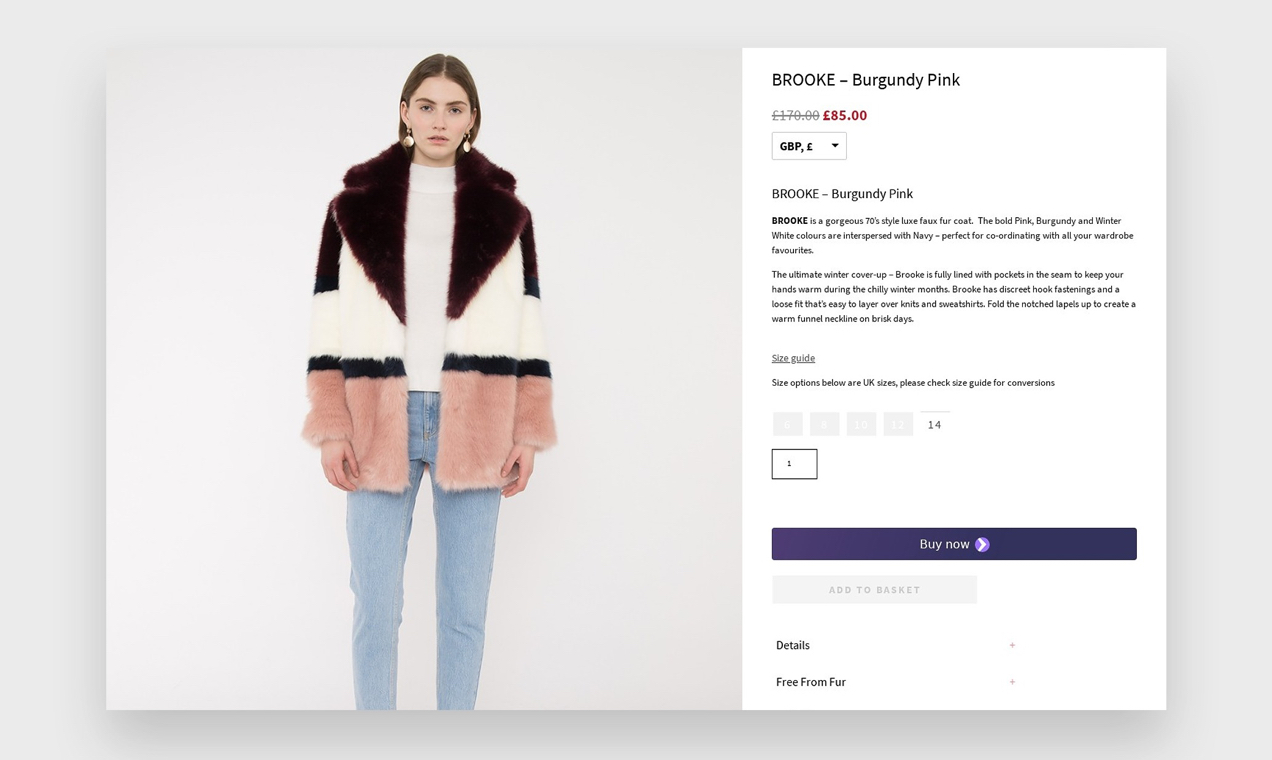 Then, use longer description fields to list all those details. Jakke does a great job of utilizing these spaces. They have a description that shows personality, showcases the style of their coats, and shares their benefits, all while using descriptive language. Below that, customers can find a fit guide and specs about the product.
Some information to consider including in your specs:
Size and fit. Does your product run large, small, or true to size? Link to or include a fit guide so your customers feel confident that they're buying the right size.
The size of your model. If you have pictures of a model in your clothing, you may want to mention how tall they are and what size they're wearing. This helps customers understand how your clothes fit different body types.
The fabric and materials used. But don't just list "100% cotton" or "silk". This is where your creativity can come into play! What does it feel like? Use descriptive language like "ribbed", "breathable", "walkable", and "elasticized." These types of words help customers imagine what wearing your clothes will feel like. Learn more about the psychology of product descriptions.
Washing instructions. Are your products dry clean only or can you throw them in the washer?
Other fit details. Consider pointing out the rise of jeans, the length of a jacket, or the height of a pair of socks so your customers can understand exactly how they'll look.
Other important features. What makes your products stand out? Are they insulated? Do they have hidden pockets? Do they glow in the dark?
5. Choosing Effective Product Photos
Because you want your clothing store to emulate the in-person shopping experience as much as possible, it's important to have good product photos. It may be a good idea to hire a professional, but if you do take the photos yourself, make sure they're clear and crisp, have good lighting, and are accurate representations of dimensions and color.
Make sure you show a variety of angles so your customers get a good idea of what your product is really like. Show the front, back, side, and any other applicable angles. Also grab pictures of details, like unique patterns or embellishments.
Ena Pelle even uses videos to show several angles of their clothing. Hovering over each product on a category page plays a video of the model slowly turning in a circle to display all sides. The motion also showcases the products "in action."
A variety of pictures with different body types and sizes, and several outfit pairings help people picture wearing them on an everyday basis.
6. Blogging Regularly
Blogging is an excellent foundation for marketing campaigns. Creative content can be used in email marketing, social media marketing, digital advertising, and more. It's also a great way to educate your customers, answer their questions, and show that you know what you're talking about. Plus, consistent, high-quality blog posts play a big role in search engine optimization.
Clearly, blogging is important. But how do you come up with topic ideas on a regular basis?
The best place to start is a brain dump. Start a document on your computer and list out all the ideas that immediately pop into your head, no matter how good they are. Even if you don't go with those topics, you may get inspiration from them.
Here are a few other ways to find idea inspiration:
Customer questions. What questions do you get via email, social media, and phone calls? Answer them thoroughly in the form of blog posts.
Seasons and events. You might want to put together a winter style guide or a list of Christmas gift suggestions.
Capitalize on trends. Is velvet very "in" right now? What about neon or camo? Consider discussing how to incorporate those styles into outfits using your clothes. Google Trends is a great tool to find out what people are searching for and interested in right now.
Read other blogs in your industry. Follow top bloggers in the fashion industry and use their ideas for inspiration. Don't copy their posts, but instead use them to spawn your own ideas and apply to your own situations.
Share what you're passionate about. Write about your business, tell your story, share the charity that you donate to, or highlight team members. Customers love to know more about the people they're buying from.
Use Quora. Make a list of words that relate to your products or industry and use them to search Quora. Go through the conversations and you'll find endless ideas!
Join social media groups. Find Facebook groups related to your industry and pay attention to the questions that are being asked. Write on those topics.
Think about what information your customers will really find useful rather than promoting your products in every single post. Be a source of information for people and they'll be more likely to purchase from you long-term.
7. Optimizing for Search Engines
While there are a lot of pieces to search engine optimization, the biggest thing to remember is that Google focuses on the user experience. They want to show high-quality content to their users, so it's important that your site provides just that.
Consider terms (or keywords) that your customers might use to find your products. For example, someone might search, "comfortable winter sweater for women" or "white lace dress." Try to incorporate those keywords naturally into your content. Don't just stuff them in as often as possible!
Blogging and good product descriptions are a great place to start. Once you have that nailed down, it's time to consider on-page optimization. Here are the main components:
Page or Product Title. Include keywords naturally and make it compelling to users. This should make people want to click on your page or product.
Meta Description. Write a short snippet about your page topic and make it interesting! Users should want to read more.
Slug (or URL). Keep it short, but descriptive, and include your keyword.
Alt Tags. Alt tags are how Google and Screen Readers "read" your images. Don't stuff these full of keywords, but instead describe exactly what's in the picture.
The free Jetpack plugin helps with page optimization by eliminating the need to edit any code and allowing you to customize the above fields.
There are also other aspects to consider like site load time, website structure, accessibility, and more. Here are some more articles to reference if you want to dive further into SEO:
8. Marketing Your Online Clothing Store
Now that you have everything set up, it's time to start reaching out to your audience. There are a lot of different marketing strategies and the perfect marketing mix will be unique to your business. Here are some effective ways to market a clothing store:
Abandoned Cart Emails. These allow you to reconnect with customers who thought about purchasing your products, added them to their cart, and then left your site without making a purchase. Reaching back out to them with a coupon code, free shipping discount, or simple reminder can make the difference! Learn more about abandoned cart emails.
Social Media Marketing. Instagram is a great place for fashion brands to start. It's the perfect visual format to showcase your products. Their new shoppable posts feature even makes it easy for your followers to shop your products right on their phones.
Facebook can also be a great tool. It provides a better method of connecting directly with your customers through Facebook groups, reviews, and longer, text-based posts. You may want to share customer stories here or create a photo gallery of outfit ideas.
You can use our Facebook for WooCommerce extension you to quickly integrate your WooCommerce store with both Facebook and Instagram.
Hashtags are an important part of reaching your target audience on social media. Spend some time researching the hashtags that your specific customers follow and try to incorporate those into your posts. HootSuite provides a great guide to finding effective hashtags and utilizing them.
Pinterest Marketing. Pinterest can be a goldmine for the fashion industry! People love to pin clothing wishlists and outfit ideas and even use the platform for inspiration. But it also requires regular work and engagement to be effective.
The Pinterest for WooCommerce extension helps you sync your entire inventory with Pinterest and gain valuable analytics data.
Tailwind is a great tool to use for fashion retailers. You can add images in bulk and automatically schedule them in the time slots that are most effective for your account. Tailwind Tribes also allow you to join groups of like-minded, fashion-focused brands who all want to share each others' content. Find the best Tailwind Tribes for fashion.
Influencer Marketing. An endorsement from a celebrity or social media influencer can be huge for your business! There are several ways you can approach this, including:
Blog post. The influencer would wear an outfit that includes your clothes and blog about it, either in exchange for a free product or for money.
Try-on haul video. The influencer would post a social media video trying on a bunch of different items from your store and link to them. This is particularly great for vloggers!
Event styling. Dress a celebrity or influencer for an event or the red carpet. Their audience will ask where they got their outfit and they'll be able to answer, "Who are you wearing?" with your name!
Design collaboration. Create a line of products in tandem with a celebrity and include their name on the collection.
Social media post. The influencer would post a video, picture, or story about your products. Feel free to be creative – the sky's the limit!
Learn more about connecting and collaborating with influencers.
Giveaways. It may seem counterintuitive to give away your products for free, but it's an excellent way to gain social media followers or email subscribers. People love free stuff!
On your website, ask for an email address in exchange for an entry into your contest – just make sure to let them know that they'll be joining your email list, too! Or, use one of these giveaway tools to get likes and comments on your social accounts. You can even partner with other retailers or bloggers in your industry to garner more engagement!
Digital Advertising. Online advertising can be an excellent way to reach new shoppers or connect with previous customers. There are a variety of platforms – Google, Facebook, Instagram, Pinterest, etc. – and choosing the right one often depends on where your customers spend their time.
For example, Google Shopping ads put your products in front of customers who are searching for them on Google in a visual, compelling way. But if your audience spends the majority of their time on social media, you may want to invest in Facebook ads.
Also consider remarketing ads, which target the people that have already been to your site or customers that visited a specific page (like your Checkout or Cart pages). You can create ads that offer a coupon code, advertise a sale, or address specific pain points – shipping concerns, pricing concerns, quality concerns, etc. This can be an especially helpful way to gain sales.
Personalized messaging. HubSpot CRM helps you create personalized marketing for customers based on previous order history or other actions taken on your site. Build segmented lists and market to each differently — and effectively. Quickly build new emails, design social media ads, or analyze data to grow your retail business.
Wholesale and vendor relationships. If wholesale clients or vendor relationships are important to you, Jetpack CRM may be your best choice. Jetpack CRM makes managing long-term relationships a breeze. It's built directly into WordPress so it's familiar to access and you control your own data. Handle quotes, invoices and transactions in a snap. Track key metrics and monitor contact-specific relationships so you're always one step ahead.
Start Your Online Clothing Store
Congratulations! You now know how to start an online clothing store!
Starting a fashion website may seem overwhelming, but the key is just that – start! If you work through the steps in this article, spend time connecting with your customers, and create high-quality products, you'll be on the right track. Happy selling!
Start your WooCommerce store with these five steps.