Black Friday and Cyber Monday are two of the biggest shopping days of the year and, though that's not expected to change in 2020, there are a lot of things that will look very different. 
According to Google, more than a third of U.S. customers who normally shop in stores for Black Friday say they won't this year. But retailers are expecting a lot from online shopping — a third think that web sales this holiday season will increase as much as 24%, while another third predict gains of 25% or more.
So how do you make the most of this opportunity and adjust your marketing and processes?
Start ads and promotions early
As you may have seen, many retailers are starting their Black Friday sale long before November 27th. Following this trend will give you a longer timeframe to reach existing and potential customers with Black Friday deals.
Start by determining the structure of your promotions. Will you offer 15% off? Buy one, get one free? Flash sales on specific items? Think about what's going to be the most attractive to your customers. What will get them excited?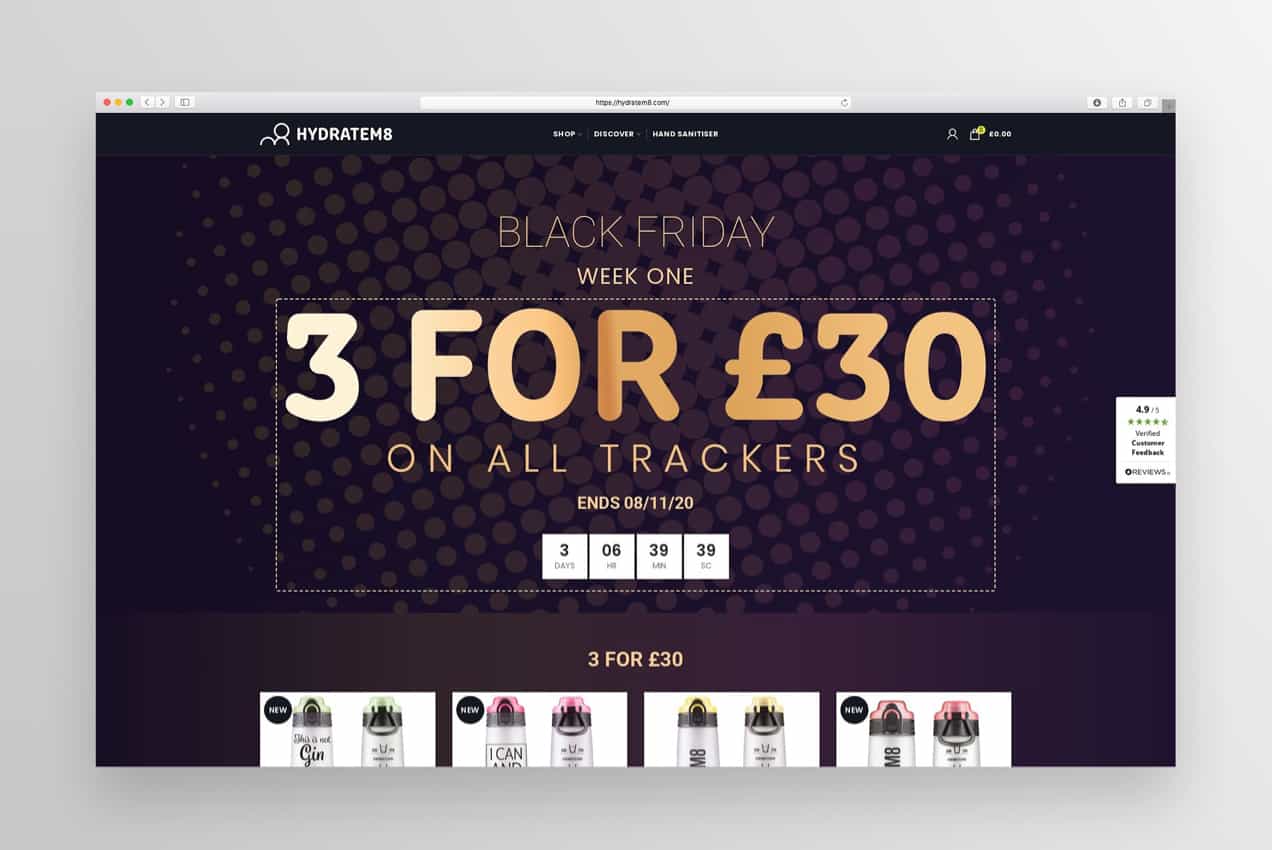 If you decide to discount specific products, look at your recent popular items and, remember, these might be different than in past years. Since the COVID-19 pandemic began, items like board games, puzzles, bakeware, loungewear, and work-from-home essentials have increased in popularity significantly. Which products have your customers purchased more frequently over the last few months? You may want to focus your promotions on those.
Then, reach out to your audience and let them know about your sales. Send an email to your list, share a post on social media, and consider running digital ads with your top deals. You may even want to run promotions targeted at new customers — they may be more likely to make a first-time purchase when it comes with the promise of a discount.
Now is also the time to set up tracking codes on your site, which allow you to better monitor advertising efforts, see what actions customers take on your site, and attribute revenue earned to specific promotions. The Facebook for WooCommerce extension makes it easy to add Facebook tracking codes and the Google Ads and Marketing extension does the same for Google.
Be sensitive to customer needs
For most people, life looks very different than it did a year ago and it's important that you adjust your store processes and offerings in light of that. But how?
What additional ways can you meet shoppers where they are? You may want to reach out to loyal customers via email or social media to find out what their biggest pain points are. What solutions can you offer?
Communicate with your customers
Communication is more important than ever. It increases trust in your business and reduces the likelihood of returns and refunds.
Start by including plenty of product details — size charts, materials, measurements — and accurate, to-scale photos of your items from every angle.
Be realistic about delivery dates, accounting for potential shipping delays and manufacturing setbacks. You may want to include a notice at the top of your site letting customers know that it might take a few extra days to get their items. And if your products arrive early, great! That'll be a pleasant surprise for your buyers and is much better than the alternative.
Finally, let site visitors know about the precautions you're taking during this time. What cleaning steps are you taking? How are you protecting your employees? What are you doing to keep customers safe? This will go a long way in reassuring shoppers.
Get a jump on inventory
Ensure that you have enough inventory in stock to accommodate Black Friday and Cyber Monday sales. More importantly, make sure that inventory is set up properly on your site. Check your inventory levels — are they all accurate? The last thing you want is to sell a product you don't have in stock.
Also, ensure that inventory is synced across all of the platforms you use to sell. If someone purchases something on Amazon, your inventory numbers should also decrease on your WooCommerce store. The following extensions help you connect to:
But what if you do run out of a certain product? Let customers get on a waitlist, so they'll receive email notifications when you get more in stock. This keeps shoppers excited and may even help you save that sale.
Simulate the in-store experience
Since so many people are shopping online instead of in-store, make the experience as fun and engaging as possible for them. Let customers feel like they're getting to see and touch your products in person. Here are just a few ideas:
Be creative! Think through the kind of experience you want your customers to have.
Test site functionality
To prepare for an onslaught of orders, test your site and make sure it's working optimally. We've written a comprehensive guide to preparing your store for Black Friday with more details, but here are a few things to pay attention to:
Get ready for Black Friday and Cyber Monday
Black Friday and Cyber Monday may look a little different this year, but with some preparation and creative thinking, you'll be set up for success! The most important thing is that you think through the challenges and needs of your audience and offer solutions.
What changes are you making for the holidays this year? Let us know in the comments!