Having a customizable eCommerce platform means that there are a lot of available settings to tweak. The Setup Wizard takes you through all the necessary steps to set up your store and get it ready to start selling!
Immediately after activating the plugin, you are taken to the Store Profiler. The store profiler will allow you to provide the most important details about your store: where is it based, what industry, which products, etc.
Once you've gone through that, we're providing a checklist to make sure that all aspects of your online store are ready to start selling.
In this step you provide the location of your store and if you're setting up a store for a client. This information will be used to prefill the Store Address fields in the Settings – General.
A pop-up will ask if you'd like to share non-sensitive data that will be helpful to improve the WooCommerce product experience. You can click "Yes, count me in!" button to participate or simply click "No thanks" to skip it.
Here, you can select in which industry or industries your store operates. If you select "Other" you're able to identify a different industry.
You're able to identify which product types you plan to sell in your store and learn more about some types of products, such as Memberships or Subscriptions. If you choose a paid product you can easily purchase it later in the wizard.
In this section, you can provide more information about your business, which will help us tailor the WooCommerce experience according to your needs.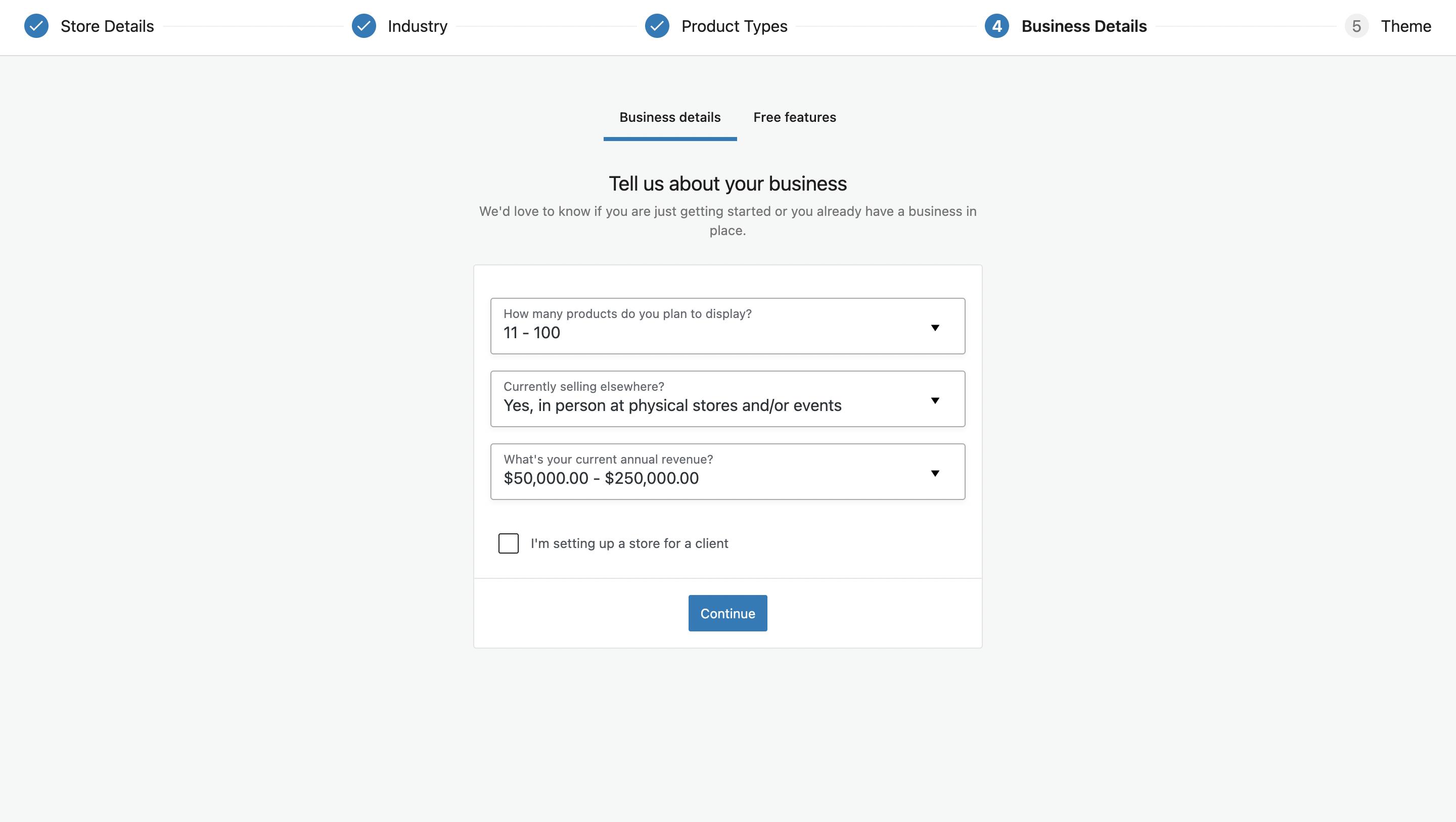 You can also easily install useful features tools that will help you optimize and scale your business. 
The extensions and services will be displayed depending on your store country, and all of them can be deactivated and uninstalled if you later decide to not use them.
Choose how your store appears to customers.
You can proceed with your current theme, if you have one.
Choose a new theme among our free and paid options.
Upload a theme as well, which is the last option in the list.
You can always switch themes and edit them later.
After you finish or skip the Store Profiler stage you'll have access to a list of the most important tasks that you need to complete to get your store up and running: products, payments, shipping, taxes, marketing and store personalization. You can skip the checklist whenever you want.
The Store details task allows you to easily return to the Store Profiler flow. This task is helpful in case you want to change or complete any details that you provided through the five steps.
If you selected any paid extension or theme during the store profiler you can finish your purchase by clicking on this task. If you select "Purchase & install now" it will take you to the checkout page on woocommerce.com to finish your purchase.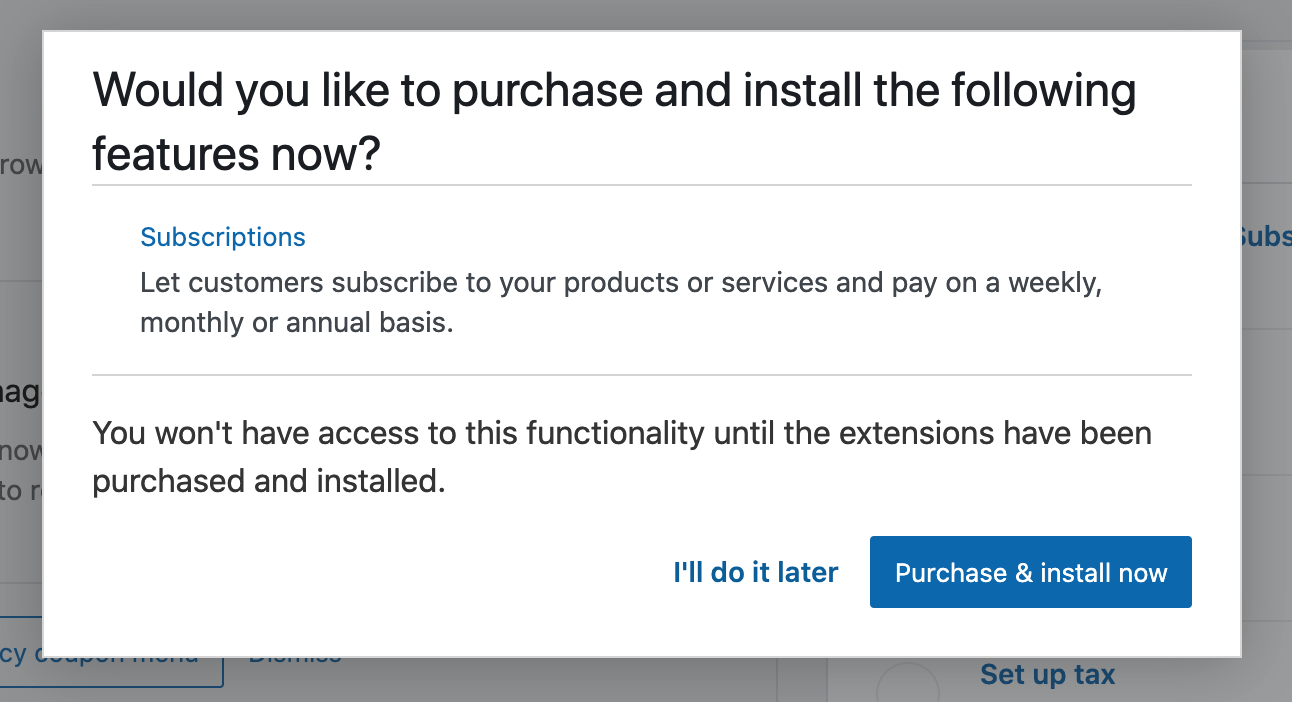 In this step we'll guide you through the process of adding your first products using WooCommerce manually:
Add manually. See the documentation on Adding and Managing Products in order to know what to expect during the steps of creating a product. 
Start with a template. You can choose to start with a pre-filled template of different product types: physical, digital, and variable products.
Import. See the documentation on the built in Product CSV Importer and Exporter in order to know what to expect when importing products. You can use this sample CSV file for products import testing.
Migrate. See the documentation about the Cart2Cart extension to know more about using a product migration service.
Import Sample Data. Not ready to commit to a product, but want to test out the store? Add in fake data to see what a full store would comprise of. See the documentation on the Importing WooCommerce Sample Data for instructions.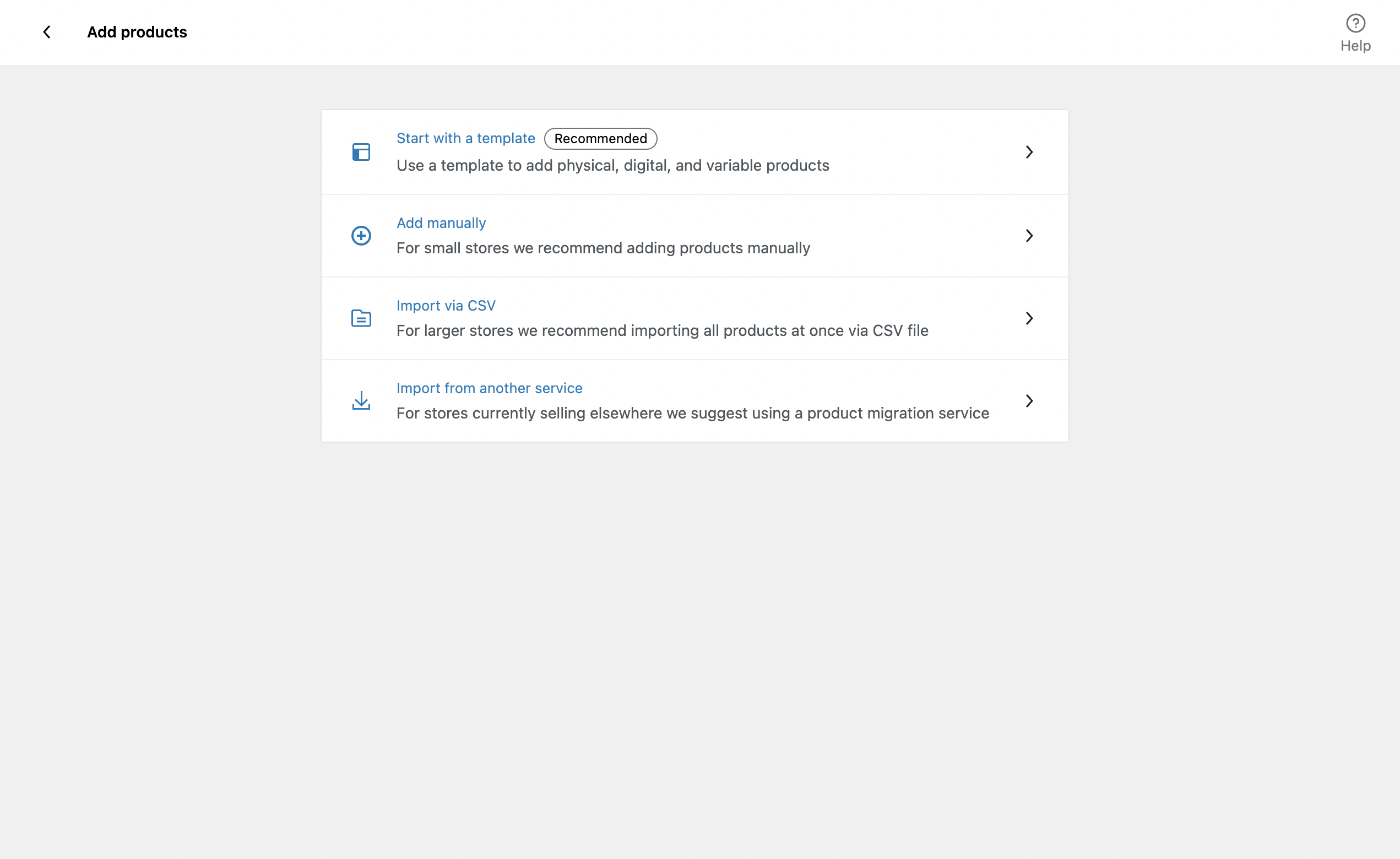 Here, we will help you get started with customizing your store's look and feel.
If you still don't have any products we can automatically import some demo products, so you can see how they look both in the store and in our product management interface. You won't see this step if you already have products.
Then we can automatically create a homepage for your store and you can always edit it later.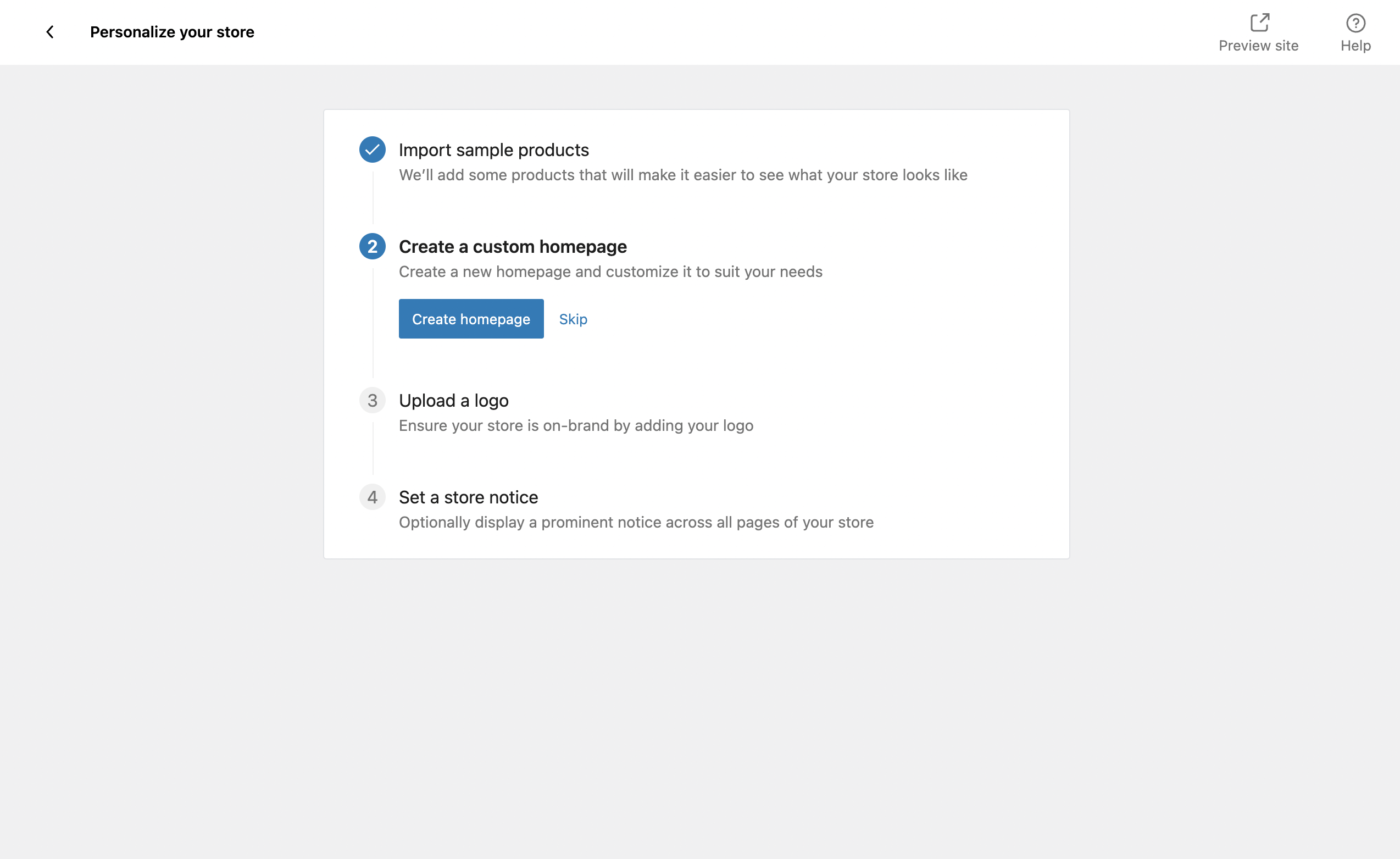 You can also upload your store's logo right away in a simple step.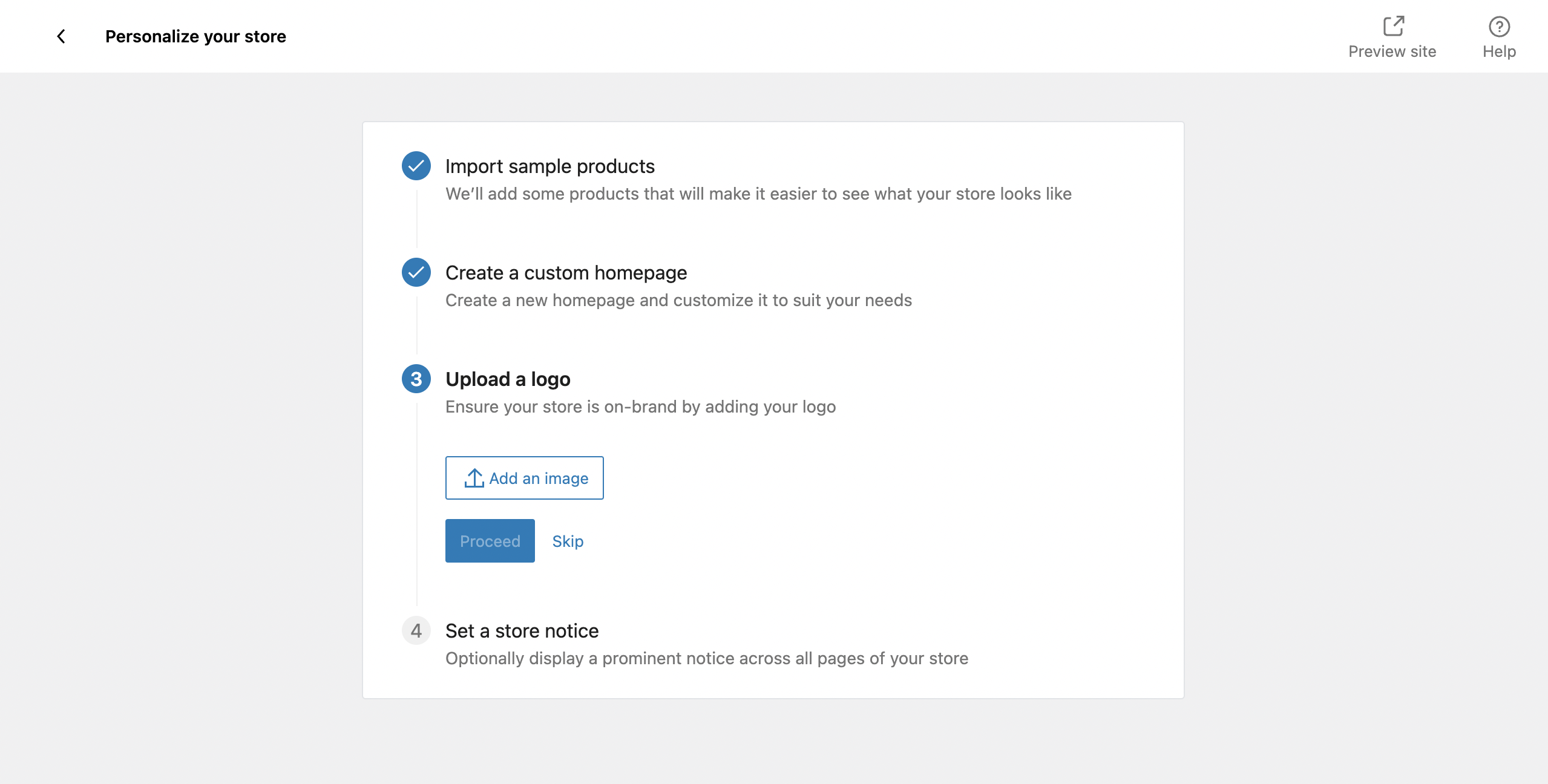 Finally, you can easily display a prominent notice across all pages of your store. Note that the visibility of this notice and its place in your store will be affected by your theme choice. You can leave it blank in case you don't want to display a store notice.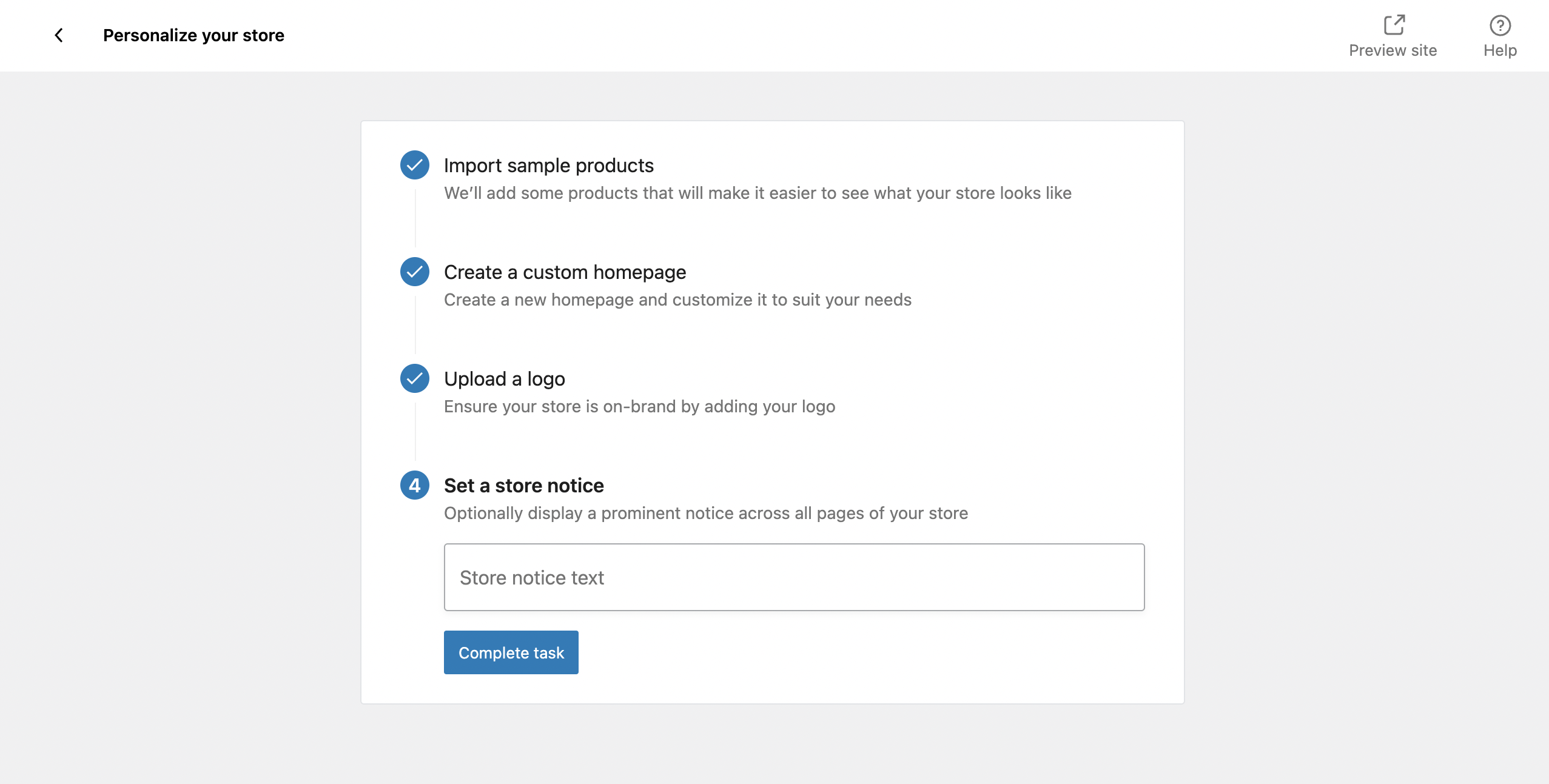 You can confirm your store location or add it if you haven't done it before. You can also set the shipping costs for your country and for the rest of the world as well. Adding shipping cost for the rest of the world can be disabled in this step.
If your store location is the US, you can install WooCommerce Shipping and connect your store to wordpress.com to enable label printing at home.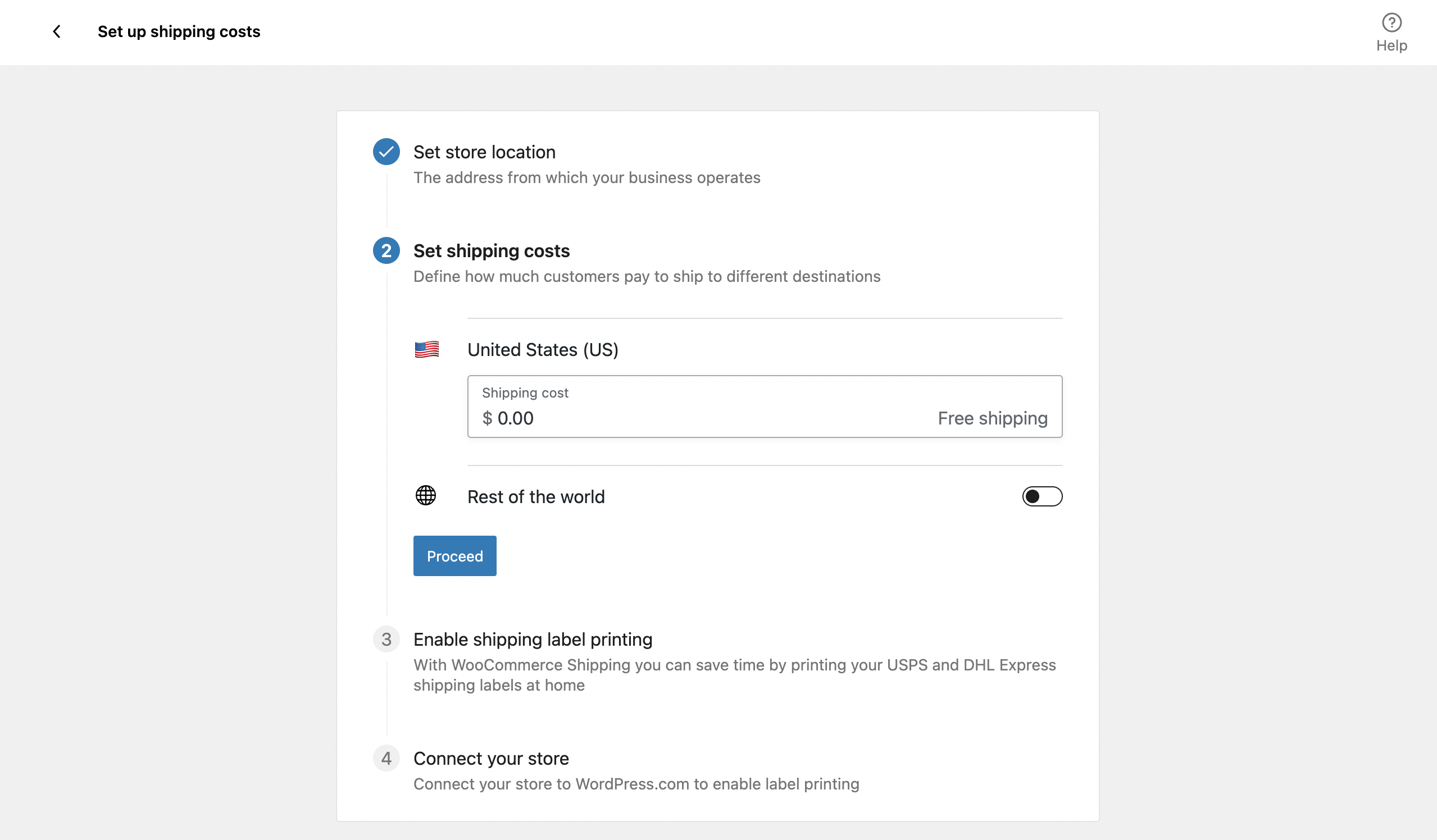 You have four options available in this step: use WooCommerce Tax, use Avalara, set up taxes manually or not charging sales tax.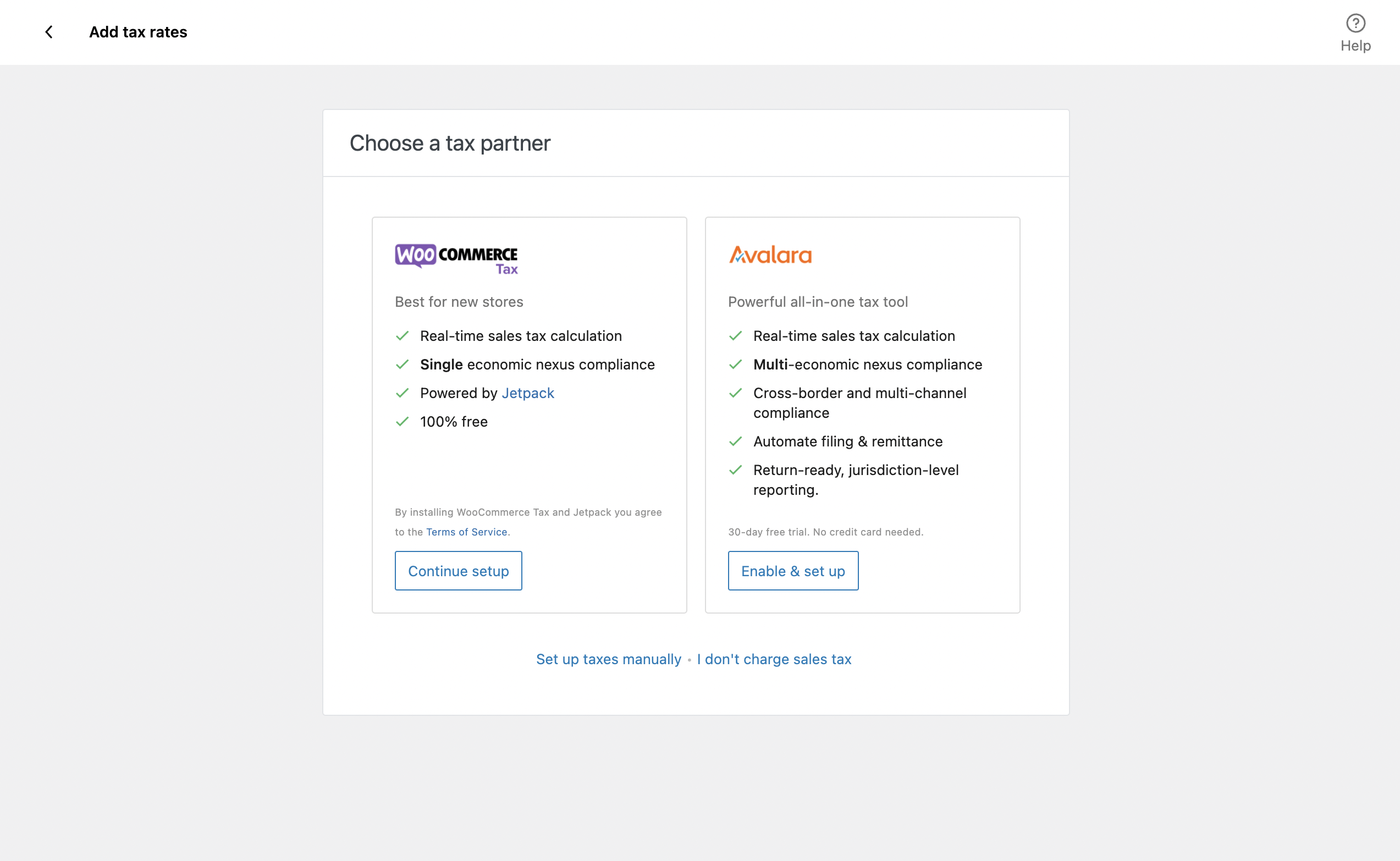 You can confirm your store location or add it if you haven't done it before.
If you selected WooCommerce Tax and have Jetpack installed, you can start automatically calculating taxes by connecting your store to WordPress.com. Visit this page if you want to learn more automated taxes and the countries where it's available.
If you click to connect your store you'll be redirected to the WordPress.com flow, so you can create an account or login to an existing account.

After you finish that process, you'll be redirected to the tax task where you can enable the automated taxes calculation by selecting "Yes please."

Selecting Avalara will redirect you to woocommerce.com to install the extension and finish the Avalara set up. Learn more about Avalara here.
If you choose to set up tax rates manually you will be redirected to the WooCommerce Settings. See the documentation on setting up taxes in WooCommerce to learn more about how to set them up manually.
In this step, you can select and activate one or more options to accept online payments and offline payments. All payments extensions are free and we automatically install and activate them upon selection.
In some payment gateways, such as WooCommerce Payments, Stripe, and PayPal, we help you create an account in the payment provider, go through the authentication flow and complete the process within this step, so you can start accepting payments right away.
There are a few possible scenarios, depending on where your store is located and the information you provided during the store profiler.
WooCommerce Payments is currently available in 15+ countries. You can see the availability here. If you have WooCommerce Payments pre-installed or if you install it during the Store profiler flow, we'll display a specific task to finish the WooCommerce Payments setup.
If you live in another country than the United States you'll have Stripe and PayPal at your disposal if these providers are available in your country. We also show other options, depending on your store country: Square, Klarna, Mollie, PayFast, PayU, Razorpay, Mercado Pago, PayFast and Eway.
Through the Payments taks you can also easily set up offline payments such as Cash on Delivery and Direct Bank Transfer.
Through this step you can easily install and finish the set up of our recommended marketing extensions: MailPoet, Google Listings & Ads, Mailchimp for WooCommerce and Creative Mail for WooCommerce.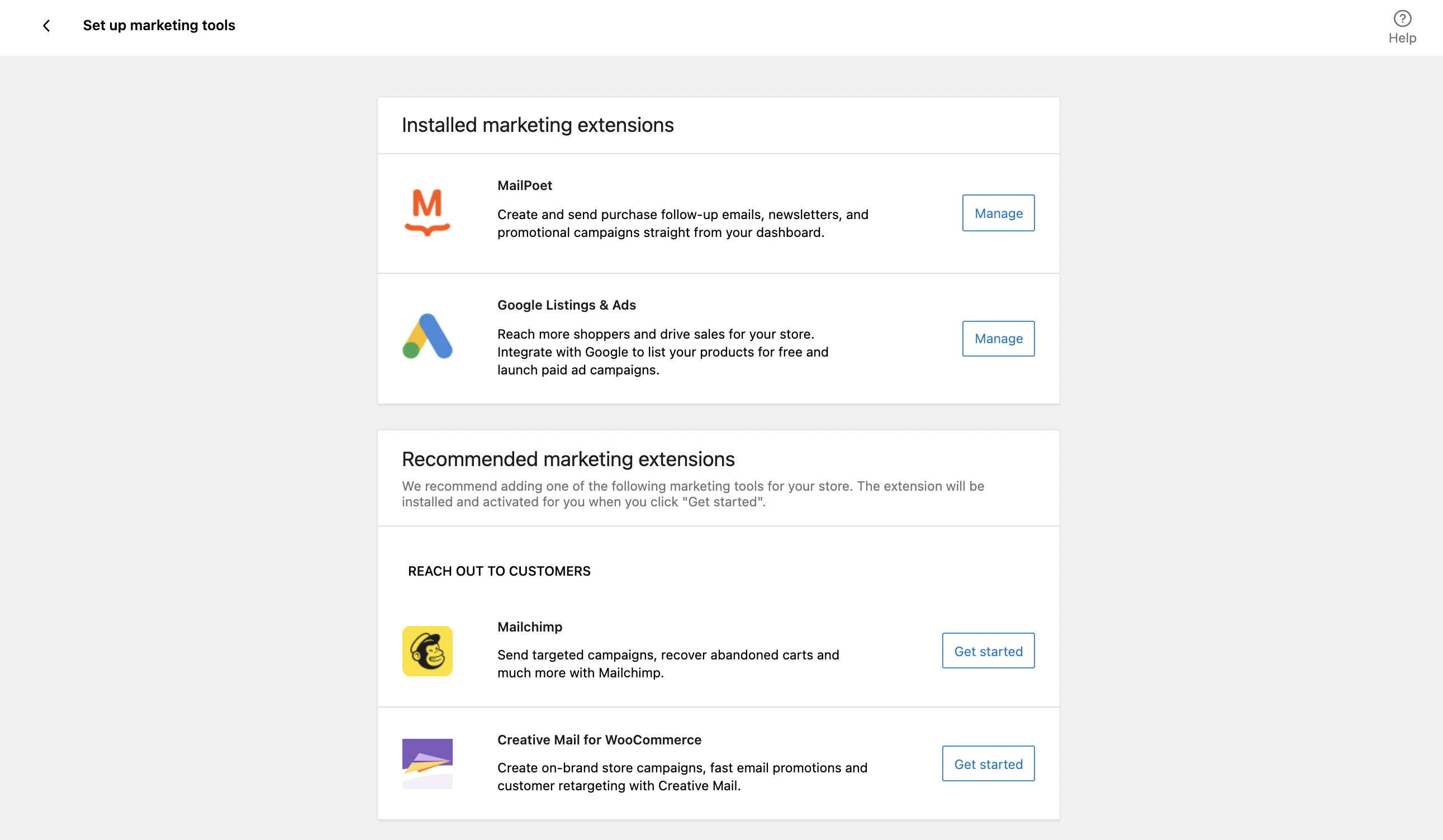 Once you complete the Store Setup Checklist (or choose to hide it), it will be replaced by the Store management widget, which contains useful links to most of the most used WooCommerce pages for managing your store.
If you would like to run the Profile Setup Wizard again, or enable/disable the Task List, you can do it through the Help panel that's available in some WooCommerce pages.
Go to any of the WooCommerce pages in the WordPress Admin.
Select "Help" at the top-right corner.
Choose the "Setup Wizard" tab.

Do you still have questions and need assistance?
Get in touch with a Happiness Engineer via our Help Desk. We provide support for extensions developed by and/or sold on WooCommerce.com, and Jetpack/WordPress.com customers.
If you are not a customer, we recommend finding help on the WooCommerce Support Forum or hiring a recommended expert on our customizations page.