You have probably seen bundle-sells before: Much like a cross-sell, a bundle-sell is an offer to purchase a helpful add-on, along with the currently viewed product.
Compared to cross-sells, bundle-sells are easier to discover and convert immediately. This makes them ideal for recommending highly related, optional items that are:
frequently bought with the viewed product;
lower in cost; and
usually high in margin.
Product Bundles lets you add "frequently bought together" recommendations to any product from the Product Data > Linked Products tab.
The presentation of bundle-sells on the single-product page is optimized for WooCommerce. In most small- to medium-size WooCommerce stores, bundle-style recommendations convert better on average when offered above the add-to-cart button:
Bundle-sells are easier to discover this way, because they are more tightly coupled with the main product.
Adding new page elements and sections to display bundle-sells makes them easier to miss or ignore. Clutter is not a WooCommerce feature.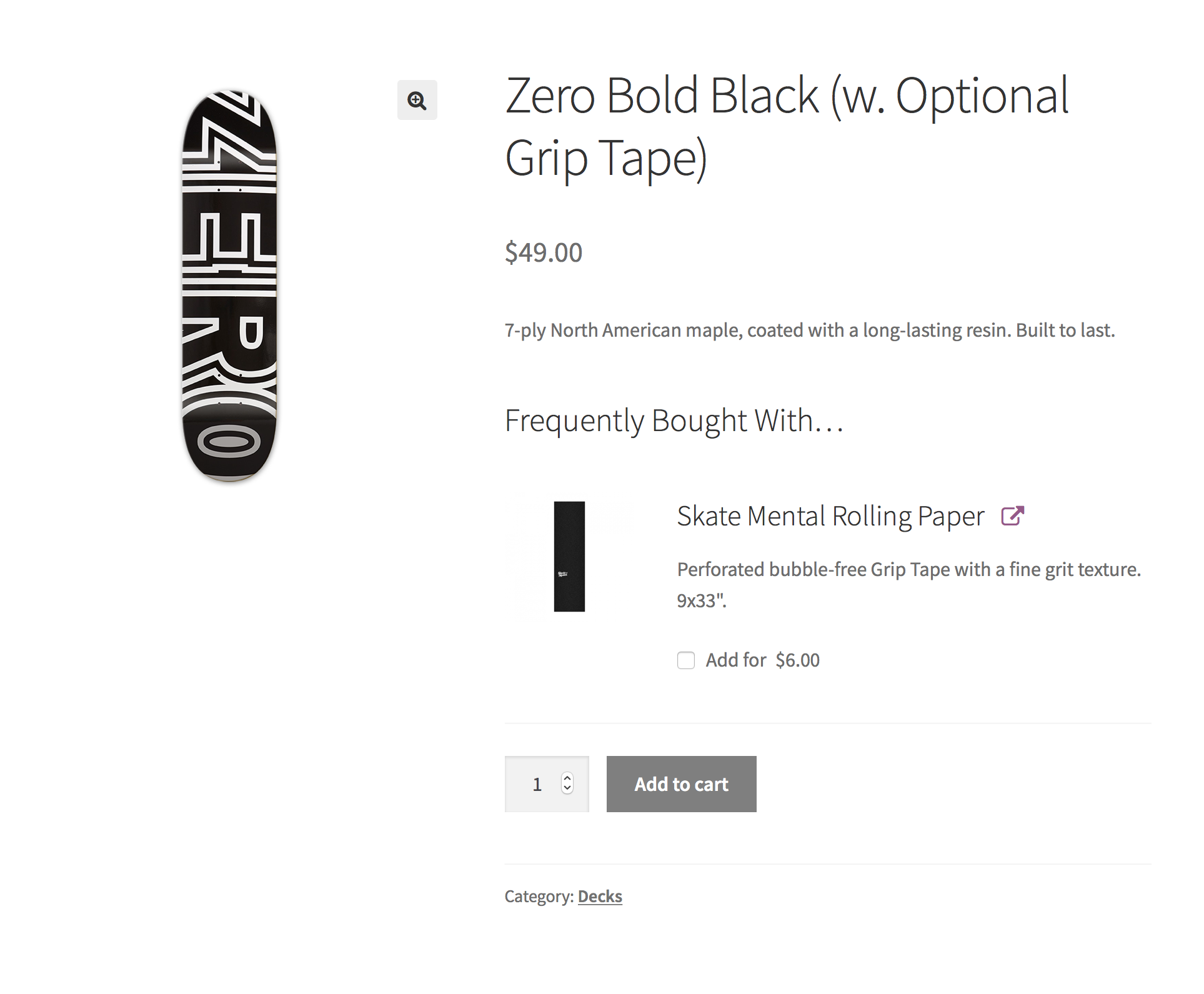 To add a bundle-sell to an existing product:
Go to the Products admin page.
Edit a product that you consider a good candidate for offering bundle-sells.
Go to Product Data > Linked Products and locate the Bundle-sells field.
Search for an optional product to recommend and add it.
Repeat, if needed.
Enter a Bundle-sells title below, e.g. "Frequently Bought With…".
Remember to Update the product to save your changes.
Only Simple and Subscription type products can be offered as Bundle-Sells.
Compared to other recommendation types, bundle-sells are more likely to end up having a negative impact on conversion. Use them sparingly and wisely. As a rule of thumb, bundle-sells ought to be relevant, helpful and lower in cost than the viewed product. If in doubt, ensure that your choices are backed up by strong, data-driven evidence.
Have a question before you buy? Please fill out this pre-sales form.
Already purchased and need assistance? Get in touch with us via the Help Desk!