Offer Subscriptions to Mix and Match Products ↑ Back to top
To offer your mix and match product as a subscription, you will need:
All Products for WooCommerce Subscriptions provides subscriptions support for non-subscription product types such as simple products, variable products, composite products, product bundles and Mix and Match products.
It allows you to attach subscription options to almost any product and even allows the customer to decide between a one-time purchase or a subscription purchase.
Example: Offering a Mix and Match product as a Subscription
As an example, we will be taking a look at Almonds Mix, a 500g mix and match assortment of 5 different 100g almond packs, offered as a subscription at 20% off: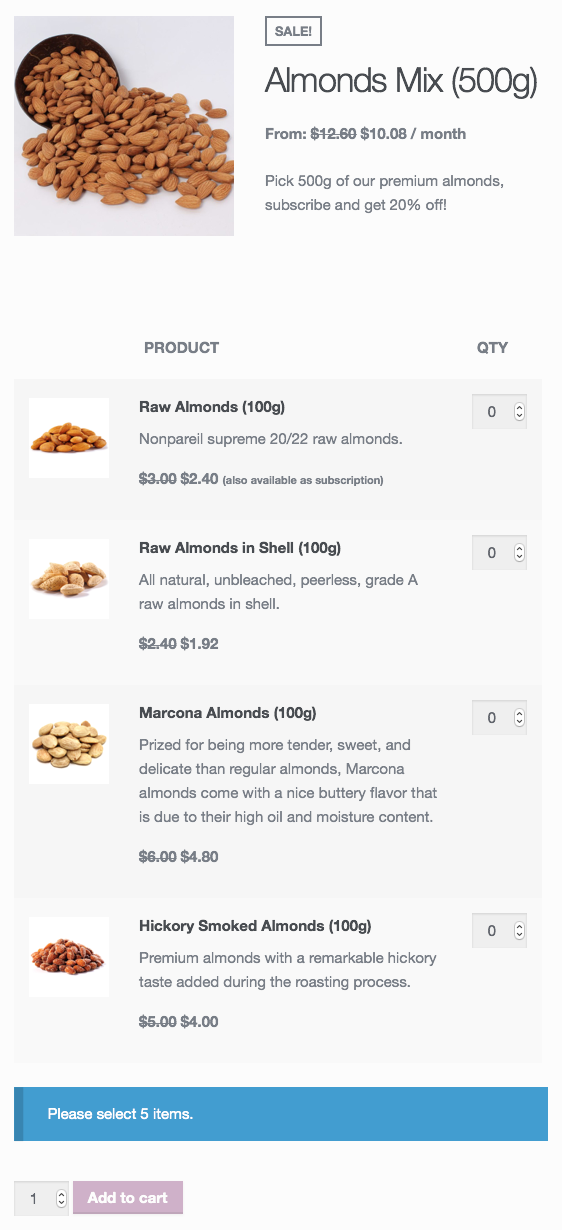 Configuration
Note that All Products for WooCommerce Subscriptions will add a new Subscription tab to the product data metabox, which can be used to configure the subscription parameters of our Mix and Match product.
Subscription Only
To offer the assortment only as a subscribed group of products, we have created a single subscription option and ticked the Force Subscription checkbox:
Subscription Optional
To allow the customer to decide between one-time and the subscription plan, leave the "Force Subscription" checkbox un-checked.
Resulting Subscription Cart
After adding the configured assortment to the cart, all bundled cart items, along with the container cart item itself, are converted to subscriptions with the same period, interval and length: