All Products for WooCommerce Subscriptions provides subscriptions support for non-subscription product types such as simple products, variable products and Mix and Match products.
It allows you to attach subscription options to almost any product and even allows the customer to decide between a one-time purchase or a subscription purchase.
Example: Offering a Mix and Match product as a Subscription
As an example, we will be taking a look at Almonds Mix, a 500g mix and match assortment of 5 different 100g almond packs, offered as a subscription at 20% off: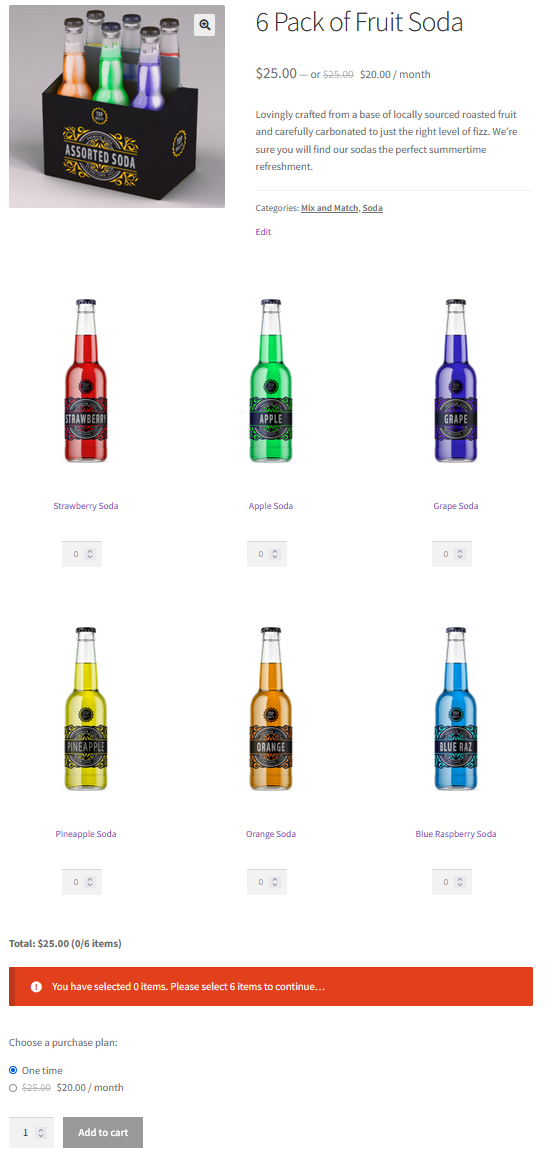 Note that All Products for WooCommerce Subscriptions will add a new Subscriptions tab to the product data metabox, which can be used to configure the subscription parameters of our Mix and Match product.
Click the "Add Plan" button to add different subscription plans, such as weekly and monthly. Please view the All Products for Subscriptions documentation for full details about configuring plans.


To allow the customer to decide between one-time and the subscription plan, be sure to check the "One-time purchase" checkbox. If unchecked, the product will only be available on subscription.

After adding the configured assortment to the cart, all bundled cart items, along with the container cart item itself, are converted to subscriptions with the same period, interval and length:
To allow customers to switch the contents of their Mix and Match subscription, you must enable switching "Between Mix and Match configurations" under the WooCommerce > Settings > Subscriptions.

Once enabled, if the subscription is editable (if the subscription is active and the payment gateway supports it) then the customer will see an "Upgrade or Downgrade" button near the container product's title when they view their Subscription details in their My Account > Subscriptions area.
Clicking on the "Upgrade or Downgrade" button will bring the customer back to the mix and match product's page where they can edit their configuration.
The customer will have to go back through the cart/checkout process as required by WooCommerce Subscriptions.