Affiliate for WooCommerce helps add and manage affiliates and track performance from a single place – commissions, sales, payout, leaderboard, etc. Earn money without hard work. Increase your brand outreach, and get potential customers.
Affiliate For WooCommerce plugin allows you two ways to payout commissions to your affiliates:
Commission payout via PayPal
Manual commission payout
Affiliate Commission payout via PayPal ↑ Back to top
Note: From WooCommerce 5.5+, PayPal Standard will hidden on new installs. More information from here.
So you may not be able to fulfill below requirements to enable auto PayPal payouts without enabling PayPal Standard.

Our team is currently working on adding support for other PayPal gateways like WooCommerce PayPal Payments. We will update this documentation once it is released.
PayPal Standard payment method should be enabled in the WooCommerce store
PayPal API credentials should be configured. This setting can be found under WooCommerce > Settings > Payments > PayPal Standard. You can also verify whether these settings are configured correctly or not by checking the status of "Payout via PayPal" under WooCommerce > Settings > Affiliate > Payout via PayPal
The affiliate should have configured their PayPal email address in their profile. This setting can be found under affiliate's My Account > Affiliate > Profile
Affiliate For WooCommerce plugin uses PayPal Mass Payout API for sending payouts. So you need to have the 'Mass Payouts' enabled on your PayPal account. You can reach out to the PayPal team to enable the same if not enabled in your account.
To process the commission payout, all the above requirements are necessary.
Steps to payout commission via PayPal ↑ Back to top
Log in to the admin panel of your WordPress website
Go to WooCommerce > Affiliates
Select an affiliate from the left panel of the Affiliate Dashboard
Click on the Orders tab
Select orders from the list you would like to process the payouts. While you're selecting the orders, the commission to be paid will keep adding. The amount will add up only for those orders for which the Commission status is Unpaid.
Once done, select the 'Send Payout' option (also shows total commission to be paid) above the orders list table header.
It will open up a popup. Under 'Payment Method', select 'PayPal: Pay and Record'. Select the Record date and add Notes if your wish to for your reference.
Click on Send
The affiliate will receive the said commission.
Note – If you select 'PayPal: Record Only' under 'Payment Method', it will only mark the record but payout won't be issued.
You can also do a mass payout via PayPal by exporting a list of affiliates as CSV. Here's how.
The only purpose of this method is to keep track of the commission payout. The actual payment of the commission is done by you outside the Affiliate For WooCommerce plugin.
You can also use this method to mark reward or loyalty points or store credit for your affiliates.
This method will always be available irrespective of whether PayPal is configured or not.
Steps to payout commission manually ↑ Back to top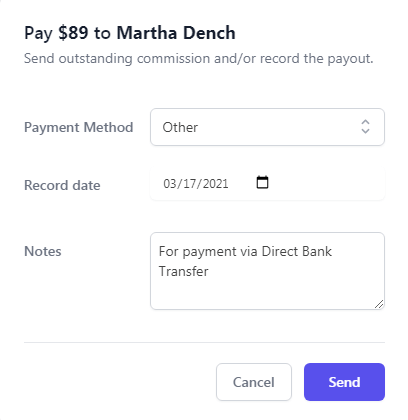 Follow the above-mentioned steps till step number 6.
Now, under 'Payment Method', select 'Other'. Select the Record date and add Notes if your wish to for your reference and click on Send.
You can check all the processed payouts done either via PayPal or using the Manual method, under the Affiliates Dashboard > Payouts tab. You can also find the transaction id in this tab if you've done the payout via PayPal.
1. PayPal: Pay & Record option is not enabled during payout. ↑ Back to top
Please make sure all requirements mentioned here are satisfied, then only the option will be enabled.
2. I'm getting an error 'PayPal payout failed'. ↑ Back to top
Go to WooCommerce > Status > Logs. Look for the log file named 'affiliate-for-woocommerce-…' with the date of failed payout appended to it. Copy the log file content and send it to us by raising a ticket from here.