Odoo for WooCommerce now brings powerful integration with your business management software. 
Download

the .zip file from your

WooCommerce account

.

Go to: WordPress Admin > Plugins > Add New

and

Upload Plugin

with the file you downloaded with

Choose File

.

Install Now

and

Activate

the plugin.
If you already have an Odoo account set up, feel free to skip this step. 
Enterprise Edition
Click here to

sign up and activate your free trial

.

Select your apps for your WooCommerce store: Sales, Invoicing, Accounting, and Inventory are essential apps. Click

Continue.
Fill up your credentials and click Start Now.

Respond to the confirmation email, set password and click

Activate Your Database for

account activation.

 
Community Edition
Download Community edition from here and for installation process click here
You can access the plugin using the below-mentioned method:
In your WordPress admin page, click on the

WooCommerce>Settings.

Click on the

Integration

>

ODOO Integration

and go to

Settings

tab

to connect your website with Odoo.
Configure your settings: 
For Enterprise Edition
For Server URL sign in to odoo account select the name of your company displaying at the top right corner and click on

My Databases

.

Select

Connect

in front of the Database you want to connect with your website.

Copy the URL of the page, for example,

https://xyz. odoo.com

Paste it in

Server URL

tab.

For Community Edition
Copy and paste your default URL for the selected database of odd into Server URL.
For Example, In the below-mentioned case, it would be http:// testsite. com
Note: Do not add a forward slash at the end of your URL "/"

Database Name
Enterprise Edition
Goto: Odoo website > My Databases page.

Community Edition
Click on Manage Databases from the main login window.
Copy database name you want to connect.
Now, insert database name in Database Name tab associated with Server URL.

Enterprise Edition
You can find the username here.
Community Edition
For Community Edition, the default email will be your username.
Now, Copy and paste the username associated with your odoo account.

Password
Insert password of your Odoo account 

API Key Access
For API Access goto Settings > General settings
Scroll at the bottom of the tab and click on Activate the developer mode.

On the top-right corner click on your Profile name and select preferences ( or My Profile in older version of Community edition ) from the dropdown menu.
Select Account Security and click on NEW API KEY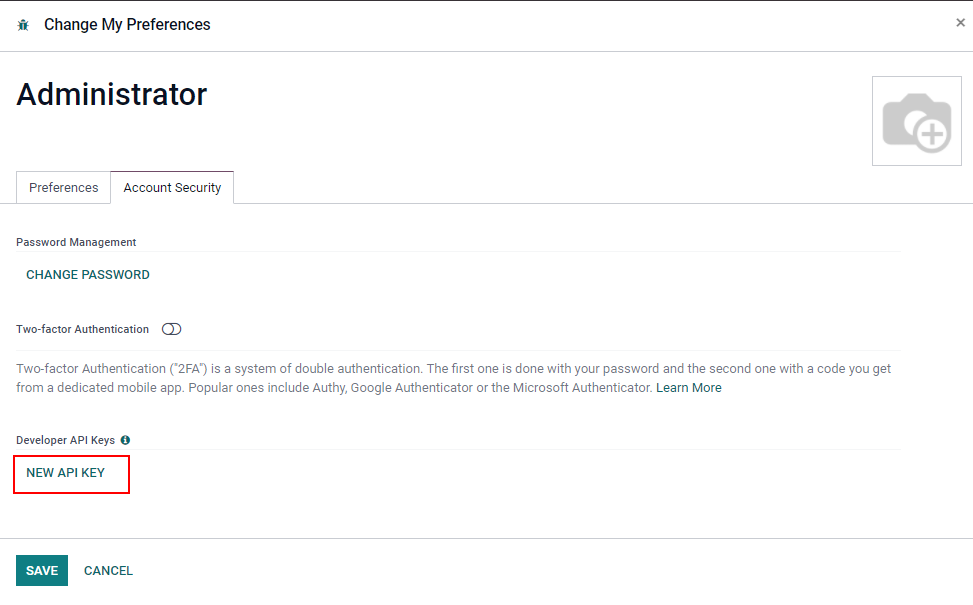 Enter your default password if asked.

If asked enter the purpose of the API key. Could be anything and then click GENERATE KEY button.
Copy API Key and save it to a secure place for future use.
Now, paste API key in Password/API key tab

Debug log allows you to record and see events and API requests. Useful for developers while debugging any event. 

Logged file can be found at WooCommerce > Status > Log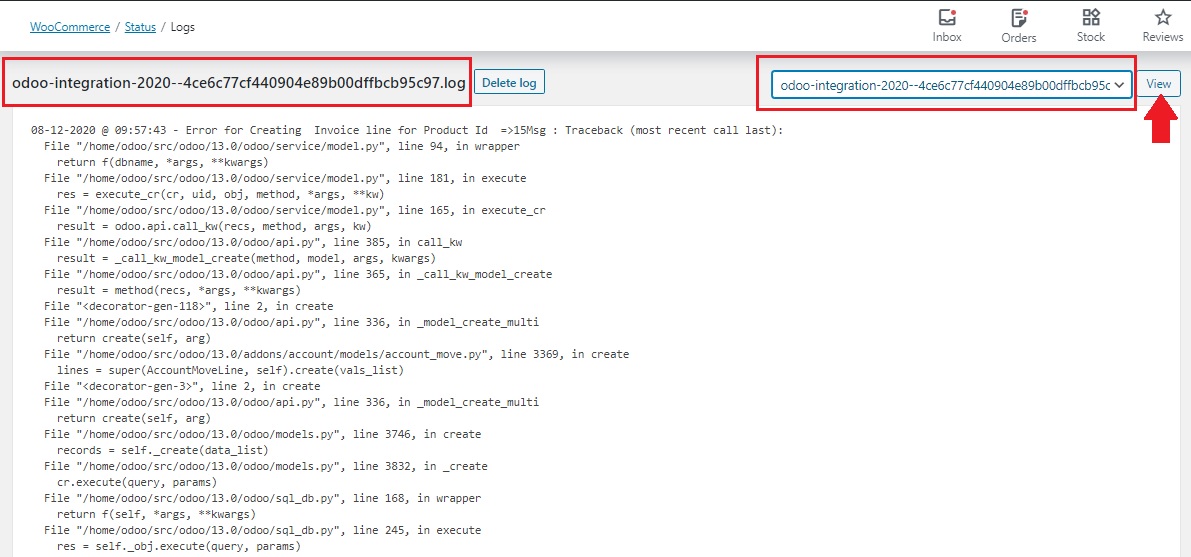 Odoo SKU Mapping tab is used to export SKU as an odoo's internal reference or barcode, or import barcode or internal reference as an SKU. Select the one that is preferable for your odoo CRM. 

Make sure to save changes by clicking on Save Changes button at the bottom of every tab to save your settings.
By checking Enable Inventory Sync, your wooCommerce product inventory is synched into your odoo inventory app according to the time set with Cron Frequency.

Note: Inventory is only synced when the checkbox is checked in the plugin settings to enable inventory sync.
These accounts may load based on your settings in odoo after successful integration based on your settings in odoo and country settings. Choose the default option for your wooCommerce store that best describe your accounts, debtor accounts, tax types and so on. 
Note: If these don't load, the plugin has already selected the default settings from your odoo CRM based on your country.
These tabs appear based on the country or state you are dealing in, taxes are imported from your odoo account and you can select the one from the dropdown menu according to your need. And click Save changes.

Select an account type for your customers buying at your WooCommerce store according to your suitability for your odoo account.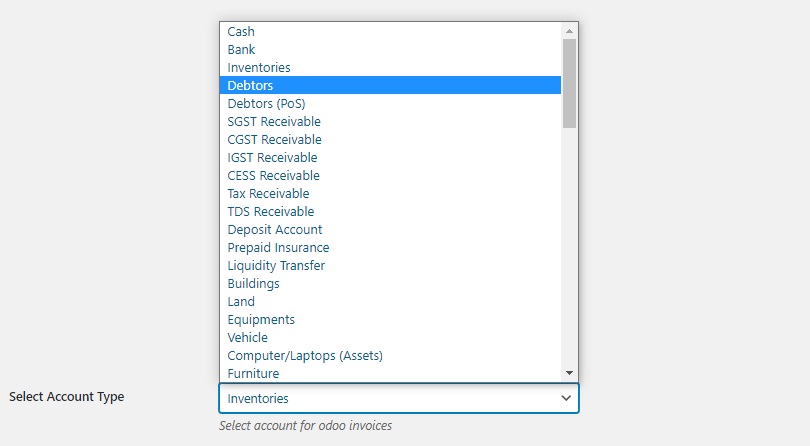 Select debtors account for your odoo account based on the intent of your customers and products or services you are providing.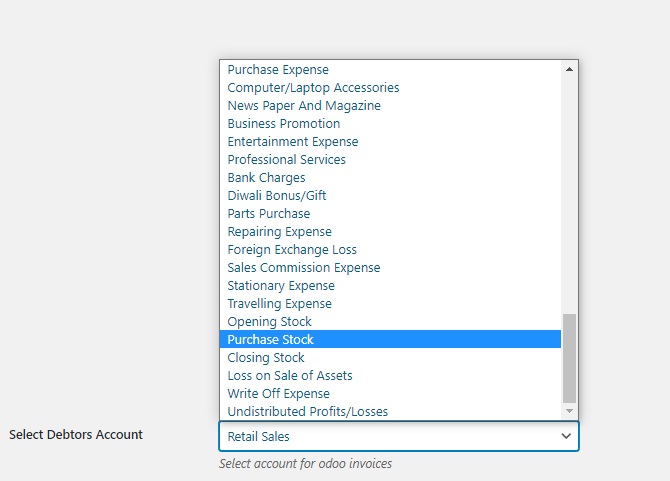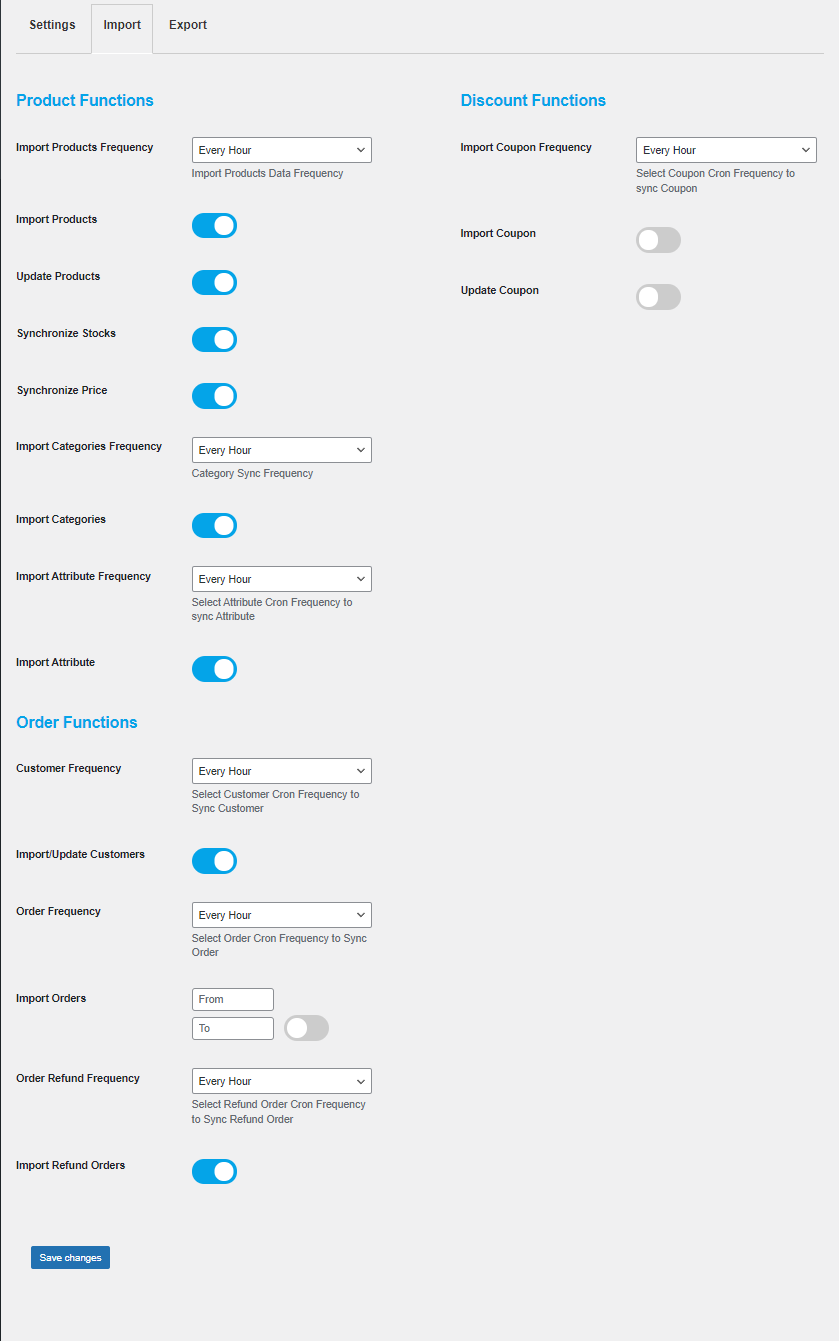 There is an import setting that should be enabled to import products automatically. 
This is accessed here:
WooCommerce → Settings →Integration → odoo Integration →  Import tab
Enable following:
Import products

Update products

Synchronise stocks

Synchronise price

Import categories

Import Attributes
Also, set the frequency to initiate the cron job. 
Export settings should be enabled to export products automatically. 
This is accessed here:
WooCommerce → Settings →Integration → odoo Integration →  Export tab
Enable following:
Export products

Update products

Synchronise stocks

Synchronise price

Export categories

Exportt Attributes
Also, set the frequency to initiate the cron job. 
This usually occurs when another plugin is interfering with the plugin operations. To solve this, simply disable all plugins temporarily and continue by activating plugins one-by-one. 
If this error is still occurring, please reach out to our support team by raising a WooCommerce ticket here- https://woocommerce.com/my-account/create-a-ticket/ and mention you have disabled other plugins, so, we can take the next steps necessary. 
The most common mistake is initially setting up the plugin. It is very easy to get the API keys wrong, so please ensure these steps are done accurately via the document below.
https://woocommerce.com/document/odoo-for-woocommerce/#section-4
Orders are synced directly to the Odoo account when customers have processed them. When an order is placed in your WooCommerce store, the invoice is generated automatically in Odoo.
For cron job, make sure you have enabled Order Functions from export, and/or import tabs as per your preference and save changes. There are certain settings based on your odoo CRM settings for orders in the odoo integration settings such as Select Account Type, Select Debtors Account and Select Tax Type explained above. 
| | |
| --- | --- |
| Questions | Answer |
| Can the Odoo Plugin support Product Bundles from WooCommerece when syncing with Odoo | No – at this stage this is not a feature supported by the plugin. |
| Can the Odoo Plugin Sync Variable Products from WooCommerce to Odoo? | Yes – The plugin will sync variable products from WooCommerce to Odoo. Within Odoo these will be each variation of the product will be a seperate product in the Odoo Database. |
| Can the Odoo Plugin Sync Variable Products from Odoo to WooCommerce? | No – The plugin will not sync variable products from Odoo to WooCommerece. As Variable products is not enabled by default this is not supported by the plugin. |