Os recursos podem ser adicionados em vários produtos reserváveis ​​com uma disponibilidade de nível global ou disponibilidade individual.
Exemplos de uso incluem:
Um assistente que pode ser contratado para organizar um casamento ou uma festa de aniversário de 50 anos, mas não os dois ao mesmo tempo.
Uma sala que pode ser alugada para uma festa de aniversário de criança ou para um evento da empresa, mas não ao mesmo tempo.
Como adicionar um novo recurso ↑ Back to top
Para adicionar um recurso global ou um recurso que pode ser usado em todo o site:
Vá para Reservas > Recursos. Uma lista dos recursos atuais e de todos os produtos aos quais os recursos estão atribuídos é exibida.


Selecione Adicionar recurso na parte superior. A tela Adicionar novo recurso é exibida.


Insira um nome/referência para o recurso. Certifique-se de nomear seus recursos adequadamente e não use o mesmo nome duas vezes para tornar o gerenciamento de seu site mais fácil.
Insira a Quantidade disponível.
Clique em Adicionar intervalo se o recurso tiver alguma restrição de disponibilidade. Semelhante à Disponibilidade de um Produto reservável. Para saber mais, consulte Intervalo de disponibilidade personalizado


Clique em Publicar para disponibilizar o recurso.
Como adicionar um recurso em um produto ↑ Back to top
Após adicionar o recurso, você pode atribuir o recurso aos produtos.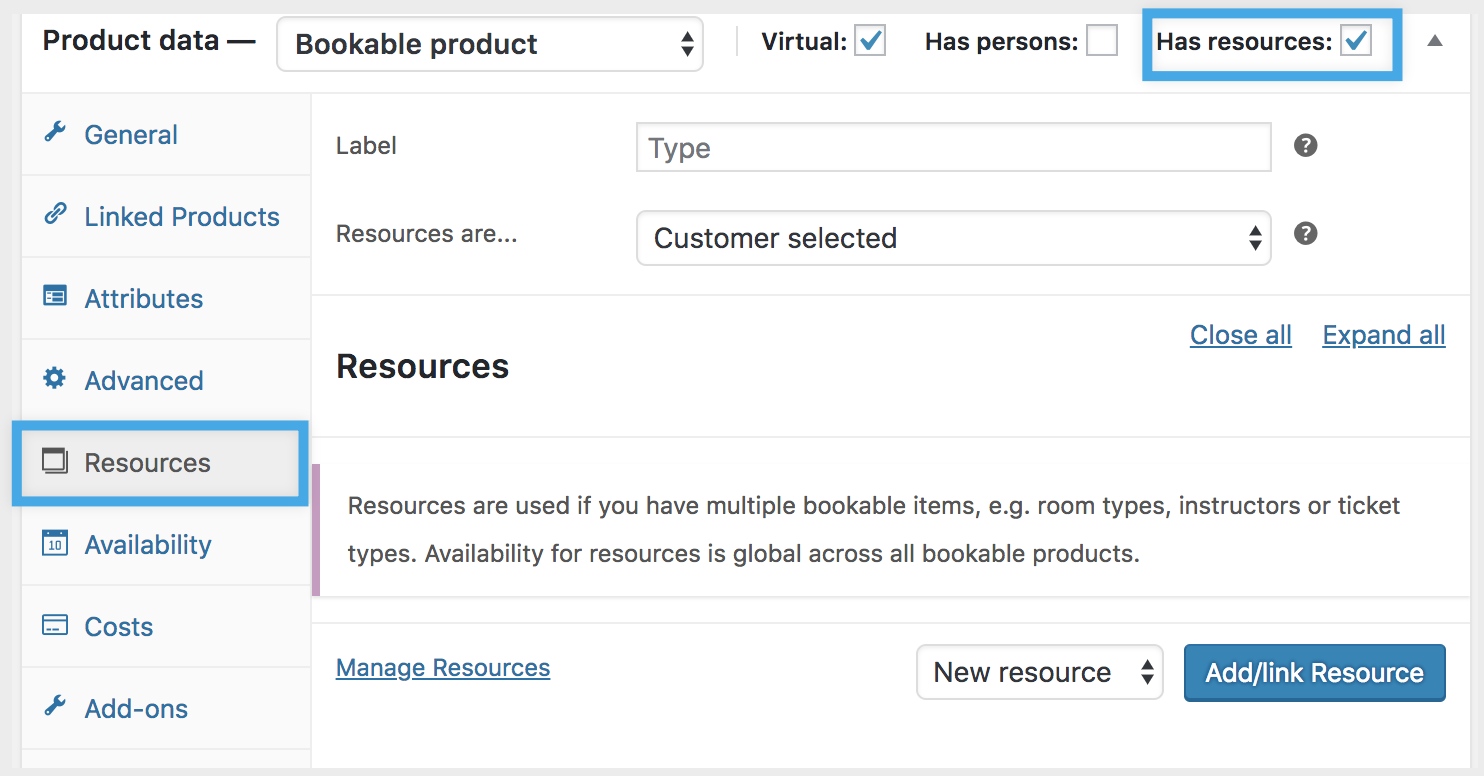 Para adicionar um recurso em um produto reservável:
Vá para WooCommerce > Produtos.
Selecione o produto reservável que deseja Editar.
Role a tela para baixo até Dados do produto e selecione a caixa de seleção Possui recursos.
Vá para a aba Recursos.
Insira uma Identificação a ser exibida aos clientes se Os recursos são Selecionados pelo cliente. Se for Atribuído automaticamente, deixe em branco.
Selecione um Recurso na lista suspensa no canto inferior direito.

Novo recurso: Selecione Adicionar/vincular recurso e uma janela será exibida solicitando que insira o nome do recurso. Após inserir o nome, um novo recurso global é criado no sistema.
Recurso existente: Ao clicar em Novo recurso, uma lista suspensa é exibida onde você poderá selecionar um Recurso existente. Após selecionar o recurso existente, insira um Custo base/bloco. O Custo base é aplicado quando o recurso é escolhido e o Custo por bloco é multiplicado pelo número de blocos reservados.



Clique em Atualizar para salvar os recursos ao Produto reservável.
Tem alguma dúvida antes de comprar? Por favor, preencha este formulário de pré-venda (Disponível somente em inglês).
Já comprou e precisa de alguma assistência? Entre em contato com um Happiness Engineer (Disponível somente em inglês) através do Suporte Técnico.