Se você está pensando em mudar sua loja da Etsy para o WooCommerce, ou apenas deseja configurar sua própria loja pessoal fora da Etsy, você pode usar nosso guia de importação de produtos simples abaixo para enviar suas listas de produtos da Etsy para uma nova loja WooCommerce ou uma loja existente.
Nota: Esta é uma importação única. Todas as atualizações em sua loja Etsy não serão sincronizadas automaticamente com o WooCommerce após a importação.
Algumas coisas que devem ser consideradas:
A Etsy não exporta os preços ou quantidades de variações. Se você tiver variações, os preços das variações serão iguais após a importação e as quantidades serão definidas como 0. Você pode seguir este guia sobre como configurar Variações de Produtos após importar todos os seus produtos.
Os produtos digitais importados da Etsy serão listados como produtos físicos. Mas isso não será um grande problema – O WooCommerce foi desenvolvido para gerenciar produtos digitais com a mesma facilidade na qual gerencia os produtos físicos. Para listar esses itens como produtos digitais, siga nosso guia sobre como configurar produtos digitais e esse guia mais detalhado sobre como trabalhar com produtos digitais.
Os arquivos .csv criados manualmente não serão importados corretamente. Para importar os produtos da Etsy com sucesso, você deve seguir as etapas abaixo usando um arquivo .csv exportado da Etsy.
Etapa 1: Exporte seus produtos da Etsy ↑ Back to top
1/ Acesse a Etsy.com e faça o login em sua conta para começar.
2/ Clique em "Shop Manager" (Gerenciador de Loja) no canto superior direito.
3/ No painel Gerenciador de Loja, selecione "Settings" (Configurações) e, em seguida, "Options" (Opções) no menu à esquerda da tela.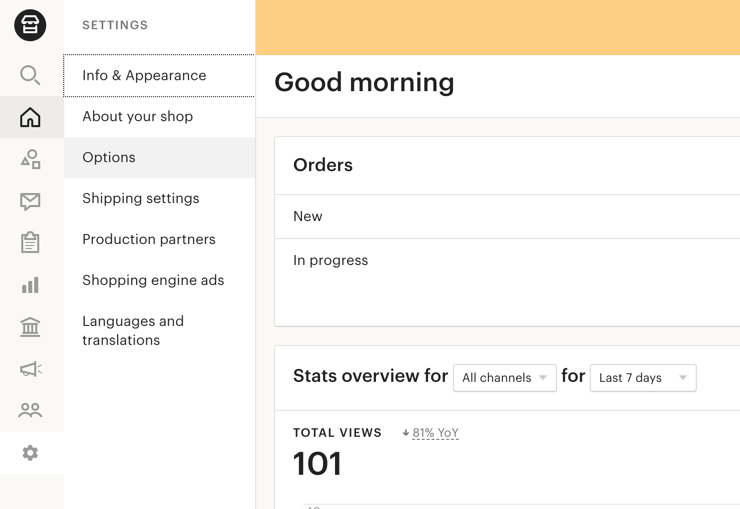 4/ Clique na guia "Download Data" (Baixar dados) e, em seguida, clique em "Download CSV" (Baixar CSV).
Etapa 2: Importe seus produtos para uma nova loja WooCommerce ↑ Back to top
1 / Se você estiver configurando uma nova loja, siga este guia sobre como instalar o WooCommerce.
2 / Se você seguiu o assistente de integração durante a instalação do WooCommerce, na última tela você terá uma opção de criar um novo produto ou importar produtos.
3/ Clique no botão Importar produtos.
4/ Clique em Escolher arquivo e faça o upload do arquivo CSV baixado da Etsy na Etapa 1.
5/ Clique em Continuar.
A tela Mapeamento de colunas será exibida e o WooCommerce tentará automaticamente coincidir ou "mapear" o Nome da coluna de seu CSV para os Campos.
6/ Use as listas suspensa no lado direito para ajustar os campos ou indicar 'Não importar'.
*Por padrão, quaisquer colunas não reconhecidas não serão importadas.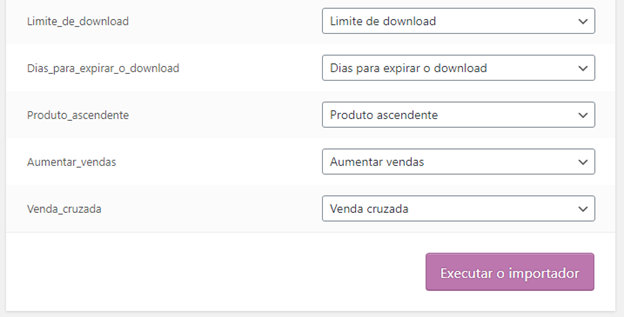 6/ Clique em Executar o importador.

7/ Aguarde até que o Importador seja concluído. Não atualize ou toque no navegador enquanto estiver em andamento.
Etapa 3: Importar produtos para uma loja WooCommerce existente ↑ Back to top
Se você já possui uma loja WooCommerce e gostaria de importar seus produtos da Etsy para sua loja WooCommerce – você pode seguir nosso guia sobre como importar produtos para uma loja WooCommerce existente.