Make an Offer
for WooCommerce
plugin lets your potential customers make a price offer for your products and you can accept or reject their requested price and chat with customers as well.
Download Make an Offer for WooCommerce .zip file from your WooCommerce account.
At the Admin Panel, go to Plugins > Add New and Upload Plugin with the file you downloaded after purchase.
Install  and Activate the extension.
More information at: 
Install and Activate Plugins/Extensions
.
To start the configurations for this extension, go to 
WooCommerce > Settings > Make an Offer
at the admin panel and click the "
Manage Rules"
tab.
In the "
Manage Rules
" tab, you can see all the make an offer rules created by you. You can edit and delete any rule from here.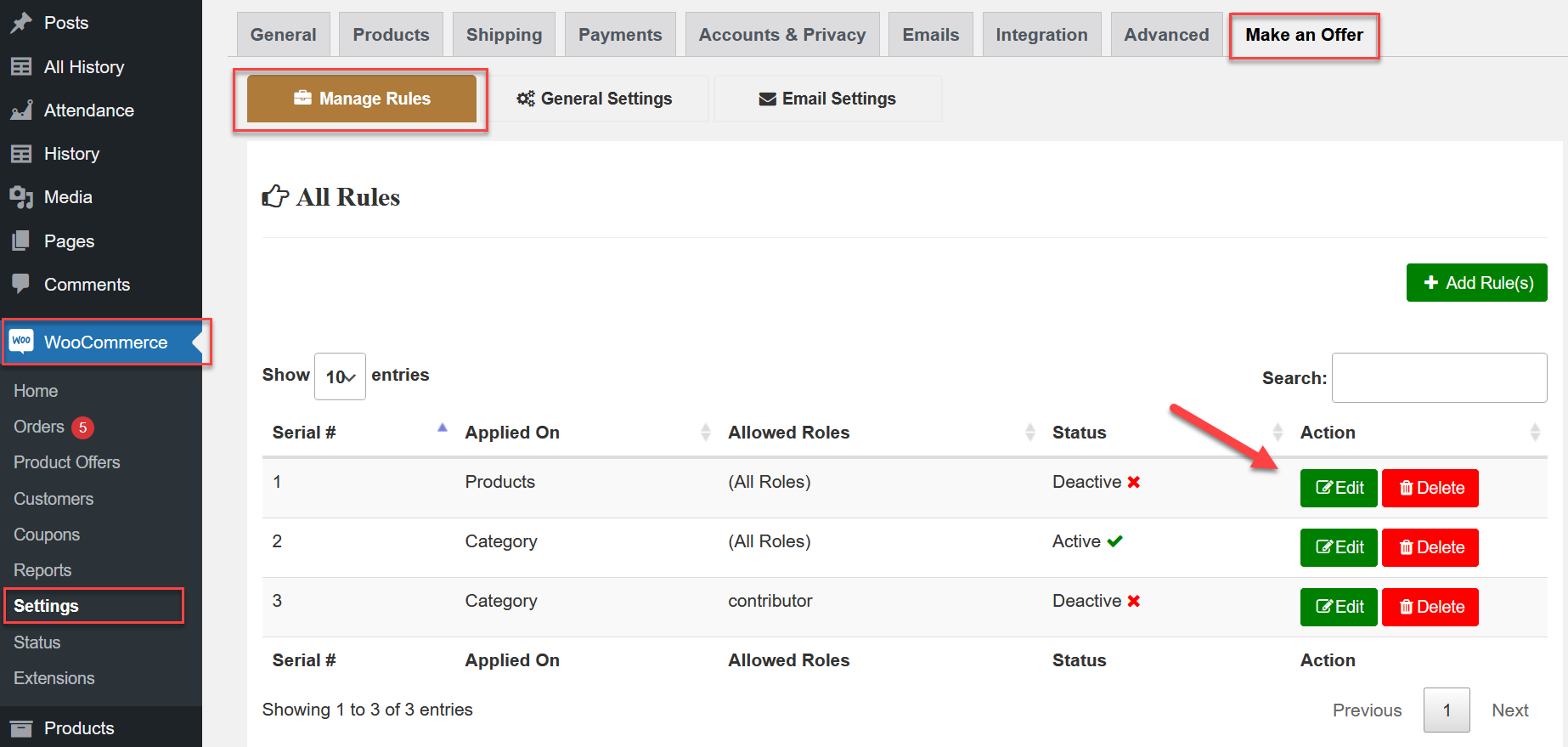 Now click "
Add Rule(s)
" to create a new rule for make an offer.
In each rule, you have the "
Activate Rule
" button to toggle on/off this rule. You can
Enable Chat
 to allow customers to chat with you about their offer after submitting their offer. You can apply this rule to specific 
products or categories
. You can restrict this rule to specific 
user roles 
and 
guest users
 as well.
Click the "General Setting" tab to configure the general settings of the Make an offer for WooCommerce extension. You can customize the style of "
make an offer
" and "
view offer
" buttons from here.
You can 
customize the layout of the make an offer form
 that appears in a popup to the customer or use the default theme style of your store.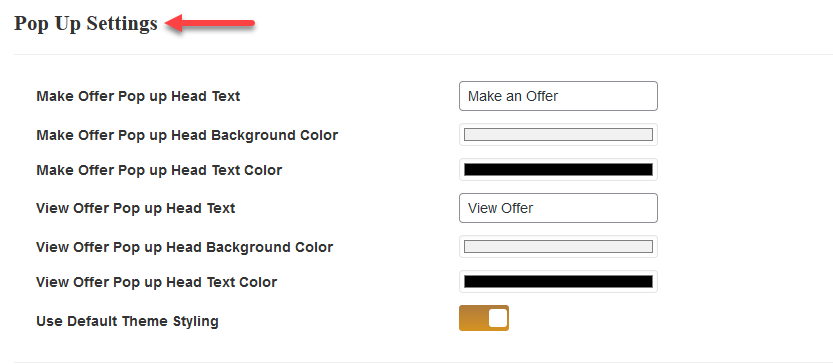 You can also configure the 
chat settings
 such as first and second-person message background and text color.
Now move to "Email Settings" tab to
customize the email template
for the followings:
Offer submitted email
For registered users on offer acceptance and rejection
For guest user on offer acceptance and rejection
Short-codes
are also mentioned for every type of email which you can use based on your need.
Go to 
WooCommerce>Product offers 
to see all the offers submitted by customers.
Now click any offer to view or approve/reject that offer.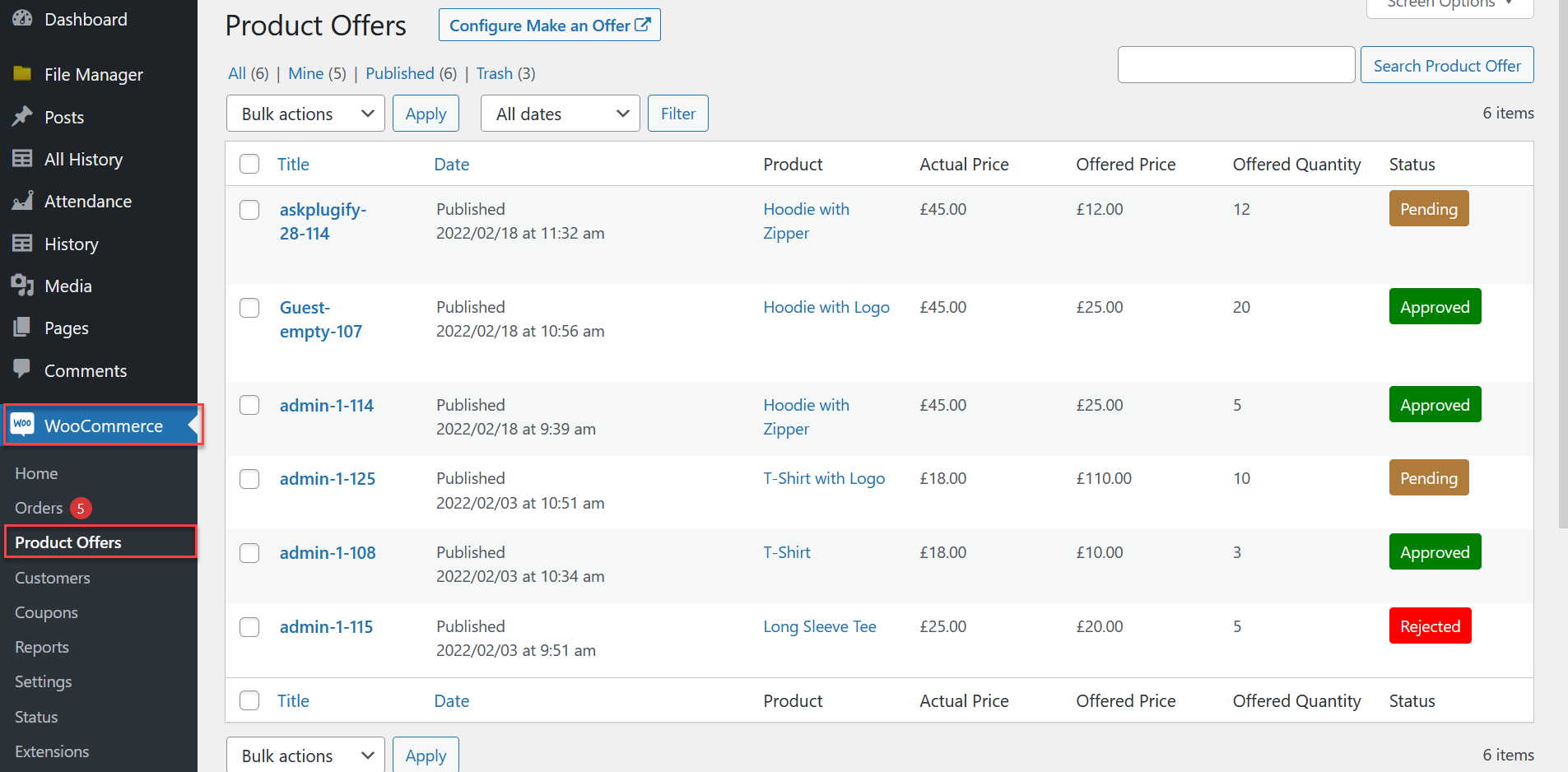 In each offer, you can see the 
product, customer, and offer details
.
You can 
approve or reject the offer
 by changing its 
status
. If you approve their offer, the 
price will be automatically changed
according to the offer for that customer and you can also
select the time
to make it a limited time offer for them. Product price will come back to original price after that time.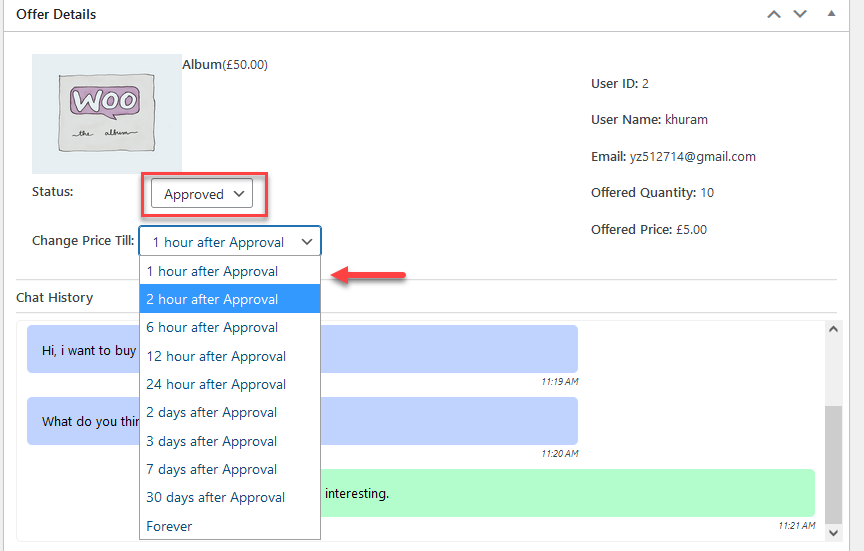 You can also chat with customers directly to further discuss the offer. You can also see the previous chat in
Chat History
 section.
You can send a custom email to customers to provide details about the offer approval or rejection. You can also see the previous emails in
Email History
 section.