Sales countdown timer plugin for WooCommerce enables you to display countdown timer and quantity counter on product and shop page.
Download Sales Countdown Timer for WooCommerce and have your .zip file
At the WordPress admin panel, go to the Plugins section, and click 'Add New' to upload and install the plugin you just downloaded from WooCommerce.
Upload the .zip file to proceed with the installation.
Wait until the plugin installs. After successful installation, activate the plugin, and move on to configuration settings.
Sales Countdown Timer Configurations ↑ Back to top
At the admin panel go to WooCommerce > Settings and click Sale Countdown Timer tab to configure this extension. Here you will find the two tabs for settings such as General & Rules.
In this tab, you can configure the following settings.
Select What To Display (Choose to display timer, quantity counter or both on product page)
Select Countdown Timer Box On (Choose to display timer on shop, product or both pages)
Select Timer Style (Select timer styles such as Simple, Classic and Pro.)
Choose Where To Display (Set position for countdown timer i.e. below product image or product price)
Product On-sale Text (Set text to display for sale i.e. on sale, Summer sales , Winter Sales, Black Friday Sale etc.)
Countdown To Sale Text (Set text for countdown timer)
Color Scheme (Customize color scheme of countdown timer)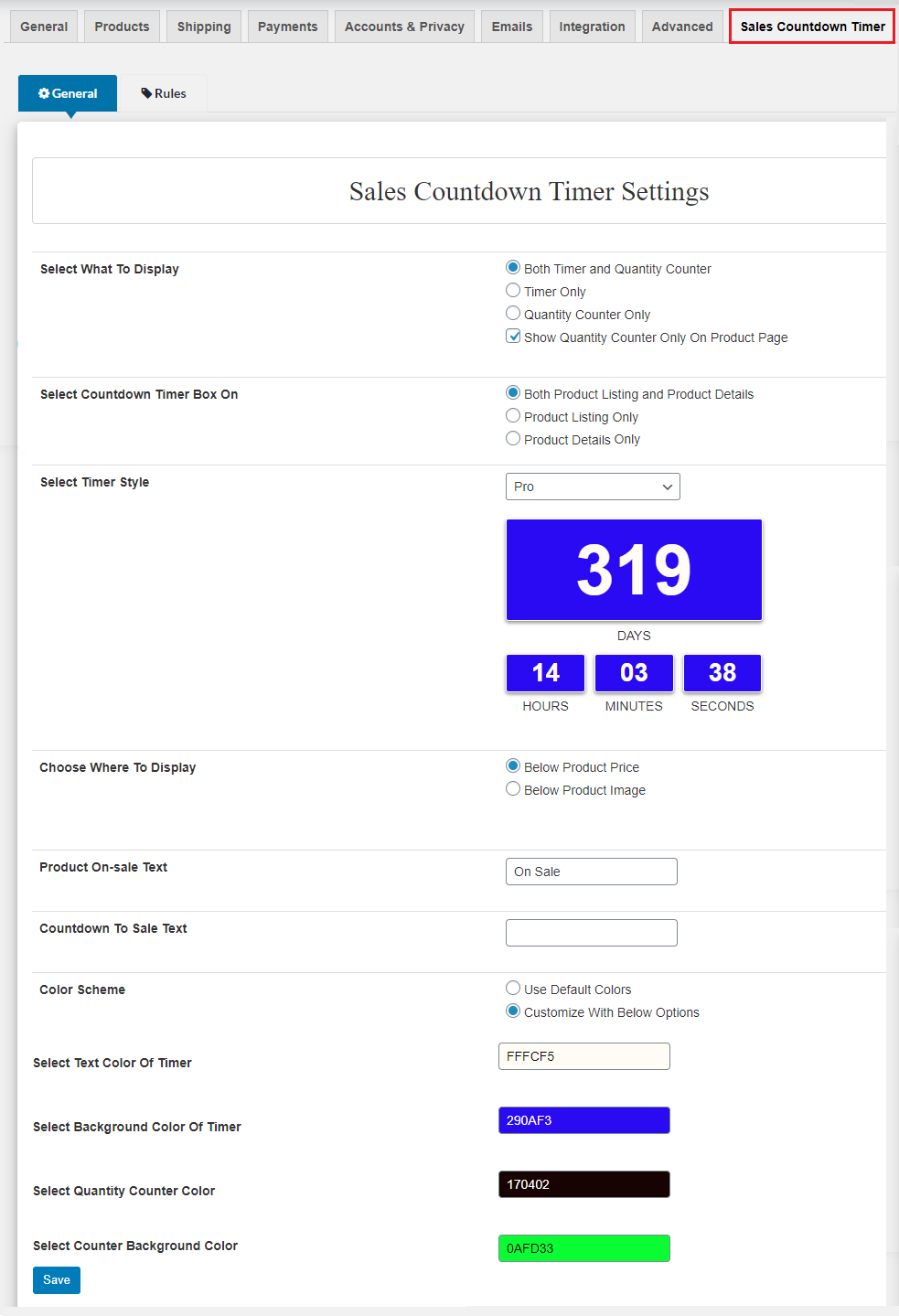 You can add new rules and manage existing rule in this tab. You can also copy the rules or import & export rules in Excel and CSV formats.
Click "Add rule" button to create new rule. In each rule you can configure the followings:
Set start and end date for discount and countdown timer
Configure discount type fixed or percentage base
Set discount amount you want to offer.
Define the quantity of products available on sale
Enable/ Disable the rule
Apply rule on product or category level.
Choose products or categories you want to apply.
Define quantity available for sale and discount amount separately for each product.