Smart Coupons provide a powerful, "all-in-one" solution for gift certificates, store credits, discount coupons, and vouchers extending the core functionality of WooCommerce coupons.
This doc article explains how you can allow yourself or your customers to print coupons.
This is a great feature for some of the following applications:
Print and distribute hundreds of unique coupons via newspapers so that people can redeem it online or offline on your store.
Print coupons (gift cards) and send them to your family or friends during Christmas or special occasions.
Allow customers to print coupons (store credit) you send them via email.
Your customers want to print all available coupons they can redeem.
The coupons can be printed in three ways: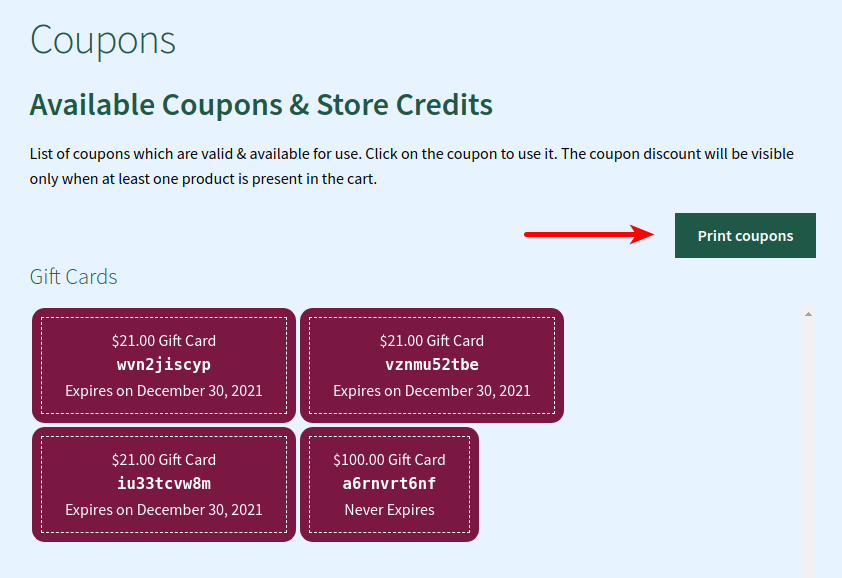 This is for your customers who want to print all the valid coupons they have.
They'll need to follow these steps:
Go to My Account > Coupons
Click on the button "Print coupons"

This is for the store owners.
The steps are:
Go to WooCommerce > Coupons
Select the coupons to be printed, using the checkboxes provided along with each coupon
Click on the "Print" button
Note – You can also generate unique coupons in bulk, select them from the Coupons Dashboard and then print them. This is for the newspaper example mentioned above and other similar applications.
This is for those who will receive coupons via email. The email will have a link that will allow the user to print all the coupons received in that email.
When you send a coupon via email using Smart Coupons ('Bulk Generate' or 'Send Store Credit'), there's a 'Print coupon' option in the email below the coupon code. Click on it to print the coupon.
Disable / hide / remove "Print coupons"
By default, the feature will be enabled on your store.
If you want to disable the feature to print coupons, follow these steps:
Go to WooCommerce > Settings > Smart Coupons.
Look for the setting "Printing Coupons".
Uncheck it & save the settings.
Coupon usage terms & conditions
This is an optional feature (by default disabled) provided by the Smart Coupons. In this, the plugin automatically adds one page Smart Coupons Terms with empty page content.
During print of coupons, if you want to print some contents along with the coupons like usage terms & condition for the coupon, you can use this page.
Follow these steps to add usage terms & conditions content:
Go to Pages
Look for a private page with title Smart Coupons Terms
Open the page
Add usage terms & conditions content
You can use all the tool provided by the editor to format your content as per your need
Save the page.
After this, whenever you will print any coupon, the printed page will also contain the content added by you to Smart Coupons Terms page.