Advanced Product Quantity extension provides you a complete control over the product and cart quantities.
Download the .zip file from your WooCommerce account.
Go to: WordPress Admin > Plugins > Add New and Upload Plugin the file you have downloaded.
Install Now and Activate.
More information at Install and Activate Plugins/Extensions.
---
After activating the Advanced Product Quantity extension for WooCommerce, you can see a new "Product Quantity" heading under WooCommerce menu to add new quantity rules.
You can configure quantity settings from,
Product
Using rule-based management (WooCommerce>Product Quantity)
From configurations options, you can also personalize, (WooCommerce > Settings > Advanced Product Quantity)
Cart quantities
General field settings
Product level quantity settings: ↑ Back to top
From the product edit page, you can configure the following options
Limit min/max order quantity
Enter steps to configure interval-based quantities
Configure a fixed quantity (If a fixed quantity is configured – min/max and interval quantity will not work)
Select user roles if you want to apply restrictions for specific roles
Don't forget to select a little checkbox on the top to apply configurations.
Category level quantity settings: ↑ Back to top
In version 1.1.0 – Category level and global quantity settings are replaced with more robust Rule-Based management
Rule-based bulk quantity settings: ↑ Back to top
Go to WooCommerce > Product Quantity to create multiple rules to add different quantity limitations for different categories, set of products, and user roles.

While creating new rule you can customize
Provide rule title
Rule priority
Limit min/max quantity
Enter steps number to set up interval-based quantities
Set up a fixed quantity
Apply on all or specific products and categories
Select user roles if you want to apply restrictions for specific roles
Go to WooCommerce > Settings > Advance Product Quantity > and navigate to "Cart Quantities". From here you can,
Limit min/max cart quantity
Limit min/max cart amount
Add quantity steps
Customize label/error messages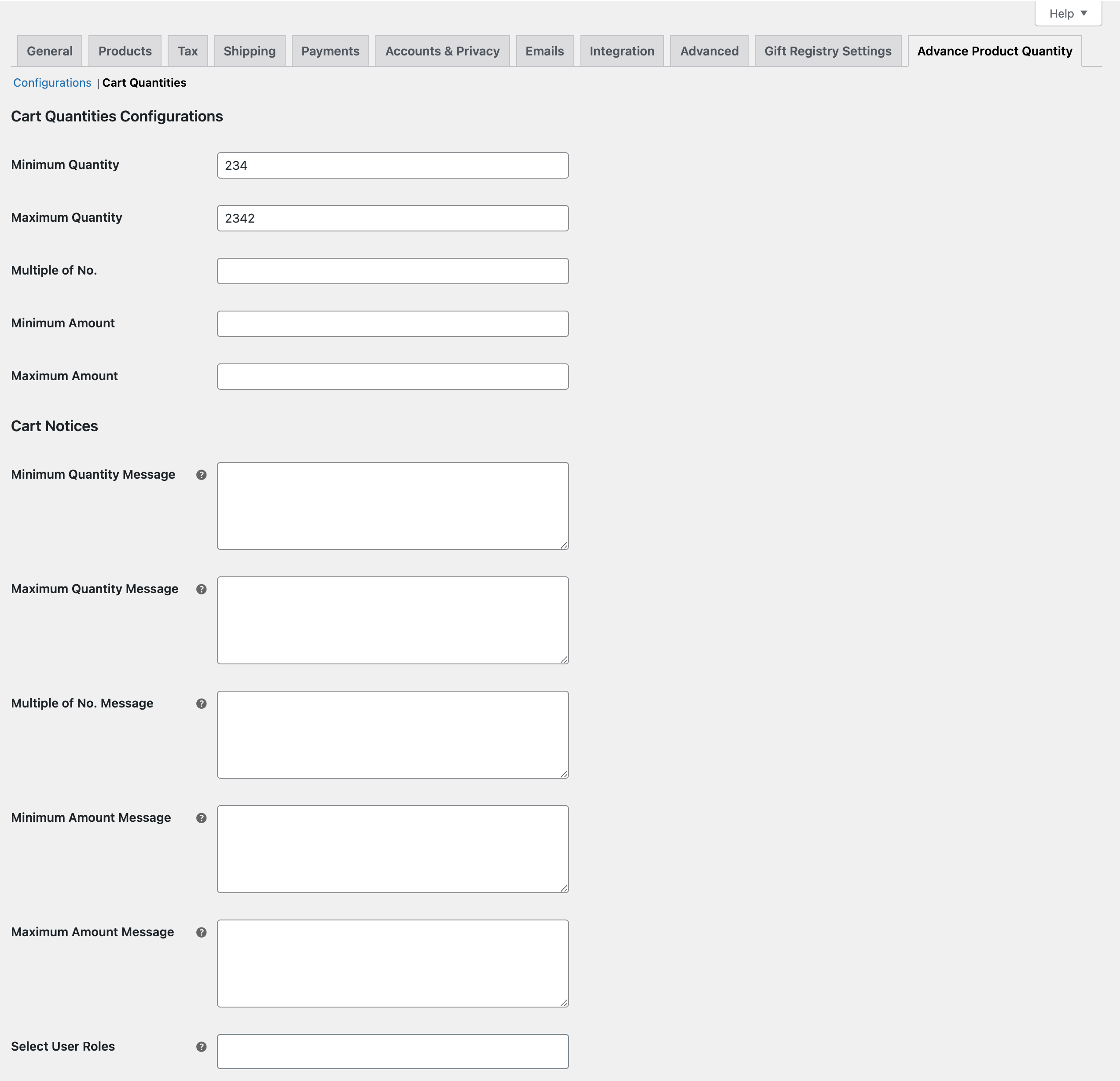 Quantity dropdown & listing page settings ↑ Back to top
Go to WooCommerce> Settings > Advance Product Quantity  and navigate to "Configurations". From here you can,
Choose to convert quantity box into a dropdown or keep using your default quantity box
Show/hide quantity box on the listing page