Bulk Category Editor for WooCommerce enables functions such as add, bulk update and delete to product categories. The extension also includes an advanced search and replace function to bulk update name, description and slug. In addition, this editor lets you filter products by category, then easily add, move and replace the categories for the products in bulk.
Download the .zip file from your WooCommerce account.
Go to: WordPress Admin > Plugins > Add New and Upload Plugin > Choose File (for the file that was downloaded).
Activate the extension.
More information at: Installing and Managing Plugins.
Bulk Category Editor Settings
Settings are under WooCommerce > Settings >  Bulk Category Editor and includes two sections, General and Products.
General settings allows you to configure the following options for Categories:
Categories per page: Set the amount of categories to display in the table (subcategories are excluded).
Show add category: Select the checkbox if for example, you have to add many categories at once. If this is not enabled,  you will need to click the + Add button to add a new category.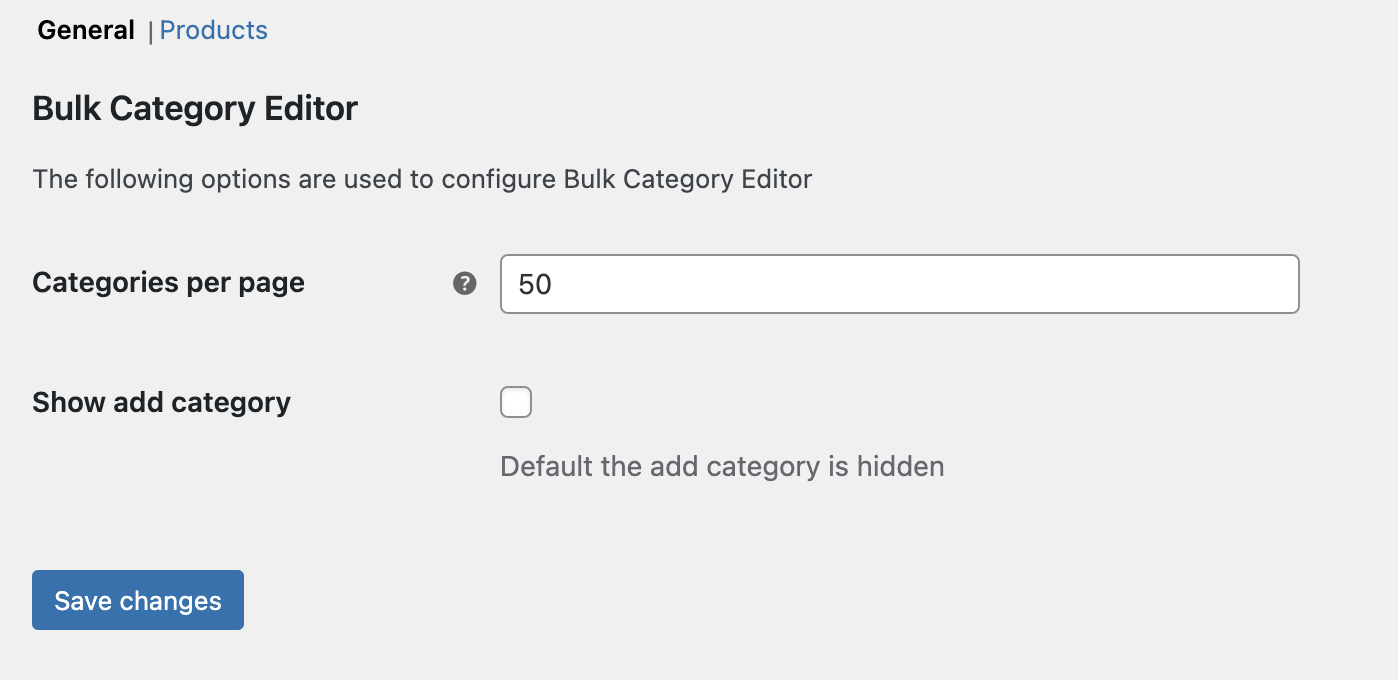 Products settings apply to the Move products tab:
Products per page: Set the amount of products per page in the Move products tab
Default product category: Set a default category. If you do not set a category, the default product category will be used (Uncategorized is common). Category is used when moving default products.
To start using Bulk Category Editor, go to: WooCommerce > Bulk Category Editor.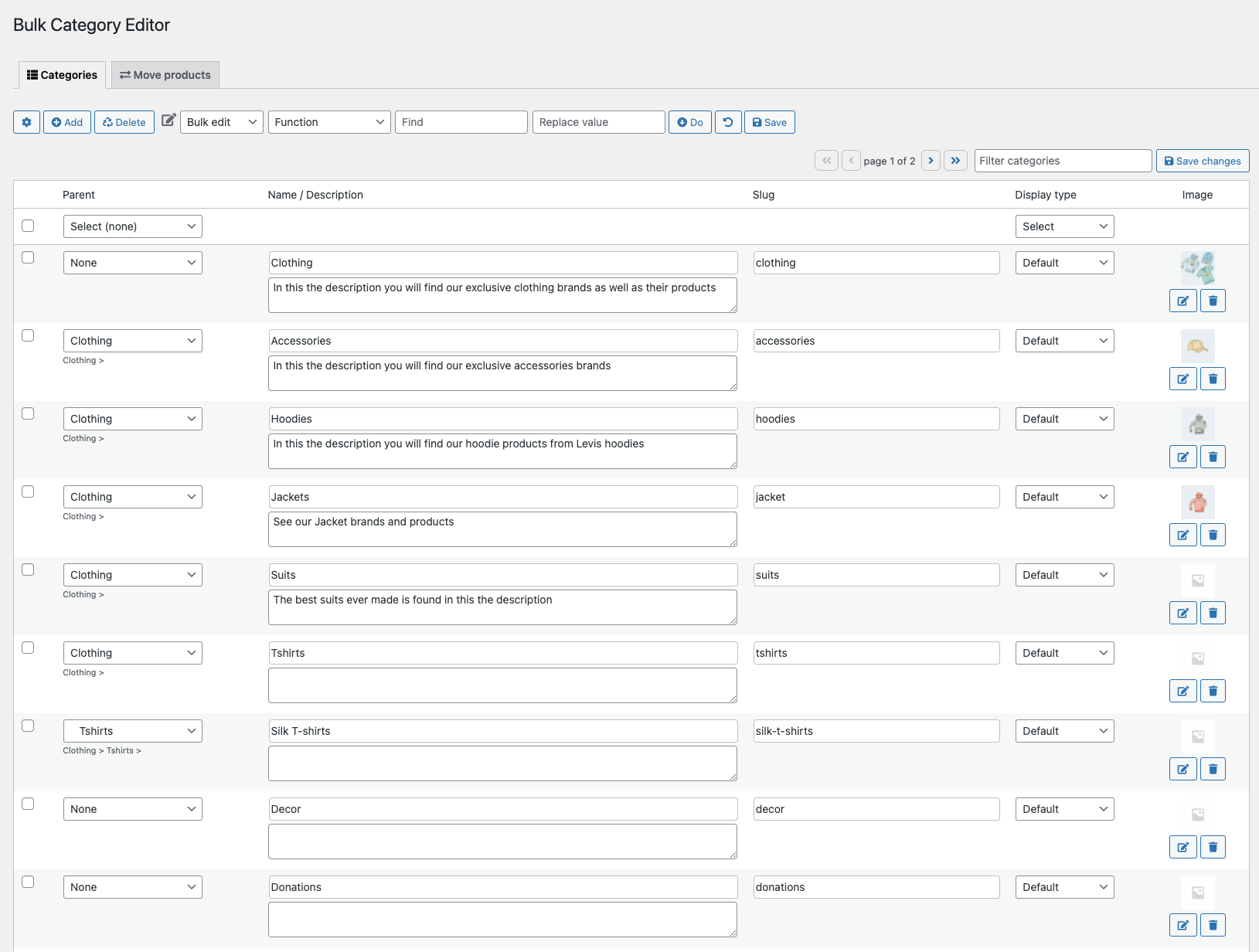 The editor has two tabs, Categories and Move products. The following options are available within the Categories tab:
Cogs button takes you to Bulk Category Editor Settings  (WooCommerce > Settings > Bulk Category Editor).
Add button opens a table form to add new categories.
Delete button deletes selected categories individually or in bulk.
The Bulk edit and Function buttons allow you to edit categories using Search and replace, Add text before and Add text after functions.

To add a category, click the Add button and the Add Category table will display.
To create a parent category, enter the category name and save, the slug will be automatically created for you.  (Note: The description field has the option to be resized.)
To set an image for the newly created category, click the Image edit button and upload an image or select from your Media Library. 
After saving, the Add Category table editor closes automatically, but if you would like to have this visible, you can set this by going to WooCommerce > Settings > Bulk Category Editor and select Show add category.
To delete categories, select the checkbox for the rows of the categories you are deleting. 
Click Delete. An alert will display confirming that you wish to delete, click OK and the categories will be deleted.
Please note:  Bulk Category Editor will not delete your default category. By default, the category will be Uncategorized (unless you have set it to something else).
Bulk edit has several options – first, select the field you want to bulk edit. Select name, description or slug. Then, select one of the functions:
Search and replace: Enter a text phrase you want to replace using the Find input field. The table will automatically filter based on your text phrase. Next, enter the value you want to replace the text phrase with in the Replace value field. Select the Do button to replace and Select undo button if you wish to undo the changes. Then click Save.
Add text before: Enter a text phrase that you want to add text before in the Find input field. Then, enter the text phrase you want to add in the Replace value field. Click Do > Save.
Add text after: Enter a text phrase that you want to add text after in the Find input field. Next, enter the text phrase you want to add in the Replace value function. Click Do > Save.
These functions will let you easily make changes to several categories. Filtering by categories allows you to quickly make bulk updates to categories. 
Paging for categories will show up if you have many categories.  In settings, you can set the number of categories to display on each page. 
As you perform your search and begin typing in the field,  filtering occurs automatically and filters by category (and parent), name, description and slug. For example, if you are searching by all shoes, and start by typing 'shoe' and then 'women', only those results will display.  Use spaces between phrases. Please note: the filter only filters the current page (table). If paging is enabled, you may need to do the same on several pages. 
Bulk updates from table heading ↑ Back to top
Within the table heading:
Check or uncheck all rows (categories) to apply bulk edits.
Parent dropdown applies parent categories in bulk for your categories. 
Display type dropdown applies display type in bulk for your categories.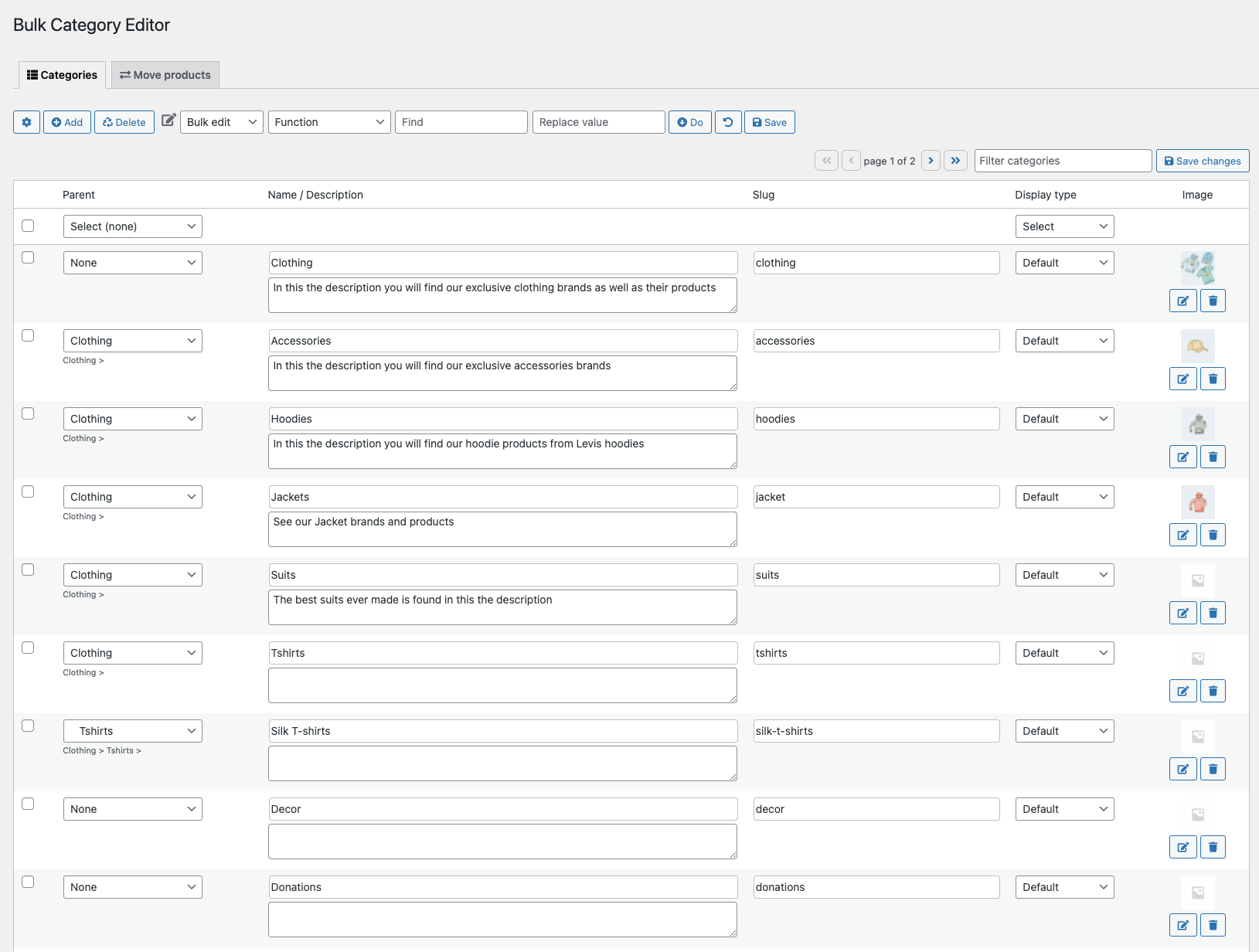 The table editor allows inline editing of your categories. If you make changes in any field, the checkbox for the row will be checked. When you save, all changes in all selected categories will be updated.
Parent: Categories that have no parent category will have a dropdown with no subcategories.  Subcategories will have dropdown with the whole category tree. This enables you to move a category to another parent category (including subcategories).
Name / description: Change name and description (below name). The description input field can be resized for easy editing.
Slug: Change slug name. Note that the slug name must be of lowercase letters and strung together with hyphens similar to this, silk-t-shirts.
Display type: Set display type using the following options: Default, Products, Subcategories and Both. This can also be changed in bulk in the table header.
Image: Set or delete the category image using the edit or delete buttons. The edit button opens your Media Library where you can select or upload an image for your category. Remember to click the Save changes button after you are done. 
The Move products tab includes the following options, Get Products from, Products and Move or add products to. 
Get products from 
Here, you can filter categories in the search field, check categories and get selected products. Default products will be fetched from the default product category (usually Uncategorized). To reset your product query,  click the reset button.
Products
By default, this table shows products from the default category (usually Uncategorized). If you have selected product categories in Get Products From, they will show up here. The table contains a filter where you can filter out products by name, SKU and tags. To filter, either select all products (by checking the box in the first header column in the table) or manually select the products you want to move or add categories for. 
Move or add products to
In this section, you can filter categories or simply select the category or categories to move or add products to. 
Select the applicable products by checking the checkbox in the row.
Select category or categories.
To replace the categories with the ones you have selected, click the Replace categories button to remove the existing categories and add the new categories that you have selected.
To add new categories to your products, click the Add categories button and this will add the selected categories to the products.
A progress bar will display until the products have been updated. 
How does search and filter work? ↑ Back to top
When you use filter or search, the editor automatically filters in the table as you type. Use spaces for several phrases to narrow your search/filter.
Can I translate the extension to my language? ↑ Back to top
Yes, all our extensions have an included POT file that enable you to do this. Our tip is to use the Loko translate plugin.