---
After activation WooCommerce Cost of Goods Sold extension, you can find the "
Cost of Goods
" in under your WooCommerce menu. Click to view settings and get started.
Using the general settings tab you can customize the following options:
Apply to existing orders – Once the cost of each product is added, the extension will show profit margins of your existing orders as well
Customize items per page for both stock and sales reports
Enable product tags and cost percentage column in reports
Specific the order statuses that needs to be included in sales reports – this feature helps when you want to get the real profit by excluding on-hold or any order statuses that does not represent a confirm sale
Enable total cost, profit and currency symbol in reports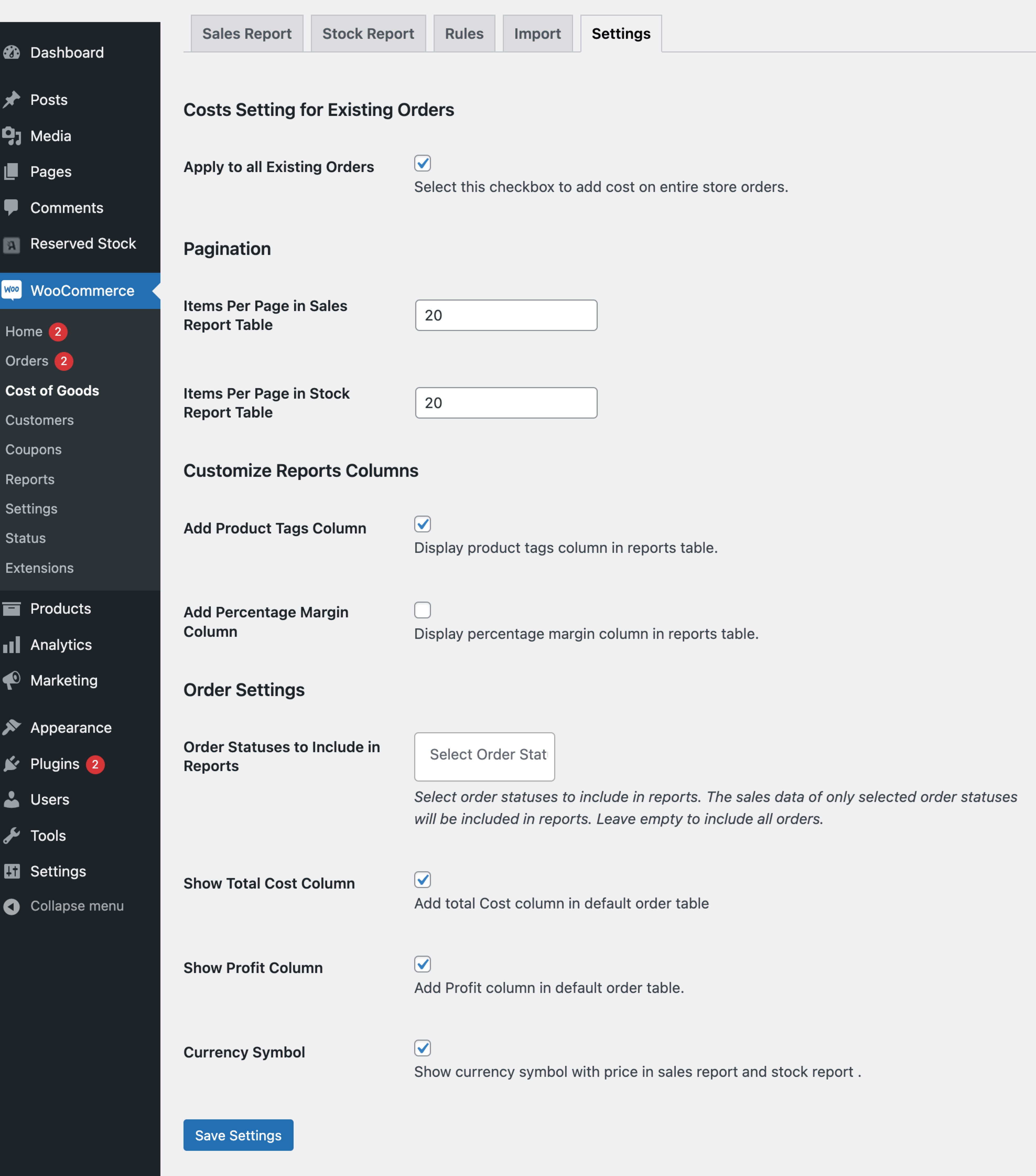 You can add product cost from:
Product Edit Sheet
CSV Import
Global Rules
Adding cost from product page
Edit any product to add its cost. For variable products, you can add cost from Product data > Variations. Each variation can have a different cost. While adding cost on product page, you can choose to lock this cost. Once locked, this cost will not update through global rules and CSV import but just from the product data screen.
Adding cost using CSV import
Go to WooCommerce > Cost of Goods > Import to download the pre-defined CSV file formate. Once the file is ready, you can select and import file to bulk update costs.
Example CSV file format:
The first column includes product id, the second column is for product name and the 3rd column is the cost that will be populated on product pages. Please note the first and the 3rd column is mandatory for CSV import.
Adding cost from global rules
Using the global rules, you can add cost in bulk to selected products and categories. The cost can be a fixed amount or percentage of the existing product price. It's helpful when you want to derive your cost from existing product prices.
Sales and profit report shows a clear picture of per product and aggregate profit margins during selected time period. You can filter reports by products and categories.
Stock and profit report shows current stock value and potential profit. You can filter reports by products and categories.

The extension adds 2 new columns to show cost and profit on default order detail page.