Enable users to customize and personalize their My Account page helping to improve navigation and user experience.
Download WooCommerce Account Dashboard from your WooCommerce dashboard.
At the WordPress admin panel, go to Plugins > Add New > Upload and select the ZIP file you just downloaded.
Click Install Now, and then Activate Plugin.
To configure the extension, go to WooCommerce within the WordPress admin panel. You will find the Account Dashboard tab. Upon clicking, you will find three tabs General Settings, Custom Dashboard, and Prebuilt Dashboard.
In General Settings, you can set the template you want to display for customers, sidebar position, and manage style.
Select Template: Select the template type of the dashboard to appear on the front end. There are two options Custom and Prebuilt Dashboard.
Custom Avatar: Enable customers to add and change the avatar on their account dashboard.
Sidebar Position: Allows you to change the position of the sidebar menu on the "My Account" page.
Menu Icon Size: Change the size of the icons of the endpoints as per your choice.
Margin Between Menu Icon and Text: Adjust the margin between the menu icon and text.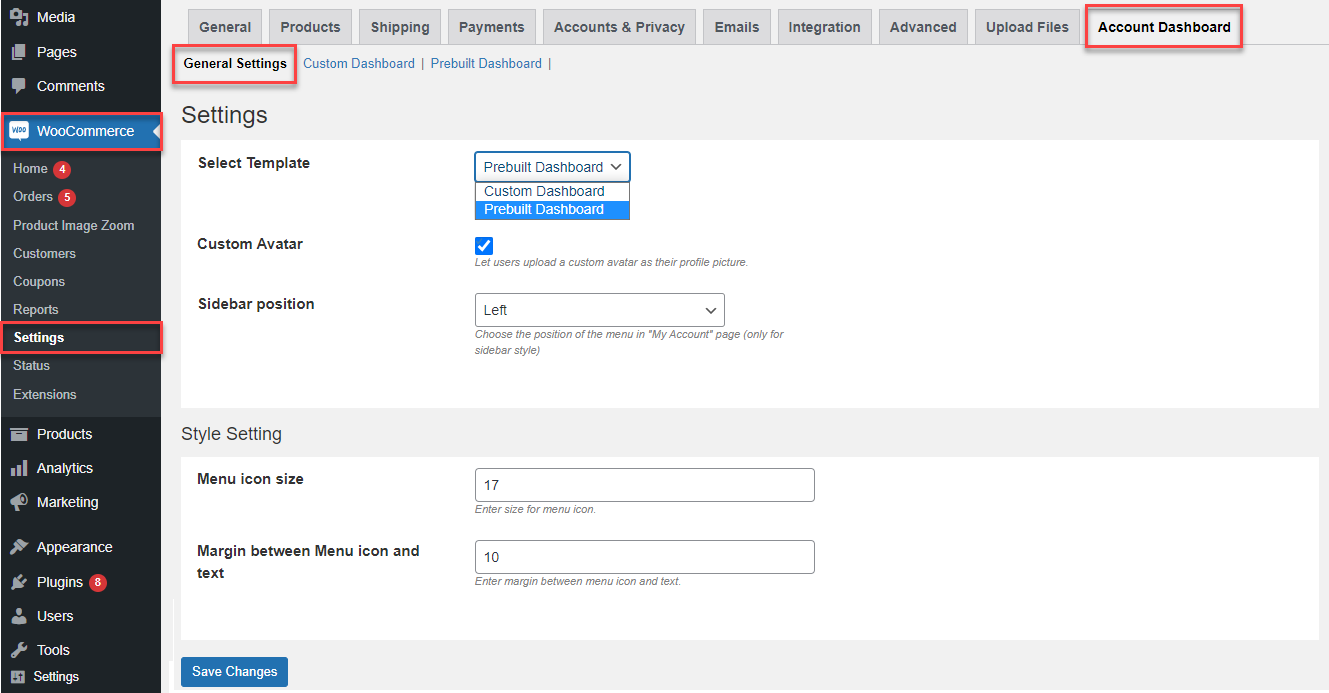 Next to the general settings tab, is the Custom Dashboard tab. Here, you can create and manage endpoints such as Group, Endpoint, Page, and Link.
Endpoint: Allows you to edit default endpoints, change the name, and icons and assign the specific endpoint to the user role. Include custom content in the endpoint to replace the default content.
Group: Make the group of the multiple endpoints show the less item in the sidebar. You can include the icon for the group and enable it for specific user roles.
Page: Create a page endpoint to display a specific page on the user dashboard.
Link: Include a link endpoint to refer customers to specific products or pages. You can include a custom link in the endpoint.
In the Prebuilt dashboard, you cannot add new endpoints however you can manage the existing endpoints. It allows you to edit the existing endpoints such as changing the name of the endpoint and setting the icon of the endpoint.
You can also enable or disable the endpoints. Change the sorting order of the endpoint as per your preference.