Smart Coupons provide a powerful, "all-in-one" solution for gift cards, gift certificates, store credits, discount coupons, and vouchers extending the core functionality of WooCommerce coupons.
This doc article explains how you can use a shortcode to display available/usable coupons on any page.
By default, the Smart Coupons plugin displays available/usable coupons on the cart, checkout & My Account pages. But if you want to display those coupons on any other pages, you can use a shortcode '[wc_sc_available_coupons]'.
You'll need to add this shortcode to the page content.
[wc_sc_available_coupons title="Available Coupons (click on a coupon to use it)"]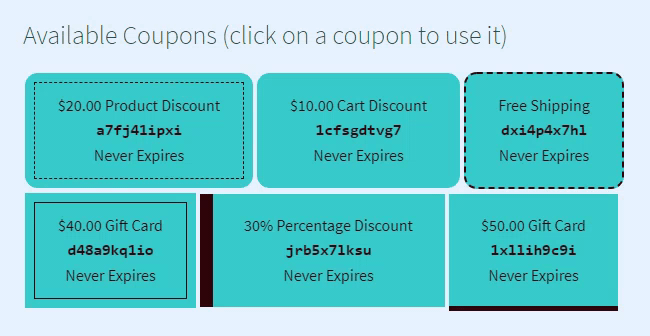 Note: In the above screenshot, all predefined coupon styles are showing together. It's only used to display the available type of coupon style. At a time you can set only one coupon style.
Here are some possible reasons why coupons are not getting displayed when using this shortcode:
No coupons are valid for the cart at that moment. You should check usage restrictions & usage limit of the coupons to confirm if it needs to be displayed.
If the coupon is restricted to an email address, the user should be logged in with the same email address to see the coupon. If the user is a guest user then the coupon might be visible only on the checkout page after entering the billing email address.