Smart Coupons provide a powerful, "all-in-one" solution for gift cards, store credits, discount coupons, and vouchers extending the core functionality of WooCommerce coupons.
This doc article explains how customers and store admin can view the sent/received coupons.
Smart Coupons plugin provides a feature where a customer can either get coupons for themselves or can send them to someone else.
The person who has received the coupon can see it under their My Account > Coupons > Coupon Received section.
By default this section is disabled. You can enable this section by switching ON the setting "Include coupons received from other people on My Account > Coupons page" under WooCommerce > Settings > Smart Coupons > Displaying coupons. It also shows all other coupons/credits that they have received from others.
By default, it shows basic details. To see more details like who is the sender and receiver and what is the message, click on the coupon.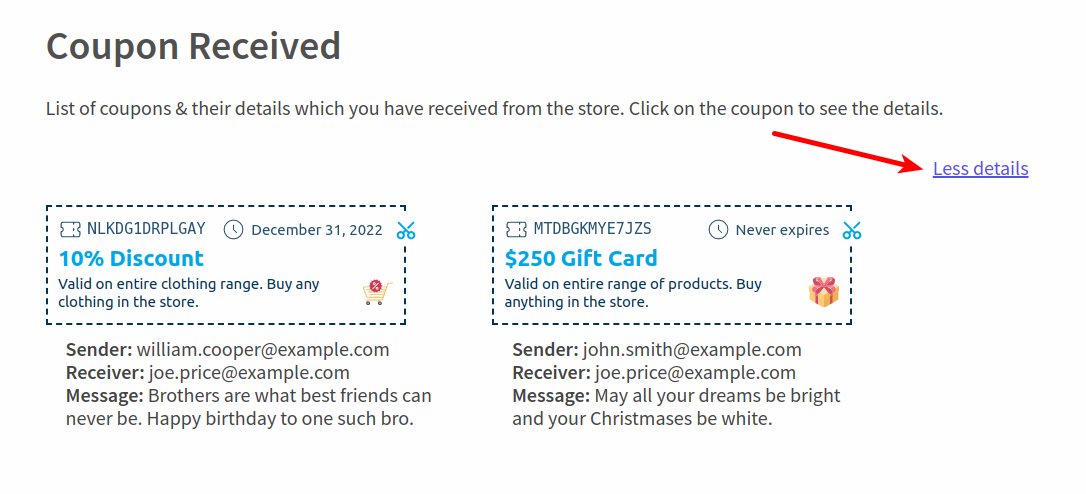 As a store admin, you can see all the coupons generated in an order (sent from the store to the customers), from the Orders page. You can also see the sender & receiver of that coupon.