Hide Paid Shipping Methods allows the paid shipping methods on the cart page to be hidden when there is a free shipping option available. The settings for this plugin will vary depending on the shipping options you have available in your store.
Download the .zip file from your WooCommerce account.
Go to: WordPress Admin > Plugins > Add New and Upload Plugin. With the file you downloaded, Choose File.
Install Now and Activate Plugin.
The settings page for Hide Paid Shipping Methods can be found within WooCommerce > Settings > Shipping > Hide Paid Shipping Methods.
To enable the plugin, select the shipping method(s) to display on the cart page when a free shipping method is available. You can choose as few or as many shipping methods to display as you'd like. For example, if you have an overnight/expedited shipping option, you may wish to offer that option in addition to the free shipping option so that customers who need their order in a hurry can still have that option. Really, the choice of which shipping options to offer is yours!
On the settings page, you will notice that each shipping option is listed with a checkbox, a brief description, and a status listed beneath the checkbox.
The status listed under the checkbox indicates whether or not the shipping option is enabled on the store. This can help you decide which options to select. Whether or not you check the box for the shipping option will not override any other shipping settings except for hiding a shipping method if there is free shipping available.
By default, the shipping options on the cart page can be a lot for customers to choose from. For example if you offer UPS, USPS, and a Free Shipping option, your customer might see something like this: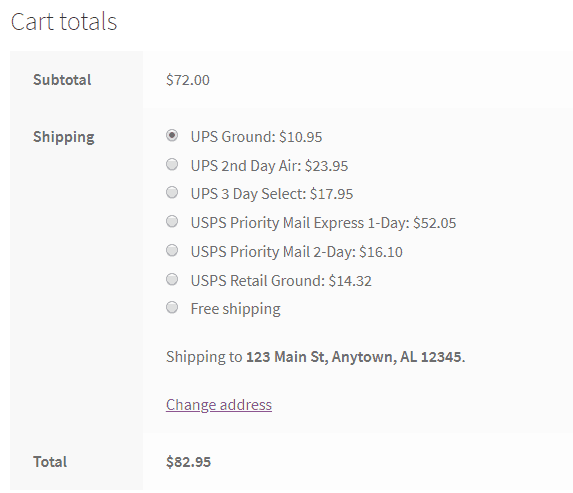 When Free Shipping (the option most customers are looking for) is hidden among other much more expensive shipping options, it makes it difficult to find and could lead to abandoned carts.
With Hide Paid Shipping Methods, your cart can look like this instead: